The biggest streaming debuts through the world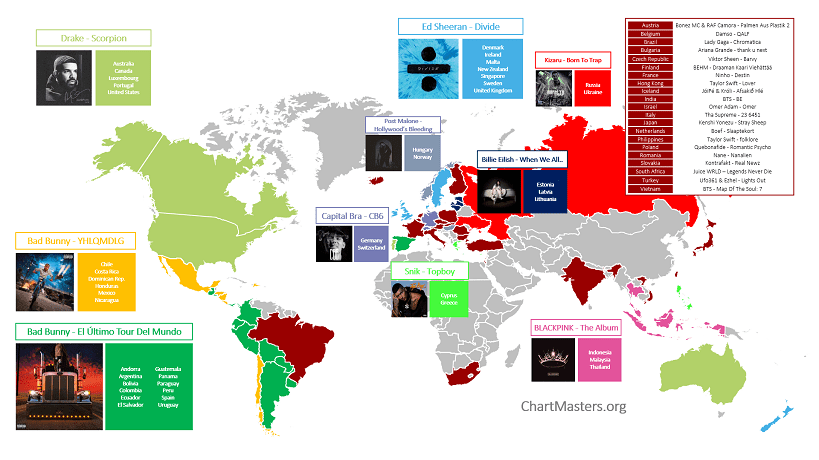 Do you like to know the truth? So do I. Nowadays, it seems that every week we hear about broken streaming records. Is that real information or brainwashing?
We will start adressing this question by looking at the biggest streaming debuts through the world!
Spotify shares charts with numbers for as many as 66 countries on which their platform is deployed. Guess what? We decided to go through all the data, country by country, and check who's the top performer on them.
Global leaders
For three years, the album leading in the most markets was no other than the blockbuster record Divide by Ed Sheeran.
In an ever booming streaming context, to dominate for so long was an amazing achievement.
If this record has come to an end in recent months, the 2017 release still leads on at least one country from 3 different continents.
Apart from his 7 #1 spots, Divide is also basically top 10 in every possible market. No other album is even remotely close.
Its numbers are absolutely mad too for such an old album. In the UK, it registered 73.5 million streams, more than one per inhabitant.
It's also 10 times more than the number of monthly active users (7.1 million) that Spotify had in the UK by the start of 2017. Insane.
Drake is a solid global force too, topping lists of 5 countries. Often seen as a pure North American star, where he posted more than 350 million streams in a week with Scorpion, he leads in markets as diverse as Australia, Luxembourg and Portugal.
Latin America
When we reviewed the biggest starters last year, a quartet of local artists were ahead in all Spanish-speaking markets from Latin America.
They were Bad Bunny with his solo album X 100pre, his collaboration album with fellow Latin superstar J Balvin, Oasis, Aura by Ozuna and Sueños by new local hero Sech.
As for the remaining albums, they aren't leaders anymore since Bad Bunny's YHLQMDLG made history.
In a region where dominating charts with album cuts has been near impossible ever since Spotify was launched, this record destroyed everything.
It took the record in nothing less than 16 countries: Argentina, Bolivia, Chile, Colombia, Costa Rica, Dominican Republic, Ecuador, El Salvador, Guatemala, Honduras, Mexico, Nicaragua, Paraguay, Peru, Spain, and Uruguay.
Even more incredible is how the album took these top spots. It absolutely crushed all former all-time leaders.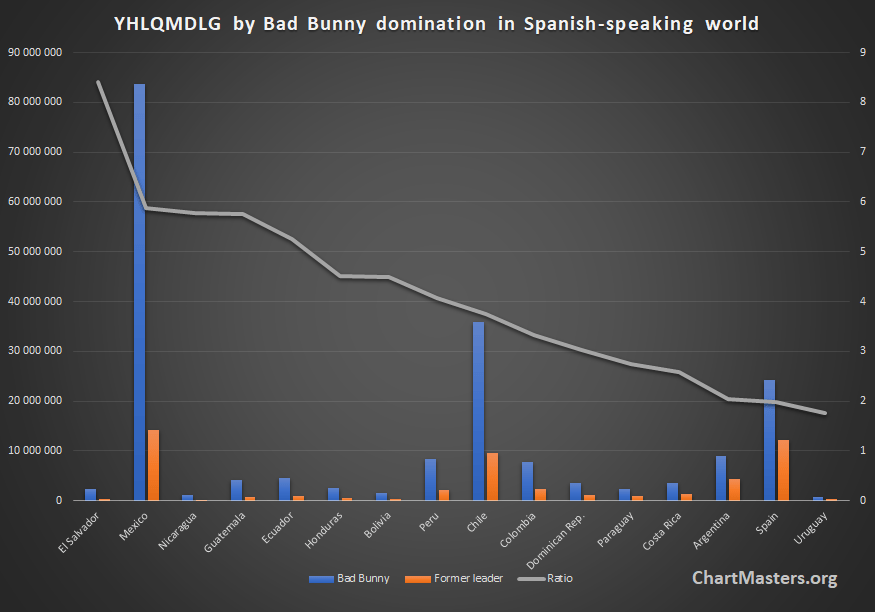 As we can see in this graphic, Bad Bunny's effort more than doubled the previous record in 15 countries.
In El Salvador, it powered 8.4 times more streams than anyone ever did before.
No one had done 15 million before in Mexico. But this album scored 84 million streams, a figure no album ever recorded anywhere but in the US.
In Chile, it improved the record from under 10 million to over 35 million streams. I could go on and on.
As previously mentioned, the only country preventing Bad Bunny from managing a perfect sweep is Panama.
In the country, Sech had already gone through the roof with 2,329,327 streams in a country of 4 million inhabitants. Bad Bunny came very, very close with 2,324,746 streams on his side.
This changed with his newly released El Último Tour del Mundo. It didn't just take Sech's record in Panama, giving him a perfect sweep in every Spanish speaking country. But he even outdid his own YHLQMDLG in 11 Latin markets!
The region is completed by Lady Gaga's Chromatica in Brazil. The album recorded over 24 million streams in its first week there. A great showing of the country's huge appreciation of divas.
Considering the size of this country and the usage of Spotify there, this record is definitely the most accessible of the continent.
Asia
Undoubtedly the trickiest continent, in Asia we face various specific situations. Spotify has a minor market share in most countries, although it still serves the purpose of illustrating the most popular artists.
It does as long as the service is available. That's not the case in China nor in South Korea for example, and it arrived in India last year.
Nevermind, as complicated as the situation is, results are simple: K-pop is king with Blackpink and BTS paving the way.
Blackpink's The Album leads in Indonesia, Malaysia and Thailand as well as the region as a whole while BTS holds India and Vietnam with two distinct releases. Both acts have releases at least in the top 10 in every market and more often than not multiple ones.
Taylor Swift used to own more than half of the Asian markets thanks to her 2019 release Lover.
Since BTS and later Blackpink moved ahead of her with their 2020 comebacks, she retains the top in only 2 countries, Hong Kong thanks to the aforementioned Lover, and the Philippines with her new effort folklore.
A lovely consolation is that her 20 million streams in a week in the Philippines remain the highest number ever recorded in an Asian country.
Another album that was once dominant is Ed Sheeran's Divide. The competition removed it from the top of the ladder through the years, although it remains the all-time champion in Singapore.
It's still the 7th largest debut in the region as shown below:
Japan as usual holds on to their local artists as Kenshi Yonezu's 2020 release Stray Sheep outdoes BTS by over 2 to 1. This monster release got close to 13 million streams in its debut week. It did so on top of almost a million pure sales in the same timeframe!
Taiwan is in a similar situation as local rapper E.S.O takes the top spot at almost 2 million with his record Outta Body.
Europe
As incredible as it seems the best performer in Europe continues to be Ed Sheeran with Divide. The 2017 release recored a massive 189 million first week streams in total in the region.
The interesting part of the story is that he leads in every country where streaming was already highly developed back in 2017. That is, Sweden, Denmark, the UK, Ireland and Malta.
Basically, where he got topped, that's only because the market grew a lot since that point.
Next up is the super hyped diva of 2019, Billie Eilish, and her debut LP When We All Fall Asleep Where Go We Go.
When we compiled her streaming stats in early 2019, we stated she was poised to be the next big thing.
She confirmed it with ease, posting the biggest first week ever in Latvia, Lithuania and Estonia while also ranking high everywhere.
Post Malone was also able to get the title in a few countries last year with Hollywood's Bleeding, these being Norway and Hungary.
In many countries across Europe, local rap is killing the game at the moment.
Despite a much lower market size than Germany and France, Italy is the country with the highest debut in continental Europe thanks to Tha Supreme's 236 451 which did close to 60 million there!
In France, 3 monster rap albums fought for the all-time record in 2019. Ninho with Destin, rap duo PNL with Deux Frères, and Nekfeu with Les Etoiles Vagabondes.
These albums' first weeks combine for 152 million streams, with Ninho leading at 53 million. Nekfeu on his side got the golden prize in Belgium although he lost it since then.
Same story for rap giant Capital Bra in both Germany and Switzerland. He came very close to 40 million streams in its first week in the former.
Boef in the Netherlands, Damso in Belgium, Bonez MC & RAF Camora in Austria, Jóipé x Królli in Iceland, Kontrafakt in Slovakia, Snik in Greece and Cyprus, Quebonafide in Poland, Viktor Sheen in Czech Republic, Nane in Romania and Kizaru in Russia and Ukraine prove that hip hop is definitely not only a US thing.
Apart from aforementioned Ed Sheeran and Billie Eilish, the only other non-rap albums to lead in a country is Ariana Grande's thank u, next in Bulgaria and BEHM's Draaman Kaari Viehättää in Finland.
Middle East and Africa
These regions are fairly new ground for Spotify. The service launched in many markets in late 2018 but there are still no charts or numbers coming from any of these.
There's still a few markets where it's been available for longer, namely Turkey, Israel and South Africa. All of these do have charts.
Turkey recorded by far the largest debut of these with Turkish-German rapper Ufo361 collaborating with Ezhel, another Turkish superstar. Their bilingual album Lights Out got as many as 13.49 million streams there.
Outside Turkey numbers are low but with in South Africa US rap is a dominant force with Juice WRLD logging the biggest week ever there with his posthumous album Legends Never Die at 830,000 streams.
American hip hop is strong in Israel too but the biggest names just fell short of local singer Omer Adam with his self-titled effort at 680,000 first week streams.
The biggest streaming debuts through the world: the numbers