ELVIS PRESLEY CAREER CSPC RESULTS
So, after checking all the figures, how many overall equivalent album sales has each album by Elvis Presley achieved? Well, at this point we hardly need to add up all of the figures defined in this article!
In the following table, all categories display figures that way, e.g. in equivalent album sales. For example, singles from Blue Hawaii released in digital format sold the equivalent of 420,000 album albums – 2,800,000 downloads with a 10 to 1,5 weighting.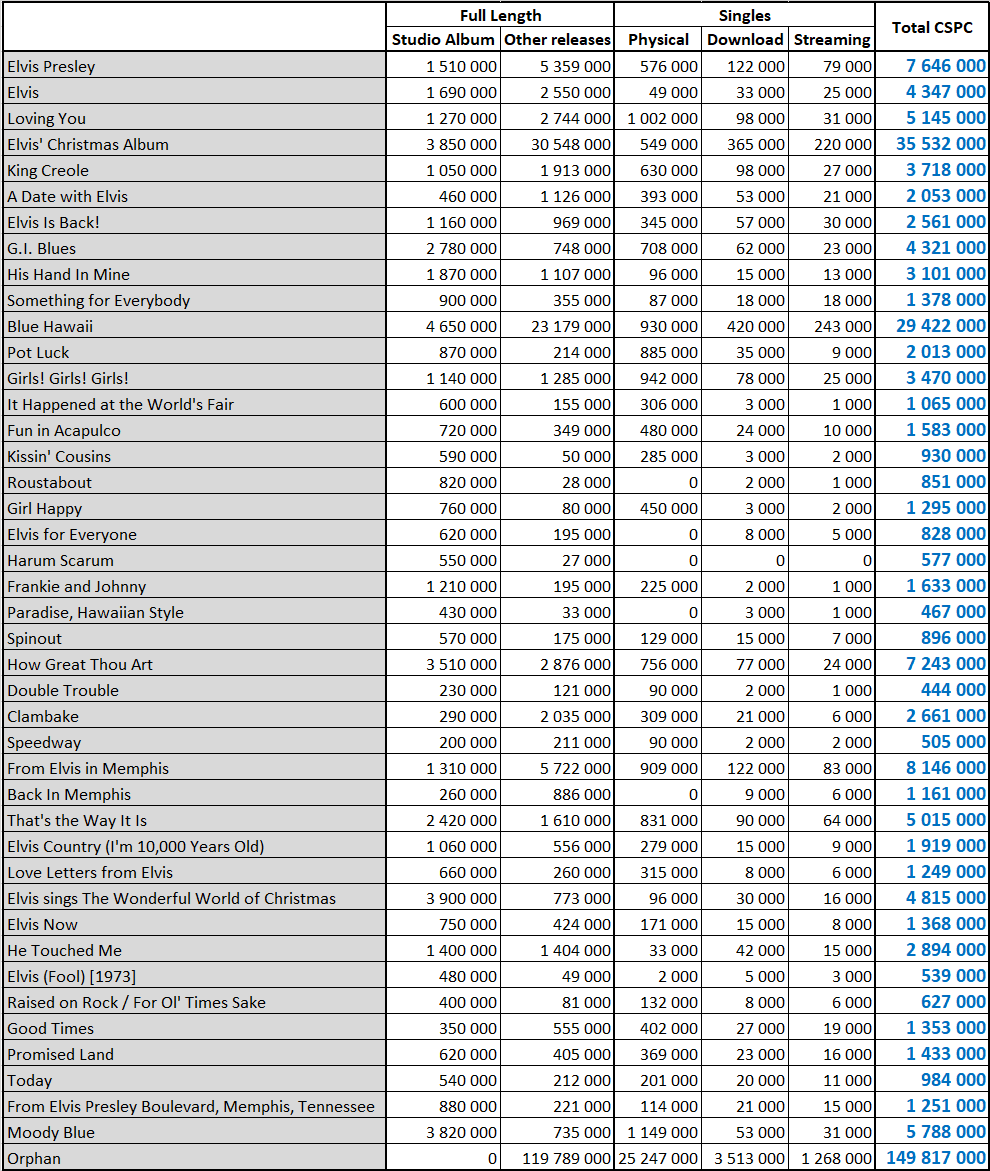 As a reminder:
Studio Album: sales of the original album
Other Releases: sales of compilations generated thanks to the album
Physical Singles: sales of physical singles from the album (ratio 3/10)
Download Singles: sales of digital singles from the album (ratio 1,5/10)
Streaming: equivalent album sales of all the album tracks (ratio 1/1500 for Audio stream and 1/11750 for Video stream)
Conclusions
The career of Presley wasn't always linear. Indeed, he had had various flops. Some of his albums like Harum Scarum and Elvis (from 1973) barely reach half a million units factoring in all formats. We are speaking about an artist that released 42 albums over 22 years and still issued well over half of his successful singles with orphan songs.
That's why looking at one figure only for him is such an error. The volume of his sales speaks. Think about it that way: how many artists topped 1 million equivalent album sales with 31 LPs and still moved almost 150 million units with orphan songs?
Among his top albums there is Elvis, Loving You, G.I. Blues, That's the Way It Is, Elvis sings The Wonderful World of Christmas, and Moody Blue, all of which fall into the 4 to 6 million ballpark. On his personal top 5 feature Elvis Presley, How Great Thou Art and From Elvis in Memphis at over 7 million a piece.
As successful as they have been these albums can't compete with the top 2. Elvis' Christmas Album and Blue Hawaii, each in a very different category, accumulated insane sales through the years and various releases. Their value has been strong enough to trigger sales of 35,5 million and 29,4 million equivalent album sales, respectively.
Then comes the orphan folder. It closes just a shy of 150 million. Basically, his orphan songs alone moved more equivalent album sales than entire discographies of artists as huge as Phil Collins and Billy Joel.
The final total for the King comes at 314,0 million EAS up to date. While the Beatles still quite a lot ahead at 405,7 million, a strong revival as the one from 2002 could possibly shot him ahead of Michael Jackson who's on 323,7 million. These trio of artists are on a category of their own since the fourth highest ever, Madonna, is much lower at 241,1 million.
To go deeper…
Thanks to our new ASR (Artist Success Rating) concept, we know that his sales represent 48,12 million times the purchase of her full catalog. It's the equivalent of 48,12 million people buying an average of 6,53 albums from him. It falls perfectly in line with our article about the structure of his discography that pointed out that there are 6 different Elvis Presleys.
Both indicators of 48,12 million sales of his entire catalog spread over the equivalent of 314,0 million imply an ASR of 696. That makes him the fourth most successful artist of all-time behind aforementioned Michael Jackson (1000) and the Beatles (915), but also Queen (723). Hard fans and casual buyers of all these artists need less purchases to be satisfied than Presley's. That's why their ASR is higher in comparison to their cumulative EAS.
As usual, feel free to comment and / or ask a question!
Sources: IFPI, Spotify, YouTube, Discogs, Chartmasters.org, RCA, Sony, Pickwick, Camden, Memphis Recording Service, Billboard, Elvisoncd, Biwa, elvisnews, worldwideelvis, elvispresleyftd, elvispresleyshop, EIN, BuzzAngle, Time-Life, Kworb, Hanboo, Earthslayer, Ernst Jorgensen, Michael Omansky, Agora SA, RIAA, Soundscan, OCC, BPI, Not Now Music, RPM, SNEP, Oricon, RIAJ, PROMUSICAE, AFP, FIMI, NVPI, IRMA, ARIA, RIANZ, Music Week, Amprofon, MercadoLivre, ABPD, CAPIF, CRIA, IFOP, GFK, IFPI (DE, DK, NO, AT, FI, SW), Sverigetopplistan, LA Times, Reuters, Le Monde, Nashville Post.
Special thanks to Anthony Blanchard and Hernan Lopez for their massive contribution.