Streaming Part 3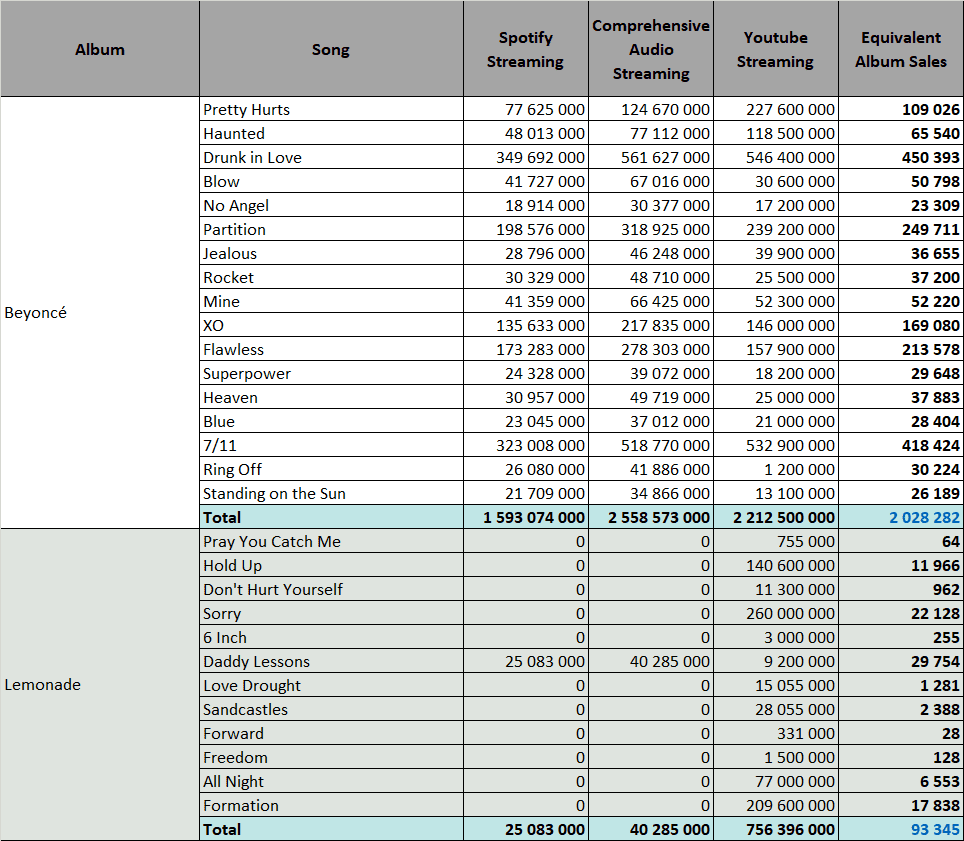 The first album fully released during the streaming era, the eponymous record Beyonce has been one of streamers' favorite album since it came out. Once again numbers speak by themselves – 5 hits over 100 million and all its 17 tracks over 20 million. Drunk In Love and 7/11 are both over 300 million on Spotify and 500 million on YouTube. The album is over 2 million EAS so far.
Then comes Lemonade at 93,000 EAS. Well, as you can guess there is a trick behind that number. To promote the platform on which Beyonce and her husband invested TIDAL the album was released to stream exclusively on that software. No worries, there is always a way to value accurately figures!
The album is up to 2,638,000 SPS units in the US. We know it scanned 1,872,000 pure sales and its singles' downloads add for 4,97 million units in the country, worth 497,000 SPS. This means the album's US streaming total is of 269,000 SPS.
Only audio streams are accounted for on this number, which is calculated with the 1:1,500 ratio just like our formula. The American market is responsible for 67,86% of Lemonade's pure sales of albums and singles. Extrapolating the 269,000 US streams with this number we get an estimate of 396,000 EAS from streams Worldwide. The math's chapter isn't over.
This number includes the 40,3 million streams of Daddy Lessons on remaining platforms, so we need to take off 29,000 EAS units from the calculated total, that's 367,000 EAS from audio streams. To finish, we then add the EAS from video streams which are worth 64,000 units to give a final total of 431,000 EAS from streams for Lemonade.
This clearly pales in comparison to her previous albums. With barely 4 million subscribers on TIDAL (claimed, supposedly on 1 million only), the lack of availability from much stronger sites like Spotify (157 million) or Apple Music (48 million) strongly impacted its total. In the other side, this explains why Lemonade sales aren't that far from Beyonce at 2,87 million against 3,88 million in spite of much weaker success overall. Its downloads were also fueled by the absence of full streaming availability.