Streaming Sales
Streaming is made up of two families – audio and video. Our CSPC methodology now includes both to better reflect the real popularity of each track. The main source of data for each avenue is respectively Spotify and YouTube. As detailed in the Fixing Log article, Spotify represents 157 million of the 272 million users of streaming platforms, while YouTube is pretty much the only video platform generating some revenue for the industry. Below is the equivalence set on the aforementioned article:
Audio Stream – 1500 plays equal 1 album unit
Video Stream – 11,750 views equal 1 album unit
Equivalent Albums Sales (EAS) = 272/157 * Spotify streams / 1500 + YouTube views / 11750
Streaming Part 1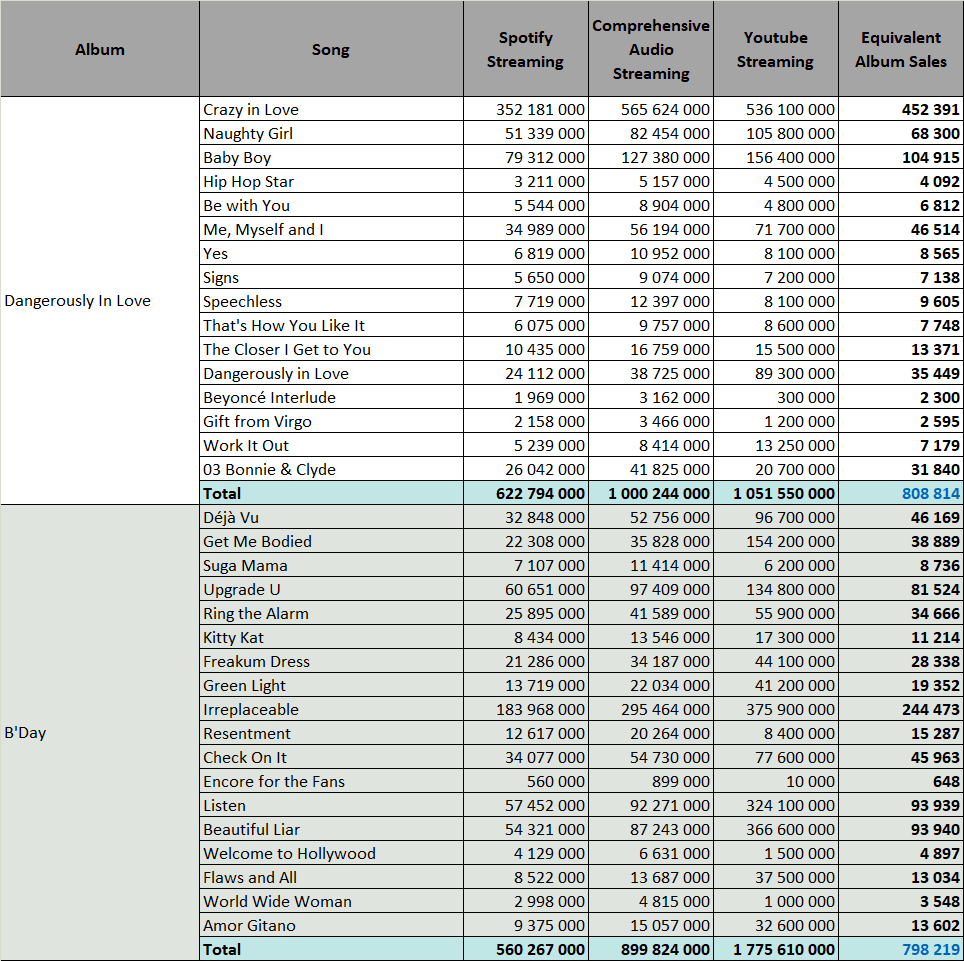 If one realizes that Dangerously In Love was released before Destiny Fulfilled, we can only be impressed by its 4 to 1 lead in total streams. Crazy In Love is an absolute beast at 352 million plays on Spotify completely overshadowing the other five 20-million plus songs from the album. It also registers over half a billion views on YouTube. Various album tracks stand over the 5 million mark on both platforms which is also very strong. All told, the LP is up to 809,000 EAS from streams.
B'Day was a much weaker album seller when first released, pretty much a flop until Irreplaceable turned things around. At 184 million Spotify hits, this is the biggest smash from the album which also features 8 more songs over 20 million, a feat usually reserved to popular albums from the last 3 years although that one was released in 2006. Its EAS from streams are close to 800,000 units.