Red Hot Chili Peppers CAREER CSPC RESULTS
So, after checking all the figures, how many overall equivalent album sales has each album by Red Hot Chili Peppers achieved? Well, at this point we hardly need to add up all of the figures defined in this article!
In the following table, all categories display figures that way, e.g. in equivalent album sales. For example, singles from Stadium Arcadium released in digital format sold the equivalent of 2,444,000 album albums – 16,290,000 downloads with a 10 to 1,5 weighting.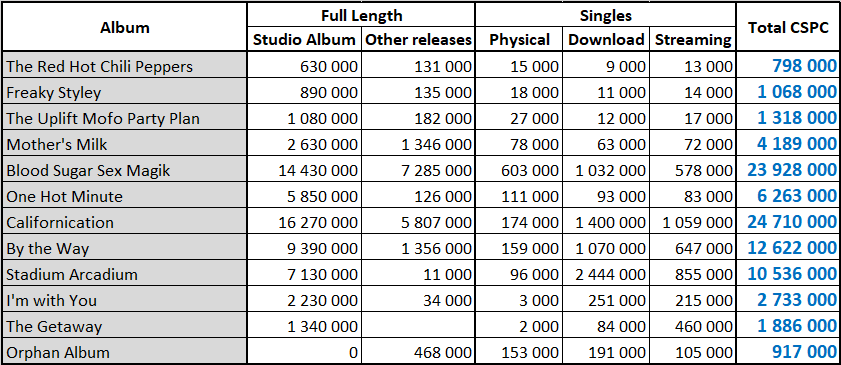 As a reminder:
Studio Album: sales of the original album
Other Releases: sales of compilations generated thanks to the album
Physical Singles: sales of physical singles from the album (ratio 3/10)
Download Singles: sales of digital singles from the album (ratio 1,5/10)
Streaming: equivalent album sales of all the album tracks (ratio 1/1500 for Audio stream and 1/11750 for Video stream)
It took a very long way to the Red Hot Chili Peppers to find the success. Once they got it, they definitely made sure to retain it for as long as possible.
A string of 6 consecutive albums over 4 million equivalent album sales isn't something that can be claimed by many artists. Two of them, Mother's Milk and One Hot Minute, made it mostly thanks to the fans gained from the remaining 1991-2006 albums.
In fact, these remaining albums are the big deal. Both Blood Sugar Sex Magik and Californication close counts on similarly impressive numbers. The former is close to 24 million equivalent album sales while the latter is over that mark. As they are increasing truly well on streaming and still selling well too, it is only a matter of time before they both top 25 million.
By The Way and Stadium Arcadium shouldn't be ashamed of their numbers either. They both reach the 8 digits comprehensive total of sales generated at 12,6 million and 10,5 million, respectively. They also remain insanely strong on streaming platforms so their future is bright.
Considering how strong the band has been during 15 years, the initial albums are disappointing. They never managed to be noticed.
I'm With You was a huge failure. Coming from back to back to back 10-million sellers, it stopped its way on 2,7 million equivalent album sales which can't be regarded as good no matter how we look at it. The record continues to grow but not as fast as its predecessors so the gap will only increase. The Gateway hasn't been a recovery for the band but at least it secured their fanbase with a very respectable 1,9 million total sales. With its members now aging 55 and more, a rebound in the future seems unlikely.
In total, the Red Hot Chili Peppers sold 91 million equivalent albums sales. With streaming equivalent album sales of 4,1 million, this figure will keep on going up at fast pace.
The following pages list their most successful songs as well as their records and achievements. Do not forget to check our amazing cross-artists lists posted inside the CSPC: Data Collector which includes the full listing of all CSPC results compiled so far to better gauge their position in the history of the music industry.
As usual, feel free to comment and / or ask a question!
Sources: IFPI, Spotify, YouTube, Discogs, Chartmasters.org.