Part 2 – BSSM-centric Records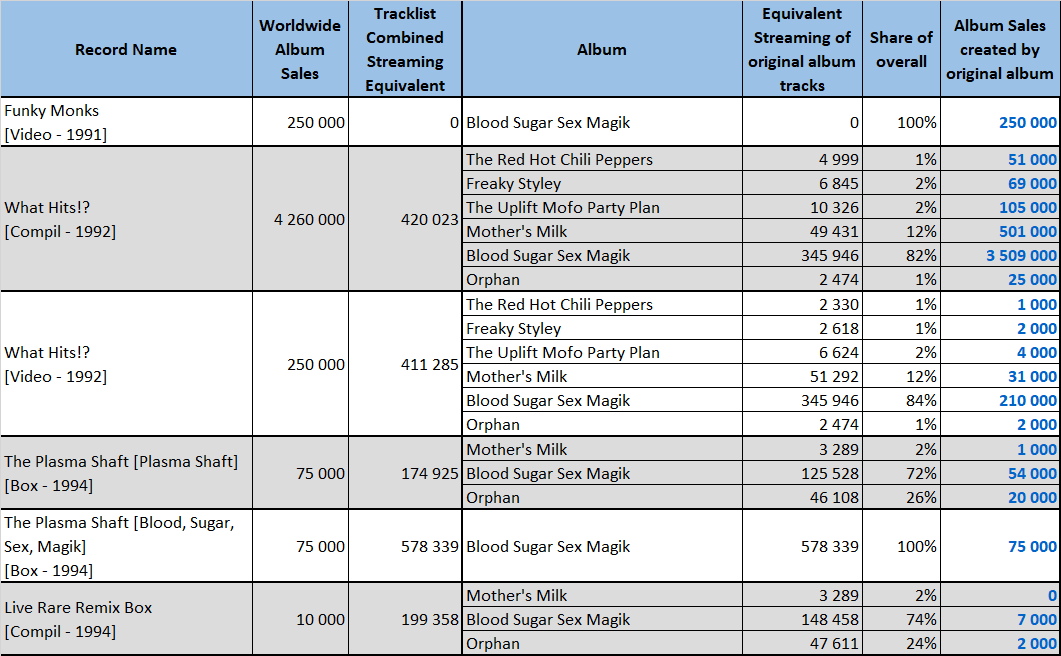 The success of the 1991 album inevitably led the band's pair of labels to release several kind of products. We pointed out earlier that the group could have possibly sold more albums considering how popular their catalog is. Streaming numbers confirmed this feeling as their discography is as strong or bigger than bands like Queen and Metallica there, yet their sales are quite lower.
This table of compilations confirms one more time the poor management of Warner Bros in this case. The single Under The Bridge smashed during the summer of 1992. After that, instead of using this new popularity to consolidate the band and build a fanbase with one or several proper subsequent singles, depending on the market they re-released a former single, Give It Away, they rush-released Suck My Kiss with a video using old footages and they sent Breaking the Girl for airplay without doing a thing.
While the album was still very hot thanks to Under The Bridge and without letting time to following singles to climb up the airplay rankings, Warner accepted to let EMI use Under The Bridge on their cash-in compilation, What Hits?! released in September 1992. Comfortably Top 20 for 28 weeks, the album Blood Sugar Sex Magik felt out the Top 50 in 4 weeks only after the release of this package and never climbed back in spite of additional singles. This terrible misstep caused Warner's studio album to lose several million sales, millions of potential fans to be disappointed by this irregular compilation and it sent the signal to all Medias that the band was regarded as a one-hit wonder by their own label. At the end of the day, 4,5 million sales worth of compilations were enjoyed by EMI… with some 82% of them fueled by a Warner song.