BILLY JOEL Career CSPC Results
So, after checking all figures, how many overall album sales equivalent each Billy Joel album achieved? Well, at this point we barely need to do the addition of all figures defined all over this article!
In the following table, all categories display figures that way, e.g. in equivalent album sales. For example, Piano Man singles released in digital format sold the equivalent of 600,000 albums – 4,000,000 downloads with a 10 to 1,5 weighting.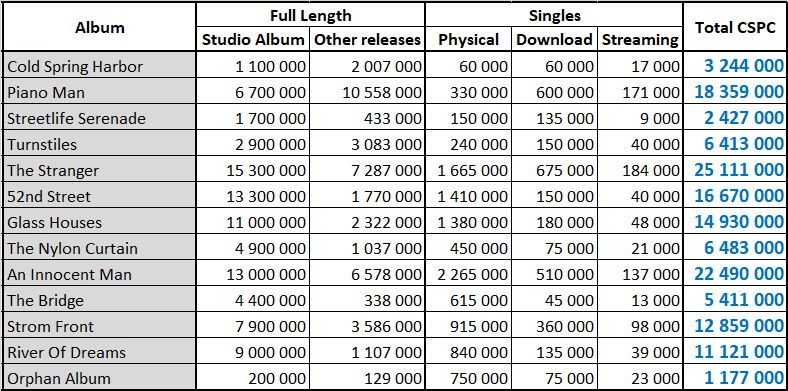 As a reminder:
Studio Album: sales of the original album
Other Releases: sales of compilations generated thanks to the album
Physical Singles: sales of physical singles from the album (ratio 3/10)
Download Singles: sales of digital singles from the album (ratio 1,5/10)
Streaming: equivalent album sales of all the album tracks (ratio 1/1500)
This is pretty much it. The Stranger, definitely his most iconic album, reinforces his status with a final CSPC's total of 25,1 million. A total where it gets thanks to a strong 9,8 million equivalent albums sold via other formats as the album's pure sales are on 15,3 million.
An Innocent Man registers a huge jump too, as it goes from 13 million pure album sales to 22,5 million with CSPC's sales coming from other formats.
52nd Street originally sold 13,3 million. While this one added several more million sales from remaining formats, the final CSPC's total didn't match results of the two albums previously mentioned. Yet, 16,7 million is nothing to feel shy about. Glass Houses has similar results.
But the most impressive case is, without any doubt, Piano Man. At 6,7 million pure albums sales, it ranks as the artist 7th top seller. Still, mostly thanks to the song Piano Man, it gets to as high as 18,4 million once generated sales through compilations and the likes get factored in, even surpassing 52nd Street in spite of original album sales being only half of those of that one. With lower pure album sales than Storm Front, River Of Dreams and Glass Houses, its CSPC total crushes them all putting Piano Man as Billy Joel 3rd most popular album. This example is the perfect illustration of the Commensurate Sales to Popularity Concept with pure album sales of a record not fully representing its real popularity, an issue fixed thanks to our approach.
Storm Front shows an enduring appeal on the back of We Didn't Start Fire, one of his most famous tracks. That song, combined with its great representation on the Greatest Hits III album, produced a jump from 7,9 million pure albums sales to a more fittingly strong 12,9 million CSPC's sales.
Most of the other albums also managed to double or triple their respective original pure sales.
You may be wondering about Billy Joel's overall CSPC? It is a gigantic 146,7 million equivalent albums when everything is weighted accordingly. That is the final number. The number that makes this act one of the biggest of all-time, further proved by the average sales per album, nothing less than 12 million, a tally not many acts -with a catalogue of that size- can beat. As a comparison, among already studied acts with 10 or more albums, U2 is up to 14,7 million per album, Madonna and Celine Dion both 14,5 million, Metallica is on 13,7 million and Fleetwood Mac is at an average of 7,9 million. Those averages though are often inflated by one gigantic sellers, while Billy Joel has been incredibly consistent. Indeed, his median is 12,1 million, a figure only topped by Madonna at 12,2 million while Metallica is at 11,8 million, U2 at 11,7 million, Celine Dion at 7,7 million and Fleetwood Mac at 2,2 million all drop below the artist we checked today. This shows that indeed Billy Joel is up there with the very biggest acts ever.
Do not forget to check our amazing lists posted inside the CSPC: Data Collector which includes the full listing of all CSPC results compiled so far to better gauge his position in the history of the music industry.
I hope you enjoyed it, as usual, feel free to comment and / or ask a question!
Sources: IFPI, Spotify, Chartmasters.org.