CSPC: Oasis Popularity Analysis
Streaming Sales
Streaming is made up of two families – audio and video. Our CSPC methodology now includes both to better reflect the real popularity of each track. The main source of data for each avenue is respectively Spotify and YouTube. As detailed in the Fixing Log article, Spotify represents 132 million of the 212 million users of streaming platforms, while YouTube is pretty much the only video platform generating some revenue for the industry. Below is the equivalence set on the aforementioned article:
Audio Stream – 1500 plays equal 1 album unit
Video Stream – 11,750 views equal 1 album unit
Equivalent Albums Sales (EAS) = 212/132 * Spotify streams / 1500 + YouTube views / 11750
Streaming Part 1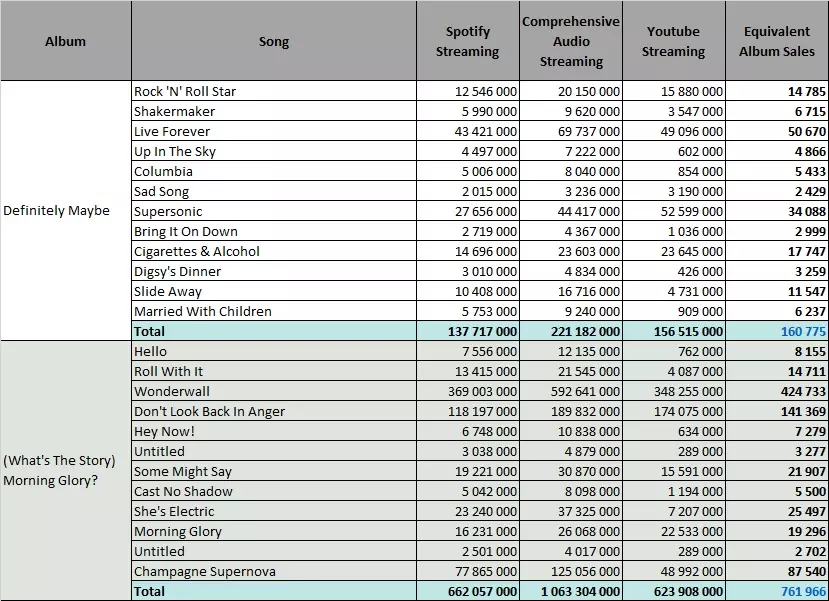 Definitely Maybe has a consistent and great streaming record. All its tracks are over 2 million streams on Spotify and five of them crack 10 million. Youtube views are similar, bringing the overall equivalent album sales to 161,000 units.
If numbers of Definitely Maybe are very good, those of (What's the Story) Morning Glory? are on a different level. Its main driving force is Wonderwall. This track has outstanding numbers with nearly 350 million streams on YouTube and even more on Spotify where it is quite simply the biggest pre-2000 of all time, easily topping the likes of Nirvana's Smells Like Teen Spirit, Journey's Don't Stop Believin' and Michael Jackson's Billie Jean.
Don't Look Back in Anger is a massive runner up too with 118 million streams on Spotify while Champagne Supernova comes third at 78 million. Four more songs are inside the 13-23 million range while all album tracks top 2,5 million. Its comprehensive total is 762,000 equivalent album sales from streams, a tremendous result.