CSPC: Led Zeppelin Popularity Analysis
Streaming Sales
Below table lists Spotify streaming of all songs from the albums we are studying. The Comprehensive Streaming is reached by multiplying Spotify figures by 68/26. In fact, as shown in IFPI 2015 Report, there were 68 million paying subscribers to all streaming platforms by the end of 2015. While the exact count of Spotify paying subscribers by the end of 2015 is unknown, that figure reached 20 million in June 2015 and 30 million in March 2016, thus an estimated 26 million is used as of the end of 2015.
The equivalent album sales is the division of the comprehensive streaming figure by 1500 as it is now the norm in the new industry model.
Streaming Part 1 – Debut and quick consolidation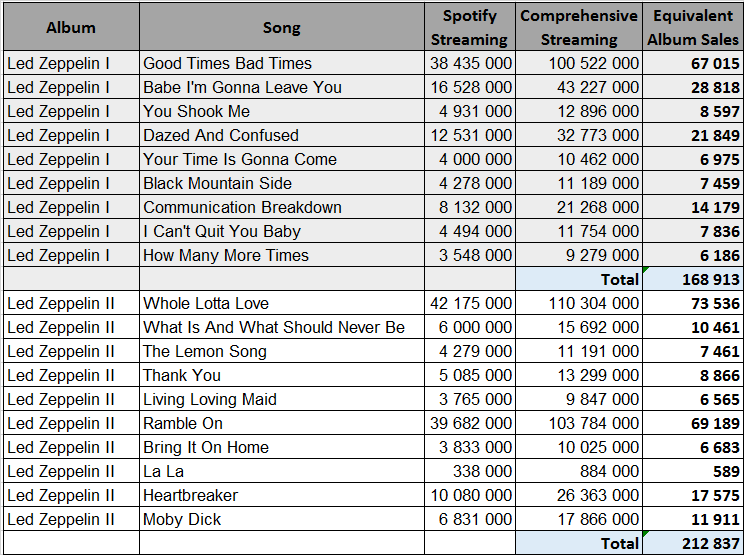 Each Good Times Bad Times, Whole Lotta Love and Ramble On are strong streaming hits around 40 million a piece. With the exception of La La that is available only on a minor version, each track of those two albums tops 3,5 million streams confirming the overall strength of the band records.
While 169,000 and 213,000 album sales equivalent may pale in comparison to those LPs respective sales in album format, this is still in relative terms quite high numbers for such catalog albums.