Destroying Myths: Fake 10 million sellers Part #2
A couple of weeks after dropping the first part of this article, it is time to review an additional bunch of albums often claimed to be 10 million sellers while they aren't.
I already introduced the subject on previous article so I won't be doing it again. This being said, I must give a few notices that went misunderstood by various people the previous time.
The first highlight is about Claimed Sales figure. Obviously, for each and every album you won't have only one but various distinct claims made. An album can be claimed at 8 million, at 10 million and at 14 million in different Medias. That would still be an album claimed at 14 million units. For most Claimed Sales I'm posting, you barely need to go to the dedicated page of the related album on Wikipedia to see it claimed.
The second highlight is about those articles target. When I aim to break some sales myths, I'm clearly targeting people who aren't used to check detailed chart and sales data. I seriously hope that people educated enough about the subject are already aware those various claims are myths only. On previous example I pointed out the case of Rihanna album Good Girl Gone Bad. Of course, nobody following charts and sales doubt the 15 million claim by her major is done converting both digital single sales and streaming figures into album sales, but you need to keep in mind the general public have no clue about such methods and will barely understand the album sold 15 million copies.
Now that I have set back some guidelines, it is time to jump nearly five decades ago to check our first case of today!
Iron Butterfly – In-A-Gadda-Da-Vida (1968)
Claimed Sales – 30,000,000
Estimated Sales – 7,800,000
With In-A-Gadda-Da-Vida I'm introducing a group of eight albums pretty difficult to estimate. What's safe is how inflated their sales claims have been.
Likely one of the most absurd fake claim ever relates to Iron Butterfly record In-A-Gadda-Da-Vida, released in 1968. This album was a massive success in the US with a #4 peak, 49 weeks inside the Top 10 and 140 consecutive weeks Top 200. It also remained some kind of mid-range perennial catalog seller.
Its sales have been heavily used in order to promote the record and the band. Very early, it got communicated as the first ever Platinum album in the US, which is obviously a wrong claim as not only many other albums sold 1 million in the US before that one, it also got awarded an official RIAA Platinum plaque in 1993 only. Sales-wise, claims are now up to an incredible – in many aspects – 30 million units.
What's interesting is to notice how the band label always carefully audited the album sales in order ot keep it certified and feed this legend even in countries where it performed poorly. As a result, it got audited in 1993 in the US at 4xPlatinum, representing 4 million units, in 2004 in the UK as Silver, 60,000, Gold in 1980 and Platinum in 2004 in Germany for 500,000 copies, Gold in 1977 in France for 100,000 copies, Platinum at 70,000 units in Australia in 2001 and so on.
All in all, the album total sales must be approaching 8 million units as of 2016. Still some way until 10 million, and still a huge, huge way before reaching 30 million!
The Who – Tommy (1969)
Claimed Sales – 20,000,000
Estimated Sales – 6,900,000
To be honest I'm quite annoyed to put this album on the list. Why so? Because this album just like The Who are often deflated in all best selling albums and artists lists. This band is some kind of The Rolling Stones at a lower scale, with strong sales over all their discography but pretty spread over many titles, resulting in no truly big selling album.
The same situation happens with their catalog sales which are especially good but often off the radar due to the numerous records enjoying it.
Tommy is the band top catalog seller after the cult album Who's Next, it hasn't sold 20 million units yet. Just like previously mentioned Iron Butterfly album, it was big when sales were weak. For many such albums, we often feel some kind of frustration from record labels that saw those albums results downgraded when the market exploded a few years later and various much less successful albums started to sell as many copies.
Close to 3 million units in the US, over 2 million in Europe, the album relevant catalog sales keep on pushing its tally everywhere. With the market collapse it is doubtful it will ever reach 10 million in pure album sales yet.
Mike Oldfield – Tubular Bells (1973)
Claimed Sales – 17,000,000
Estimated Sales – 8,500,000
One of the most iconic albums ever, Tubular Bells turned insanely successful after being used in The Exorcist movie.
Its sales have been especially impressive in the UK where it became 9xPlatinum recently thanks to more than 2,7 million copies sold. There is very little information about the album sales in the US since it was never audited after initially hitting Gold in March 1974. It likely sold upwards 2 million units yet.
Released only a few years later, it is quite possible this album would have been a 10 million seller, but considering the available information it seems to miss a good 1,5 million as of now still.
Jean-Michel Jarre – Oxygène (1976)
Claimed Sales – 18,000,000
Estimated Sales – 6,600,000
In many aspects, Oxygène album and its author Jean-Michel Jarre are legendary. The cover, the sound, the story, the pioneering music, the gigantic concerts and… the sales myths. Everything surrounding this record feels like special. It is pretty much the French equivalent of UK's Tubular Bells.
Every legend has its exaggerations yet. Reported by its Dreyfus label at 6 million by 1977, at 9 million by 1981, then 12 million, then 16 million, then 18 million… if we believe all those claims, Oxygène is one of the best selling albums ever. By a French artist, it certainly is, but overall this sounds like some very optimistic vision.
The truth? The album did sell slightly more than 2 million copies to date in France. Although peaking at #78 only, it shipped 300,000 units in the US during 1977. A #2 album in the UK, it moved over 400,000 units by the end of the 70s there. By March 1982, it was also over 300,000 units in Germany (#8), close to 25,000 in Austria (#10), up to 60,000 copies in Sweden (#3), over 50,000 in both Spain (#2) and Switzerland (#1) and close to that mark in Belgium, at 32,000 units in Japan (NC), 65,000 copies in Australia, at 75,000 in the Netherland (#4). All those figures have been confirmed by Billboard or certifications. It must be said that by 1982 the album had sold an estimated 60 to 80% of its to date tally.
Thus, while Oxygène did wonders for a low profile French release, reliable data suggest some 4,5 million copies sold in Europe, about 200,000 units in Oceania, not much more in Asia and over a million in North America. One may argue if the album is closer to 6 million or to 7 million, but there is no way it is up to 18 million or anything close to such a total.
So, how come such fanciful claims came out? It is just one more case of the title track name trick. In fact, all six songs in the album are named Oxygène, only distinguished by their track number with "Part X" added. Oxygène Part IV was the lead single of the record. Each and every time Dreyfus communicated "Oxygène sold X million copies worldwide", it was referring to the track, thus including the original album, the single and all subsequent compilations and live albums which included the track.
ABBA – The Album (1977)
Claimed Sales – 16,500,000
Estimated Sales – 7,200,000
I mentioned in the first page this article was going to start on eight very difficult albums to estimate, here comes the fifth one. A very good friend of all people trying to gauge worldwide sales is the size of each market both as a whole and among international releases. One know that a million seller in the US will often sell in the 300,000 range in UK, about 100,000 copies in Canada, in-between both figures in Germany and France and so on. All those conjectures fell down to the floor when we speak about ABBA.
The Swedish band always had the capacity to sell insane amounts in relatively low markets. That's exactly what happened with The Album, one of the best selling albums ever in Scandinavia where it moved 750,000 in Sweden, 200,000 units in Norway and an estimated 250,000 in Denmark within' 18 months. But this phenomenon wasn't limited to their native area as it was also a massive seller in Netherlands or in Japan – although they were soon going to be even bigger there.
The group sales in the UK are pretty telling of their success. The Album sold 1 million copies to date there, including some 830,000 units by the end of the 70s. This displays as well how incredible their success has been since that figure made the album the #20 best seller of the decade in the country, but at the same time how weak their studio albums have been selling as catalog items. In fact, while this record outsold easily Hotel California by The Eagles, IV by Led Zeppelin, Wish You Were Here by Pink Floyd or Red and Blue compilations by the Beatles, it is now way under all of them. If you want to that very low catalog sales due to massive cannibalization from their own compilations, ABBA original studio albums also suffered from relatively low US figures. With only 1,5 million sales there and great results elsewhere which haven't continued over decades, it is just too hard to break the 10 million mark.
Jean-Michel Jarre – Equinoxe (1978)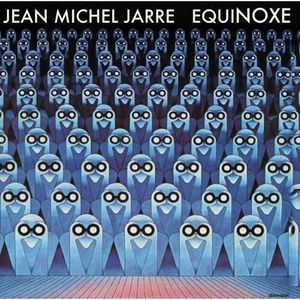 Claimed Sales – 10,000,000
Estimated Sales – 3,900,000
On par with Oxygène, follow up album Equinoxe has its own legend, itself often being the subject of a lot of unrealistic claim. Just like its predecessor, there is no way someone can contradict how successful it was. Still, even with 1,35 million copies sold in France, this album is nowhere near 10 million worldwide.
With about 2,8 million units shifted in Europe and slightly more than 1 million elsewhere, it is still a truly big 1978 release. In some markets like in Netherlands and in Japan it even outperformed Oxygène. Those two album have defined Jean-Michel Jarre as the cult pioneer of electronica music.
ABBA – Voulez-Vous (1979)
Claimed Sales – 17,000,000
Estimated Sales – 7,000,000
If you wonder where it is claimed that Voulez-Vous sold as much as 17 million units, you only need to go to ABBA Wikipedia discography page on several languages like the Spanish one, although even some of their fans will tell you how ludicrous such a figure is.
Voulez-Vous is pretty much the same case as The Album but with patterns even more extreme. It is truly unique to see an English-speaking, international release album sell some 2,1 million units in the four main English speaking markets – USA, UK, Canada, Australia – while it came close to 1 million in Japan or sold more than 200,000 units in each the Netherlands or Argentina. I often mentioned how much 70s worldwide market was heavily dominated by those English speaking markets, but such rules weren't true in ABBA case with a mere 30% of Voulez-Vous total sales coming from those countries.
ABBA – Super Trouper (1980)
Claimed Sales – 16,500,000
Estimated Sales – 8,200,000
Here comes the Swedish superstars again! Their four 1976 to 1980 studio albums are often claimed to be over 10 million, but indeed only Arrival achieved that mark.
The last one of this run of very successful albums is Super Trouper. This one climbed as high as 375,000 units sold in Netherlands, arguably one of the very best selling albums ever up to that point in the country. Elsewhere, it is maybe the only ABBA album with a sales distribution more standard. It topped the million mark in each the US, the UK and Germany, sold a massive 600,000 copies in Sweden, was big in Argentina or Japan but not as huge as its predecessor yet. It pretty much did close to their best but not their best in all countries.
Once again, the fact that ABBA group places three albums in this listing shouldn't underestimate their selling power. Each of those three sets was among the top sellers of its decade in several relevant markets.
The Verve – Urban Hymns (1997)
Claimed Sales – 10,000,000
Estimated Sales – 9,400,000
Urban Hymns is one more very atypical case to study. A absolutely terrific seller in the UK at more than 3,2 million copies sold, it was also quite huge all other Europe topping the cumulative tally of 6 million units. Still, it fails to break a 10 million seller worldwide. Both figures together make The Verve classic album one of the biggest European album to not be over this milestone.
Obviously, the painful point is once again the US. At 1,6 million units shipped, this isn't a bad seller by any mean, but pretty weak in comparison to its European results. In the same way, it sold relevant amounts in Asia, in South America and in Oceania, but just not big enough to boost the overall total to 10 million.
One may think the band will now never replicate such a success. While this is true, it wouldn't be that surprising to see Urban Hymns itself cross that barrier in the future, especially if a 20 years anniversary edition comes out.
Brandy – Never S-A-Y Never (1998)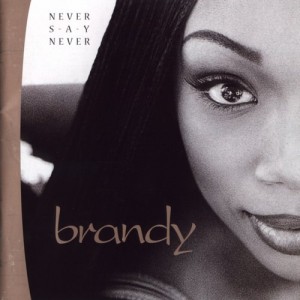 Claimed Sales – 16,000,000
Estimated Sales – 8,200,000
Some markets are very favorable for R&B artists. The US is easily the biggest one, Japan comes next. This being said, it is pretty hard to sell truly big amounts of a R&B album in Europe and Oceania, even harder in Latin America.
Brandy is the perfect illustration of this situation. Obviously, her duet with Monica The Boy Is Mine was a massive hit worldwide, but while that convinced nearly 6 million buyers for her Never S-A-Y Never album in North America, this wasn't enough to go even Gold in a single Latin America country.
In Japan the album went Platinum but it still sold only a bit more than half a million in Asia, while climbing to 1,3 million in Europe. All pretty respectable figures, even great for a black music album in those markets, but far from sending the record to the ridiculous claim of 16 million copies sold of this 1998 album.
Justin Timberlake – Justified (2002)
Claimed Sales – 10,000,000
Estimated Sales – 8,700,000
If ABBA was the perfect example of an act not relying on English speaking countries to move significant units, Justin Timberlake debut album is pretty much the opposite.
Justified sold enough to be 3xPlatinum or more in each the US, the UK, Canada and Australia. At 6,8 million copies within' those four countries only, 10 million appears to be a very achievable target. At nearly 800,000 units in Germany, France and the Netherlands combined, the album wasn't huge there but still some decent amounts. In all remaining markets yet, 50,000 is almost the roof figure for Justified. A non-existent album in Japan, in Latin countries like Italy, Spain or South America, it added close to nothing in all those places.
Today, the enduring popularity of Justin Timberlake provides this album some decent legs, with great catalog sales in the US or in the UK. This being said, there is still a long way to go before hitting the magical 10 million milestone.
Beyonce – Dangerously In Love (2003)
Claimed Sales – 11,000,000
Estimated Sales – 9,900,000
Yeah, I know what you are thinking. So close to the 10 million barrier, this album can be removed from this list. True, more considering it is only a matter of time before it gets there and that the possibility exists Dangerously In love already sold 10 million units, although the most realistic estimates put it just under the mark by now.
It is very precisely because this album will anyway reach 10 million that I'm adding it to this list. In fact, Beyonce debut album is the illustration of a specific case of records being the subject of fake claims that ultimately made up for the difference thanks to catalog sales. When it started to be claimed at 10 million copies sold, the album was barely on 8 million.
Up to date, it sold 6,9 million units in the four main English markets, only 100,000 copies over Justin Timberlake album Justified on previous page. The difference is that Beyonce turned big in Latin America and sold well already on her Destiny's Child years in Japan, continuing that success with her debut solo album at 400,000 units there. Just like Justin, Beyonce remains a major selling force as of today and this album keeps on benefiting from that. If it isn't already at 10 million, it will be there within' the next couple of years at most.
Nelly Furtado – Loose (2006)
Claimed Sales – 12,000,000
Estimated Sales – 7,600,000
Worldwide sales are so easy to track these days that it is quite amazing to see an album with claimed sales being so wrong for so long.
Loose by Nelly Furtado was clearly one of the success stories of 2006 and 2007 years with a bunch of incredibly successful songs. Enough hits to push an album with very low expectations to some 2,3 million units sold in the US plus 1,1 million in the UK.
In Canada at 600,000 units or in Germany at 1,1 million the success was even bigger proportionally speaking. Nevertheless, selling more than expected means success, not necessarily record breaking sales. Those four markets add for 5,1 million units, far from enough for a 10 million sales claim worldwide with only 200,000-ish copies sold in each Latin America, Oceania and Asia. Great but not amazing sales in countries like France or Italy help but do not fulfil the gap til' the claimed tally.
In reality, there is very little debate. As per both IFPI year end lists and Universal annual reports, we know this album shipped 6,8 million in 2006 and 2007 combined. It continued to sell a bit in 2008 and a few in later years but the bulk of shipments happened before the end of 2007. Still, this album keeps being widely reported as a 12 million selling album. Unlike Justin Timberlake and Beyonce, Nelly Furtado failed to retain a strong popularity and this album is selling much less than the other two stars respective albums.
Justin Timberlake – Futuresex/Lovesounds (2006)
Claimed Sales – 10,000,000
Estimated Sales – 9,600,000
After Justified, Justin Timberlake makes an other entry with Futuresex / Lovesounds. Just like Nelly Furtardo's Loose this album was all over the place in 2006 and 2007 when Timbaland producer was hot as hell.
With this album, the artist broke the doors of some markets, relying a bit less on English speaking markets. It still moved a massive 7,0 million of its copies within' the US, the UK, Canada and Australia, selling enough copies to be 4xPlatinum or more in each of them. In countries like Brazil or Japan his profile increased but that remained weak in comparison to his strongest places.
Futuresex / Lovesounds shipped 4,5 million units during 2006 and 3,5 million during 2007. It kept selling well ever since, even more with the 20/20 album success. Just like Beyonce album, this album is a strong contender to reach 10 million at some point, but once again claims of that achievement came out many, many years before it will eventually happen.
Sources: IFPI, EMI, Universal, BMG, PolyGram, Chartmasters.org. Billboard.
Fake claims coming from Wikipedia, Billboard, Dreyfus, Mediatraffic.