CSPC: Eagles Popularity Analysis
Full Length related record Sales
It sounds fairly logical to add together weighted sales of one era – studio album, physical singles, downloads, streams – to get the full picture of an album's popularity. For older releases though, they also generate sales of various live, music videos and compilation albums.
All those packaging-only records do not create value, they exploit the value originating from the parent studio album of each of its tracks instead. Inevitably, when such compilations are issued, this downgrades catalog sales of the original LP. Thus, to perfectly gauge the worth of these releases, we need to re-assign sales proportionally to its contribution of all the compilations which feature its songs. The following table explains this method.
Part 1 – Compilations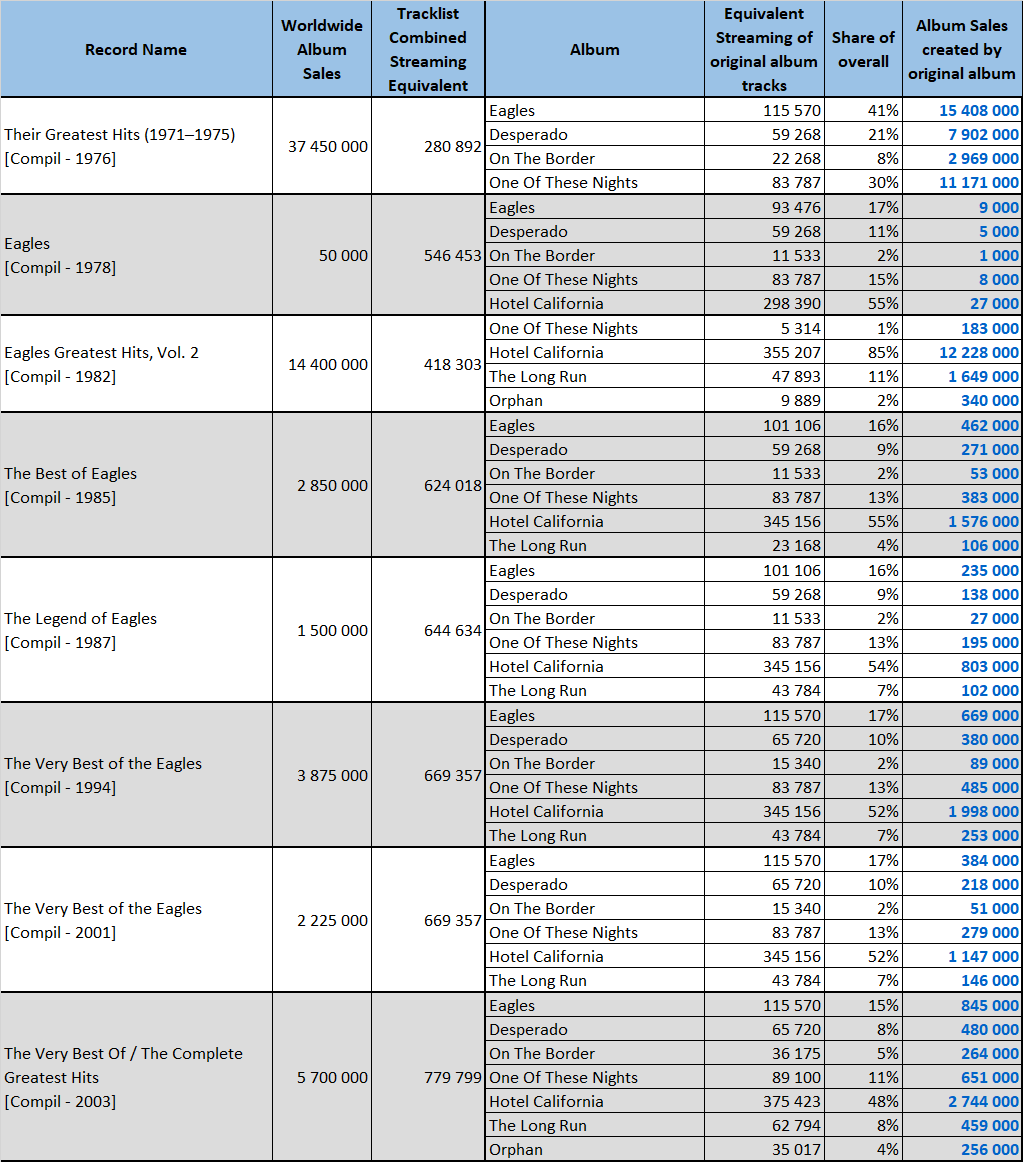 How to understand this table? If you check for example the Their Greatest Hits 1971-75 line, those figures mean it sold 37,450,000 units worldwide. The second statistics column means all versions of all the songs included on this package add for 281,000 equivalent album sales from streams of all types.
The second part on the right of the table shows how many equivalent streams are coming from each original album, plus the share it represents on the overall package. Thus, streaming figures tell us songs from the Desperado album are responsible for 21% of the Their Greatest Hits 1971-75 track list attractiveness. This means it generated 7,902,000 of its 37,450,000 album sales and so forth for the other records.
This compilation is the biggest anomaly ever of the music industry. Their Greatest Hits 1971-75 is the best selling compilation album of all-time… and it misses the signature song of its artist. The success of Hotel California, which happened some months after the release of the best of, boosted it incredibly well. Casual buyers that bought the two records had the perfect companion to each other. The Volume 2 issued in 1982 included Hotel California and sold a stunning 14,4 million, which is insane considering 85% of its appeal come from tracks of the 1976 album which was itself a major seller.
To sell a large number of one compilation it is needed to let it be the main set of a catalog for many years. The Eagles contradict what's natural for others. The five career-spanning compilations released from 1985 to 2003 sold a massive 16 million units. This is all the more insane since four of them weren't released in North America. This explains why 46 million out of the 52 million copies sold by Their Greatest Hits Vol 1 and 2 come from North America as elsewhere they were quickly replaced. The final total is unbelievable: the band's main greatest hits albums sold 68 million units.
In terms of distribution patterns we notice that all compilations released after 1976 have more than half of their sales powered by Hotel California's songs. The debut album Eagles is a distant second. Distant among post-1976 compilations, but the main driving force of Their Greatest Hits 1971-75, which isn't a small thing to point out since we are speaking of a 37 million seller. In fact, Eagles is responsible for an out of this World 15 million of its sales.