CSPC: Cher Popularity Analysis
https://flic.kr/p/bZAEah
Streaming Sales
Streaming is made up of two families – audio and video. Our CSPC methodology now includes both to better reflect the real popularity of each track. The main source of data for each avenue is respectively Spotify and YouTube. As detailed in the Fixing Log article, Spotify represents 132 million of the 212 million users of streaming platforms, while YouTube is pretty much the only video platform generating some revenue for the industry. Below is the equivalence set on the aforementioned article:
Audio Stream – 1500 plays equal 1 album unit
Video Stream – 11,750 views equal 1 album unit
Equivalent Albums Sales = 212/132 * Spotify streams / 1500 + YouTube views / 11750
Streaming Part 1 (Sonny & Cher)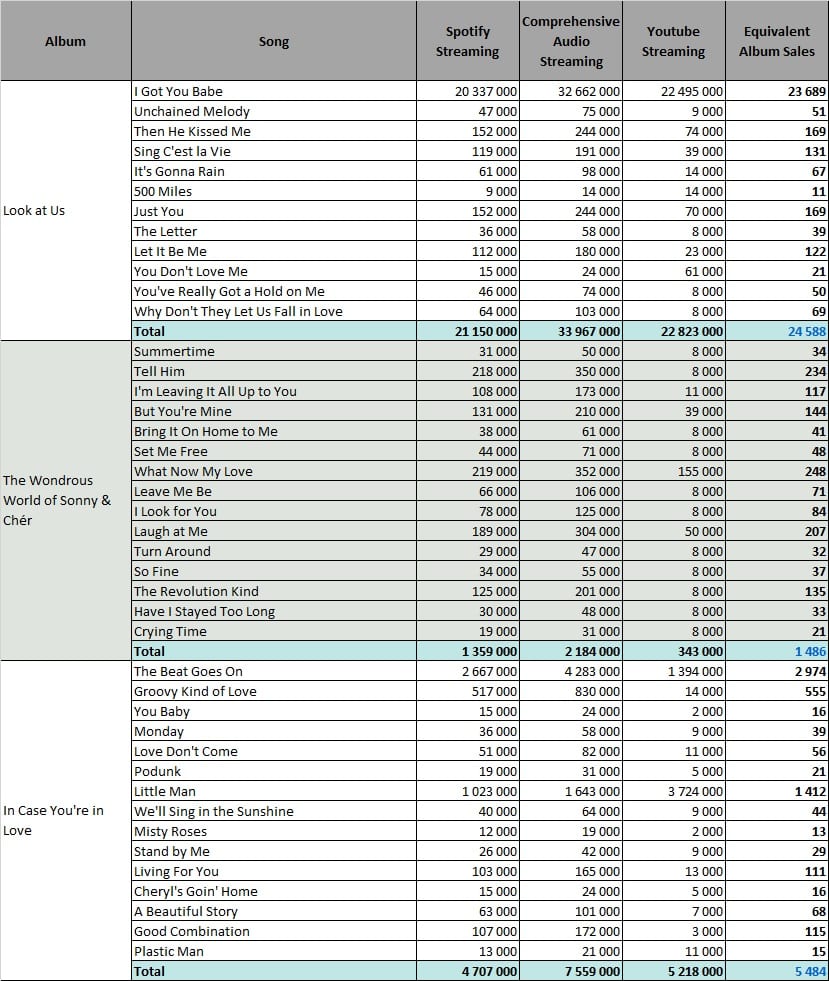 During the last year, we met various artists with not-so-good streaming figures. We rarely saw abysmal numbers like those of Cher though. I Got You Babe has an OK total of 20 million streams, not so good for a former US #1 smash, but still acceptable. The remaining songs aren't even worth commenting on. The song 500 Miles falls under 10,000 streams at Spotify.
Obviously, the count of equivalent album sales doesn't increase much. With artists like Drake, we start thinking that streams are easy, almost unfair, bringing tons of free sales. Nothing is free though. Big streams highlight a large popularity. You may be named Cher, if the public isn't interested anymore in some part of your catalog, Spotify and YouTube won't bring you any thing