CSPC: Black Eyed Peas Popularity Analysis
Streaming Sales
Streaming is made up of two families – audio and video. Our CSPC methodology now includes both to better reflect the real popularity of each track. The main source of data for each avenue is respectively Spotify and YouTube. As detailed in the Fixing Log article, Spotify represents 132 million of the 212 million users of streaming platforms, while YouTube is pretty much the only video platform generating some revenue for the industry. Below is the equivalence set on the aforementioned article:
Audio Stream – 1500 plays equal 1 album unit
Video Stream – 11,750 views equal 1 album unit
Thus…
Equivalent Albums Sales = 212/132 * Spotify streams / 1500 + YouTube views / 11750
Streaming Part 1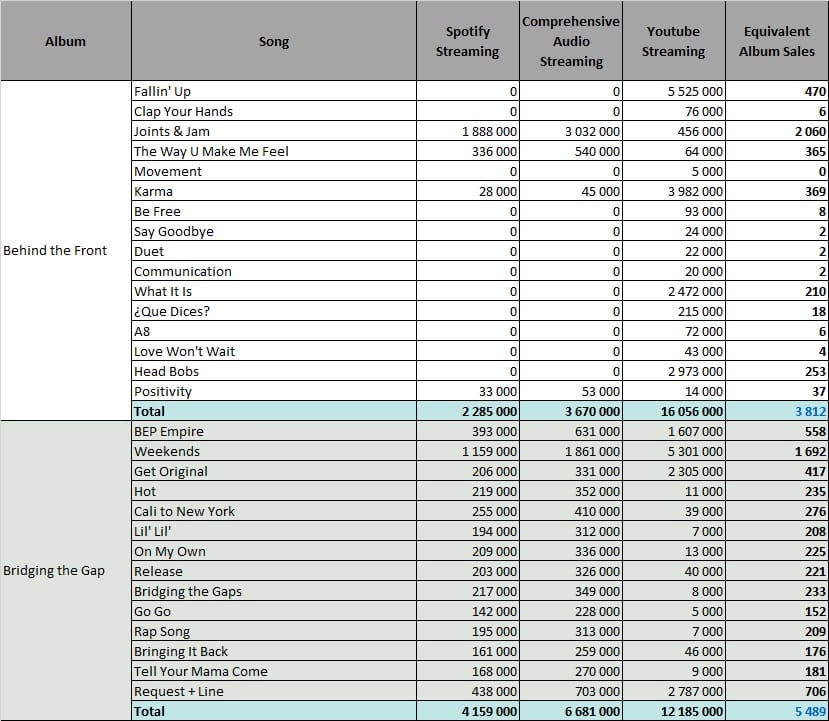 As previously mentioned, the later success of the band didn't do wonders for their first two albums. Hardly considered as part of their legitimate discography by some, and with never being newly promoted, their songs remained anonymous. Most of the first album isn't even available for stream, although it wouldn't bring much of a difference considering their tiny numbers. Only one song from each topped 1 million at Spotify. This creates the dreadful totals of 2,000 and 4,000 equivalent album sales respectively.