CSPC: Avril Lavigne Popularity Analysis
Streaming Sales
Streaming is made up of two families – audio and video. Our CSPC methodology now includes both to better reflect the real popularity of each track. The main source of data for each avenue is respectively Spotify and YouTube. As detailed in the Fixing Log article, Spotify represents 132 million of the 212 million users of streaming platforms, while YouTube is pretty much the only video platform generating some revenue for the industry. Below is the equivalence set on the aforementioned article:
Audio Stream – 1500 plays equal 1 album unit
Video Stream – 11,750 views equal 1 album unit
Equivalent Albums Sales (EAS) = 212/132 * Spotify streams / 1500 + YouTube views / 11750
Streaming Part 1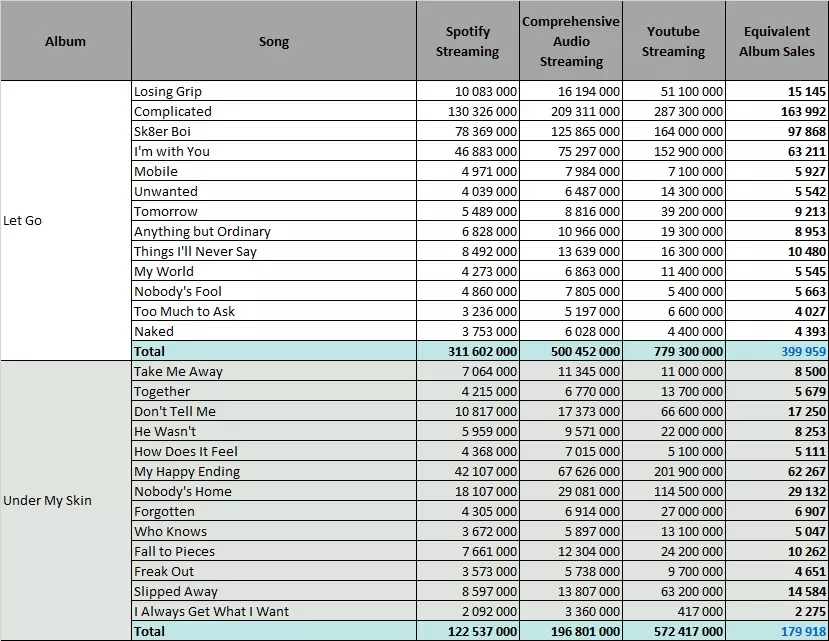 As Lavigne hasn't had a successful single since the start of the streaming boom we may expect low numbers from her on those platforms. It is even more valid since the Asian popularity of the singer will hardly be reflected on Spotify where the brand is irrelevant. Despite these two aspects her results are far from bad. Complicated is up to 130 million streams there while it is closing in on 300 million YouTube views. Both Sk8ter Boy and I'm with You post great totals too with a combined 125 million on Spotify and 317 million on YouTube.
The most surprising results are the consistency of the album tracks. Debut albums from Britney Spears and Christina Aguilera have their album cuts around 1 million streams on Spotify. Let Go's songs are far stronger with every song in the 3-7 million range. This shoots it to 400,000 equivalent album sales from streams.
Under My Skin is just as consistent but lacks big hits with no song reaching 50 million on Spotify. It has 180,000 equivalent album sales overall.