Eric Clapton albums and songs sales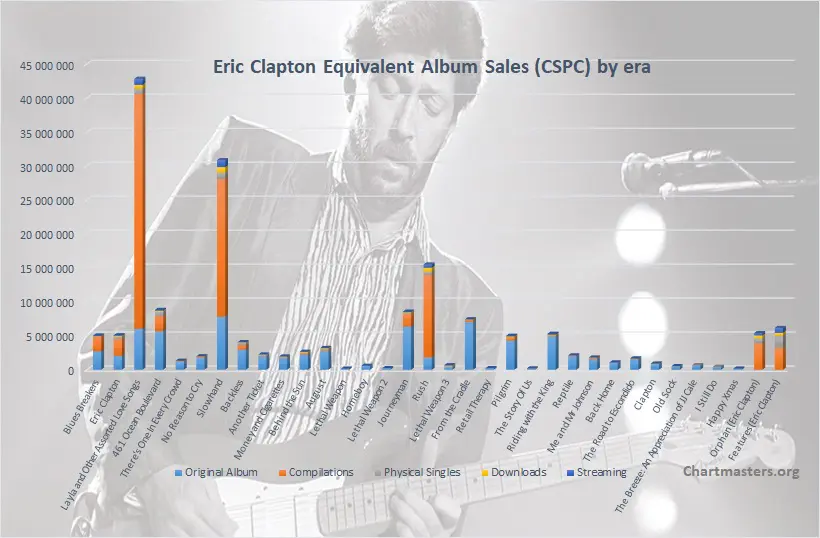 In a conversation about guitarists, chances are the name of Eric Clapton will be cited very quickly. How does this translates into record sales though?
After digging into sales of his early bands the Yardbirds, Cream and Blind Faith, here we review his remaining projects on top of his extensive solo discography.
September 1969.
After building a reputation of one of the finest blues rock guitarist with the Yardbirds from 1963 to 1965, and growing both as a musician and popularity-wise thanks to projects John Mayall's Bluesbreakers, Cream and Blind Faith, we meet an exhausted Eric Clapton, tired of the counterparts of his new fame.
His Blind Faith adventure, although very short, brought him a very clear message. During these months, he was way more interested in spending time with their supporting act, Delaney & Bonnie.
At that point, this group had yet to chart inside the US top 200 album or Hot 100 single lists. Still, Eric Clapton started to join them during their openings, and when he finished his tour with Blind Faith, decided to switch their roles and tour as a sideman for Delaney & Bonnie.
The married duo's LP On Tour with Eric Clapton, recorded live in December 1969, came out in April 1970.
In-between, Clapton took an airplane to be part of John Lennon's Plastic Ono Band for one day, enough time to perform a show that would get released as Live Peace in Toronto 1969 in December.
With Delaney & Bonnie's tour ending that December 1969, Eric Clapton, who already recorded or released albums as part of 4 (!) bands during the year, got into the studio once more to start working on his eponymous debut solo album.
In his off time, he contributed to albums from plenty more artists, the bit of free time he had was often spend with his good friend George Harrison. That's when he fell in love with his friend's wife, Pattie Boyd.
In March 1970, he finished his solo album, in early May, he recorded entirely the guitar part of the LP The London Howlin' Wolf Sessions, that month, he also started to record most tracks of Harrison's upcoming smash debut, All Things Must Pass, including the iconic hit My Sweet Lord.
Getting more and more crazy about Pattie Boyd, he put together a band with Delaney & Bonnie members as well as his "guitar brother" Duane Allman from the Allman Brothers Band, to record an album which is mostly a tribute to her, Layla and Other Assorted Love Songs, which included the classic Layla.
At the start of October, he had already recorded 4 more major albums. After years of heavy work, undesired fame and toxic love, Clapton burned out, isolating himself and suffering drug and alcohol addictions.
In 1971-1972, he only appeared at a show once, the legendary Concert for Bangladesh organized by his friend Harrison. Early 1973, The Who leader Peter Townsend planned the Eric Clapton's Rainbow Concert to bring him back to life.
In 1974, after recovering from his heroin addiction, he dropped his first #1 hit with I Shot the Sheriff, released the critically acclaimed 461 Ocean Boulevard, and began dating Pattie Boyd, that would become his wife 5 years later. And yes, Harrison and Clapton remained very good friends.
While his demons still struggled him many times in later years, this was the beginning of his solo career as we know it, with his sophisticated style and great harmonies.
It's now time to review this incredible journey right from the start with John Mayall's Bluesbreakers to today.
. We are listing this release among side releases rather than proper studio efforts.
As usual, I'll be using the Commensurate Sales to Popularity Concept in order to relevantly gauge his results. This concept will not only bring you sales information for all Clapton's albums, physical and download singles, as well as audio and video streaming. In fact, it will also determine their true popularity.
If you are not yet familiar with the CSPC method, below is a nice and short video of explanations. I fully recommend watching it before getting into the sales figures. Of course, if you are a regular visitor feel free to skip the video and get into the numbers directly.
The Commensurate Sales to Popularity Concept (CSPC)
There are two ways to understand this revolutionary concept. In the first place, there is this Scribe video posted below. If you are unaware of the CSPC method, you will get the full idea within just a pair of minutes.
If you are a mathematical person, and want to know the full method as well as formulas, you can read the full introduction article.
Now let's get into the artist's sales figures in detail in order to apply this concept and define the act's true popularity!
Eric Clapton Album Sales

Original Album Sales – Comments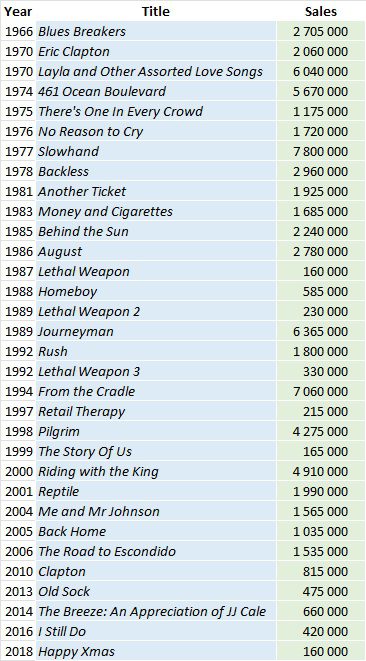 Here is the very long list of studio albums from Eric Clapton, with his soundtracks, and also the two albums with projects that were directly or indirectly credited to him, Blues Breakers and Layla.
The former failed to chart in the US, but went top 10 in the UK. It remained a good selling album ever since, amassing 2.7 million units in the process, including over a million in the US despite the lack of initial impact.
Eric Clapton went top 15 in both the US and the UK, good numbers for someone seen as a guitarist, but it lacked real big hits. Available for over 50 years, it is now up to 2 million sales.
The album Layla pretty much flopped in the UK, completely failing to chart, just like the singles. In the US, it climbed to #16, on the back of the #51 title track.
During the summer of 72, unexpectedly, the single resurged, peaking at #10 in the US and #7 in the UK. In the former country, the LP reentered charts and almost matched its peak, going to #17, 2 years after its release.
As the song went on to become a classic of rock stations, the album kept selling. It even debuted on UK charts in 2011, for its 40th anniversary. Slowly but surely, it climbed all the way up to 6 million sales.
461 Ocean Boulevard did well although not as impressively in the long run, but it was also a much bigger seller upon release, topping US charts for 4 weeks and hitting #3 in the UK. It's not too far from its predecessor at 5.67 million sales.
There's One In Every Crowd and No Reason to Cry failed to gain traction with no hit from them, they sold 1.2 million and 1.7 million, respectively.
In 1977, Clapton made a flashy comeback with Slowhand. Surprisingly, the album couldn't go higher than #23 in the UK. It remains his lowest charting non-Christmas studio album in the country.
It still sold well over platinum status there thanks to its ongoing appeal.
In the US, the story was different. Lay Down Sally (#3) and Wonderful Tonight (#16) were hits, boosting the album to the #2 position. It remained blocked as runner up for 5 weeks by the soundtrack of Saturday Night Fever.
A good seller as well across Europe, in Japan or in Australia, the album moved 7.8 million units, the highest total of the guitar icon's career.
From 1978 to 1986, a handful of albums came out, all with sales in the 1.7-3.0 million ballpark.
None had real crossover tracks, but they did get good supporting tracks that maintained the artist sales through the years, especially in the US for the first 4, while Phil Collins-backed August was a big hit album in the UK, peaking at 3 and selling over half a million.
From 1987, Clapton started to get involved in many soundtracks, although they were mostly themes, with no lyrics whatsoever. In general, these releases sold poorly in comparison to his traditional material.
He returned with a proper album in 1989 with Journeyman, that smashed. Despite its #16 peak, it sold 3 million in the US, and did very well elsewhere, adding for 6.37 million.
In March 1991, Clapton tragically lost his 4-year-old son. His next song was going to be a tribute to him, Tears In Heaven, issued as part of the Rush soundtrack, which became a global anthem, and sparked a huge outpouring of sympathy towards the artist.
This sympathy, the good commercial momentum he was in, the CD replacement market, the amazing catalog he built, the extensive usage of his songs on TV ads, all of it created the perfect background to the release of Unplugged.
A groundbreaking success – sales listed later on – the record made him a superstar again, even bigger than he used to be in his Cream or Slowhand years.
Rather than following it up with a commercial release, he used this opportunity to record what he always wanted to, a blues record.
As incredible as it seems, From The Cradle became his first studio set since 461 Ocean Boulevard some 20 years earlier to hit the top 10 in both the US and the UK. In fact, it even got to #1 in both countries, a first since the lone Blind Faith album.
This album sold 7 million units, leading a lot of people to start discovering the blues music catalog.
The dance music project Retail Therapy released under the name T.D.F. sold next to nothing, but his new studio effort Pilgrim did great once more, with over 4 million sales.
After one more forgottable movie theme (The Story of Us), Clapton paired with his long time idol B.B. King on Riding with the King. This was one more commercial and critical success, moving nearly 5 million copies.
Although this can be seen as the last real good seller from the guitarist, he managed to remain relevant with many more albums.
Reptile, Me and Mr Johnson, Back Home did over a million, although with decreasing sales. Another paired album, The Road to Escondido with JJ Cale, reversed the trend, selling 1.5 million. Not bad over 40 years into your career.
The lower and lower momentum, on top of a market going downhill, so his recent albums sell less and less. He again rebounded with The Breeze, a tribute to JJ Cale with a cast of guests which features John Mayer, Mark Knopfler, Tom Petty and Willie Nelson.
This run of 32 albums combines for 73.5 million albums sold. No need to say that plenty of live and compilation releases have also been sold, we will break them down later on in the appropriate section.
Eric Clapton songs sales
Below, we list down results from the artist through physical sales, digital sales and streaming.
Please be aware that when the artist is regarded as the lead act, he is rewarded with 100% of these units, while featured acts share among them a 50% piece of the totals.

Physical Singles

As a reminder, the weighting is done with a 10 to 3 ratio between one album and one physical single.
Comin' Home, released with the help of Delaney & Bonnie, was the first hit to individually credit Eric Clapton in btoh the US and the UK. It charted at #84 and #16, respectively.
Results were the opposite with After Midnight, which did very poorly across Europe back made it to #18 in the US. It sold 635,000 copies.
From the Eric Clapton album, Let It Rain became a moderate US hit in 1972, charting at #48 to exploit the hype surrounding Layla.
Let move precisely to this song, Layla. A #51 peak in 1971 was soon topped by a #10 smash the following year. The Unplugged version, issued in 1992, charted at #12.
In the UK, the song failed to chart at first, then went to #7 in 1972, re-peaked at #4 in 1982, and did it again in 1992 at #45.
These multiple rebounds created a 2.3 million seller, but above all they've left a real imprint in the memory of several generations.
In 1974, he covered Bob Marley's I Shot The Sheriff, going to #1 in the US and #9 in the UK. By doing so, he brought the Jamaican legend and the reggae music in general to a much larger audience. His rendition sold 1.9 million units.
From this point and for nearly two decades his singles sales relied mostly on US results.
More than 80% of Lay Down Sally's 1.5 million sales come from there, while Wonderful Tonight was left uncharted in 1977 in most countries, building OK-ish sales outside the US only through various reissues.
Promises too sold mostly in the US thanks to its #9 peak, Tulsa Time went to #30, I Can't Stand It to #10, I've Got a Rock N' Roll Heart to #18, and Forever Man to #26. Out of their 2.6 million combined sales, 2.1 million come from the US.
The lack of success there from August and Journeyman singles explain their low global sales, with no song selling even 200,000 units. It must be said that the artist fanbase had grown and was less concerned by singles, more by albums.
It took a new crossover hit to see large numbers again. Tears In Heaven went to #2 in the US and #5 in the UK, while smashing in Japan. The song sold 1.7 million copies.
Lethal Weapon 3 brought a duo of interesting duets. It's Probably Me with Sting sold over 400,000 copies, being especially big in France, while Runaway Train with Elton John did 275,000.
From The Cradle songs sold very poorly in single format.
Among the many incredible chart facts related to Eric Clapton, maybe the most incredible is that up to 1995, his highest charting hit in his native UK, bands included, was still the #3 song For Your Love with the Yardbirds way back in 1965.
The absurd part is that this drought was broken by one of his least known hits, the Comic Relief track Love Can Build a Bridge, a collaboration with Chrissie Hynde (Pretenders), Neneh Cherry, and Cher, which shot to #1.
Chronologically speaking, the last real hit from the artist was Change The World.
This 1999 song, supporting the soundtrack Phenomenon, sold a million in the US, 400,000 units in Japan and did well in Europe, en route for 1.9 million sales globally.
Let's go back in time a bit though. If Eric Clapton has always been busy with his careers solo or with his bands, he never said no to contribute to someone else's project.
Even if features were rarely credited at the time, his guitar was often a predominant element on songs he contributed to.
A prime example is no other than George Harrison's My Sweet Lord.
The track destroyed charts everywhere, a la Beatles' hey-days.
Reissues included, it sold well past 2 million in the US, nearly a million in the UK, 750,000 in Germany, 600,000 in France, 350,000 in both Italy and Japan, and so on. A mind blowing total of 7 million units.
Its follow up What Is Life was a significant hit on its own, selling 1.5 million.
Another notable contribution is I Wish It Would Rain Down. The 1989 track from Phil Collins sold a million copies worldwide.
In total, his main credits singles combine for 18.4 million physical singles sold, while his features add for 11.5 million more.

Digital Songs

As a reminder, the weighting is done with a 10 to 1.5 ratio between one album and one digital single.
If many early songs like After Midnight, Let It Rain, Bell Bottom Blues or Have You Ever Loved a Woman are still moderately remembered, with downloads averaging over 250,000 units, they are overshadowed by Layla.
We mentioned earlier that the track was a hit in 3 consecutive decades, which helps to connect with various generations.
The song is indeed very well remembered with no less than 3 million downloads and ringtones. It's one of the best selling 70s tracks in digital form.
It's hard to compete with a figure so high, and even former chart topper I Shot the Sheriff pales in comparison. It stands at 450,000 sales so far.
A track which held better in the long run is Cocaine. Back in 1977, it was released as the b-side of Lay Down Sally.
Now, it leads digital sales by 2 to 1, with a million units for the former against half a million for the latter.
Another sales beast is there yet, big enough to make these songs look weak. Wonderful Tonight stuns with no less than 3.5 million sales.
This track remains Clapton's signature song in the US, which contribute greatly to the total with half of the sales from the downloads alone.
The catalog issued from 1978 to 1991 isn't doing as well.
Among them are many mid-range download hits for legacy tracks, like Promises, I've Got a Rock 'n' Roll Heart or Forever Man.
From these years, no less than 13 songs sold over 100,000 units, but none did more than 320,000.
Then, of course, comes Tears In Heaven. Another golden smash, the track does well everywhere, totalling 3.7 million units.
Some songs which weren't hits in first place are holding fairly well too, although at a lower scale.
We can mention Pilgrim's pair of tracks My Father's Eyes and River of Tears, which combine for no less than 600,000 units.
The 1999 hit Change The World isn't holding that well in most countries, but it's insane Asian success grants it nearly 2 million sales.
The track is easily his main classic in Japan with sales in excess of 800,000 units through downloads and ringtones.
Some deep cuts are strong as well, as shown with the era Riding with the King that totals 725,000 sales in spite of no real hit.
Similar patterns are find with later albums, including The Road to Escondido and Clapton.
Then again, we need to take a minute to look at features.
Logically, My Sweet Lord strikes again, although its 1.8 million can almost disappoint considering how ridiculously big the physical single had been.
Many tracks from All Things Must Pass crack the 6 digits plateau through which is definitely positive.
In this section, we also notice the Beatles' While My Guitar Gently Weeps. Although both the band and the guitarist denied for many years his feature for contractual reasons, rock fans had no doubt from the very first day.
Speaking about the fab four, Paul McCartney's My Valentine also enjoyed the contribution of Clapton.
An overall look gives us a weird feeling, as over such a large discography, there are next to no good hit, former singles are either moderate sellers or very strong sellers.
This is one indicator of the importance of his discography with his bands.
As his compilations always welcomed tracks from his former groups, songs that could have maintained a better popularity got dropped from these tracklists, ultimately losing a bit of their strength.
His total is still very solid with 26.2 million digital sales from main credits, plus 5.8 million more from features.
With his entire discography, the result even climbs close to 40 million units, something not many artists who debuted in 1963 can claim.

Streaming
Streaming is made up of audio and video streams. Our CSPC methodology includes both to better reflect the real popularity of each track. The main source of data for each avenue is respectively Spotify and YouTube. To factor in the growing impact of multiple Asian countries where these platforms aren't always the go-to site for music streaming, more sources have been added.
In order to account for their real popularity in each relevant country, the below sources have been used along with the mentioned ratios that reflect the market share of each area.
Audio Streams
– South Korea: Genie streams * 2.20 (consistent with Gaon streaming numbers)
– Japan: AWA streams * 68 / 4 (AWA has 4% of the Japanese streaming market, and 32% are already considered through Spotify's extrapolation)
– Arabic world: Anghami streams
– Sub-Saharan Africa: Boomplay + Audiomack streams
– Elsewhere: Spotify streams * 649 / 406 (649 million subscribers of global platforms like Spotify, Apple Music, Amazon Music, YouTube Music, Deezer, etc. against 406 million from Spotify itself) + Genie streams * 2.20 (uses Genie rather than Spotify to extrapolate markets like Taiwan, Thailand and Vietnam)
Video Streams
– China* : QQ video streams * 50 if the song is available for audio stream, QQ video streams * 5 elseway (scale built based on known figures for several major artists)
– Elsewhere : Youtube views increased by 10% to account for various local platforms
*since Chinese streaming platforms are mostly video streaming platforms, their streams are weighted on par with YouTube streams.
Audio Stream value – 1,500 plays equal 1 album unit
Video Stream value – 6,750 views equal 1 album unit
Equivalent Albums Sales (EAS) = ( Spotify * 649/406 + Genie * 2.20 * 2 + AWA * 68 / 4 + Anghami + Boomplay + Audiomack ) / 1500 + ( QQ views* 50(or 5) + YouTube * 1.1 ) / 6750
Top Hits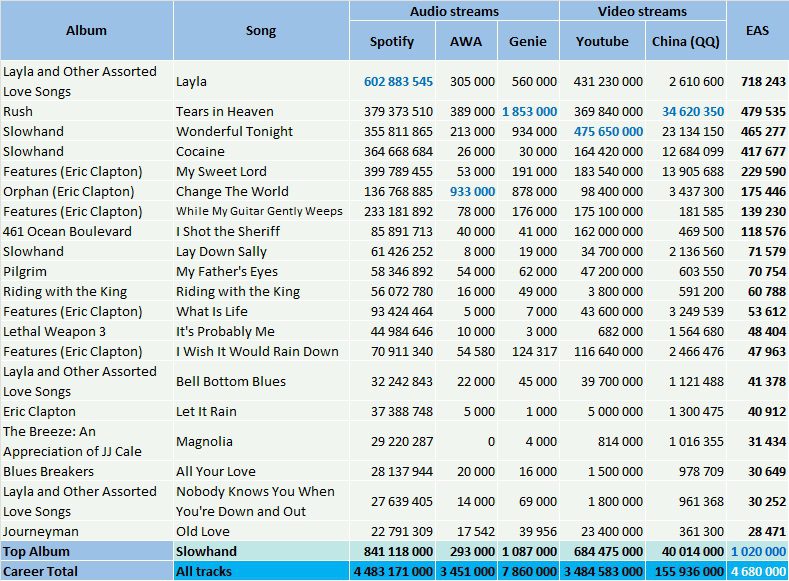 My Sweet Lord was the top selling physical, Tears In Heaven the biggest download, but in terms of streams Layla leads the way, which is truly impressive since it's a 7-minutes long song.
The 1970 classic registers over 600 million streams on Spotify and 400 million streams on YouTube, which are extraordinary numbers for a song from this era. It converts into 718,000 equivalent album sales.
A super solid quartet follows it. Tears In Heaven, his biggest hit in South Korean's Genie and Chinese's QQ, Wonderful Tonight, the leader on YouTube, Cocaine, and My Sweet Lord, all claim from 355 to 400 million streams on Spotify, and they are all at 164 million or more on YouTube.
Only the latter, as it's a feature, records less than 418,000 EAS. While My Guitar Gently Weeps also has its sales divided by 2, else its streams are very good too.
Change The World and I Shot the Sheriff are both mid-way between his heavy hits and his moderate successes. Both of them combine for 235-250 million streams on Spotify plus YouTube, and both top 100,000 EAS. The former is the guitarist's best performer in Japan.
Many songs, 8 to be precise, stand between 41,000 and 72,000 EAS. My Father's Eyes is once again the surprise, closing the top 10.
Albums-wise, Slowhand manages to outdo Layla, with total streams cracking a million EAS.
Clapton is obviously no one-album wonder, with a career scoring 4.68 million EAS, which is twice as much as his 3 biggest albums together, a fact which highlights a very dense catalog.
Full catalog breakdown
If you are familiar with the artist's catalog and want to check details of each and every song, you can access to all of them right here.
Keep yourself up to date
Our website provides you a fantastic tool which fetchs updated Spotify streams as you request them, use it to watch these results grow day after day!
Eric Clapton compilations sales
It sounds fairly logical to add together weighted sales of one era – studio album, physical singles, downloads, streams – to get the full picture of an album's popularity. For older releases though, they also generate sales of various live, music videos and compilation albums.
All those packaging-only records do not create value, they exploit the value originating from the parent studio album of each of its tracks instead. Inevitably, when such compilations are issued, this downgrades catalog sales of the original LP. Thus, to perfectly gauge the worth of these releases, we need to re-assign sales proportionally to its contribution of all the compilations which feature its songs. The following table explains this method.
The distribution process

How to understand this table? In the example of Unplugged, these figures mean it sold 23,730,000 units worldwide. The second statistics column means all versions of all the songs included on this package add for 1,383,125 equivalent album sales from streams of all types.
The second part on the right of the table shows how many equivalent streams are coming from each original album, plus the share it represents on the overall package.
Thus, streaming figures tell us songs from the Layla and Other Assorted Love Songs album are responsible for 54% of Unplugged track list attractiveness. This means it generated 12,842,000 of its 23,730,000 album sales and so forth for the other records. We then apply this process to all compilations present on the table.
Compilations sales figures listing

This list contains every compilation, live set, music video, EP that feature songs from Eric Clapton and aren't multi-artist packages.
There, we can notice albums that he entirely recorded as a guitarist, although he wasn't the main artist. In this case, he is considered a featured act.
A good example is Pink Floyd's Roger Waters, who debuted his solo career in 1984 with the release of The Pros And Cons of Hitch Hiking. On it, Clapton has a major input, and even toured with Waters to support the album.
Another key point is naturally the amount of strong selling records.
At 23.73 million, Unplugged is quite simply the greatest selling live record of all-time. His first career spanning best of, Time Pieces, is up to 13.64 million.
Back to back mid-90s compilations The Cream Of Clapton, released either in the US or elsewhere but with different tracklists, combine for 8.68 million sales.
That's true despite the quick arrival of Chronicles in 1999, itself a 7.43 million seller. These are only 5 of the 23 million selling packages listed here. What happens when we add everything together?
Full Length related records Sales – Summary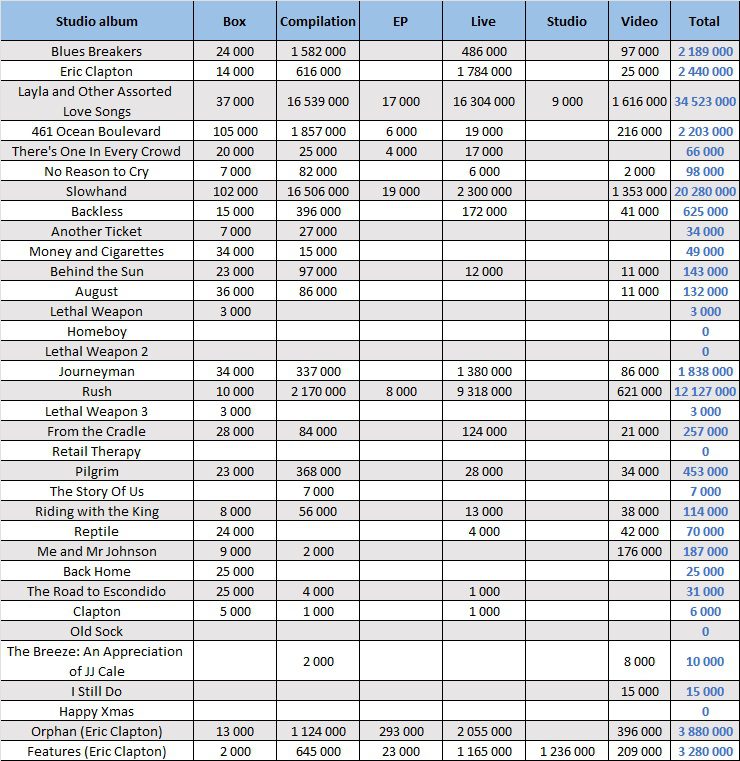 Here is the most underestimated indicator of an album's success – the amount of compilation sales of all kinds it generated.
Due to the dependency of sales of the original studio albums on these releases, they are a key piece of the jigsaw.
These numbers are obtained by applying the method from the section The distribution process to all packages listed under Compilation sales figures listing category.
34.5 million album sales. These would be a great career total, cross-formats, for most international artists. This would be a very, very good total of compilations and live releases sold. That is a sensational number of units powered by a single album.
Layla and Other Assorted Love Songs is an absolute blockbuster, being responsible for over 16 million sales through both type of releases, compilations and live albums.
It takes so much space that one could expect other albums to do poorly, but Slowhand is amazing on its own, eclipsing the 20 million barrier. Rush, home of Tears In Heaven, records over 12 million sales.
Behind this fantastic top 3, the gap is big, with Blues Breakers, Eric Clapton, 461 Ocean Boulevard, and Journeyman being the remaining relevant performers, each with about 2 million sales.
Bonus: best-selling compilations' breakdowns

Total Album (all types) Sales per Country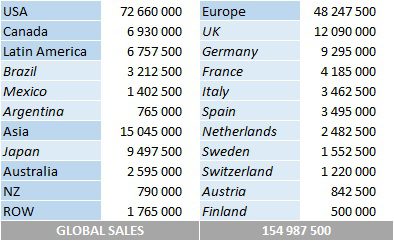 Please note country-specific numbers may miss sales of a few minor releases, although totals are complete.
Eric Clapton Career CSPC Results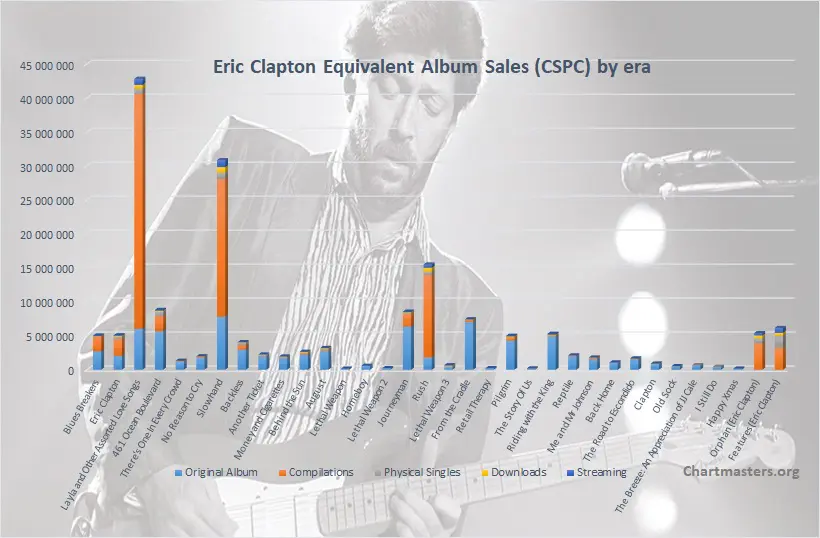 So, after checking all the figures, how many overall equivalent album sales has each album by Eric Clapton achieved? Well, at this point we hardly need to add up all of the figures defined in this article!
Albums CSPC results
The least that we can say is that Eric Clapton hasn't been too good at escaping fame. He was just too good of a guitarist, developping himself into a strong all-around performer through the years.
Both Blues Breakers and Eric Clapton close counts on 5 million, great numbers by anyone's standards. It was the calm before the storm yet.
Layla and Other Assorted Love Songs, an album which took over 40 years to chart in his homeland, generated nearly 43 million album sales through all metrics.
Smash singles reissues, strong catalog sales, immense impact on top selling live sets, a valuable addition to any compilation, the album and most specifically its title track belong to the very most successful records.
Slowhand ends up satisfying itself with a runner up spot, despite a terrific total of 30.85 million. On its side, Rush proved that Eric Clapton still had a lot to say in the 90s, it posts 15.5 million sales in total.
More strong sellers include 461 Ocean Boulevard and Journeyman, both over 8.5 million, while From The Cradle is not too far away at 7.4 million.
On top of the first two albums, Pilgrim and Riding with the King are also over the 5 million mark.
Another stunning fact is that from the very debut of the Yardbirds with Five Live Yardbirds in 1963, to the JJ Cale collaboration The Road to Escondido in 2006, Clapton scored 29 albums in a row, spread over 43 years, which cracked a million. In the long run, 2010's Clapton will extend this run to 30 albums and 47 years.
What about career totals? The slow hand ends up at 174.93 million equivalent album sales with his solo discography alone.
This total climbs to over 235 million with his early bands, excluding the part of the Yardbirds after he had left. It's as much as Pink Floyd, and barely less than the Rolling Stones and Madonna.
On top of these unbelievable sales, the footprint of Eric Clapton is inestimable.
He was a precursor of psychedelic rock, a strong influence to heavy metal, impulsed blues music, put reggae in the global map, created the concept of supergroups, released the first smash double LP, and I'm purposedly not even mentioning his impact on guitar play.
He released albums or made concerts with virtually every major rock-related artist of the last 60 years. His study felt like covering half of the blues rock music history.
A last number to illustrate the magnitude of his work: our excel sheets built to write this article contain over 988,000 non-empty cells.
Singles CSPC results
The list is compiled in album equivalent sales generated by each song. Therefore, these figures are not merged units of singles formats. Instead, it includes weighted sales of the song's physical single, download, ringtone and streaming as well as its share among sales of all albums on which it is featured.
1. 1970 – Derek and the Dominos – Layla [Layla and Other Assorted Love Songs] – 37,070,000
2. 1977 – Eric Clapton – Wonderful Tonight [Slowhand] – 15,500,000
3. 1992 – Eric Clapton – Tears in Heaven [Rush] – 14,590,000
4. 1977 – Eric Clapton – Cocaine [Slowhand] – 11,310,000
5. 1974 – Eric Clapton – I Shot the Sheriff [461 Ocean Boulevard] – 7,370,000
6. 1998 – Eric Clapton – My Father's Eyes [Pilgrim] – 3,330,000
7. 1970 – Eric Clapton – Let It Rain [Eric Clapton] – 2,640,000
8. 1989 – Eric Clapton – Old Love [Journeyman] – 2,360,000
9. 1977 – Eric Clapton – Lay Down Sally [Slowhand] – 2,160,000
10. 1970 – Derek and the Dominos – Have You Ever Loved a Woman [Layla and Other Assorted Love Songs] – 2,110,000
11. 1977 – Eric Clapton – Hoochie Coochie Man [From the Cradle] – 2,110,000
12. 2000 – Eric Clapton & B.B King – Riding with the King [Riding with the King] – 2,090,000

If you feel inspired by this list, we just created this CSPC Eric Clapton playlist on Spotify!
Discography results
Thanks to our new ASR (Artist Success Rating) concept, we know that their sales represent 44.08 million times the purchase of their entire discography. Coupled with their total sales, it translates into an ASR score of 497.
The ranking of all artists studied so far is available too at this link.
Records & Achievements
At 42,834,000 EAS,

Layla and Other Assorted Love Songs

is the 2nd

most successful album from 1970

.

At 42,834,000 EAS, Layla and Other Assorted Love Songs is the 9th most successful album from the 70s.
At 42,834,000 EAS, Layla and Other Assorted Love Songs is the 25th most successful album of all-time.
At 30,847,000 EAS, Slowhand is the 6th most successful album from 1977.
At 30,847,000 EAS, Slowhand is the 22nd most successful album from the 1970s.
At 15,493,000 EAS, Rush is among the 10 most successful albums from 1992.

At 37,070,000 EAS,

Layla

is the

most successful song from 1970

.

At 37,070,000 EAS,

Layla

is the

2nd most successful song from the 70s

.

At 37,070,000 EAS,

Layla

is the

4th most successful song of all-time

.

At 15,500,000 EAS,

Wonderful Tonight

is the

4th most successful song from 1977

.

At 11,310,000 EAS,

Cocaine

is the

8th most successful song from 1977

.

At 14,590,000 EAS,

Tears In Heaven

is the

2nd most successful song from 1992

.

At 23,730,000 pure sales, Unplugged is the best selling live album of all-time.
Eric Clapton is the only three-time inductee to the Rock and Roll Hall of Fame.
Eric Clapton won 18 Grammy Awards, and is one of the 8 artists to win Album, Song and Record of the year the same year (1993, with Unplugged and Tears In Heaven).
5 of his bands / side-projects (Yardbirds, John Mayall's Bluesbreakers, Cream, Blind Faith, Derek & the Dominos) along with himself have got at least one entry inside Rolling Stone magazine's 500 Greatest Albums of All Time lists, as well as 3 albums in played in (by the Beatles, George Harrison and Aretha Franklin).
NB: EAS means Equivalent Album Sales.

Dynamic Spotify Key Performance Indicators
Please note that numbers below are retrieved automatically, so they will evolve day by day unlike previously listed data which is valid as of the publication date of the article.
Eric Clapton
Current followers count: 5,101,002
5,000,000 followers have been reached on 09/16/22 4,000,000 followers have been reached on 09/02/22 5,000,000 followers have been reached on 07/21/22 4,000,000 followers have been reached on 01/22/21
>> Daily breakdown
Current streams count: 2,798,684,461
2,000,000,000 streams have been reached on 02/16/21
>> Daily breakdown
Eric Clapton is #487 among the most streamed artists of all-time Popularity Rating: 70/100
>> Visit our Top 1,000 most streamed artists ranking
>> Visit our Top 20 highest rated artists ranking
Current monthly listeners: 10,642,391
(Trend:
-35,258
)
Global chart position: N/A
The artist top 50 cities come from
28 distinct countries
>> Global impact breakdown
As usual, feel free to comment and / or ask a question!
Sources: IFPI, Spotify, YouTube, Discogs.
You may be interested in…
… our Eric Clapton series
… best-selling artists, albums, and singles
We have created amazing cross-artists tops. Click to see all CSPC and raw sales results compiled so far!
… similar artists
To put figures into perspective, click to reach career breakdowns of rock legends: