Paul Simon CAREER CSPC RESULTS
So, after checking all the figures, how many overall equivalent album sales has each album by Paul Simon achieved? Well, at this point we hardly need to add up all of the figures defined in this article!
In the following table, all categories display figures that way, e.g. in equivalent album sales. For example, singles from Survivor released in digital format sold the equivalent of 302,000 album albums – 2,015,000 downloads with a 10 to 1,5 weighting.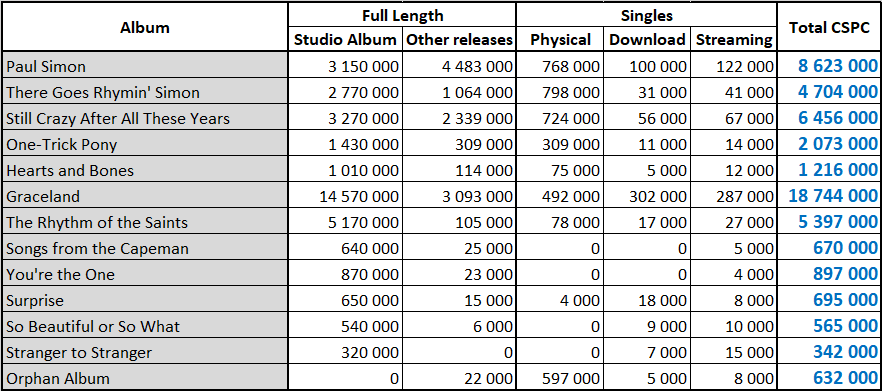 As a reminder:
Studio Album: sales of the original album
Other Releases: sales of compilations generated thanks to the album
Physical Singles: sales of physical singles from the album (ratio 3/10)
Download Singles: sales of digital singles from the album (ratio 1,5/10)
Streaming: equivalent album sales of all the album tracks (ratio 1/1500 for Audio stream and 1/11750 for Video stream)
When Simon went solo, it was near impossible to match the ground breaking success of his former duo. He hasn't even come close, but his numbers are still strong.
Graceland is naturally the leader with 18,7 million equivalent album sales across all formats. Released more than 20 years after the commercial breakthrough of the artist, this album is one of the most unexpected smashes of all-time.
If this album largely overshadows the rest of his discography, results of various additional albums are still very good. Paul Simon is a solid runner up at more than 8,6 million units while Still Crazy After All These Years, The Rhythm of the Saints and There Goes Rhymin' Simon are all in the 5-6 million range.
The remaining 7 albums average less than 1 million sales. Now in the last part of his career, Simon will not be looking at a flashy comeback with his upcoming releases. Still, at 51 million equivalent album sales on his own, his solo career is more than respectable.
Thanks to our new ASR (Artist Success Rating) concept, we can add that his ASR score is 182. This puts his solo career ahead of stars like P!nk, Nickelback and Michael Bublé.
The following pages list his most successful songs as well as his records and achievements. Do not forget to check our amazing cross-artists lists posted inside the CSPC: Data Collector which includes the full listing of all CSPC results compiled so far to better gauge his position in the history of the music industry.
As usual, feel free to comment and / or ask a question!
Sources: IFPI, Spotify, YouTube, Discogs, Chartmasters.org.