Full Length related records Sales – Summary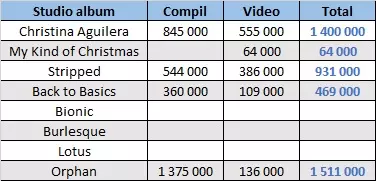 Here is the most underestimated indicator of an album success – the amount of compilation sales of all kinds it generated. Due to the dependency of the own studio album sales on those releases, they are a key piece of the jigsaw.
Interestingly, the Orphan album is the one that generated the highest number of compilation sales. It is mostly due to original Spanish tunes. As no compilation-like album nor video came out in recent years, Bionic, Burlesque and Lotus haven't contributed at all in such releases, downgrading even more their weight within' the pop star discography.