Streaming Sales
The below table lists Spotify streaming of all songs from the five albums we are studying. The Comprehensive Streaming is reached by multiplying Spotify figures by 68/26. In fact, as shown in the IFPI 2015 Report, there were 68 million paying subscribers to all streaming platforms by the end of 2015. While the exact count of Spotify paying subscribers by the end of 2015 is unknown, that figure reached 20 million in June 2015 and 30 million in March 2016, thus an estimated 26 million is used as of the end of 2015.
The equivalent album sales is the division of the comprehensive streaming figure by 1500 as is now the norm in the new industry model.
NB: as we now switched to 2017, Chartmasters.org is going to update the ratio used on this methodology as soon as official market information from IFPI gets published. This is in order to maintain the relevancy of all figures.
Streaming Part 1 – 90s Rising Star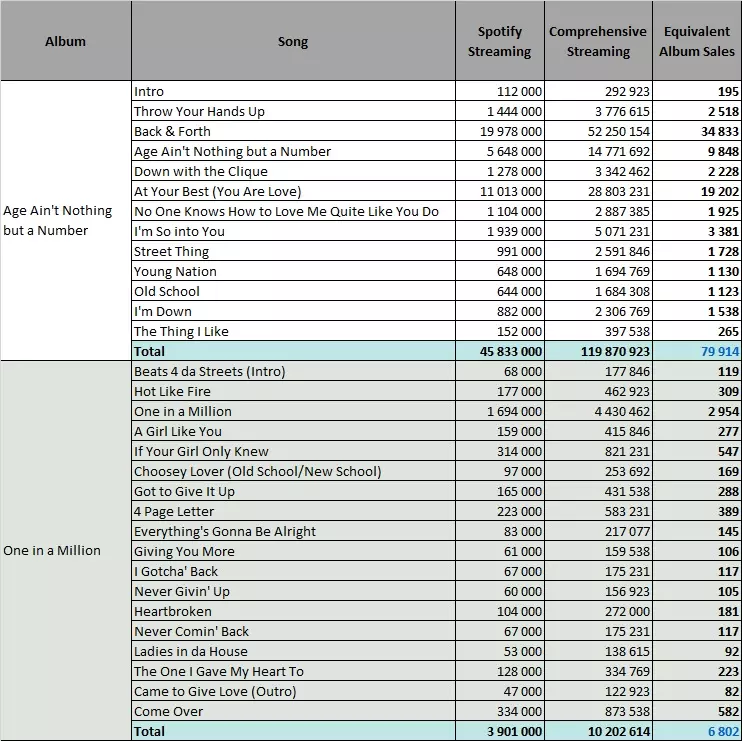 The lack of consistent availability of One In A Million becomes obvious with its streaming results. If we check the artist's Last.fm catalog, this album has almost twice as many plays as her debut one, which shows its potential. While on Spotify it loses the battle by 12 to 1.
As a result, less than 7,000 equivalent album sales is all that it gets. Naturally, Age Ain't Nothing but a Number, which is fully available and has always been at Spotify and other streaming platforms, performs much better with nearly 80,000 equivalent album sales. Its two US Top 10 hits back in the day registered more than 10 million plays.