The Rolling Stones Career CSPC Results
So, after checking all figures, how many overall album sales equivalent each Rolling Stones album achieved? Well, at this point we barely need to do the addition of all figures defined all over this article!
In the following table, all categories display figures that way, e.g. in equivalent album sales. For example, Aftermath singles released in digital format sold the equivalent of 855,000 albums – 5,700,000 downloads with a 10 to 1,5 weighting.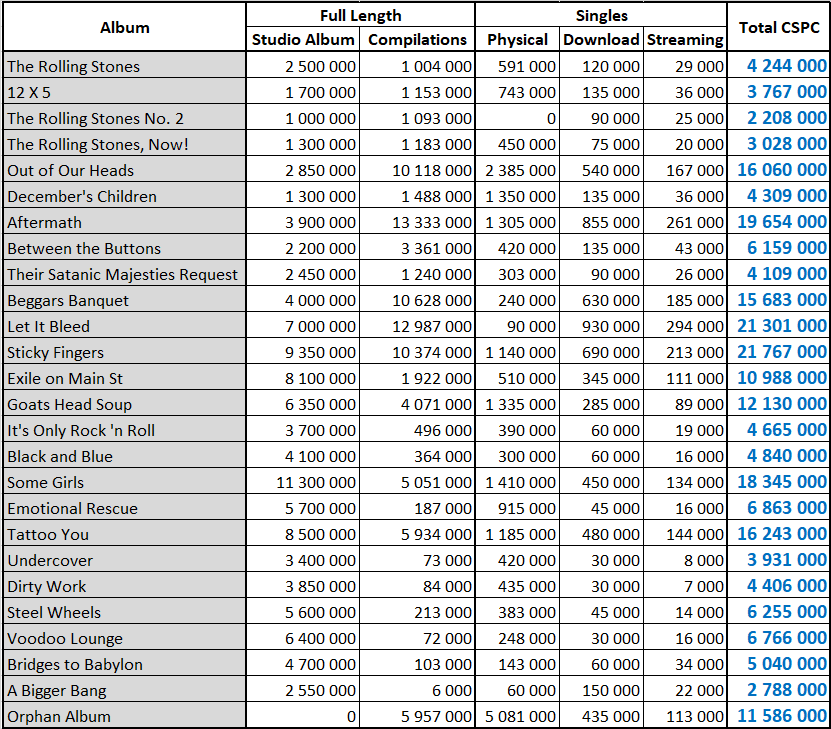 As a reminder:
Studio Album: sales of the original album
Other Releases: sales of compilations generated thanks to the album
Physical Singles: sales of physical singles from the album (ratio 3/10)
Download Singles: sales of digital singles from the album (ratio 1,5/10)
Streaming: equivalent album sales of all the album tracks (ratio 1/1500)
Their number of 10 million sellers climbs from 1 in pure album sales to 9 when factoring in all formats and compilation sales generated. At 18,3 million, Some Girls is their fourth most successful album only in spite of being the highest seller on its own. Initially benefiting from better market environment in comparison to its predecessors, the album got matched by Sticky Fingers, Let It Bleed and Aftermath due to the immense number of compilations each one is responsible of. From 21,8 million to 19,7 million, that's a ferocious fight for the top spot that those albums are engaged on.
In fact, the recent reissue of Sticky Fingers as late as in 2015 enabled it to be their top album but digital results are more favorable to Let It Bleed which may ultimately take over the lead, likely about 50 years after their releases.
The most surprising result is maybe Exile On Main St which ranks only 9th overall. Their only classic album that misses a truly iconic hit, this album was cannibalized way less by compilations than its contemporary albums. This explains why the 2010 reissue was so successful – it contributes in 1,3 million of the album 8,1 million pure album sales – as there was more room for sales than for other LPs which saw their singles used up to saturation point.
Studio album sales create the illusion that the band later albums have been as successful as their 1965-1981 classics. Let display the same results in graphical view to better understand what happened: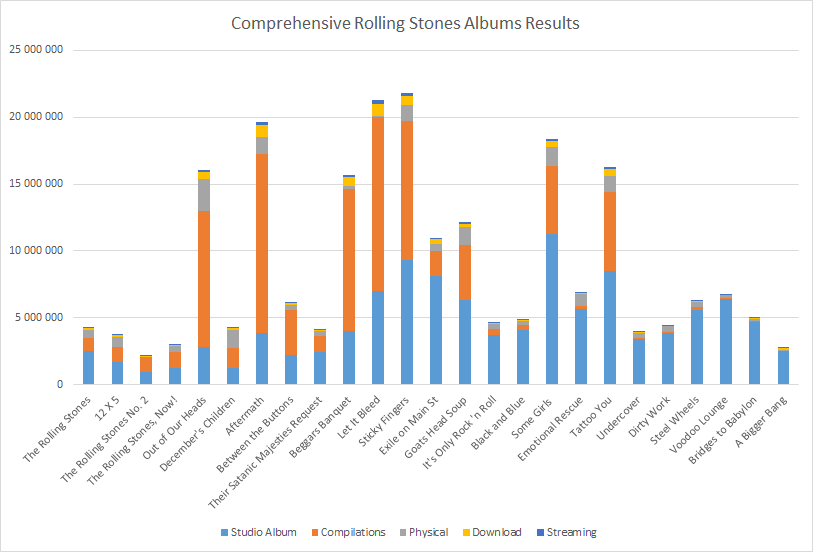 As you can see, blue bars representing studio album sales are fairly stable, including for later albums. From the album Undercover though bars are almost entirely blue. Those albums enjoyed an album market much, much healthier than their past records, which makes it look like they have been just as successful. When checking the global Commensurate Sales to Popularity Concept (CSPC) results, we are able to prove what happens to be obvious for the band followers – their 1965-1981 years are arguably much more popular than anything else.
While as many as 9 albums from that period top 10 million, 7 of which are well past 15 million, the remaining 16 albums are all under 7 million creating a true hole between the big ones and the rest of the band's catalog.
The most striking conclusion though is the overall value of that catalog. Up to an unbelievable 237,1 million total equivalent album sales, the Rolling Stones position among the all-time greats of the music industry is legitimate as it can be.
Among all artists studied so far, only Madonna performed better. The gap of 9 million between both artists isn't even impossible to fill though especially as the rock band ongoing catalog appeal is much bigger. Their new album Blue & Lonesome will try to add its share of sales as well to catch the original diva. Without that extra help, the Rolling Stones' total is already some 40-ish million ahead of acts as massive as Led Zeppelin, U2 or Celine Dion.
Do not forget to check our amazing lists posted inside the CSPC: Data Collector which includes the full listing of all CSPC results compiled so far to better gauge their position in the history of the music industry.
As usual, feel free to comment and / or ask a question!
Sources: IFPI, Spotify, Chartmasters.org.
Pages:
Page

1
,
Page

2
,
Page

3
,
Page

4
,
Page

5
,
Page

6
,
Page

7
,
Page

8
,
Page

9
,
Page

10
,
Page

11
,
Page

12
,
Page

13
,
Page

14
,
Page

15
,
Page

16
,
Page

17
,
Page

18
,
Page

19
,
Page

20
,
Page

21
,
Page

22
,
Page

23
,
Page

24
,
Page

25
,
Page

26
,
Page

27
,
Page

28
,
Page

29
,
Page

30
,
Page

31
,
Page

32
,
Page

33
,
Page

34
,
Page

35
,
Page

36
,
Page

37
,
Page

38
,
Page

39
,
Page

40
,
Page

41
,
Page

42
,
Page

43
,
Page

44
,
Page

45
,
Page

46
,
Page

47
,
Page

48
,
Page

49
,
Page

50
,
Page

51
,
Page

52
,
Page

53
,
Page

54
,
Page

55
,
Page

56
,
Page

57
,
Page

58
,
Page

59
,
Page

60
,
Page

61
,
Page

62
,
Page

63
,
Page

64