led zeppelin CAREER CSPC RESULTS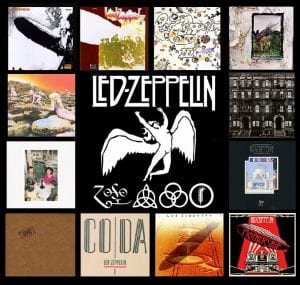 So, after checking all figures, what's the most successful album by Led Zeppelin and how many overall equivalent albums sales have they achieved? Well, at this point we barely need to do the addition of all figures defined all over this article!
In the following table, all categories display figures that way, e.g. in equivalent album sales. For example, Presence singles released in physical format sold the equivalent of 30,000 albums – 100,000 sales with a 10 to 3 weighting.

As a reminder:
Studio Album: sales of the original album
Other Releases: sales of compilations generated thanks to the album
Physical Singles: sales of physical singles from the album (ratio 3/10)
Download Singles: sales of digital singles from the album (ratio 1,5/10)
Streaming: equivalent album sales of all the album tracks (ratio 1/1500)
Led Zeppelin is often ranked with the likes Metallica and AC/DC, meaning bands enjoying large catalog sales thanks to the lack of proper compilation albums. This is just untrue with a huge 44 million sales of such records. The fact those sales got spread over several compilations, box sets, live albums and strong music videos concludes on the absence of a very big selling greatest hits, but their overall total is strong.
Out of this total, Led Zeppelin IV is easily the main contributor and as such got fairly rewarded nearly 40% of those sales. If its single segment accounts for less than 1,5 million units all formats considered, the full length records sold on the back of Led Zeppeling IV songs amount for a gigantic 57 million units. Overall this 1971 blockbuster cracks Nirvana's Nevermind which was the leading CSPC album out of all those which got studied so far.
While such outstanding results may eclipse the discography of many acts, the rest of Led Zeppelin catalog is equally impressive. In fact, each of their 8 studio albums generated the average of 24,55 million equivalent album sales. If some artists did so over a 3-4 albums discography, doing it over a 8-albums list is massive.
All in all, the cumulative tally of Led Zeppelin is up to 200,5 million album sales equivalent. You can clear all your doubts, Led Zeppelin is definitely in the A-League of all-time top sellers.
Do not forget to check our amazing lists posted inside the CSPC: Data Collector which includes the full listing of all CSPC results compiled so far to better gauge their position in the history of the music industry.
As usual, feel free to comment and / or ask a question!
Sources: IFPI, Spotify, Chartmasters.org.