Spotify top album debuts
Among Spotify records, one of the hardest to take is the most streamed debut album in a country. Back in 2017, Ed Sheeran destroyed former bests in plenty of countries with Divide, just like Drake who shattered these scores with Scorpion a year later. In 2022, record breakers have been the likes Bad Bunny, Blackpink and Taylor Swift.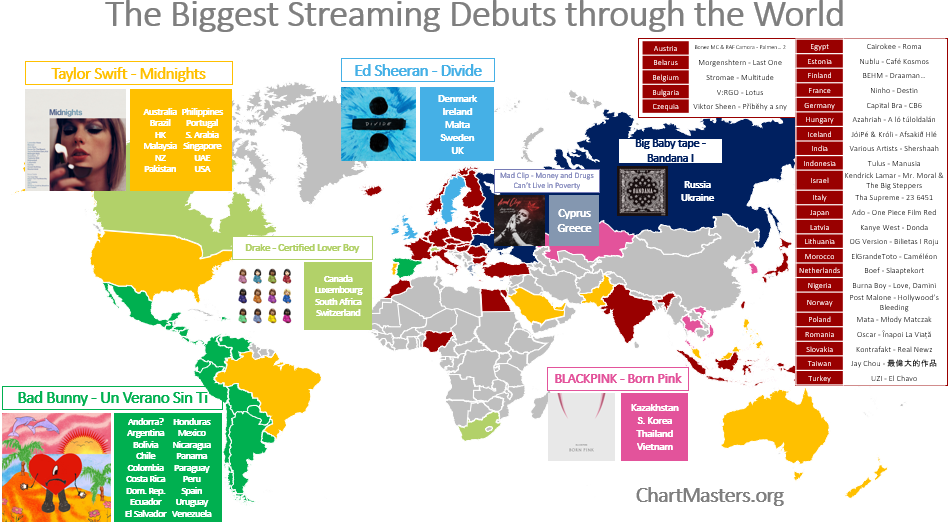 As the platform grew, local markets started making more and more money as well, developping their own music scene. Only a few years later, local stars now lead the ranking in most countries around the World.
Drake, Bad Bunny, Ed Sheeran, Blackpink, Capital Bra, BTS, etc, what's safe is that getting the top album debuts on Spotify in a country requires to be immensely popular on it.
Top album debuts on Spotify – Methodology
This page presents two views, by country and by artist. The former will show you the largest debuts of all-time in a country, while the latter displays for an artist the streams and the rank of his albums among all-time lists when they performed well enough.
The methodology is simple, album streams are the total number of streams from its tracks. A debut refers to the first week of release. Numbers reflect filtered streams in the same way as spotifycharts.com. It means we exclude streams rated as non-organic by Spotify.
When the tracklist of an album isn't entirely charted inside the weekly top 200, we estimate remaining tracks according to their relative strength during the first days. Omissions will be rare but they can happen. If you notice an album which should be added, please let us know using the comments.
For some albums, Spotify has deleted the original version, and only more extensive releases remain available. Unless we explicitely spotted and fixed it, this should negatively impact the average per track.
That said, let's now get to our top album debuts on Spotify!
Top album debuts on Spotify – Results
Please select your view: by country or by artist.
You may be interested in…