Streaming Masters – Guns N' Roses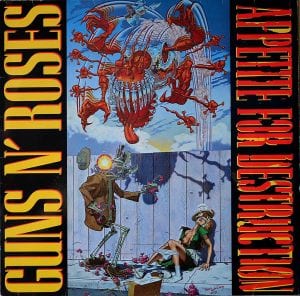 They certainly didn't do things by halves! Biggest selling debut album ever, two albums released on the same day, late appearances at gigs, riots, groupies, alcohol, drugs, fights, lawsuits, controversial songs, lyrics and views, the list just goes on and on.
With such, they perhaps inevitably, only lasted long enough to see the release of three proper/full studio albums… and as mentioned, two of these were released on the same day (in 1991). A covers album followed in 1995 and that was it, until the Axl Rose inspired Chinese Democracy in 2006, with no original members but Rose himself.
Perhaps surprisingly, they buried the hatchet a few years ago and decided to go out on the "Not In This Lifetime… Tour", which as of today, is the 2nd highest grossing tour ever, having made a stunning $563,300,000, as well as playing to 4,4m people.
But with such a small catalogue, can they manage to post an impressive set of streaming figures?
Method
As detailed in the Fixing Log article, Spotify represents 157 million of the 272 million users of streaming platforms, while YouTube is pretty much the only video platform generating some revenue for the industry. Below is the equivalence set on the aforementioned article:
Audio Stream 1500 plays equal 1 album unit
Video Stream 11,750 views equal 1 album unit
Equivalent Albums Sales (EAS) = 272/157 * Spotify streams / 1500 + YouTube views / 11750
Results
Total: 3,164,628 EAS
Most streamed tracks (EAS)
1. Sweet Child o' Mine [Appetite For Destruction] – 621,000
2. Welcome to the Jungle [Appetite For Destruction] – 386,000
3. Paradise City [Appetite For Destruction] – 366,000
4. November Rain [Use Your Illusion I] – 361,000
5. Knockin' on Heaven's Door [Use Your Illusion II] – 217,000
6. Don't Cry [Use Your Illusion I] – 176,000
7. Patience [G N' R Lies] – 140,000
8. Civil War [Use Your Illusion II] – 76,000
9. Live and Let Die [Use Your Illusion I] – 67,000
10. You Could Be Mine [Use Your Illusion II] – 63,000
11. Estranged [Use Your Illusion II] – 45,000
12. Nightrain [Appetite For Destruction] – 40,000
13. Mr. Brownstone [Appetite For Destruction] – 35,000
14. Rocket Queen [Appetite For Destruction] – 31,000
15. Since I Don't Have You [The Spaghetti Incident?] – 31,000
16. It's So Easy [Appetite For Destruction] – 26,000
17. My Michelle [Appetite For Destruction] – 25,000
18. Yesterdays [Use Your Illusion II] – 25,000
19. You're Crazy [Appetite For Destruction] – 23,000
20. Used to Love Her [G N' R Lies] – 21,000
https://www.youtube.com/watch?v=5-0w9Wv8V6I