CSPC: Whitney Houston Popularity Analysis
Streaming Sales
Streaming is made of two families – audio and video. Our CSPC methodology now includes both to better reflect the real popularity of each track. The main source of data for each avenue is respectively Spotify and YouTube. As detailed in the Fixing Log article, Spotify represents 132 million of the 212 million users of streaming platforms, while YouTube is pretty much the only video platform generating some revenue for the industry. Below is the equivalence set on aforementioned article:
Audio Stream – 1500 plays equal 1 album unit
Video Stream – 11,750 views equal 1 album unit
Thus…
Equivalent Albums Sales = 212/132 * Spotify streams / 1500 + YouTube views / 11750
Streaming Part 1 – Pure Years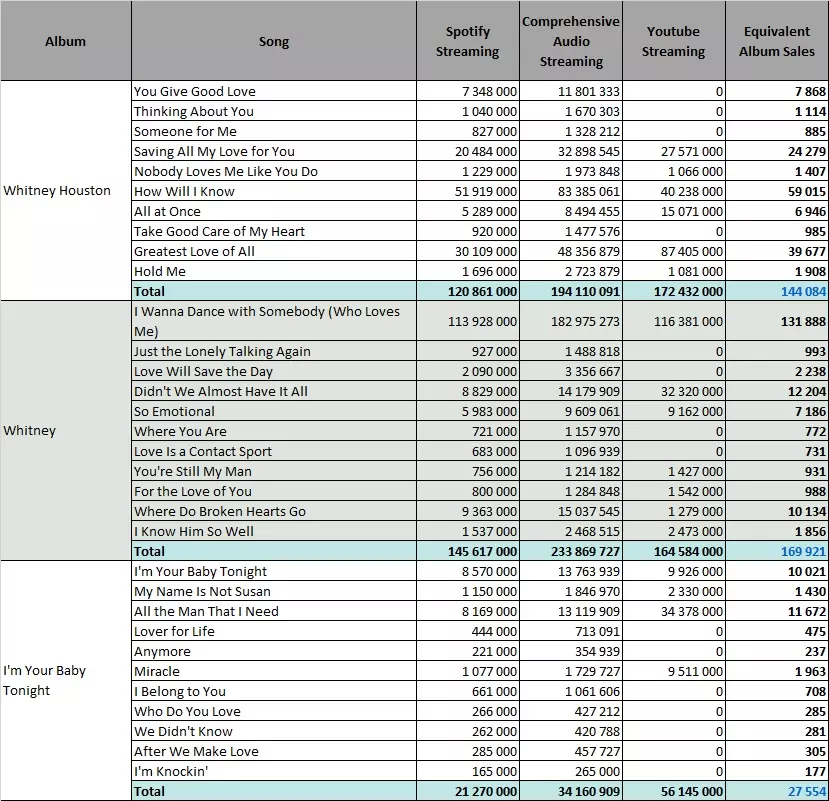 The passing of Whitney Houston happened before the streaming explosion, thus there isn't that much artificial inflation on these numbers.
Her first two albums remain quite popular, both with solid hits. How Will I Know is over 50 million audio streams while Saving All My Love For You and Greatest Love Of All combine for 50 million too. Those same singles, including the last one, perform well on YouTube too. All told, the Whitney Houston LP gets 144,000 equivalent album sales from the streaming of its songs.
Whitney records an even bigger 170,000 units, largely thanks to the huge smash I Wanna Dance With Somebody which is on 114 million audio streams and 116 million video streams.
The lack of love given to tracks from I'm Your Baby Tonight is confirmed with its pretty poor overall results. No song from it hits 10 million even if the video of All The Man That I Need does well.