CSPC: Meat Loaf Popularity Analysis
Streaming Sales
Streaming is made up of audio and video streams. Our CSPC methodology now includes both to better reflect the real popularity of each track. The main source of data for each avenue is respectively Spotify and YouTube. As detailed in the Fixing Log article, Spotify represents 157 million of the 272 million users of streaming platforms, while YouTube is pretty much the only video platform generating some revenue for the industry. Below is the equivalence set on the aforementioned article:
Audio Stream – 1500 plays equal 1 album unit
Video Stream – 11,750 views equal 1 album unit
Equivalent Albums Sales (EAS) = 272/157 * Spotify streams / 1500 + YouTube views / 11750
Streaming Part 1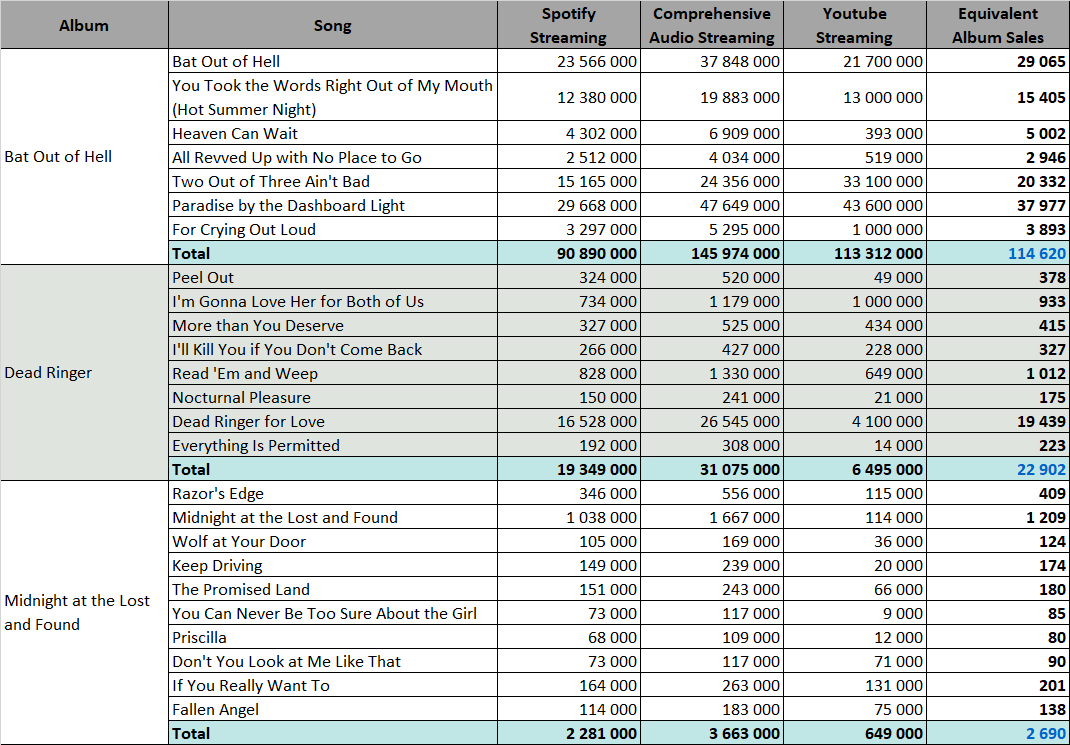 Streams of Meat Loaf are rather disappointing. Obviously, his target audience isn't the most fitting to streaming users. Also, the lenght of his tracks don't make it easy either. The two most streamed songs from Bat Out Of Hell, the title track and Paradise by the Dashboard Light, last a whopping 18:16 minutes together. This is a huge handicap to be featured into playlists.
We can notice it with streams of Dead Ringer for Love. The duet with Cher is arguably nowhere near as popular as the 4 main songs from Bat Out Of Hell but has similar streams on Spotify. It's more traditional length of 4:21 minutes make it easier to be included on playlists and subsequently gain healthy streams.
In terms of equivalent album sales (EAS), the debut album stands on 115,000, Dead Ringer on 23,000 and Midnight at the Lost and Found on an awful 3,000 units.