CSPC: Lorde Popularity Analysis
https://flic.kr/p/hApekn
Streaming Sales
Streaming is made up of two families – audio and video. Our CSPC methodology now includes both to better reflect the real popularity of each track. The main source of data for each avenue is respectively Spotify and YouTube. As detailed in the Fixing Log article, Spotify represents 132 million of the 212 million users of streaming platforms, while YouTube is pretty much the only video platform generating some revenue for the industry. Below is the equivalence set on the aforementioned article:
Audio Stream – 1500 plays equal 1 album unit
Video Stream – 11,750 views equal 1 album unit
Thus…
Equivalent Albums Sales = 212/132 * Spotify streams / 1500 + YouTube views / 11750
Streaming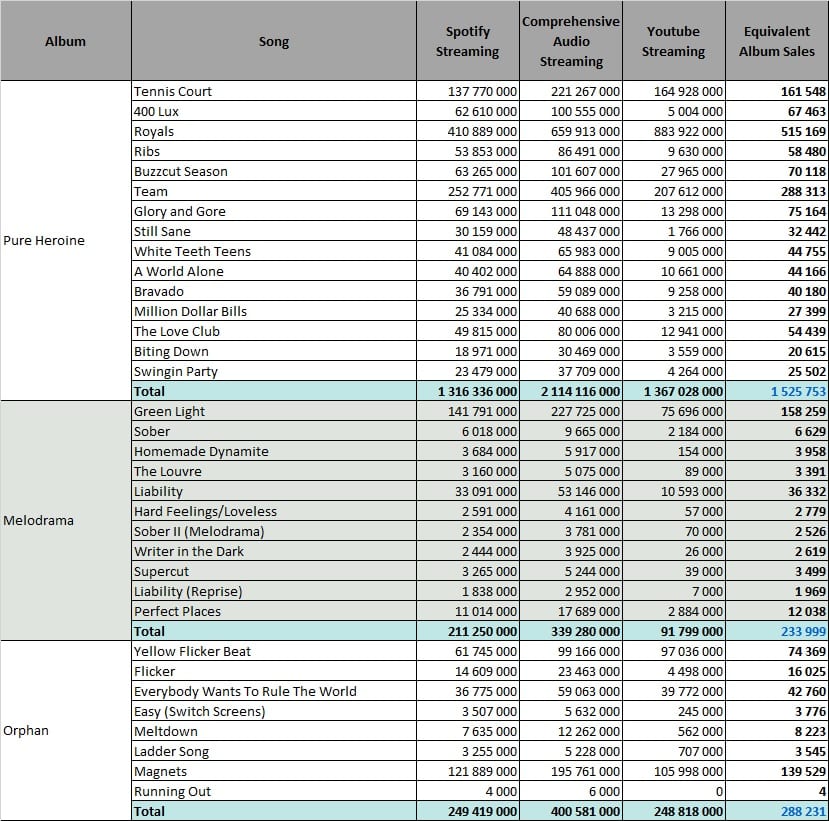 The positive indicator for Lorde's upcoming results is the strength of Pure Heroine streams. All songs from the original track list are over 30 million plays at Spotify, Royals has an impressive 411 million streams while Team is on 253 million. The main single has a more preeminent role on YouTube with nearly 900 million views out of a 1,37 million total for all songs from the album.
Overall, those streams, both audio and video, add for 1,526,000 equivalent album sales, an insane total for a 2013 album. Melodrama, widely deemed a disappointment so far, is already up to 240,000 equivalent album sales too. There is no need to say all these figures are very promising for the upcoming years in spite of the current difficulty to find a place on radio playlists.