CSPC: Grease Popularity Analysis
Streaming Sales
Below table lists Spotify streaming of all songs from the five albums we are studying. The Comprehensive Streaming is reached by multiplying Spotify figures by 68/26. In fact, as shown in IFPI 2015 Report, there were 68 million paying subscribers to all streaming platforms by the end of 2015. While the exact count of Spotify paying subscribers by the end of 2015 is unknown, that figure reached 20 million in June 2015 and 30 million in March 2016, thus an estimated 26 million is used as of the end of 2015.
The equivalent album sales is the division of the comprehensive streaming figure by 1500 as it is now the norm in the new industry model.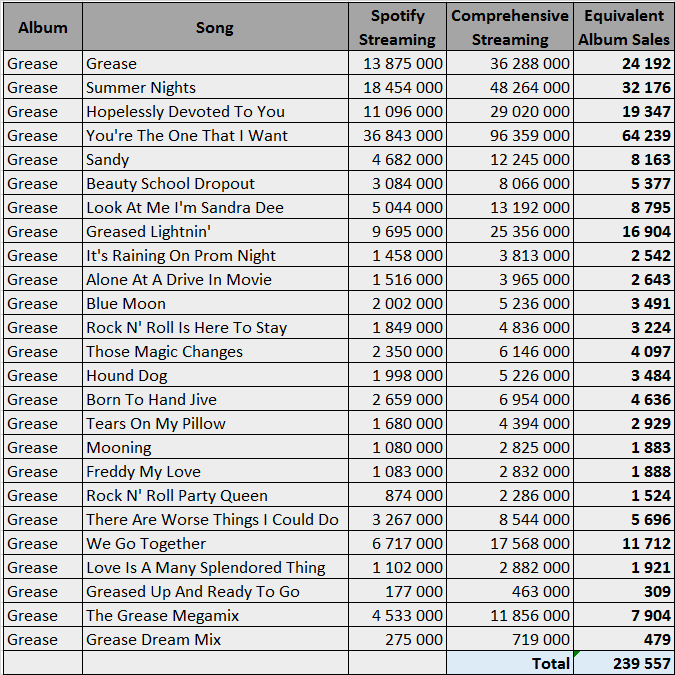 While nothing record-breaking, Grease former singles have decent streaming results. You're The One That I Want is up to nearly 37 million. If you wonder how good or bad that is among similar songs, this puts it at the very end of most streamed songs from the 70s. A spectacular result in absolute terms, not so big if you consider it was one of the very very biggest hits of the decade.
The overall equivalence of 240,000 albums is rather good although once again it looks irrelevant in comparison to the gigantic 38,1 million copies the album sold on its own.