CSPC: Dirty Dancing Popularity Analysis
Streaming Sales
Streaming is made up of two families – audio and video. Our CSPC methodology now includes both to better reflect the real popularity of each track. The main source of data for each avenue is respectively Spotify and YouTube. As detailed in the Fixing Log article, Spotify represents 132 million of the 212 million users of streaming platforms, while YouTube is pretty much the only video platform generating some revenue for the industry. Below is the equivalence set on the aforementioned article:
Audio Stream – 1500 plays equal 1 album unit
Video Stream – 11,750 views equal 1 album unit
Equivalent Albums Sales (EAS) = 212/132 * Spotify streams / 1500 + YouTube views / 11750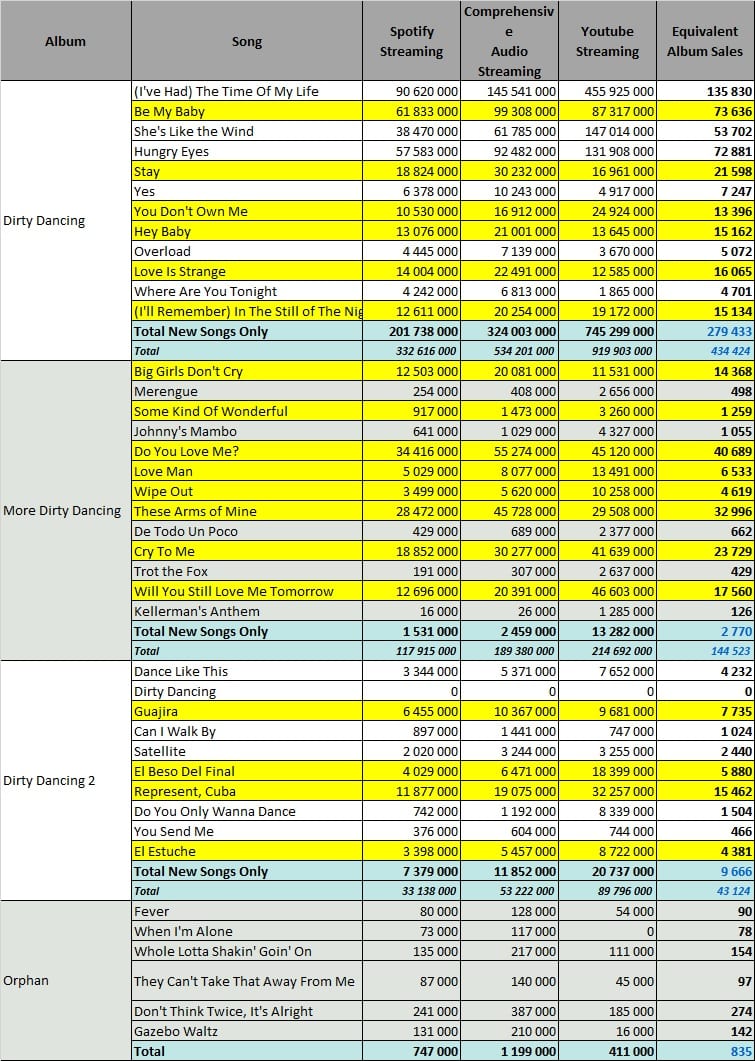 Of all the new songs, (I've Had) The Time Of My Life appears, yet again, as the most successful and enduring song with over 90 million streams via Spotify, meaning that it won't take long before it reaches the 100 million milestone. She's Like The Wind and Hungry Eyes, at 38 and 57 million streams respectively on Spotify, are both in good shape and comparatively better than in the digital download avenue.
Songs highlighted in yellow are old songs released originally before the Dirty Dancing project and are therefore excluded from the soundtrack's CSPC.
Overall, the new songs' equivalent albums sold are almost 280,000 for the Dirty Dancing soundtrack from 1987. Whereas More Dirty Dancing gets a mere 2,770 equivalent sales once the songs in yellow are removed -counting these last songs, total equivalent albums sales add up to 144,000- and Dirty Dancing 2 gets 9,000 such sales. While Orphan tracks produced no significant results.