CSPC: Cranberries Popularity Analysis
Streaming Sales
Streaming is made up of two families – audio and video. Our CSPC methodology now includes both to better reflect the real popularity of each track. The main source of data for each avenue is respectively Spotify and YouTube. As detailed in the Fixing Log article, Spotify represents 132 million of the 212 million users of streaming platforms, while YouTube is pretty much the only video platform generating some revenue for the industry. Below is the equivalence set on the aforementioned article:
Audio Stream – 1500 plays equal 1 album unit
Video Stream – 11,750 views equal 1 album unit
Equivalent Albums Sales (EAS) = 212/132 * Spotify streams / 1500 + YouTube views / 11750
Streaming Part 1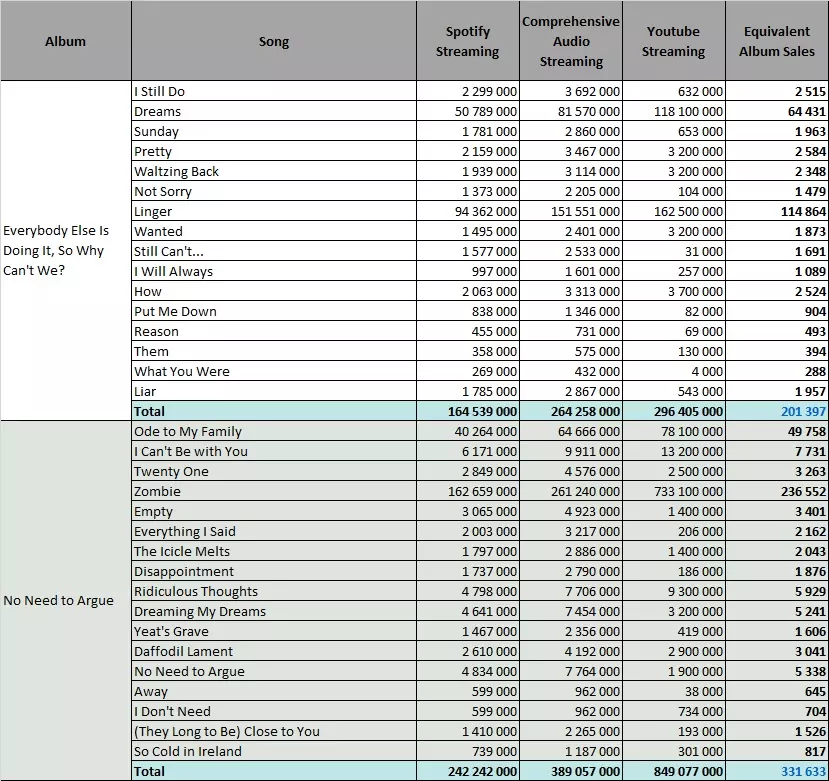 Rock albums which sold so many units during the 90s are expected to be streamed quite heavily on Spotify. Album cuts from Everybody Else… and No Need to Argue all have so-so streams, not too bad, but not good either.
What's undeniable is the strength of a pair of songs from both of them. Their debut includes Linger, closing in 100 million streams on Spotify, and Dreams, already over 50 million.
From the second album, the pack is logically dominated by Zombie with a tremendous 163 million streams on Spotify and an immense 733 million on YouTube. Ode to My Family remains popular at 40 million on Spotify.
These solid tracks push equivalent album sales of those albums to respectively 201,000 and 332,000 units.