CSPC: Barbra Streisand Popularity Analysis
Streaming – Summary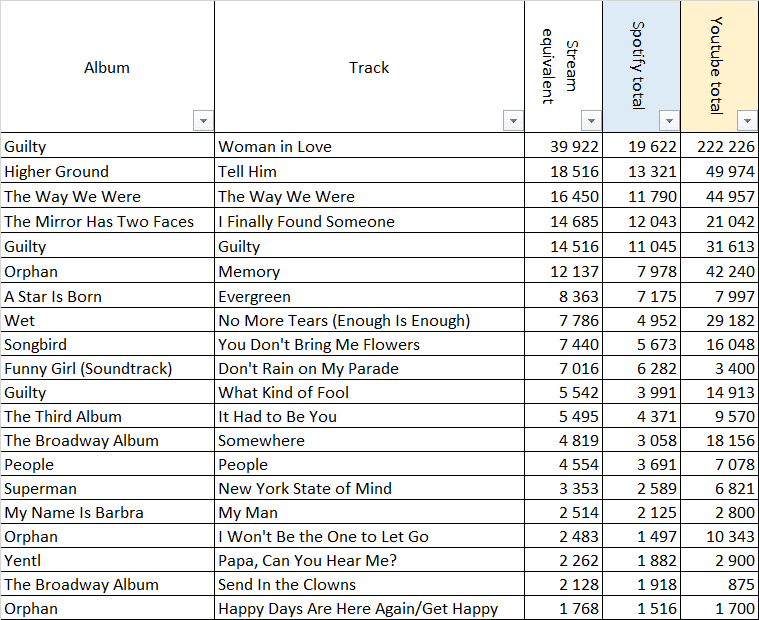 Please note that all Spotify and YouTube numbers are expressed in millions. I added this summary table since numbers overall are so low that it was useless to go into in-depth comments for each era. This table lists her Top 20 streaming songs in Stream Equivalent Album (SEA).
At nearly 40,000 units is Woman In Love. The song is well supported by YouTube were it stands at 222 million views as per YouTube Insights. This tool was used since Streisand's fans-uploaded videos were recently removed to make space for her new official Vevo channel. On Spotify, the song is just under 20 million streams, a fairly weak figure for a ground breaking #1 single that remained her signature song.
Numbers get worse and worse as we continue checking her songs. The only interesting part of this format is to know which songs remain the most popular. After Woman In Love, Tell Him is the runner up, no doubt helped by the presence of Celine Dion. Close behind are The Way We Were, I Finally Found Someone, Guilty and Memory.
Streisand's trio of huge US #1 hits from late 70s all fail to get into her current Top 6. Evergreen, No More Tears and You Don't Bring Me Flowers chart at #7, #8 and #9, respectively.