Carly Rae Jepsen albums and songs sales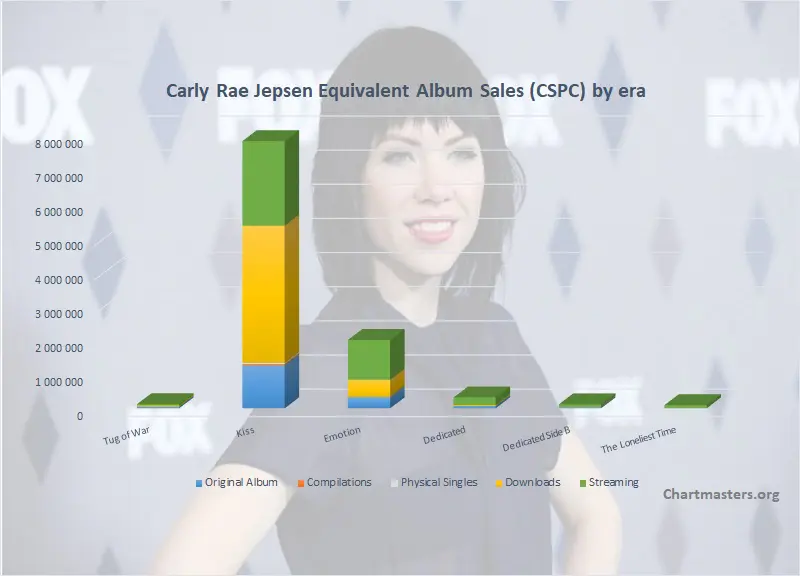 Forever related to her breakthrough hit Call Me Maybe, Canadian singer Carly Rae Jepsen issued this year her 6th album, The Loneliest Time.
It would be easy to flag her as a one-hit wonder, but artists can develop a consistent career off the radar. We check her sales and streaming figures to see where she is up to.

Last sales update: December 20, 2022.
Read more about the CSPC methodology
Carly Rae Jepsen Albums Sales
Figures listed in this section reflect pure sales of long playing formats, either albums, compilations or videos. Of course, streams are excluded.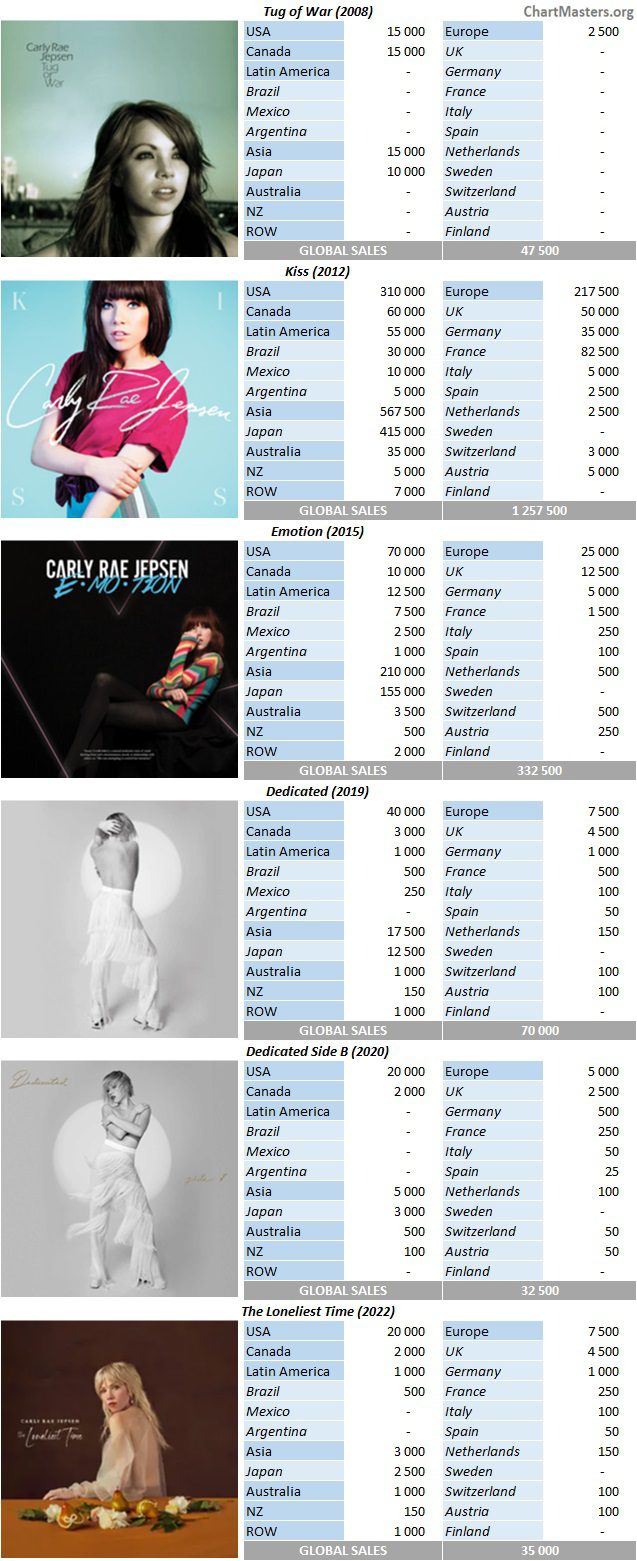 Carly Rae Jepsen Songs Sales
In this section, figures reflect all metrics of songs' sales, these are audio streams, video streams, and sales (physical singles, downloads, ringtones).
In order to do so, these numbers are converted into Equivalent Albums Sales (EAS), according to the formula below.
( Spotify * ArtistRatio + Genie * 2.20 + AWA * 100 / 4 + Anghami + Boomplay + Audiomack ) / 1500 + ( QQ views* 50(or 5) + YouTube * 1.1 ) / 6750 + Digital sales (DL+RT) * 0.15 + Physical sales * 0.30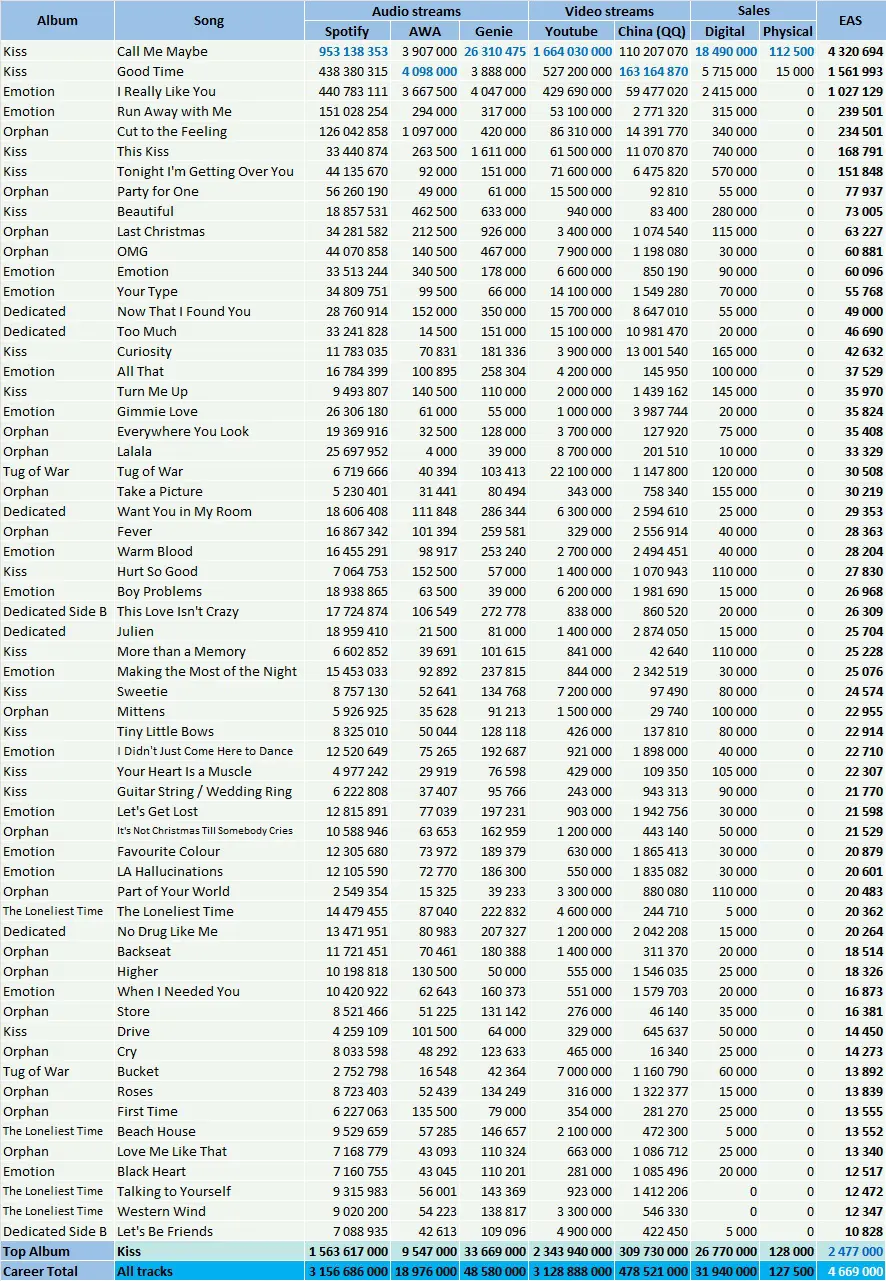 Search for up to date Spotify streams of the artist
Carly Rae Jepsen CSPC Results
Call Me Maybe was an out of the blue smash, quickly becoming one of the biggest hits of its decade. It also pushes the parent album Kiss up to 7.8 million equivalent album sales.
Obviously, following up such a monster is near impossible. She still got two more good sized hits, Good Time and I Really Like You.
The latter greatly contributes in sending Emotion to multi-million sales.
The rest of her discography has much weaker results in spite of her great success in Asia. Overall, Carly Rae Jepsen stands at 11.36 million units.
Singles CSPC results
The list is compiled in album equivalent sales generated by each song. Therefore, these figures are not merged units of singles formats. Instead, it includes weighted sales of the song's physical single, download, ringtone and streaming as well as its share among sales of all albums on which it is featured.
1. 2011 – Carly Rae Jepsen – Call Me Maybe [Kiss] – 5,120,000
2. 2012 – Owl City & Carly Rae Jepsen – Good Time [Kiss] – 1,920,000
3. 2015 – Carly Rae Jepsen – I Really Like You [Emotion] – 1,220,000

Dynamic Spotify Key Performance Indicators
Please note that numbers below are retrieved automatically, so they will evolve day by day unlike previously listed data which is valid as of the publication date of the article.
Carly Rae Jepsen
Current followers count: 5,190,497
5,000,000 followers have been reached on 05/04/22 4,000,000 followers have been reached on 05/02/20 3,000,000 followers have been reached on 04/29/20
>> Daily breakdown
Current streams count: 3,140,155,549
3,000,000,000 streams have been reached on 10/28/22 2,000,000,000 streams have been reached on 08/19/20
>> Daily breakdown
Carly Rae Jepsen is #447 among the most streamed artists of all-time Popularity Rating: 75/100
>> Visit our Top 1,000 most streamed artists ranking
>> Visit our Top 20 highest rated artists ranking
Current monthly listeners: 14,468,626
(Trend:
-539,596
)
Global chart position: #391
The artist top 50 cities come from
27 distinct countries
>> Global impact breakdown
Sources: IFPI, Spotify, YouTube, Discogs, Billboard.
You may be interested in…
… best-selling artists, albums, and singles
We have created amazing cross-artists tops. Click to see all CSPC and raw sales results compiled so far!
… similar artists
To put these figures into perspective, click to reach career breakdowns of similar artists: