MEAT LOAF CAREER CSPC RESULTS
So, after checking all the figures, how many overall equivalent album sales has each album by Meat Loaf achieved? Well, at this point we hardly need to add up all of the figures defined in this article!
In the following table, all categories display figures that way, e.g. in equivalent album sales. For example, singles from Bat Out Of Hell released in digital format sold the equivalent of 336,000 album albums – 2,240,000 downloads with a 10 to 1,5 weighting.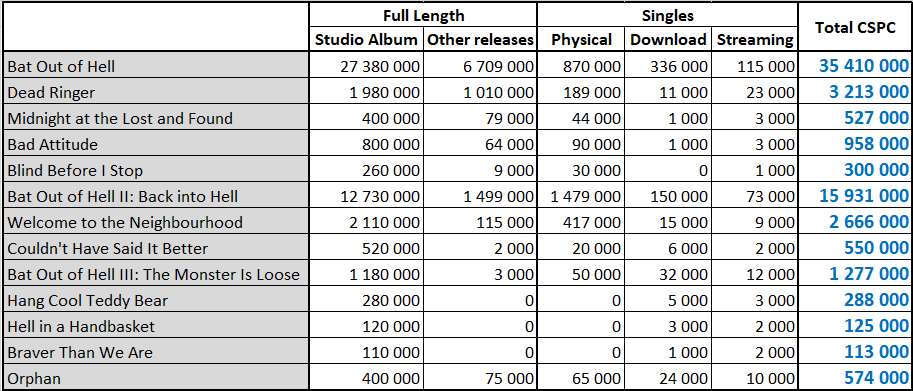 As a reminder:
Studio Album: sales of the original album
Other Releases: sales of compilations generated thanks to the album
Physical Singles: sales of physical singles from the album (ratio 3/10)
Download Singles: sales of digital singles from the album (ratio 1,5/10)
Streaming: equivalent album sales of all the album tracks (ratio 1/1500 for Audio stream and 1/11750 for Video stream)
Conclusions
In the music industry, some artists are one-hit wonders, others are one-album wonders. Meat Loaf is unique in that he is a one-franchise wonder. Both Bat Out Of Hell I and II have been immense successes. If sales claims often quoted on media of the former are largely inflated, it remains an insane smash. Up to 35,4 million equivalent album sales and counting, it's among the Top 40 most successful albums of all-time. It tops classic records like Pink Floyd's Wish You Were Here and the Beatles' Sgt. Pepper's Lonely Hearts Club Band.
The volume II is one of the most successful comebacks ever. A la Paul Simon's Graceland and Santana's Supernatural, it succeeded a very weak seller and went on to become a blockbuster. It is close to 16 million EAS to date. The 3rd chapter of the franchise is much more modest at less than 1,3 million.
Modest is also the word for remaining albums. If follow ups of his monster albums average 3 million EAS, remaining albums of Meat Loaf bombed in great fashion. Dead Ringer sold less than 10% of Bat Out Of Hell. It's only one of his 5 albums which dropped 77% or more over their immediate predecessor. The singer has been completely unable to transform the success of his albums into a real following of his persona.
More than 40 years into his career, Meat Loaf has now sold close to 62 million EAS. Apart from back catalog sales of his two main records, this tally isn't going to be boosted anytime soon.
To go deeper…
Thanks to our new ASR (Artist Success Rating) concept, we know that his sales represent 32.6 million times the purchase of his full catalog. Coupled with his total sales, it translates into an ASR score of 233. That puts him ahead of Cher and Green Day but behind Enya and the Red Hot Chili Peppers.
Additionally, the following pages list his most successful songs as well as his records and achievements. Do not forget to check our amazing cross-artists lists posted inside the CSPC: Data Collector which includes the full listing of all CSPC results compiled so far.
As usual, feel free to comment and / or ask a question!
Sources: IFPI, Spotify, YouTube, Discogs, Chartmasters.org.