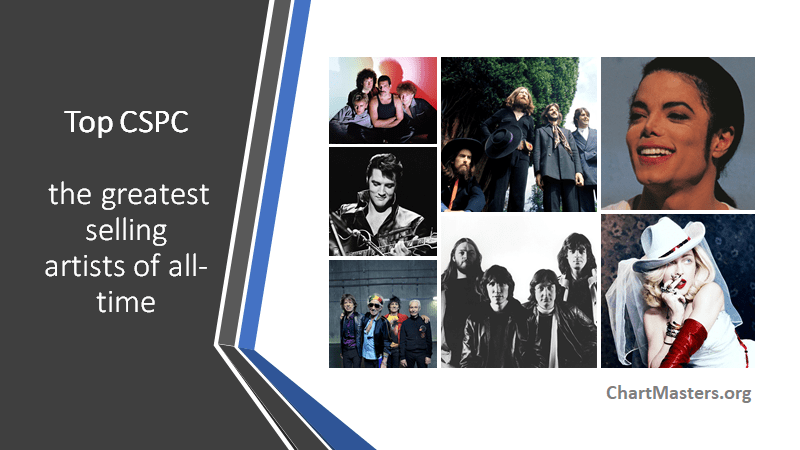 Artists Ranking – CSPC – Overall sales
Here is the sum of all the value released by each artist. The figures are given in EAS (equivalent album sales)..
Please keep in mind that some artists are missing, because their analysis has not been done yet. The complete list is available here. Figures may differ from the ones listed inside each link as the streaming data is updated (read more about it) in this table. Pure sales data reflect the value as collected at the time of the artist's respective articles.
| # | PIC | Artist | Total CSPC | Studio Albums Sales | Other LPs Sales | Physical Singles Sales | Digital Singles Sales | Sales Update | Streams EAS (Update) |
| --- | --- | --- | --- | --- | --- | --- | --- | --- | --- |
| 1 | | The Beatles | 416,105,000 | 160,650,000 | 203,392,000 | 116,080,000 | 35,230,000 | 03/01/17 | 11,955,000* (09/23/21) |
| 2 | | Michael Jackson | 330,792,000 | 182,600,000 | 101,997,000 | 79,350,000 | 79,930,000 | 09/27/17 | 10,400,000* (09/23/21) |
| 3 | | Elvis Presley | 316,718,000 | 53,150,000 | 212,309,000 | 135,210,000 | 37,470,000 | 09/01/18 | 5,077,000* (09/02/21) |
| 4 | | Queen | 269,944,000 | 90,230,000 | 139,348,000 | 49,960,000 | 59,650,000 | 01/25/20 | 16,427,000* (09/22/21) |
| 5 | | Madonna | 244,180,000 | 146,450,000 | 64,420,000 | 75,210,000 | 42,100,000 | 08/13/17 | 4,432,000* (09/23/21) |
| 6 | | The Rolling Stones | 240,940,000 | 113,800,000 | 92,495,000 | 72,770,000 | 46,200,000 | 12/03/16 | 5,883,000* (09/19/21) |
| 7 | | Pink Floyd | 234,122,000 | 169,600,000 | 52,025,000 | 8,800,000 | 23,360,000 | 06/18/17 | 6,353,000* (09/20/21) |
| 8 | | Led Zeppelin | 204,287,000 | 141,500,000 | 51,200,000 | 6,350,000 | 32,030,000 | 08/08/16 | 4,874,000* (09/19/21) |
| 9 | | Elton John | 201,009,000 | 88,630,000 | 82,400,000 | 65,340,000 | 26,250,000 | 02/05/18 | 6,439,000* (09/19/21) |
| 10 | | U2 | 198,288,000 | 127,100,000 | 53,051,000 | 22,550,000 | 40,500,000 | 08/31/16 | 5,297,000* (09/18/21) |
| 11 | | AC/DC | 196,407,000 | 132,470,000 | 49,349,000 | 7,200,000 | 33,450,000 | 02/20/18 | 7,410,000* (09/22/21) |
| 12 | | Céline Dion | 196,239,000 | 136,200,000 | 40,424,000 | 39,290,000 | 26,660,000 | 09/23/16 | 3,829,000* (09/23/21) |
| 13 | | Eminem | 192,934,000 | 98,650,000 | 26,493,000 | 14,320,000 | 205,790,000 | 06/22/21 | 32,579,000* (09/23/21) |
| 14 | | Rod Stewart & Faces | 189,113,000 | 100,150,000 | 66,819,000 | 55,220,000 | 17,420,000 | 11/23/19 | 2,956,000* (09/04/21) |
| 15 | | Eagles | 173,709,000 | 65,425,000 | 96,732,000 | 16,630,000 | 20,440,000 | 12/20/17 | 3,498,000* (09/19/21) |
| 16 | | Mariah Carey | 172,246,000 | 116,100,000 | 31,228,000 | 36,890,000 | 50,130,000 | 04/28/17 | 6,332,000* (09/22/21) |
| 17 | | Metallica | 160,562,000 | 121,260,000 | 20,164,000 | 15,480,000 | 40,770,000 | 02/13/19 | 8,378,000* (09/22/21) |
| 18 | | ABBA | 159,978,000 | 45,300,000 | 91,491,000 | 54,400,000 | 17,870,000 | 11/02/16 | 4,187,000* (09/23/21) |
| 19 | | Bruce Springsteen | 159,617,000 | 103,400,000 | 42,176,000 | 21,010,000 | 25,420,000 | 07/07/17 | 3,926,000* (09/21/21) |
| 20 | | Bee Gees | 159,528,000 | 75,525,000 | 56,477,000 | 72,790,000 | 17,230,000 | 04/09/17 | 3,104,000* (09/23/21) |
| 21 | | Whitney Houston | 155,322,000 | 113,600,000 | 17,175,000 | 49,520,000 | 34,250,000 | 05/04/17 | 4,552,000* (09/22/21) |
| 22 | | Barbra Streisand | 153,064,000 | 91,370,000 | 49,714,000 | 35,250,000 | 3,680,000 | 03/16/18 | 852,000* (09/16/21) |
| 23 | | Phil Collins | 149,724,000 | 93,780,000 | 39,905,000 | 29,910,000 | 22,690,000 | 04/11/18 | 3,663,000* (08/29/21) |
| 24 | | Billy Joel | 149,172,000 | 91,400,000 | 40,235,000 | 36,900,000 | 21,000,000 | 10/19/16 | 3,317,000* (09/21/21) |
| 25 | | Fleetwood Mac | 149,088,000 | 84,550,000 | 46,392,000 | 26,060,000 | 32,030,000 | 10/08/16 | 5,524,000* (09/08/21) |
| 26 | | Bon Jovi | 147,888,000 | 89,450,000 | 39,176,000 | 27,980,000 | 38,450,000 | 11/16/16 | 5,100,000* (09/16/21) |
| 27 | | Santana | 144,769,000 | 89,465,000 | 46,265,000 | 15,380,000 | 16,560,000 | 08/04/20 | 2,019,000* (09/04/21) |
| 28 | | Garth Brooks | 144,352,000 | 81,605,000 | 62,341,000 | 950,000 | 90,000 | 01/05/19 | 106,000* (08/08/21) |
| 29 | | Bob Dylan | 144,156,000 | 83,350,000 | 47,870,000 | 17,680,000 | 30,410,000 | 10/23/16 | 3,071,000* (09/21/21) |
| 30 | | Bob Marley | 139,469,000 | 43,075,000 | 81,593,000 | 9,980,000 | 33,690,000 | 11/21/17 | 6,753,000* (09/02/21) |
| 31 | | Prince | 133,182,000 | 86,580,000 | 27,141,000 | 42,910,000 | 29,590,000 | 10/04/18 | 2,150,000* (09/21/21) |
| 32 | | Aerosmith | 132,166,000 | 71,710,000 | 48,158,000 | 15,500,000 | 25,550,000 | 06/01/18 | 3,815,000* (09/09/21) |
| 33 | | David Bowie | 129,077,000 | 71,500,000 | 36,023,000 | 44,200,000 | 19,830,000 | 01/11/17 | 5,318,000* (09/21/21) |
| 34 | | Simon & Garfunkel | 125,333,000 | 37,820,000 | 75,732,000 | 23,830,000 | 14,350,000 | 05/11/18 | 2,480,000* (09/02/21) |
| 35 | | Stevie Wonder | 122,421,000 | 65,605,000 | 28,070,000 | 65,320,000 | 34,490,000 | 03/17/21 | 3,897,000* (08/29/21) |
| 36 | | Guns N' Roses | 121,939,000 | 86,360,000 | 20,134,000 | 11,900,000 | 37,210,000 | 03/01/18 | 6,293,000* (09/22/21) |
| 37 | | The Doors | 115,999,000 | 51,980,000 | 55,480,000 | 13,860,000 | 11,100,000 | 03/03/19 | 2,716,000* (09/13/21) |
| 38 | | Paul McCartney | 111,239,000 | 61,670,000 | 27,441,000 | 57,970,000 | 11,250,000 | 12/13/18 | 3,049,000* (09/18/21) |
| 39 | | Dire Straits | 110,444,000 | 71,730,000 | 31,635,000 | 8,380,000 | 10,900,000 | 03/23/18 | 2,930,000* (09/22/21) |
| 40 | | George Michael & Wham! | 107,896,000 | 60,200,000 | 26,150,000 | 49,880,000 | 16,770,000 | 05/07/17 | 4,067,000* (09/23/21) |
| 41 | | Britney Spears | 107,049,000 | 68,595,000 | 11,460,000 | 18,600,000 | 83,030,000 | 04/28/19 | 8,960,000* (09/23/21) |
| 42 | | Taylor Swift | 104,493,000 | 49,570,000 | 4,810,000 | 280,000 | 159,420,000 | 05/25/21 | 26,113,000* (09/23/21) |
| 43 | | Drake | 103,537,000 | 15,525,000 | 80,000 | 40,000 | 169,530,000 | 07/02/21 | 62,489,000* (09/23/21) |
| 44 | | Rihanna | 101,619,000 | 33,480,000 | 1,215,000 | 3,600,000 | 257,560,000 | 06/02/21 | 27,207,000* (09/23/21) |
| 45 | | Coldplay | 101,572,000 | 60,160,000 | 6,090,000 | 2,060,000 | 95,110,000 | 06/06/21 | 20,428,000* (09/22/21) |
| 46 | | Van Halen | 101,410,000 | 79,620,000 | 14,065,000 | 10,450,000 | 16,810,000 | 12/14/20 | 2,064,000* (08/09/21) |
| 47 | | The Police | 98,181,000 | 46,370,000 | 40,183,000 | 23,810,000 | 11,300,000 | 06/06/20 | 2,778,000* (09/04/21) |
| 48 | | Backstreet Boys | 97,153,000 | 58,900,000 | 25,685,000 | 18,010,000 | 22,550,000 | 02/09/17 | 3,782,000* (09/23/21) |
| 49 | | Red Hot Chili Peppers | 96,626,000 | 61,870,000 | 16,881,000 | 4,800,000 | 44,400,000 | 03/29/18 | 9,776,000* (09/23/21) |
| 50 | | Nirvana | 93,470,000 | 45,000,000 | 37,650,000 | 4,190,000 | 23,250,000 | 07/09/17 | 6,075,000* (09/21/21) |
| 51 | | Deep Purple | 92,494,000 | 45,485,000 | 40,666,000 | 12,180,000 | 9,200,000 | 08/18/21 | 1,215,000* (09/04/21) |
| 52 | | Neil Young | 92,136,000 | 65,210,000 | 21,443,000 | 7,100,000 | 11,870,000 | 05/15/21 | 1,565,000* (09/02/21) |
| 53 | | Creedence Clearwater Revival | 91,656,000 | 33,135,000 | 45,489,000 | 22,570,000 | 14,600,000 | 01/31/19 | 4,072,000* (09/13/21) |
| 54 | | Adele | 91,039,000 | 59,110,000 | 3,855,000 | 530,000 | 100,240,000 | 06/02/19 | 12,879,000* (09/23/21) |
| 55 | | Enya | 88,099,000 | 65,480,000 | 17,069,000 | 5,250,000 | 9,610,000 | 02/25/18 | 2,532,000* (09/05/21) |
| 56 | | Bryan Adams | 88,055,000 | 42,260,000 | 30,518,000 | 32,090,000 | 17,250,000 | 03/23/19 | 3,063,000* (09/16/21) |
| 57 | | Linkin Park | 87,243,000 | 48,350,000 | 14,500,000 | 3,210,000 | 73,710,000 | 06/04/17 | 12,374,000* (09/23/21) |
| 58 | | Green Day | 86,768,000 | 58,250,000 | 13,567,000 | 3,050,000 | 44,600,000 | 03/11/17 | 7,347,000* (09/14/21) |
| 59 | | Justin Bieber | 84,961,000 | 19,810,000 | 7,120,000 | 540,000 | 110,890,000 | 08/04/19 | 41,235,000* (09/23/21) |
| 60 | | Beyonce | 83,836,000 | 33,430,000 | 4,431,000 | 4,070,000 | 166,890,000 | 05/02/18 | 19,721,000* (09/23/21) |
| 61 | | Shania Twain | 81,759,000 | 63,200,000 | 11,259,000 | 13,130,000 | 10,700,000 | 12/05/16 | 1,756,000* (09/07/21) |
| 62 | | Journey | 81,312,000 | 40,250,000 | 31,623,000 | 8,090,000 | 29,770,000 | 09/13/19 | 2,548,000* (09/04/21) |
| 63 | | Sting | 79,961,000 | 52,360,000 | 17,720,000 | 16,010,000 | 14,160,000 | 06/14/20 | 2,692,000* (09/08/21) |
| 64 | | Black Sabbath | 78,600,000 | 46,280,000 | 27,467,000 | 3,300,000 | 11,280,000 | 03/08/20 | 2,131,000* (09/22/21) |
| 65 | | BTS | 78,363,000 | 27,935,000 | 9,361,000 | 3,630,000 | 36,110,000 | 05/20/21 | 34,555,000* (09/23/21) |
| 66 | | Janet Jackson | 77,948,000 | 50,500,000 | 12,175,000 | 40,640,000 | 13,350,000 | 04/17/17 | 1,080,000* (09/22/21) |
| 67 | | Robbie Williams | 76,388,000 | 46,500,000 | 21,770,000 | 11,960,000 | 13,860,000 | 12/15/19 | 2,434,000* (09/20/21) |
| 68 | | Johnny Hallyday | 75,882,000 | 26,740,000 | 35,156,000 | 43,740,000 | 1,430,000 | 01/01/18 | 651,000* (09/04/21) |
| 69 | | Sade | 75,208,000 | 51,560,000 | 18,565,000 | 6,270,000 | 11,140,000 | 07/01/20 | 1,530,000* (09/20/21) |
| 70 | | John Lennon | 73,701,000 | 31,420,000 | 30,759,000 | 26,780,000 | 12,160,000 | 10/16/18 | 1,664,000* (09/23/21) |
| 71 | | Cher | 73,408,000 | 34,825,000 | 21,889,000 | 46,220,000 | 9,630,000 | 08/30/17 | 1,384,000* (09/23/21) |
| 72 | | Maroon 5 | 73,207,000 | 26,050,000 | 2,138,000 | 1,600,000 | 149,190,000 | 12/02/19 | 22,121,000* (09/20/21) |
| 73 | | Ed Sheeran | 73,070,000 | 21,970,000 | 466,000 | 130,000 | 79,640,000 | 10/27/19 | 38,645,000* (09/23/21) |
| 74 | | Supertramp | 71,826,000 | 48,540,000 | 17,999,000 | 10,070,000 | 6,830,000 | 08/13/19 | 1,241,000* (09/19/21) |
| 75 | | Lady Gaga | 71,045,000 | 31,215,000 | 4,790,000 | 1,570,000 | 128,860,000 | 12/18/20 | 15,238,000* (09/23/21) |
| 76 | | P!nk | 69,006,000 | 37,025,000 | 8,906,000 | 7,270,000 | 81,150,000 | 10/15/17 | 8,721,000* (09/23/21) |
| 77 | | Michael Buble | 66,026,000 | 47,800,000 | 6,344,000 | 770,000 | 35,400,000 | 12/11/16 | 6,341,000* (09/17/21) |
| 78 | | Usher | 65,154,000 | 36,160,000 | 2,201,000 | 12,040,000 | 93,610,000 | 09/04/17 | 9,139,000* (09/22/21) |
| 79 | | Shakira | 64,769,000 | 34,780,000 | 6,620,000 | 8,460,000 | 56,350,000 | 06/21/18 | 12,380,000* (09/23/21) |
| 80 | | Bruno Mars | 62,797,000 | 17,375,000 | 40,000 | 250,000 | 149,580,000 | 06/27/19 | 22,871,000* (09/22/21) |
| 81 | | Meat Loaf | 62,294,000 | 48,300,000 | 9,565,000 | 10,850,000 | 3,900,000 | 06/16/18 | 590,000* (09/02/21) |
| 82 | | Oasis | 61,809,000 | 41,050,000 | 10,046,000 | 11,420,000 | 18,800,000 | 12/06/17 | 4,468,000* (09/20/21) |
| 83 | | Ayumi Hamasaki | 61,437,000 | 21,810,000 | 19,339,000 | 25,980,000 | 46,480,000 | 09/27/19 | 767,000* (09/22/21) |
| 84 | | Crosby, Stills & Nash | 60,836,000 | 34,420,000 | 21,902,000 | 8,380,000 | 8,310,000 | 05/15/21 | 759,000 (05/15/21) |
| 85 | | Jackson 5 & The Jacksons | 58,943,000 | 26,400,000 | 19,027,000 | 31,160,000 | 13,720,000 | 09/26/17 | 2,110,000* (09/23/21) |
| 86 | | Alanis Morissette | 57,657,000 | 47,065,000 | 6,951,000 | 3,340,000 | 9,080,000 | 06/05/18 | 1,277,000* (09/02/21) |
| 87 | | Black Eyed Peas | 57,454,000 | 33,350,000 | 251,000 | 6,590,000 | 103,960,000 | 08/03/17 | 6,282,000* (09/23/21) |
| 88 | | Enrique Iglesias | 56,151,000 | 33,900,000 | 5,300,000 | 8,900,000 | 50,110,000 | 09/27/16 | 6,764,000* (09/23/21) |
| 89 | | Nickelback | 55,918,000 | 40,500,000 | 1,824,000 | 3,020,000 | 57,280,000 | 06/28/17 | 4,096,000* (09/10/21) |
| 90 | | Christina Aguilera | 54,831,000 | 30,400,000 | 4,375,000 | 12,740,000 | 69,950,000 | 03/18/17 | 5,741,000* (09/21/21) |
| 91 | | One Direction | 53,875,000 | 23,900,000 | 6,350,000 | 120,000 | 57,000,000 | 05/14/17 | 15,038,000* (09/23/21) |
| 92 | | Ozzy Osbourne | 52,274,000 | 39,370,000 | 7,483,000 | 3,760,000 | 15,180,000 | 03/12/20 | 1,991,000* (09/17/21) |
| 93 | | Katy Perry | 52,120,000 | 15,880,000 | 300,000 | 870,000 | 135,430,000 | 06/16/19 | 15,365,000* (09/13/21) |
| 94 | | Paul Simon | 52,093,000 | 34,390,000 | 11,598,000 | 12,820,000 | 3,740,000 | 05/10/18 | 1,699,000* (09/21/21) |
| 95 | | Norah Jones | 51,815,000 | 43,550,000 | 2,825,000 | 300,000 | 18,600,000 | 11/04/16 | 2,660,000* (09/04/21) |
| 96 | | Justin Timberlake | 51,720,000 | 23,490,000 | 1,480,000 | 5,330,000 | 102,090,000 | 02/09/18 | 9,837,000* (09/23/21) |
| 97 | | Tracy Chapman | 51,716,000 | 43,760,000 | 3,519,000 | 3,480,000 | 12,490,000 | 06/25/19 | 1,518,000* (09/02/21) |
| 98 | | Alicia Keys | 50,741,000 | 32,960,000 | 2,524,000 | 3,690,000 | 57,750,000 | 11/19/16 | 5,487,000* (09/23/21) |
| 99 | | Boston | 50,240,000 | 41,330,000 | 4,803,000 | 5,640,000 | 9,540,000 | 06/01/19 | 985,000* (08/28/21) |
| 100 | | Spice Girls | 49,554,000 | 37,050,000 | 4,349,000 | 20,020,000 | 5,200,000 | 03/23/17 | 1,369,000* (09/18/21) |
| 101 | | Ariana Grande | 48,710,000 | 5,225,000 | 499,000 | 50,000 | 50,360,000 | 10/16/19 | 35,414,000* (09/23/21) |
| 102 | | Destiny's Child | 48,044,000 | 33,010,000 | 5,800,000 | 11,120,000 | 22,320,000 | 05/02/18 | 2,551,000* (09/21/21) |
| 103 | | Miley Cyrus | 47,563,000 | 23,050,000 | 2,365,000 | 250,000 | 70,530,000 | 12/06/20 | 11,493,000* (09/22/21) |
| 104 | | Cranberries | 46,004,000 | 37,650,000 | 3,710,000 | 4,120,000 | 8,210,000 | 01/25/18 | 2,177,000* (09/10/21) |
| 105 | | Avril Lavigne | 45,605,000 | 32,290,000 | 1,206,000 | 3,510,000 | 46,160,000 | 02/10/18 | 3,764,000* (09/22/21) |
| 106 | | The Weeknd | 45,383,000 | 5,235,000 | 3,035,000 | 80,000 | 44,270,000 | 09/10/20 | 25,875,000* (09/23/21) |
| 107 | | NSYNC | 45,016,000 | 37,930,000 | 2,669,000 | 6,980,000 | 5,110,000 | 02/09/18 | 1,557,000* (09/23/21) |
| 108 | | Jennifer Lopez | 44,485,000 | 26,120,000 | 4,811,000 | 10,760,000 | 36,810,000 | 06/24/18 | 4,805,000* (09/23/21) |
| 109 | | Mannheim Steamroller | 44,147,000 | 33,305,000 | 10,344,000 | 40,000 | 2,410,000 | 12/24/20 | 116,000* (08/09/21) |
| 110 | | Foo Fighters | 42,607,000 | 26,750,000 | 6,207,000 | 1,430,000 | 26,610,000 | 10/10/17 | 5,230,000* (09/23/21) |
| 111 | | TLC | 40,904,000 | 32,195,000 | 1,920,000 | 13,120,000 | 8,350,000 | 04/07/19 | 1,600,000* (08/17/21) |
| 112 | | Take That | 39,126,000 | 19,930,000 | 14,016,000 | 9,210,000 | 10,240,000 | 12/15/19 | 846,000* (09/02/21) |
| 113 | | Kelly Clarkson | 37,039,000 | 21,600,000 | 1,460,000 | 2,200,000 | 62,010,000 | 05/23/18 | 4,016,000* (09/23/21) |
| 114 | | Kylie Minogue | 36,799,000 | 20,320,000 | 7,103,000 | 19,720,000 | 12,150,000 | 04/16/18 | 1,636,000* (09/17/21) |
| 115 | | No Doubt | 35,384,000 | 25,730,000 | 6,058,000 | 4,910,000 | 6,080,000 | 03/29/20 | 1,212,000* (09/23/21) |
| 116 | | Imagine Dragons | 34,824,000 | 7,960,000 | 371,000 | 30,000 | 45,410,000 | 09/19/18 | 19,671,000* (09/23/21) |
| 117 | | Bad Bunny | 34,329,000 | 184,000 | 0 | 0 | 3,910,000 | 07/24/21 | 33,558,000* (09/23/21) |
| 118 | | Kendrick Lamar | 33,591,000 | 5,725,000 | 50,000 | 0 | 32,650,000 | 04/12/19 | 22,918,000* (09/23/21) |
| 119 | | Post Malone | 33,428,000 | 1,720,000 | 10,000 | 40,000 | 14,640,000 | 11/26/20 | 29,489,000* (09/23/21) |
| 120 | | Amy Winehouse | 33,109,000 | 23,180,000 | 2,411,000 | 580,000 | 21,660,000 | 07/19/19 | 4,095,000* (09/23/21) |
| 121 | | Dido | 31,041,000 | 26,630,000 | 420,000 | 5,320,000 | 6,210,000 | 02/18/19 | 1,463,000* (09/02/21) |
| 122 | | Evanescence | 30,940,000 | 22,440,000 | 2,755,000 | 2,170,000 | 18,390,000 | 06/30/19 | 2,336,000* (08/22/21) |
| 123 | | Selena Gomez | 30,500,000 | 5,780,000 | 270,000 | 80,000 | 41,610,000 | 03/21/21 | 18,180,000* (09/23/21) |
| 124 | | Carrie Underwood | 29,664,000 | 18,050,000 | 839,000 | 500,000 | 54,410,000 | 09/09/18 | 2,464,000* (09/20/21) |
| 125 | | James Blunt | 28,672,000 | 20,440,000 | 1,020,000 | 2,130,000 | 23,090,000 | 02/05/19 | 3,108,000* (09/02/21) |
| 126 | | Sam Smith | 28,559,000 | 6,525,000 | 25,000 | 100,000 | 32,700,000 | 10/11/17 | 17,074,000* (09/23/21) |
| 127 | | Björk | 25,986,000 | 19,730,000 | 4,372,000 | 2,620,000 | 3,460,000 | 12/23/18 | 579,000* (09/05/21) |
| 128 | | Gorillaz | 24,932,000 | 14,830,000 | 1,240,000 | 2,110,000 | 19,000,000 | 05/08/17 | 5,379,000* (09/23/21) |
| 129 | | Shawn Mendes | 24,131,000 | 2,630,000 | 120,000 | 40,000 | 20,330,000 | 10/08/19 | 18,320,000* (09/21/21) |
| 130 | | Billie Eilish | 23,941,000 | 2,270,000 | 2,000 | 10,000 | 5,920,000 | 07/04/20 | 20,759,000* (09/23/21) |
| 131 | | Lana Del Rey | 22,921,000 | 7,950,000 | 565,000 | 210,000 | 20,200,000 | 08/24/17 | 11,313,000* (09/23/21) |
| 132 | | Fugees | 22,604,000 | 17,310,000 | 1,348,000 | 7,160,000 | 5,240,000 | 02/18/21 | 1,011,000* (09/04/21) |
| 133 | | Juice Wrld | 22,335,000 | 623,000 | 0 | 0 | 3,010,000 | 08/13/21 | 21,259,000* (09/21/21) |
| 134 | | Renaud | 22,238,000 | 13,230,000 | 7,667,000 | 2,660,000 | 690,000 | 11/01/17 | 439,000* (08/07/21) |
| 135 | | Arctic Monkeys | 21,865,000 | 10,340,000 | 302,000 | 560,000 | 12,870,000 | 05/14/18 | 9,125,000* (09/23/21) |
| 136 | | Demi Lovato | 21,792,000 | 4,480,000 | 35,000 | 50,000 | 35,890,000 | 10/09/18 | 11,878,000* (09/23/21) |
| 137 | | Ms. Lauryn Hill | 21,708,000 | 15,610,000 | 1,734,000 | 3,660,000 | 7,670,000 | 02/18/21 | 2,116,000* (09/02/21) |
| 138 | | Avicii | 21,332,000 | 2,200,000 | 170,000 | 250,000 | 36,700,000 | 04/25/18 | 13,382,000* (09/17/21) |
| 139 | | Dua Lipa | 20,878,000 | 945,000 | 6,000 | 20,000 | 7,020,000 | 01/05/21 | 18,868,000* (09/23/21) |
| 140 | | Gwen Stefani | 20,116,000 | 12,060,000 | 154,000 | 3,130,000 | 29,040,000 | 04/12/20 | 2,607,000* (09/23/21) |
| 141 | | Aaliyah | 18,213,000 | 12,200,000 | 3,174,000 | 6,350,000 | 3,050,000 | 02/14/17 | 475,000* (09/23/21) |
| 142 | | Cardi B | 17,424,000 | 361,000 | 0 | 20,000 | 12,140,000 | 09/07/21 | 15,237,000* (09/23/21) |
| 143 | | Blackpink | 17,251,000 | 3,005,000 | 1,069,000 | 350,000 | 12,880,000 | 08/28/21 | 11,141,000* (09/23/21) |
| 144 | | Macklemore | 17,048,000 | 3,225,000 | 45,000 | 80,000 | 39,270,000 | 11/07/17 | 7,864,000* (09/04/21) |
| 145 | | Fergie | 14,078,000 | 6,450,000 | 25,000 | 750,000 | 36,900,000 | 07/12/17 | 1,843,000* (09/23/21) |
| 146 | | Little Mix | 13,152,000 | 3,670,000 | 0 | 130,000 | 12,020,000 | 02/02/20 | 7,640,000* (09/23/21) |
| 147 | | Will.i.am | 12,651,000 | 950,000 | 0 | 750,000 | 53,300,000 | 07/20/17 | 3,482,000* (09/04/21) |
| 148 | | Lorde | 12,067,000 | 3,300,000 | 100,000 | 0 | 19,250,000 | 06/22/17 | 5,780,000* (09/23/21) |
| 149 | | Harry Styles | 11,494,000 | 2,820,000 | 0 | 10,000 | 3,480,000 | 07/15/21 | 8,151,000* (09/23/21) |
| 150 | | Buffalo Springfield | 11,104,000 | 2,885,000 | 6,698,000 | 1,980,000 | 3,550,000 | 05/15/21 | 401,000* (09/02/21) |
| 151 | | Doja Cat | 8,539,000 | 96,000 | 0 | 10,000 | 1,650,000 | 08/25/21 | 8,191,000* (09/23/21) |
| 152 | | Lewis Capaldi | 7,380,000 | 738,000 | 3,000 | 40,000 | 3,420,000 | 08/31/21 | 6,113,000* (09/15/21) |
| 153 | | Olivia Rodrigo | 5,881,000 | 485,000 | 1,000 | 0 | 900,000 | 08/24/21 | 5,259,000* (09/23/21) |