Green Day CAREER CSPC RESULTS
So, after checking all figures, how many overall equivalent album sales each Green Day album achieved? Well, at this point we barely need to do the addition of all figures defined all over this article!
In the following table, all categories display figures that way, e.g. in equivalent album sales. For example, American Idiot singles released in digital format sold the equivalent of 2,655,000 albums – 17,700,000 downloads with a 10 to 1,5 weighting.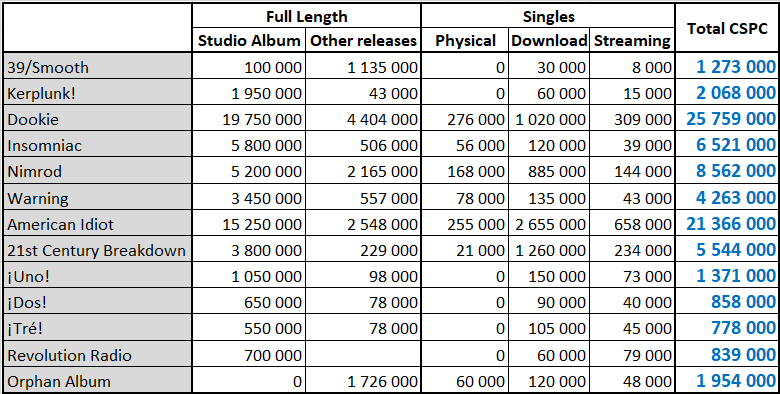 As a reminder:
Studio Album: sales of the original album
Other Releases: sales of compilations generated thanks to the album
Physical Singles: sales of physical singles from the album (ratio 3/10)
Download Singles: sales of digital singles from the album (ratio 1,5/10)
Streaming: equivalent album sales of all the album tracks (ratio 1/1500)
If the domination of both Dookie and American Idiot isn't a surprise, their overall tally of over 25 million and over 21 million respectively is pretty impressive. One may try to point out how much they failed to reproduce such figures but in any case those two albums alone are responsible for more equivalent album sales than full discographies of various popular artists.
Their supposedly weaker albums are far from being ridiculous too. Nimrod is up to a solid 8 million total figure while all Insomniac, Warning and 21st Century Breakdown are in a respectable 4-6 million range.
Each of their last three albums failed to break the million milestone, but hope isn't lost yet as Revolution Radio is still being promoted and should hit that mark at some point, possibly during 2017.
The cumulative total of Green Day climbs up to 81,15 million equivalent albums. This figure puts them in the same league as the likes Shania Twain and Adele. Among rock bands of the last 30 years, they are way below the Guns N' Roses at 117 million, close to both Nirvana at 90 million and Coldplay at 83 million, while topping Linkin Park 74 million figure. Additional bands including Oasis and Radiohead still need to be studied but will appear nowhere near to Green Day, which proves the strong universal appeal of the latter band. Following pages list their most successful songs.
Do not forget to check our amazing lists posted inside the CSPC: Data Collector which includes the full listing of all CSPC results compiled so far to better gauge their position in the history of the music industry.
As usual, feel free to comment and / or ask a question!
Sources: IFPI, Spotify, Chartmasters.org.