CSPC: The Rolling Stones Popularity Analysis
Part 1 – Decca Era, Major Compilations I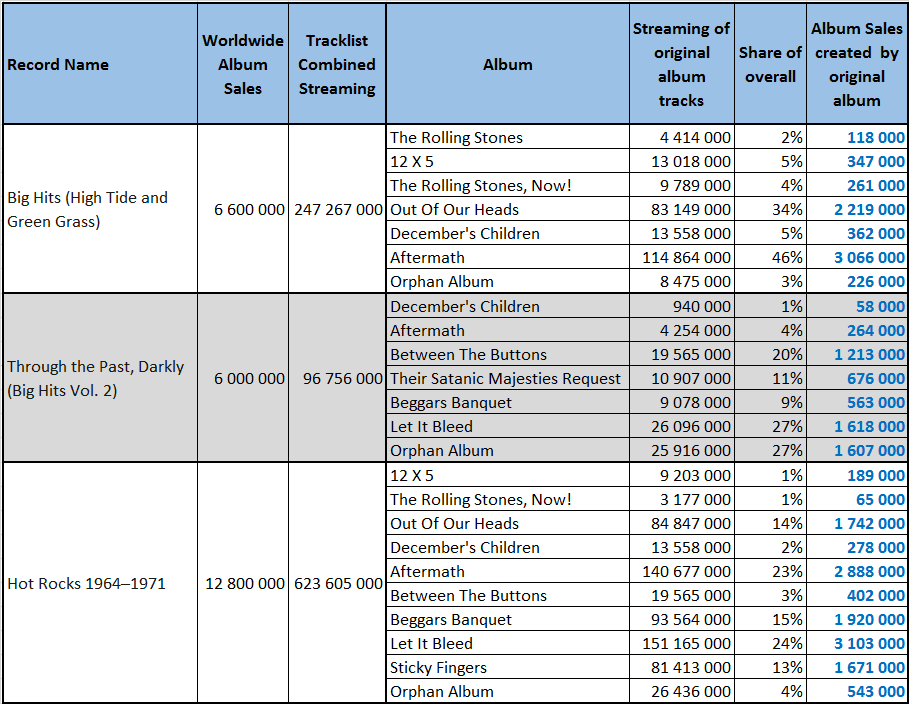 How to understand this table? If you check for example Hot Rocks 1964-1971 compilation album line, those figures mean it sold 12,800,000 units worldwide. The second statistics column means all versions of all songs included on this package add for 624 million streaming plays on Spotify.
The second part at the right of the table shows how many streams are coming from each original album plus the share it represents on the overall package streams. Thus, streaming figures tell us Aftermath songs are responsible for 23% of the Hot Rocks 1964-1971 tracklist attractiveness, which means it generated 2,888,000 of its 12,800,000 album sales and so on for the other records.
Comments now, those three compilations generated a huge 25 million sales combined based on the band early songs only. Both Big Hits and Hot Rocks include their most well-known songs while Though the Past focuses on secondary songs. Thanks to the presence of some of their all-time biggest tracks on them, Out Of Our Heads, Aftermath, Beggars Banquet and Let It Bleed are the main compilation sales generators among 60s albums.
In the other side, their very first albums fail to attract many buyers as their songs popularity fell short of their biggest standards. Some albums like Rolling Stones vol 2, are barely, if not at all, represented on those packages.