Elvis Presley's US album sales
US Albums Discography
Studio albums
As studio albums weren't in the heart of the music industry back then, not all these releases are proper studio efforts. Their content is made of songs that weren't already released on other long formats though.
A testimony of the low importance of this format back then, only 12 made it past 500,000 units sold. Among them, only 4 sold more than a million – Moody Blue thanks to the hype generated by his passing plus the three studio efforts His Hand In Mine, How Great Throu Art and He Touched Me.
That low appeal is also visible by the lack of availability of most of these albums on music clubs, namely BMG and Columbia House (column CH). We can already see LPs that appear to be more requested than others. They are the first two albums, the fan-favorite Elvis is Back! and the household name Moody Blue, on top of course of the evergreen gospel records.
Soundtracks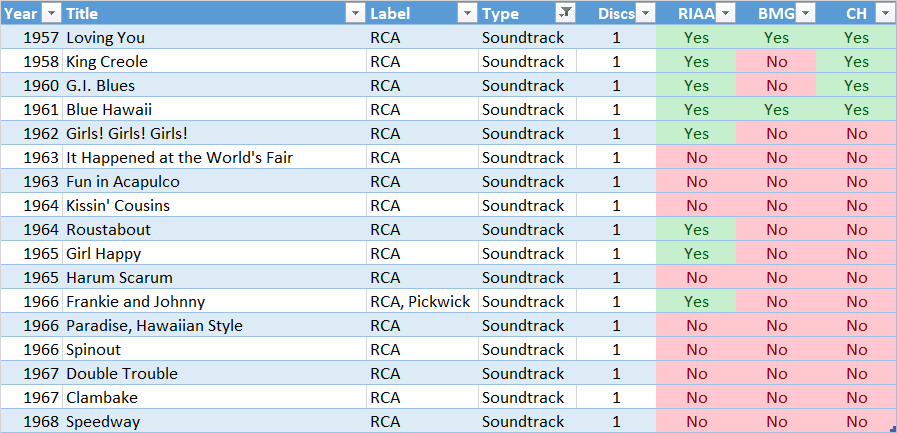 During the 50s up to mid-60s soundtracks were the big thing. Home TVs arrived only in 1950 and the color TV in 1964, both needing several years to reach mass adoption. A lot of people went frequently to theaters to make up for this absence. Thus, music coupled with popular movies was especially strong. As an example, the year 1956, when Presley issued his first LP, he and Harry Belafonte were the only artists to hit #1 with non-soundtracks.
His selling power added to the strength of soundtracks naturally did wonders. The biggest of all was undoubtedly Blue Hawaii. The only multi-million seller from the list, it topped charts for a stunning 20 weeks. It also remains far and away the top catalog seller of the pack. This set of albums can be divided into two groups. The first is made of the first 4 albums. They were all available in at least one music club and they all got a CD release as early as in 1988, proving they were still requested by the public.
In the other side, albums from Girls! Girls! Girls are largely outdated. As a result, none of them was even reissued in CD at retail. Instead, they got a series of Double Features in 1993, packaging two soundtracks per CD. Since the RIAA treat these releases as stand-alone albums, I'm myself listing them apart.
Live albums
We are used to highlight the incredible success of Presley's Christmas and Gospel efforts. Truth is, his live recordings are just as impressive. Each of his 15 first live sets, which encapsulate all those released before his death, have been certified by the RIAA. The 3 LPs dropped in 1972/1973 sold over 3 million units each. Later releases haven't sold that much simply because of their redundancy.
You can notice the introduction of the 'Appeal' column. This column is used for compilations-like releases. It is set at High when the track list of the record is full of his biggest hits, a la 30 #1 Hits, Medium when the release includes a string of hits plus some less popular songs and Low for packages without the big ones. When we need to question how much each release continues to sell, they are a very good gauge. While initial sales also largely depend on promotion, it's no coincidence to see that the only two live sets to hit Gold issued from the 80s to date are the two high ones – The Great Performances and An Afternoon in the Garden.
Compilations – main RCA titles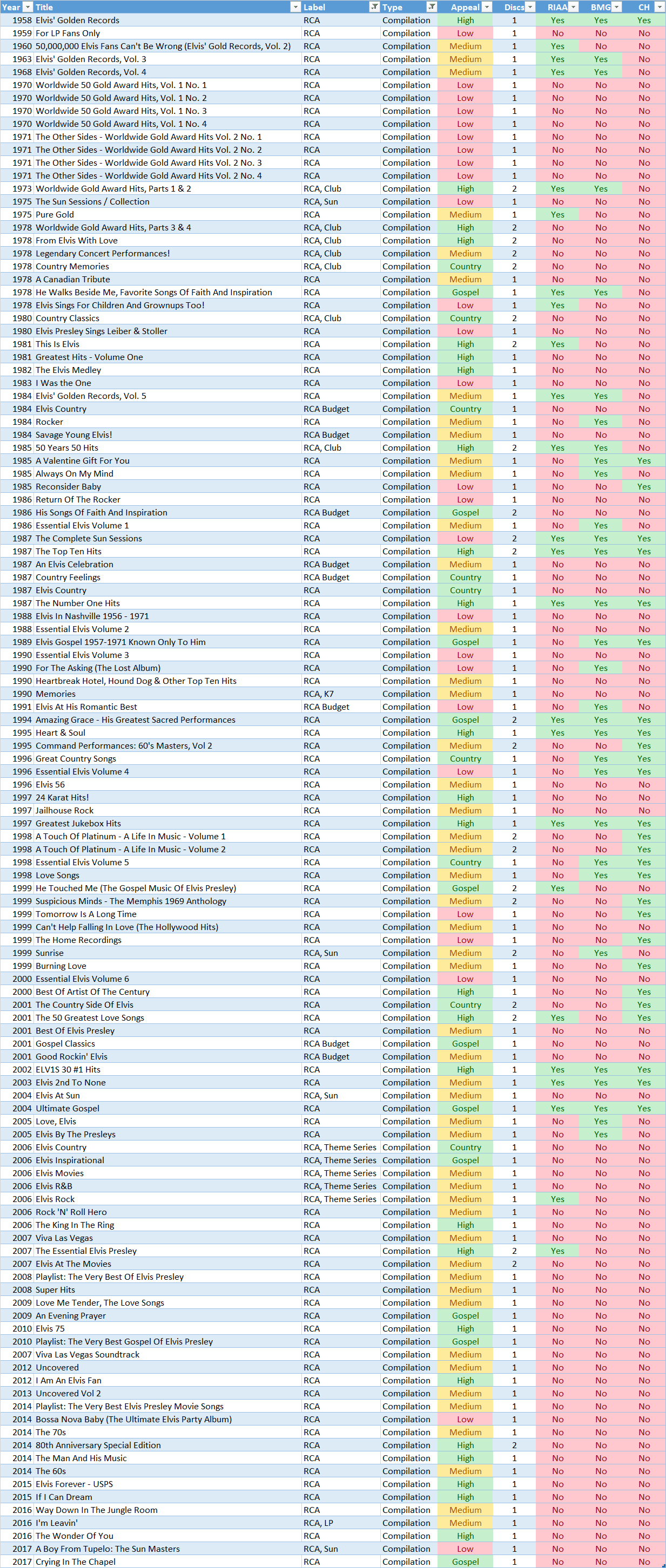 Presley's first compilation, Golden Records from 1958, remains his highest seller in the US from that category. The next 4 titles from this series were also awarded at least Gold. Certifications among his remaining compilations seem sparse. If we check more carefully, we notice the ones hitting high numbers are high-profile compilations released for anniversaries of his death – 1987, 1997, 2002, 2007. These years are perfect to reactivate the Elvis brand on a regular basis.
Compilations – Time-Life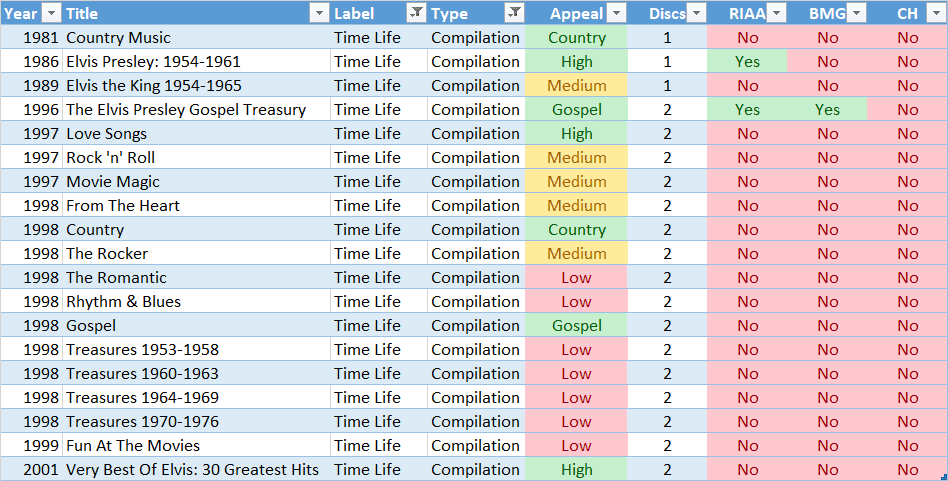 Time-Life started by issuing 4 stand-alone albums of the king from 1981 to 1996. The success of the last one, Gospel Treasury, convinced them to create a 15-albums series from 1997. Please notice that one of them, the Christmas record, is listed inside the Christmas category rather than here.
Compilations – Camden / Pickwick

We already met these Camden releases. They all sold very large quantities in comparison to their organic appeal thanks to their very low price. The only one which failed to go even Gold is Easy Come, Easy Go. Titled after the lowest selling record of Presley during his lifetime – a 30,000-units selling EP from 1967, also his last EP ever – it haven't quite match the impact of its predecessors. It failed the Top 200 album chart and wasn't reissued in later years, not even after Presley's passing.
Compilations – 2 on 1

These soundtracks weren't strong enough to enjoy CD releases, which is why these 2 on 1 versions popped up. You may be surprised that several of them got a Columbia House release.
During the early days of record clubs they were related to record labels. The BMG Music Club that we used to know was historically the RCA Record Club, which issued most of his albums. As the direct competitors of Columbia House, they weren't allowing the later club to issue their recordings. It all changed in 1988 when BMG Music Club was introduced and both clubs started to sell a bit of everything. In the case of the rock icon, his first albums to be available at Columbia House arrived as late as in 1994 when Moody Blue and The Great Performances were added to their catalog. As some of his most recent releases at the time, the 2 on 1 albums were added too soon after. Many others followed in later years.
Compilations – Remaining products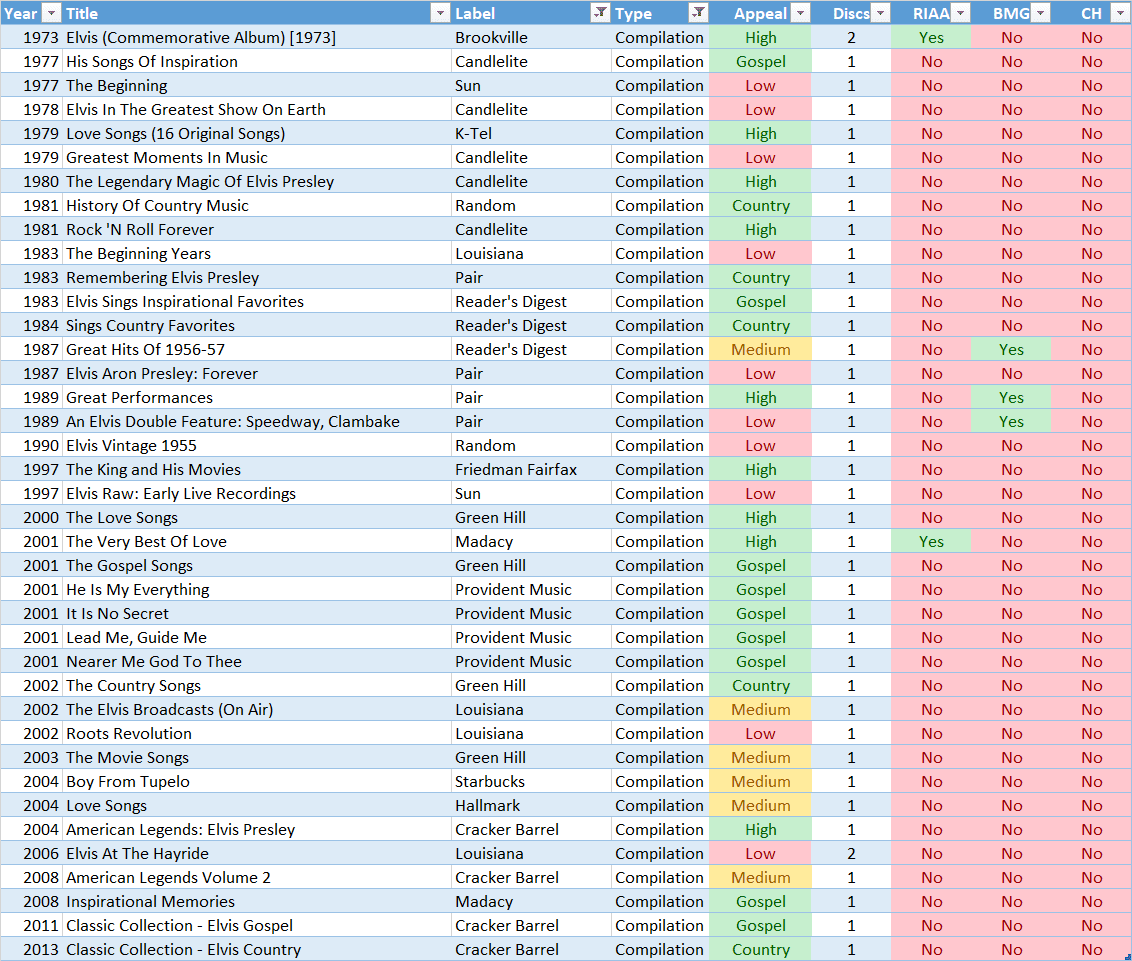 We saw on articles by the likes Nick Keene and Tony Galvin that releases through Green Hill, Provident Music and Cracker Barrel labels, among others, are often used to claim gigantic off-the-radar sales for the King. We will study all of them.
Christmas releases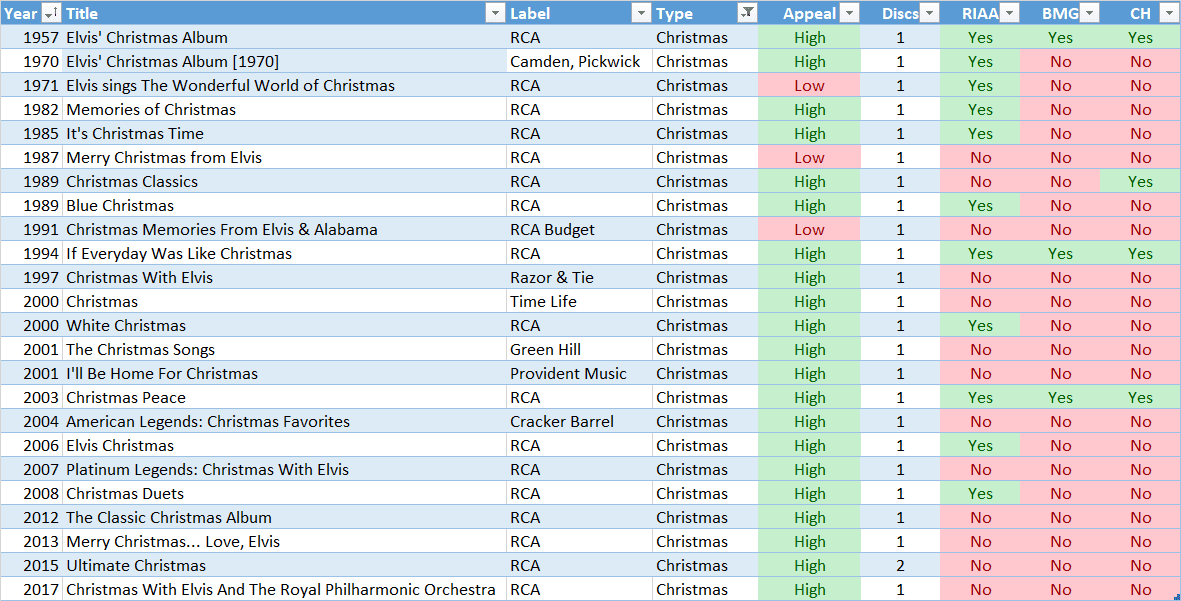 I'm listing Christmas album after compilations because they include a bit of everything. Two of them are studio efforts, 1957's Christmas Album and 1971's Sings the Wonderful World of Christmas. Their songs have been packaged through countless of releases, the most famous of them being the Camden reissue of the original album that made it all the way to an RIAA Diamond Award.
Box sets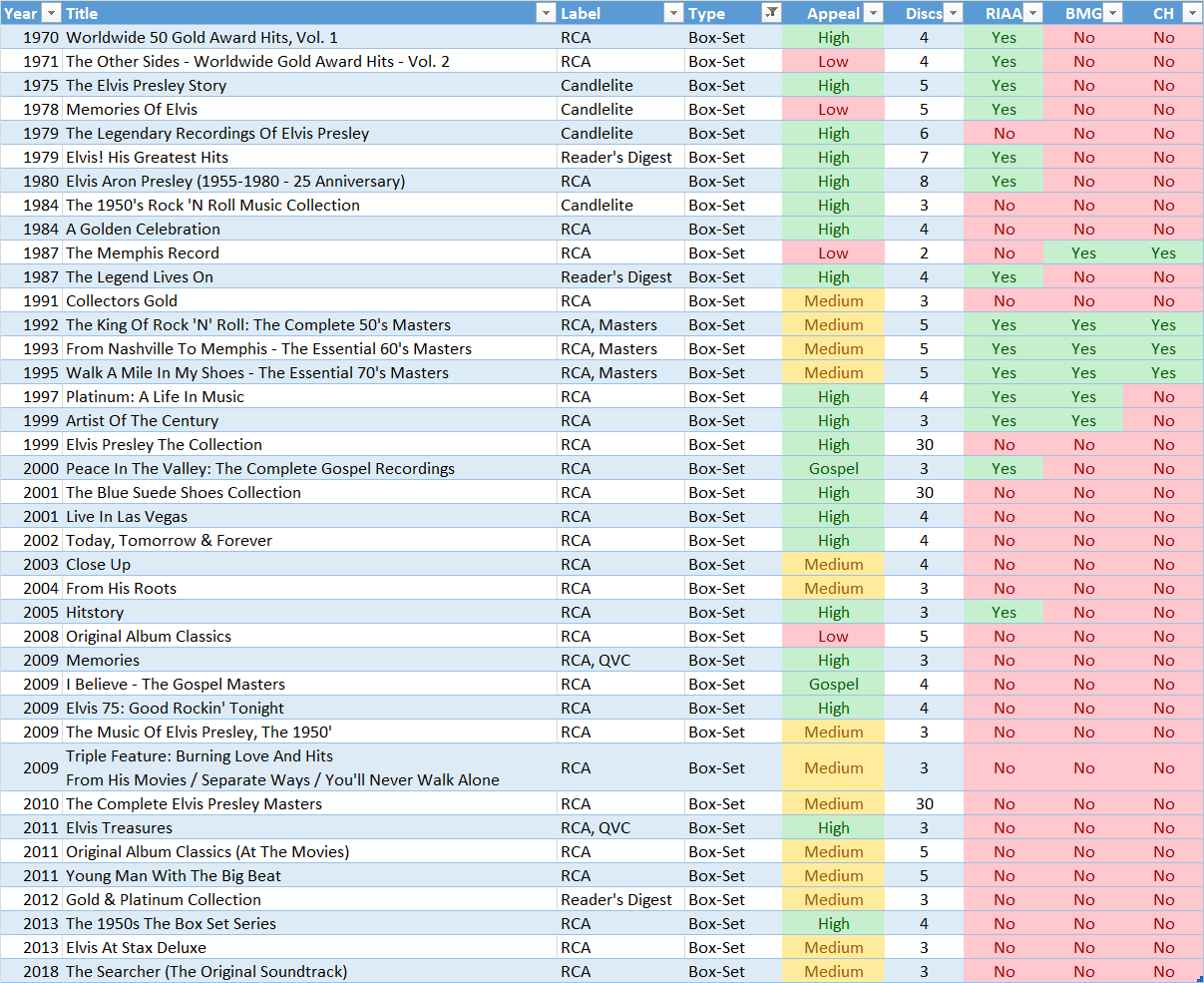 It is important to keep in mind the two types of box sets. The first type like the Masters series are new packages with new visuals and track lists. The second type consists in putting together already existing releases like Original Album Classics or The Collection. The former category can only be certified by itself while the later can be certified on its own but also as part of the original albums.
Others
Arguably the lowest profile releases of Presley in the US. Most of them were issued in 1974-1979 when selling albums on the back of his name alone was fairly easy.