Elvis Presley's US album sales
Soundscan sales per album
I found no interest in repeating known Soundscan leaks in this article. You can found most of them here, keeping in mind the two errors I previously pointed out and sticking to Soundscan figures since release-specific estimates include many errors, although they ultimately even out.
Now that we have Presley's career total of 39,5 million Soundscan units, that we know which albums were scanned and which weren't, which ones continued to sell during the Soundscan era or were mostly deleted before it, and that we have set realistic threshold for all relevant albums, we can distribute all units into his entire discography.
The following tables list estimates of Soundscan sales for his entire discography. They fit with every known information – including the total of 39,5 million.
Studio albums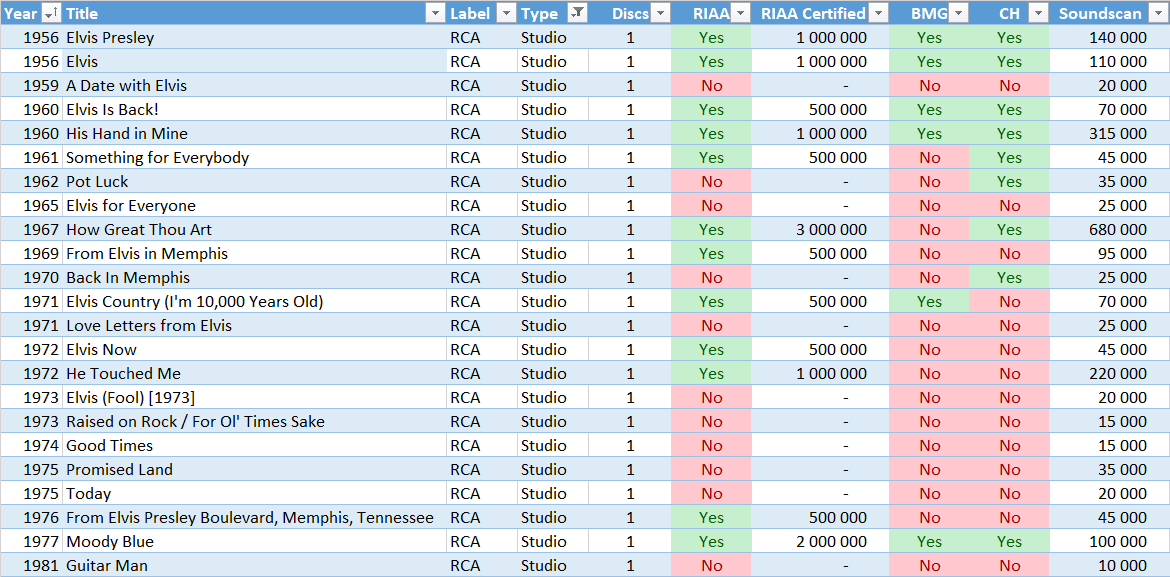 With data available for the top studio album – Elvis Presley – and the top gospel effort – How Great Thou Art – we only need to scale everything else thanks to their relative strength. We conclude on some 2,18 million Soundscan sales for these 23 albums, more than half coming from the 3 gospel LPs.
Soundtracks
This time we have soundscan sales for Blue Hawaii and Loving You, so that's an easy game to complete the entire column. As already pointed out, only the first 4 of these albums remain in print, most never got a CD release except for recent collectors. They would only have a few residual LP and cassette sales during the 90s.
Live albums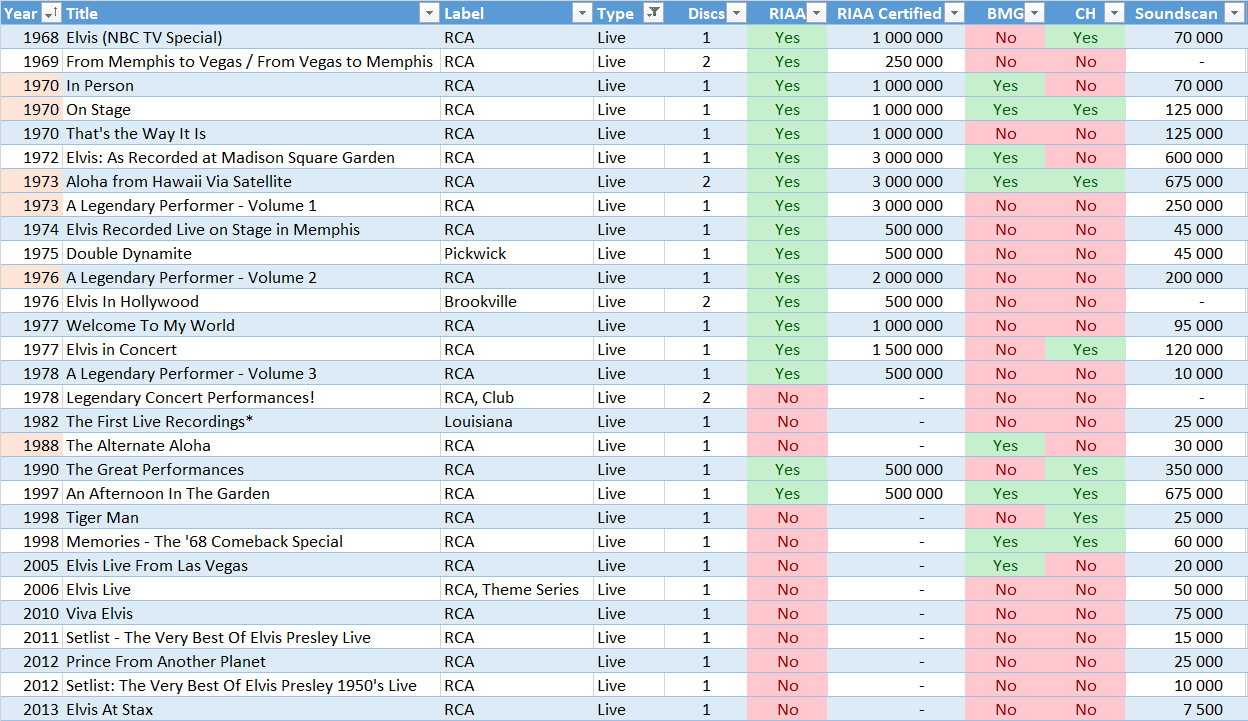 Live albums continue to be a cash machine for the estate of Presley. Several of them are still consistent sellers and cumulatively they add for 3,8 million units scanned.
Compilations – main RCA titles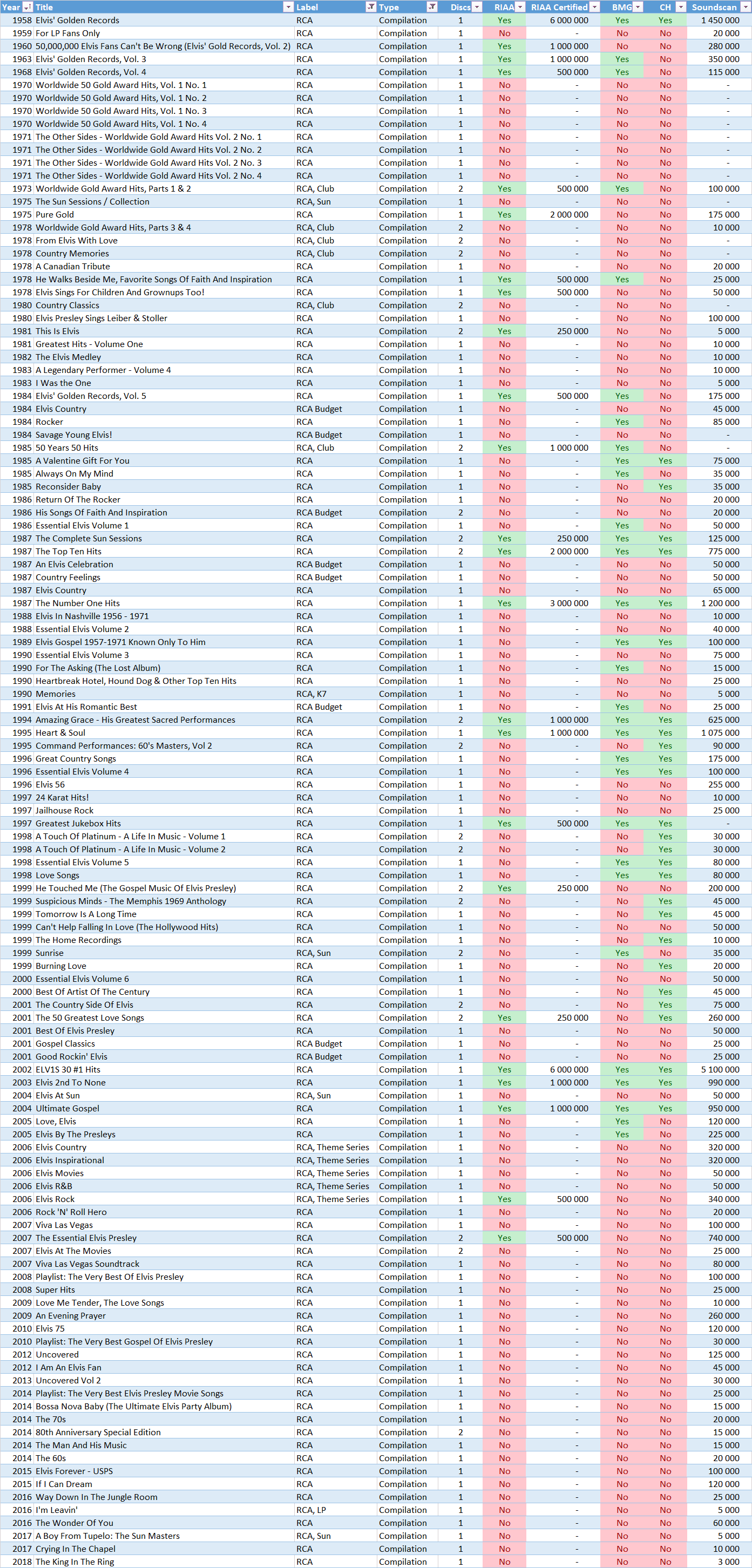 For readiness purpose, here are the Top 15 Soundscan sellers of this immense list:
This Top 15 adds for 14,5 million sales, massively led by 30 #1 Hits. That one is 900,000 units short of its certification. It sold copies at clubs, but around half a million as suggested by its former awards. It gained 400,000 copies thanks to SEA and TEA as well as on the back of Google Play which offered the album in 2016 for a week. 2014's Playlist: The Very Best Elvis Presley Movie Songs was also given away at some point which will allow it to hit Gold quite before reaching 500,000 scans.
Another surprise comes from the Gold award of 2006's Elvis Rock. It scanned about two thirds of that amount and wasn't available at clubs nor at Christian stores. That one too got allocated some SEA & TEA units by Sony BMG.
The full list of these compilations is just over 20 million Soundscan sales, which is more than half of Presley's total sales.
Compilations – Camden / Pickwick

Camden albums used to be consistent sellers as long as they were kept on the market. Most of them have been deleted for long, but not all. The prime example is You'll Never Walk Alone. Please note that its Soundscan figure listed here includes sales from the edition Inspirational Memories.
A small word about Love Me Tender. That 1987 cassette is often paired with 3 more cassettes issued that year. This one is the only one issued by Camden though, which as shown by certifications of albums supported by this label, completely changes the picture. Love Me Tender is also often claimed to be close to 1 million sales. That doesn't fit at all with its certification history though. Camden certified their albums of Presley in 1992, 1999, 2002 and 2004. Love Me Tender reached Gold only on that last audit. Since its price was higher than 70s Camden releases, it wasn't impacted by pricing issues, so there is no reason to expect it to have been much over 500,000 units in 1992, 1999 and 2002 without ever being certified along with the remaining albums.
Compilations – 2 on 1

Soundscan sales of the first Double Features are known at 70,000 units for Love In Vegas – Roustabout. As usual, sales of this kind of series go down quickly. The promotion is done at first and following releases dropped to the market with much less fanfare. In all fairness, 70,000 sales is already incredible for songs among the least valuable of Presley's catalog. Due to low sales, these releases were deleted after only a few years, comments below by Ernst Jorgensen, from 2000.
WorldWideElvis: Why were the DOUBLE FEATURES series deleted? Any plans of releasing new complete movie sound tracks including all outtakes and rehearsals?
ERNST: Basically, most of them sold very poorly. After a while, if they don't sell a certain number a year, you end up deleting them. Like, you delete records by John Denver, or Britney Spears, or who else. It's a business decision. I don't think there's any chance in the world of going out into the general market place with Elvis movie songs, unless they are hits from the movies. If anything happens it will be on the collectors label but there are no plans just now.
Compilations – Remaining products
Just like similar packages by Time-Life, Provident Music or Greenhill, most of these releases had very little availability on traditional retailers. The main exception is The Very Best Of Love from 2001 from Madacy which someway took the spot of Camden, selling tons of budget copies at retail thanks to Presley's songs.
Christmas releases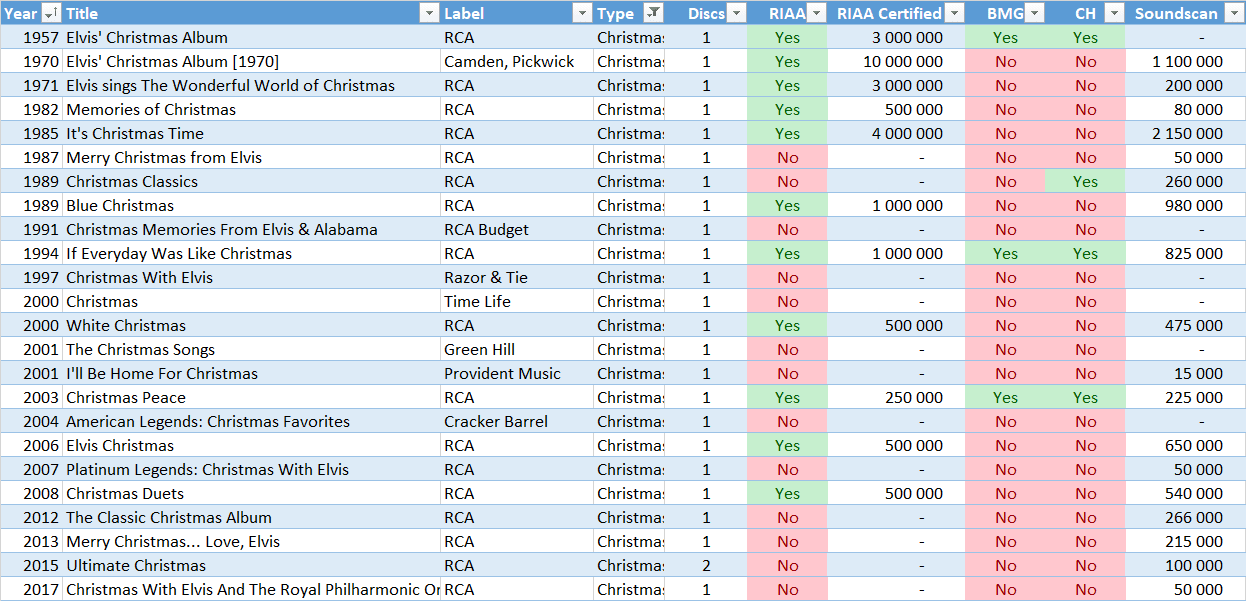 The evergreen Christmas recordings of Presley show no sign of slowing down. At 2,15 million – including 2007's reissue Home For The Holidays that is tracked distinctively by soundscan, but merged here – It's Christmas Time is the leader of the pack thanks to its highly attractive price.
One may wonder how it went 4xPlatinum considering its Soundscan total and the lack of availability at record clubs, especially since most sales are supposed to come from the 1999 reissue. Part of the answer is that new awards include SEA (Streaming Equivalent Albums) and TEA (Track Equivalent Albums). It's Christmas Time clearly received streaming and downloads points of Presley's biggest holiday tunes in its last 2018 audit. Then, since most of the albums listed here include similar tracklists, several of them can be added together for RIAA purpose.
Among the 13 uncertified Christmas releases, as many as 6 are eligible to be combined to It's Christmas Time under the 75% rule. This notably includes The Classic Christmas Album. You may also be surprised to learn that although it was released under a completely different label, the Greenhill package The Christmas Songs is an exact reissue of It's Christmas Time. This album will be removed from final total to avoid double counting. We will remain pending confirmation for albums like The Classic Christmas Album to know whether or not their sales were certified through It's Christmas Time. Thus, right now we will still add them individually. If they happen to cross half a million Soundscan units without hitting Gold on a subsequent RIAA audit, that will confirm its sales are already audited as part of It's Christmas Time.
Merry Christmas From Elvis from 1987 is also technically speaking a reissue, this time of the studio LP Elvis sings The Wonderful World of Christmas. It has 8 of its 11 tracks, which at 73% falls below the 75% rule but we don't know how strict that policy is.
Independently from how they are treated by the RIAA, these albums combine for an amazing 8,23 million Soundscan sales since 1991. That's more than much hyped holiday efforts from the 90s by the likes Mariah Carey, Celine Dion and Kenny G.
Box sets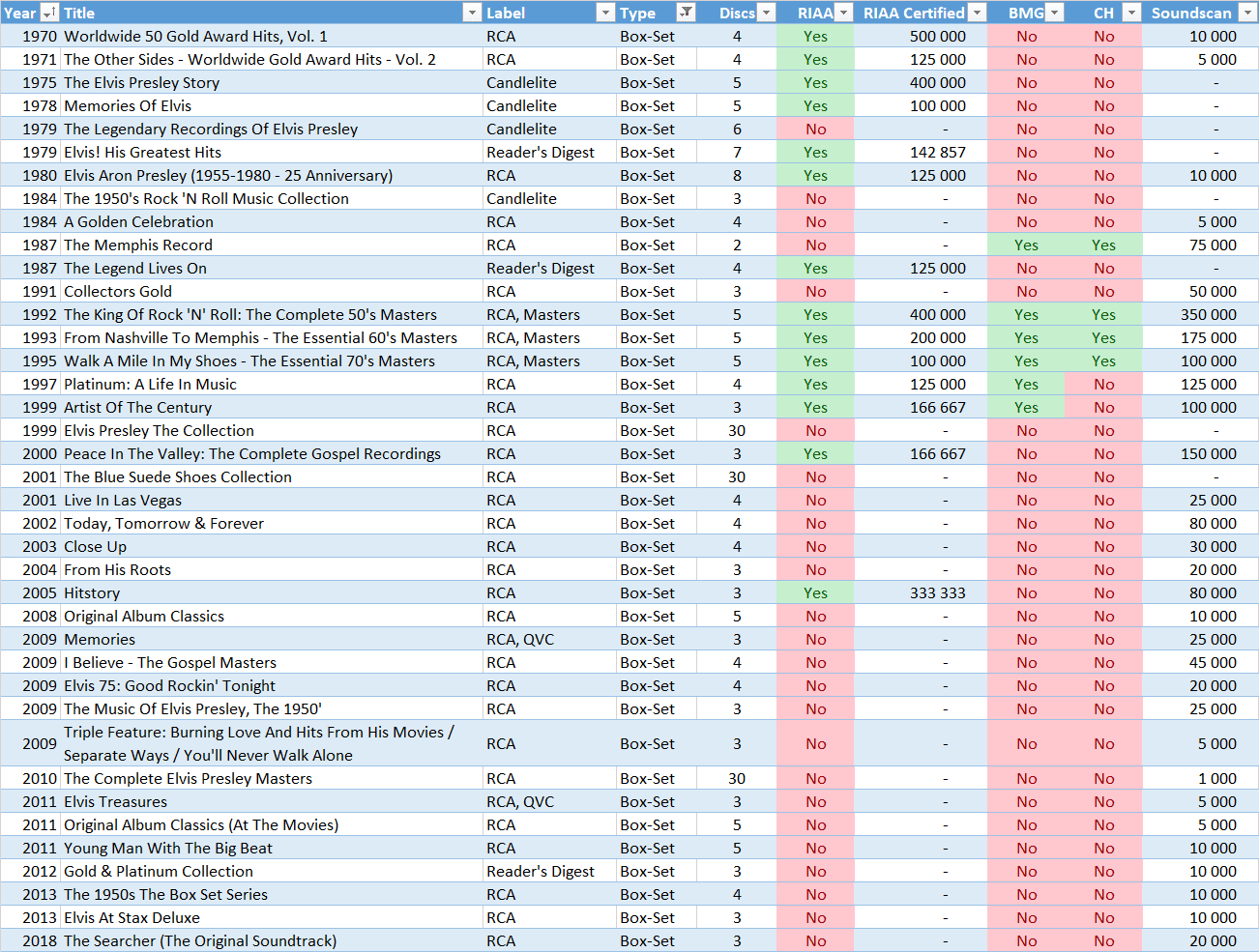 The last record fueled by streaming and downloads is Hitstory. That 3 CD box set sold less than 100,000 units at Soundscan and has little presence outside retail but still went Platinum. At some point, it was sold by QVC, but their sales were already reported into the Soundscan panel by then.
Speaking about QVC, various of these box sets got pushed by this TV channel. Artist Of The Century sold 17,000 units through 3 airings there, that was before their arrival into the panel. Memories and Treasures sold most of their units through airings on their programs, but they were already scanned by then as shown by their Billboard charts history.
Others

Well, not much to say about these releases which were already largely outdated when Soundscan came around.