CSPC: U2 Popularity Analysis
Streaming Part 3 – Stardom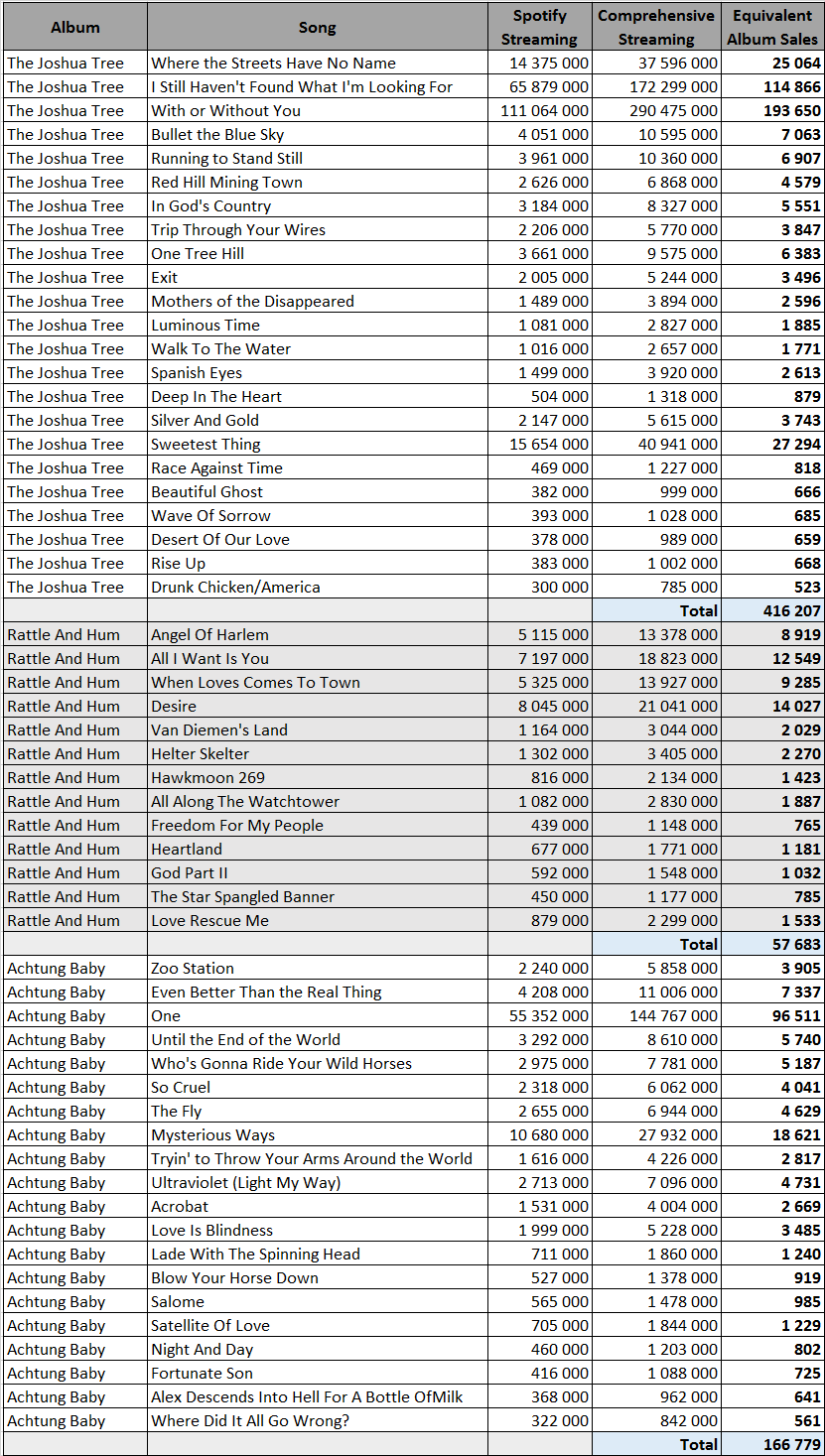 This third part opens with The Joshua Tree, their all time biggest album and one of the biggest overall by any act. Not only does it contain U2's first hit to cross the 100 million mark on Spotify with the cult With Or Without You, but it also has I Still Haven't Found What I'm Looking For, which has almost 66 million plays, plus Where The Streets Have No Name with more than 14 million. Plus, all the original tracks have managed to be streamed at least 1 million times over. Controversial, and debatable, is the inclusion of Sweetest Thing here, a song originally recorded at the time of The Joshua Tree but widely popular in 1998, when listed on the band's first compilation, The Best Of 1980-1990. Some would say it should have been classed as an Orphan Album track but the song was included on the most recent deluxe edition -2007-, so we decided to respect that criteria. The group itself seem to regard it as belonging to that era.
Achtung Baby reached 166,000 equivalent albums sales, well behind the 416,000 accumulated by The Joshua Tree but still strong regardless of that.
Although Rattle And Hum sold nearly as much as The Joshua Tree during their respective first years, we easily understand why nowadays the 1987 classic is almost twice as high in album sales as Rattle And Hum. In fact, this latter album truly lacks a real hit.
Without much surprise, Zooropa and Pop rank well behind due to them lacking a proper and truly huge hit. Stay, from the former, is the biggest tracks out of both titles with no more than 4 million streams on Spotify.