BTS dominance is the only unflawed bit of IFPI annual list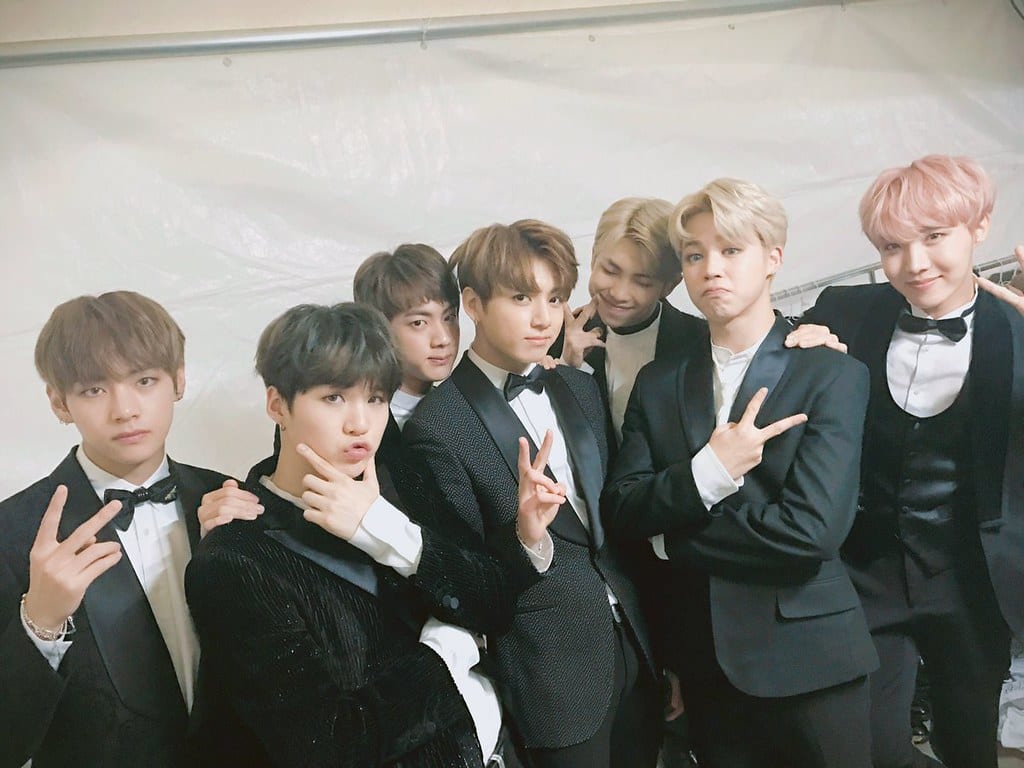 As they have been doing since 2001, the IFPI published this week the top selling albums of the year. Unlike the previous edition, when they got the #1 wrong, this time they properly reported the global domination of Korean superstars BTS.
At the start, the list had some issues mainly due to missing albums. As years pass, its accuracy is getting worse and worse. We will review their 2020 top 10 to see that none of the albums has both its ranking and its sales figure correct.
The IFPI Top 10 pure sellers of 2020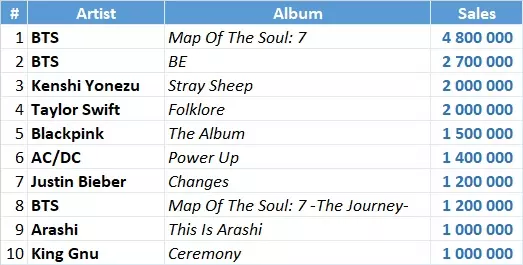 This ranking has already been reported by every major news outlet and reproduced countless of times on blogs and boards.
No media questioned the list. After all, the IFPI is the official body which covers the music industry at a global scale.
Now, I added a cross over every number that is false in this table. The result is embarrassing.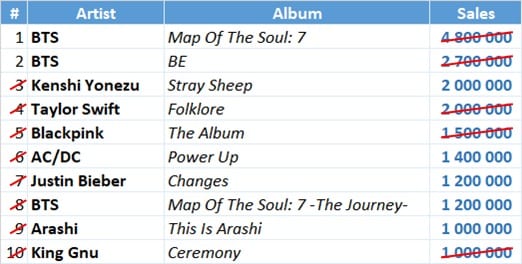 A complete lack of methodology
When we check weekly or yearly rankings of national providers like Billboard, Oricon or the OCC, a key question is always which rules govern the classification.
Would you like to know which rules govern the IFPI list? Easy, none.
Their process consists in asking affiliated labels their top sellers of the year and barely merging the results.
By publishing a list regarded as the reference by everybody, it's IFPI's responsibility to make sure their content makes sense. Fact is, it doesn't. Their top 10 best selling albums of the year is a travesty.
Plenty of albums with higher sales than several ones in the top 10 are missing, while sales regarded as eligible or not strongly differ from one album to another. Let's sort out this mess.
Unreported albums
In 2001, when the IFPI posted the first edition of the top selling albums, the big story was that Hybrid Theory by Linkin Park was the leader of the year.
The list involved several key omissions though. Jive artists were notably absent, effectively ruling out artists who weren't too bad at selling albums like Britney Spears, Backstreet Boys or Creed. Nickelback were nowhere to be seen as well.
Of course, top sellers in specific countries like Japan or India were often unreported too, which exited more artists including Ayumi Hamasaki.
The list was still welcome as the first attempt to build a global ranking with an official status. Also, chart followers were confident that labels would quickly jump into the bandwagon to make the list comprehensive.
The problem was never solved though and it even accelerated in recent years.
In fact, the collapse of Western markets coupled with the boom of the K-Pop industry and Chinese downloads reduced the impact of traditional international sellers which belong to the largest companies.
If we set the cut at 1 million sales, units shown for the annual #10, nothing less than 7 Asian releases have been excluded.
Lit by Lay sold a whopping 2.65 million units on the back of legal downloads in his native China. The EXO star is the biggest snub of the year.
Fellow Chinese icon Hua Chenyu got his album New World downloaded 1.75 million times, with both CD and USB physical releases adding an estimated 250,000 units, clearing the 2 million barrier.
A quintet of K-Pop releases complete the list of missing albums. The biggest one is Resonance by NCT. The 2-parts album moved a combined 2.6 million copies.
The remaining four follow with sales from 1.46 million to 1.22 million through physicals and downloads. Going from top to bottom, they are Neo Zone by NCT 127, Heng:garæ by Seventeen, Delight by Baekhyun and Semicolon, again by Seventeen.
Albums missing sales from China
Multiple albums part of the official list saw their sales fueled by downloads in China. The most obvious example is Justin Bieber's Changes.
Showing at 1.2 million copies, sales outside of China for this album stand at a mere 355,000 copies. It climbed all the way up to 799,000 downloads in China though. As the IFPI round numbers to the closest 0.1 million, it ended up at 1.2 million.
We can debate whether or not these Chinese sales should be included. What's safe is that if they are eligible for some artists, they need to be eligible for all.
There are 3 albums inside the IFPI's top 10 with significant sales in this country that weren't reported by their respective labels.
They are Blackpink's The Album at 1.356 million, Taylor Swift's folklore at 1.041 million and BTS' BE at 254,322. Obviously, adding these sales on top of already reported oned changes their totals in full.
It also creates another issue. A pair of albums sold close or over a million with these downloads, but since they weren't accounted for they have been left out.
These albums are Taylor Swift's evermore (505,000 traditional units + 539,000 downloads from China) and Eminem's Music to be Murdered by (550,000 + 425,000).
While the latter hasn't break through the million mark, it indeed outsold albums from both Arashi and King Gnu.
3 BTS albums, 3 different methodologies
As absurd as it seems, all 3 BTS albums use a different methodology.
Map of the Soul: 7 and BE shipped 4,377,000 and 2,692,000 units, respectively, according to South Korean official reporter Gaon.
BTS South Korean albums are entirely produced locally, so Gaon numbers reflect indeed their global sales. The only exception are downloads.
For BE, it's clear that only Gaon numbers have been reported to the IFPI. It leaves out roughly 65,000 downloads outside China (inc. 20,000 in the US and 24,000 in Japan), and 254,000 units inside China, which puts the album over 3 million overall.
For Map of the Soul: 7, the IFPI suggest sales somewhere between 4.75 million and 4.85 million. This is more than Gaon's sales (4.38 million), but less than physicals + Chinese downloads (502,000), which add for 4.88 million.
The release also moved about 60,000 downloads elsewhere, including 28,000 in the US and 13,000 in Japan. With or without them, the rounded figure should have been 4.9 million.
The case of Map Of The Soul: 7 -The Journey- is completely different. It belongs to their Japanese releases, handled by UMG rather than Big Hit Entertainment.
Just like with Justin Bieber, they did report its Chinese downloads, which stand at 96,000 units. On top of that, it moved 1.08 million units thanks to heavy sales in Japan and stunning exports.
Once the IFPI will reveal the top 20, it will be interesting to see where the reissue of their album Skool Luv Affair lands.
The album shifted 670,500 units after the reissue, but also 84,755 copies with its original package. Add in residual downloads, it will show as a 0.8 million seller if numbers are accurate, or 0.7 million if they forgot to combine the first version. Will the IFPI release data using 4 different methods for 4 albums from the same artist?
Bogus figures
Even if we know about unreported albums, missing local or overseas downloads, there are two figures which still make little sense.
Taylor Swift is part of this story once again, as well as Japanese monster band King Gnu.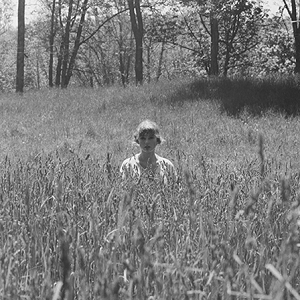 folklore shipped over 1.3 million units in the US, 70,000 in Canada, 85,000 in the UK, 35,000 in Japan, etc. Its sales are very well tracked and add for 1,740,000 units. This estimation can be 30,000 copies too high or too low, but the gap to 2 million is wild.
To be more precise, the IFPI reports more like 1.95 million for this release. It is ranked below the top Japanese seller of the year, Stray Sheep by Kenshi Yonezu.
With national sales plus extra shipments as well as some overseas units, Stray Sheep estimate is 1.96 million.
Since the huge majority of its sales come from Japan, anything higher would suggest a massive bump in overseas sales, which will not be realistic. Hence my confidence in claiming that folklore reported figure is closer to 1.95 million than 2 million.
Where are the more than 200,000 units missing from 1.74 million to 1.95 million though?
One possibility is that US Soundscan figures understate its results. This is made possible by the change of rules operated by Billboard to exclude bundled sales which were made from October 9 onwards.
The scenario is unlikely for several reasons. Firstly, most of its copies were purchased by fans very quickly after its release, even when they were delivered much later.
Secondly, had many sales been excluded, evermore would have been even more concerned and should have pop up inside the list.
Thirdly, the album went Platinum by the RIAA late and still isn't 2xP. It should be closing in 3 million with 300,000 excluded sales (that would be eligible by RIAA rules unlike Billboard ones).
We need to wait and see when the album goes 3xP to be sure of this situation.
Another possibility are strong orders that still need to be shipped. A third possible explanation can be especially strong CD sales in China. Discogs statistics suggest it isn't the case.
The heavy direct to consumer sales of the record can also be overlooked from national charts of several countries.
Last but not least, many fans purchased a physical copy upon release in August and redeemed a download while waiting for their delivery, some of which came much later like LPs in November. We can't rule out her label counting 2 units for them.
The reality could very well a bit of all these situations. What's safe is that except for albums over-shipped, labels do not report higher figures than the truth.
We are left assuming that folklore indeed shipped 1,950,000 copies in 2020. The only doubt is the share of this total that is left to be sold during 2021.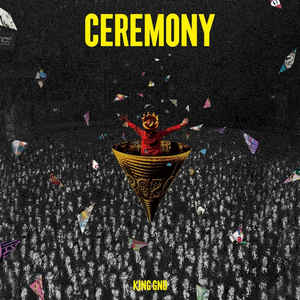 Then we need to address one last case: King Gnu. Here, you can go all in hitting your head against a wall.
Some facts. King Gnu's Ceremony is a Japanese album which got released on January 15. It excludes the scenario of mass extra shipment of albums released just before Christmas.
The appeal abroad of King Gnu is way more limited than the one of Kenshi Yonezu.
Our new tool which reflects the global impact of artists shows that the latter has cities from 15 distinct countries in his Top 50. It includes 4 foreign cities inside his Top 13.
On its side, the top 50 of King Gnu features 44 Japanese cities, including the entire Top 15.
Ceremony was certified for 500,000 physical copies in December. As RIAJ works the same way as Gaon, certifying sales of all units produced in Japan, even when they are exported, and since Ceremony was pressed exclusively in Japan, this reflects their global sales.
Nationwide, their sales as shared by Oricon were 438,000 copies for the year. Add in 20,000 plus extra shipments for ongoing sales and some foreign sales, half a million total sales make perfect sense.
We still need to add digital copies which are certified on their own in Japan. They were at 91,313 inside the annual list and have yet to hit Gold for 100,000 units. That's near 600,000 copies in total.
How come the album appears at 1 million sales inside the IFPI top 10? There are two possibilities and both are worrying.
The first would be a huge chunk of copies given away, bundled with something else. There are no trace of it online, and their national tour included only 9 performances on 8,000-ish capacity arenas, so this is very doubtful.
If we rule out freebies, the only reasonable explanation left is indeed that Ariola Japan reported comprehensive SPS (Sales Plus Streaming) units for this album.
Oricon's Combined Album ranking showed it at 717,249 units for the year, but since every label is free to calculate SPS as it wants on reports, they may very well have included data like YouTube views, or digital singles sales, which are disregarded by Oricon.
With about 400 million views aded to Oricon numbers, the album does close counts around a million SPS. A million is also realistic without YouTube views but with excluded streams from Oricon like Spotify plus downloads from singles. Below is how it adds up:
500,000 physical units shipped
287,000 units from Oricon-eligible audio streams
127,000 units from Spotify streams in 2020 in Japan (roughly 190 million)
100,000 units from about a million downloads
The safe part is that it hasn't sold anywhere near a million pure units which is what the ranking is supposed to reflect.
The fixed top selling 2020 albums

Once we put everything together, we can see some massive gaps in the ranking and much healthier numbers.
Bubbling under are aforementioned albums from Taylor Swift, Eminem and Arashi.
Below we can meet several more Asian releases on top of After Hours by The Weeknd at 775,000 and Chromatica by Lady Gaga at 720,000.
All these releases push King Gnu's effort in the lower part of the top 30, an amazing score for a Japanese album but way down from the claimed #10 spot.
Conclusion
The IFPI closes the report of 2020 best-selling albums as they always do, congratulating themselves from being "the voice of the recording industry worldwide, representing over 8,000 record company members across the globe".
May I reformulate to say they represent only half of the annual top sellers with a focus still set on traditional markets?
It's not acceptable to ignore so many relevant labels and artists. It's not acceptable to not provide labels clear and consistent rules to follow on these reporting. Nor it is acceptable to not verify a thing before printing it.
Even if labels are contributors to these lists, the IFPI can't forget they remain responsible of their publications. It takes only a few minutes online to see that half of the figures they share are plain wrong.
The irony is that most of these figures can be debunked by data from national organizations which belong to the own IFPI. Can't they add these bodies which follow local sales all year long to their contributors to make sure labels' reporting is accurate? Is it too much to ask?
Obviously, if a pure sales list is so grossly inaccurate, one can only imagine how "good" their cross-formats ranking is. We can for example notice the complete absence of the most streamed album of the year on Spotify, YHLQMDLG by Bad Bunny.
On top of that, what's the point of a list where the methodology isn't mentioned? If we are left wondering how numbers were compiled, they are pointless. It's like reporting the gross of a movie without mentioning the currency.
In 2021, when so much information is available so easily, if the IFPI wants to be the voice of the recording industry worldwide, they need to drastically change their posture.
Fairness, consistency, transparency and responsibility need to be starting points from the head of a 20 billion dollars industry. They also need to accept that Asian markets can't be overlooked anymore.
To close this note more positively, a big congrats to all these artists who have been responsible for so many success stories despite the difficult context. Thank you for enlightening the daily life of all your fans.