Lauryn Hill albums and songs sales
Departing from the Fugees immediately after their breakthrough was a risky move from Lauryn Hill.
Quickly, doubts were evacuated with The Miseducation of Lauryn Hill becoming a classic on its own. This week, it joined the club of US Diamond albums.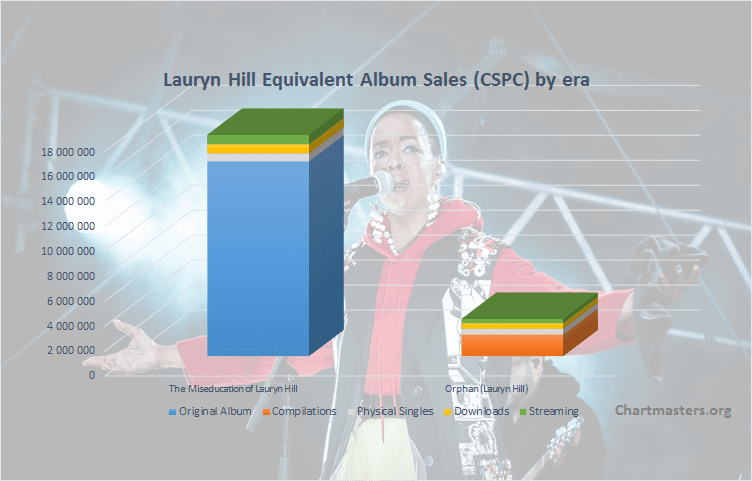 The lasting impact of The Miseducation of Lauryn Hill is as impressive as how short-lived the career of the singer has been.
After a season long recurring role in 54-years running soap opera As The World Turns in 1991, she became a rising star thanks to her role in 1993 smash movie Sister Act 2.
She confirmed her star status thanks to the music field though with her success as part of the Fugees.
Her fame grew even more thanks to her solo debut album from 1998 that put her name on covers of all magazines. At this point, she was still only 23.
Lauryn Hill struggled to deal with her popularity, which led the artist to quit the spotlight. After an MTV Unplugged album of new material in 2002, she never released another LP.
As usual, I'll be using the Commensurate Sales to Popularity Concept in order to relevantly gauge her results. This concept will not only bring you sales information for all Lauryn Hill's albums, physical and download singles, as well as audio and video streaming. In fact, it will also determine their true popularity.
If you are not yet familiar with the CSPC method, below is a nice and short video of explanations. I fully recommend watching it before getting into the sales figures. Of course, if you are a regular visitor feel free to skip the video and get into the numbers directly.
The Commensurate Sales to Popularity Concept (CSPC)
There are two ways to understand this revolutionary concept. The first is the Scribe video posted below. If you are unaware of the CSPC method, you will get the full idea within just a few minutes.
If you are a mathematical person, and want to know the full method as well as formulas, you can read the full introduction article.
Now let's get into the artist's sales figures in detail in order to apply this concept and define the act's true popularity!
Lauryn Hill Album Sales

Original Album Sales – Comments
Compared to Fugees' The Score, the strength of The Miseducation of was more in its lyrics, less in its pop vibes.
This concluded on lower sales in Europe, although 2.9 million is still a very healthy number, and higher results in North America at over 10.3 million.
The album was also a blockbuster in Japan where it moved well over 1.2 million units to date. It wasn't so strong in the rest of Asia though.
Globally, the record followed the footsteps of The Score, breaking the 15-million barrier.
Lauryn Hill songs sales

Physical Singles
As a reminder, the weighting is done with a 10 to 3 ratio between albums and digital singles.
The Miseducation of Lauryn Hill was supported mainly by 3 strong singles.
The largest success has been Doo Wop (That Thing), a #1 hit in the US. It moved 1.3 million units globally.
Ex-Factor peaked outside of the top 20 in most countries, but its sales were good in the UK where it went #4.
On its side, Everything Is Everything sold nearly half a million units mostly thanks to US sales.
Although her discography of albums is small, the diva issued various additional tracks and featured on others.
The virtual duet with Bob Marley, Turn Your Lights Down Low, moved half a million copies as well with Top 25 peaks all around Europe plus a #1 hit in New-Zealand.
Her strongest featuring has been on Nas' hit If I Ruled The World from 1996. With over 250,000 copies in each France and Germany, the track greatly benefited from coming out during The Score fever. In the latter country, with this feature plus two Fugees hits, Lauryn Hill had 3 simultaneous Top 10 hits.
Digital Songs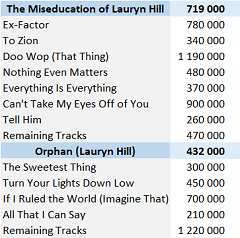 As a reminder, the weighting is done with a 10 to 1.5 ratio between albums and digital singles.
It is expected to see Doo Wop (That Thing) as the strongest selling digital single of Lauryn Hill.
It records solid sales in most markets to reach 1.2 million units in the World.
The most striking fact in these figures through is the consistency of the singer's hits.
More than half of The Miseducation of Lauryn Hill's tracks are over 250,000 sales. The classic status of this album as a whole is confirmed.
Her career total of 7.67 million is very impressive with no song over 1.2 million and a back catalog made of so few songs.
Streaming
Streaming is made up of audio and video streams. Our CSPC methodology includes both to better reflect the real popularity of each track. The main source of data for each avenue is respectively Spotify and YouTube. To factor in the growing impact of multiple Asian countries where these platforms aren't always the go-to site for music streaming, more sources have been added.
In order to account for their real popularity in each relevant country, the below sources have been used along with the mentioned ratios that reflect the market share of each area.
Audio Streams
– South Korea : Genie streams * 3.05 (consistent with Gaon streaming numbers)
– Japan : AWA streams * 100/5.5 (AWA has 5.5% of the Japanese streaming market)
– Elsewhere : Spotify streams * (370 – 8.5 – 9.5 – 33 – 9) / 207 (370 million global subscribers minus 8.5 million from South Korea minus 9.5 million from Japan minus 33 million from China divided by the number of Spotify only users minus 9 million more Asian users) + Genie streams * 3.05 (uses Genie rather than Spotify to extrapolate markets like Taiwan, Thailand and Vietnam)
Video Streams
– China* : Xiami streams * 125/6.5 (Xiami has just over 5% of the Chinese streaming market)
– Elsewhere : Youtube views
*since 96.4% of Chinese streaming platforms are free users, that paid-for users pay less than $2 a month and that they are also used as video streaming platforms, their streams are weighted in par with YouTube streams.
Audio Stream – 1500 plays equal 1 album unit
Video Stream – 11,750 views equal 1 album unit
Equivalent Albums Sales (EAS) = ( Spotify * 310/207 + Genie * 3.05*2 + AWA * 100/5.5 ) / 1500 + ( Xiami * 125/6.5 + YouTube ) / 11750
Top Hits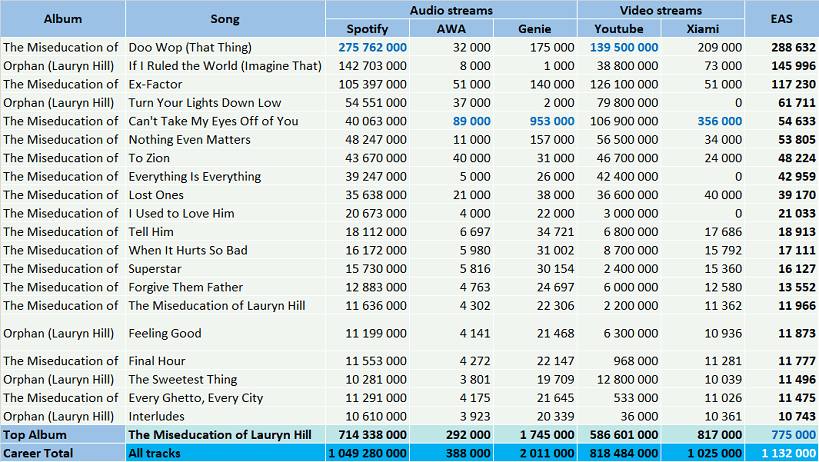 The top streaming hits of Lauryn Hill show two clear but different leaders depending on the region.
In Western markets, Doo Wop (That Thing) is the strongest song with 276 million streams on Spotify and 140 million on YouTube.
All Asian platforms show Can't Take My Eyes Off Of You as the easy #1 while it stands just outside the Top 5 in remaining markets.
Feature If I Ruled the World remains popular with 146,000 EAS from streams, while Ex-Factor is in the same ballpark at 117,000.
The Miseducation of Lauryn Hill registers almost the same total as The Score with 775,000 units.
Full catalog breakdown
If you are familiar with the artist's catalog and want to check details of each and every song, you can access to all of them right here.
Keep yourself up to date
Our website provides you a fantastic tool which fetches updated Spotify streams as you request them, use it to watch these results grow day after day!
Lauryn Hill compilations sales
It sounds fairly logical to add together weighted sales of one era – studio album, physical singles, downloads, streams – to get the full picture of an album's popularity. For older releases though, they also generate sales of various live, music videos and compilation albums.
All those packaging-only records do not create value, they exploit the value originating from the parent studio album of each of its tracks instead. Inevitably, when such compilations are issued, this downgrade catalog sales of the original LP.
Thus, to perfectly gauge the worth of these releases, we need to re-assign sales proportionally to its contribution of all the compilations which feature its songs. The following table explains this method.
The distribution process

How to understand this table? If you check this example of the MTV Unplugged 2.0 line, those figures mean it sold 1,540,000 units worldwide. The second statistics column means all versions of all the songs included on this package add for 76,102 equivalent album sales from streams of all types.
The second part on the right of the table shows how many equivalent streams are coming from each original album, plus the share it represents on the overall package.
Thus, streaming figures tell us that all its songs are out of the studio album The Miseducation of, meaning all its sales come from orphan songs.
Technically, we could have flagged this release as an album of new content, listing it among studio albums. It was never promoted as such though, with no single extracted from it whatsoever.

The DVD version sold an additional 185,000 copies.
Total Album (all types) Sales per Country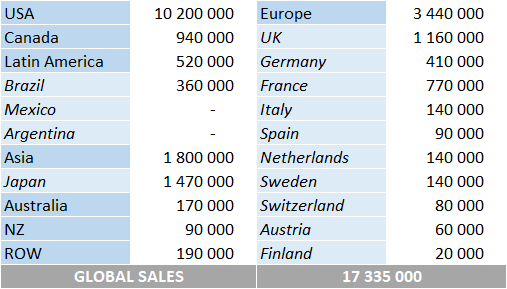 Please note country-specific numbers may miss sales of a few minor releases, although totals are complete.
Lauryn Hill Career CSPC Results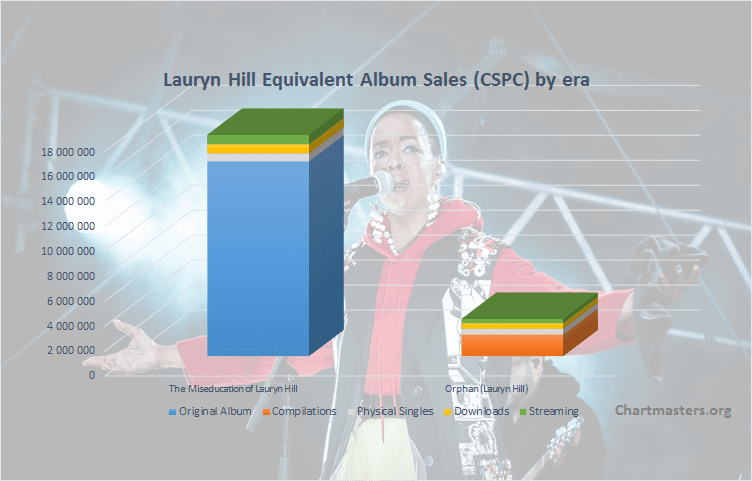 So, after checking all the figures, how many overall equivalent album sales has each Lauryn Hill album achieved? Well, at this point we hardly need to add up all of the figures defined in this article!
Albums CSPC results
In the following results table, all categories display figures in equivalent album sales. If different, pure sales are listed between parentheses.
| artist_spotify_id | # | Cover | Album | Studio albums (EAS) | sales_update_date | Other LPs (EAS) | Physical singles (units sold) | Digital singles (units sold) | Streams | Streams increase | Total EAS | valid_as_of | streams_updated_value | album_id |
| --- | --- | --- | --- | --- | --- | --- | --- | --- | --- | --- | --- | --- | --- | --- |
| 2Mu5NfyYm8n5iTomuKAEHl | 1 | | The Miseducation of Lauryn Hill | 15,610,000 | 21.02.21 | 1,000 | 629,000(2,096,000) | 719,000(4,790,000) | 1,436,000 (11/26/23) | Av.: 660LD: 770 | 18,401,000 | 20,231,126 | 1,436,000 | 150 |
| 2Mu5NfyYm8n5iTomuKAEHl | 2 | | Orphan | 0 | 21.02.21 | 1,733,000 | 462,000(1,541,000) | 432,000(2,880,000) | 357,000 (02/21/21) | N/A | 2,984,000 | 20,231,126 | 357,000 | 1,691 |
'Av.' stands for Average, 'LD' for Last Day.
As a reminder:
Studio Album: sales of the original album
Other Releases: sales of compilations generated thanks to the album
Physical Singles: sales of physical singles from the album (ratio 3/10)
Download Singles: sales of digital singles from the album (ratio 1,5/10)
Streaming: equivalent album sales of all the album tracks (ratio 1/1500 for Audio stream and 1/6750 for Video stream)
Artist career totals
| All-Time Rank | Studio albums (EAS) | Other LPs (EAS) | Physical singles (units sold) | Digital singles (units sold) | Streams | Total EAS |
| --- | --- | --- | --- | --- | --- | --- |
| 172 | 15,610,000 | 1,734,000 | 3,660,000 | 7,670,000 | 3,791,000 (11/26/23) | 23,383,000 |
See where the artist ranks among remaining singers
The Miseducation of Lauryn Hill posts 17.74 million sales once factoring in all sales avenues.
Its streaming results prove the album continues to be very popular. It may hit 20 million, although this will take some more years.
Several popular stand-alone songs on top of the MTV Unplugged content shot the orphan section to nearly 3 million sales.
It pushes her career score to 20.7 million, and 43.2 million if we add sales of the Fugees, all of it with a mere 3 studio albums combined.
Singles CSPC results
The list is compiled in album equivalent sales generated by each song. Therefore, these figures are not merged units of singles formats. Instead, it includes weighted sales of the song's physical single, download, ringtone and streaming as well as its share among sales of all albums on which it is featured.
1. 1998 – Lauryn Hill – Doo Wop (That Thing) [The Miseducation of Lauryn Hill] – 6,680,000
2. 1998 – Lauryn Hill – Ex-Factor [The Miseducation of Lauryn Hill] – 2,680,000
3. 1998 – Lauryn Hill – Can't Take My Eyes Off of You [The Miseducation of Lauryn Hill] – 1,290,000
4. 1998 – Lauryn Hill – Nothing Even Matters [The Miseducation of Lauryn Hill] – 1,210,000
5. 1998 – Lauryn Hill – Everything Is Everything [The Miseducation of Lauryn Hill] – 1,110,000
If you feel inspired by this list, we just created this CSPC Lauryn Hill playlist on Spotify!
Discography results
Thanks to our new ASR (Artist Success Rating) concept, we know that her sales represent 17,17 million times the purchase of her discography. Coupled with her total sales, it translates into an ASR score of 107. The ranking of all artists studied so far is available too at this link.
Records & Achievements
At 17,740,000 EAS, The Miseducation of Lauryn Hill is the 3rd most successful album from 1998.
At 422,624 pure units, The Miseducation of Lauryn Hill broke the US record for fastest selling female album ever in its first week.
Lauryn Hill won 5 Grammy Awards with The Miseducation of Lauryn Hill era.
NB: EAS means Equivalent Album Sales.
As usual, feel free to comment and / or ask a question!
Sources: IFPI, Spotify, YouTube, Discogs, Billboard.
You may be interested in…
… Lauryn Hill's streaming masters analysis
… best-selling artists, albums, and singles
We have created amazing cross-artists tops. Click to see all CSPC and raw sales results compiled so far!
… similar artists