Xuxa albums and songs sales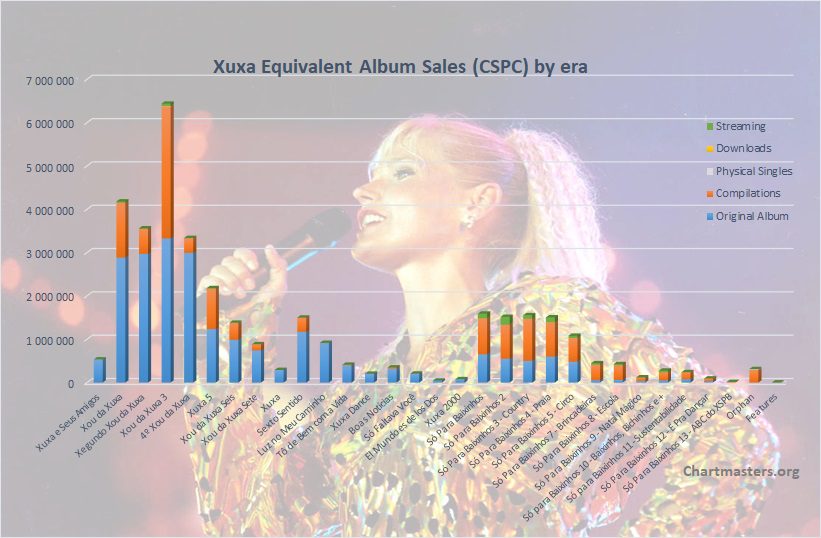 Most Brazilians who were kids in late 80s/early 90s have something in common. They were, and still are in love with Xuxa.
In no time, she went from being the sexy model who was dating football legend Pelé to build an incredible empire, becoming the hottest brand in Latin America. We review her unique trajectory in numbers.
A big picture of Xuxa's career
Early days…
Xuxa started her model career when she was only 16. During the first half of the 80s thanks, she became a bigger and bigger celebrity in Brazil, featuring in various movies and hosting the Clube da Criança show in television.
If she made some dubious choices in her early years, leading some cancel culture's extremists to make her a target nowadays, she quickly found what she was most comfortable within the entertainment ecosystem. For her, it meant hosting shows dedicated to children.
In 1986, thanks to the success of Clube da Criança on new TV network Rede Manchete, Xuxa got hired by the Brazilian juggernaut TV Globo to host Xou da Xuxa (read "the show of ShooSha").
… and the hype
Ratings went through the roof. The show was aired entire mornings for 6 days a week. The flashy stage and outfits on top of the unlimited energy delivered by Xuxa, surrounded by kids dreaming wide awake, did wonders. The star got into a huge roll.
Soon, she was recording her show for 14 hours straight, starring the biggest movies, dating Formula 1 legend Ayrton Senna, selling 400,000 comic books per day, selling countless sandals and millions of dolls dedicated to her, releasing the 4 highest selling albums of all-time in Brazil, replicating the model to Latin America and Spain, promoting her 100+ brand endorsements and running companies which hired over 500 people.
The craze has been of mind-blowing dimensions. It was clear that the blonde-haired presenter was very talented to bring joy to kids with a near hypnotic impact on her audience. But her business partners got to learn that she was incredibly hard-working too. She retained this insane pace up to 1993.
Some accomplishments
This led her to become the first Brazilian to feature in Forbes' highest-paid entertainers lists. At 27, no younger solo artist except Janet Jackson outdid her.
American media often called her the "Latin American Madonna". In truth, she was Brazil's Oprah Winfrey, Madonna, Barbie, Julia Roberts and Wonder Woman all at once.
At some point, she even owned amusement parks named after her, so a better comparison could be Disney rather than artists.
Statistics from local polling agency IBOPE show very well the importance of Xuxa in her homeland. In 1991, she was considering living to Argentina due to security issues. That's why IBOPE asked a few questions about her to both kids and adults.
They found out that 93% of people though she helped to make children's lives happier. And an unreal 36% answered that their lives would be "very sad" without Xuxa. Yes, these includes adults' answers.
Now that we can better understand the Xuxa phenomenon, we can see why she always refused to call herself a singer. It was just one piece of her shows. Yet, she is the best-selling female singer of all-time in Brazil. Let's review her numbers!
The Commensurate Sales to Popularity Concept (CSPC)
As usual, I'll be using the Commensurate Sales to Popularity Concept in order to relevantly gauge her results. This concept will not only bring you sales information for all Xuxa's albums, physical and download singles, as well as audio and video streaming. In fact, it will also determine their true popularity.
If you are not yet familiar with the CSPC method, below is a nice and short video of explanations. I fully recommend watching it before getting into the sales figures. Of course, if you are a regular visitor feel free to skip the video and get into the numbers directly.
There are two ways to understand this revolutionary concept. In the first place, there is this Scribe video posted below. If you are unaware of the CSPC method, you will get the full idea within just a pair of minutes.
If you are a mathematical person, and want to know the full method as well as formulas, you can read the full introduction article.
Now let's get into the artist's sales figures in detail and apply this concept to define the act's true popularity!
Xuxa Album Sales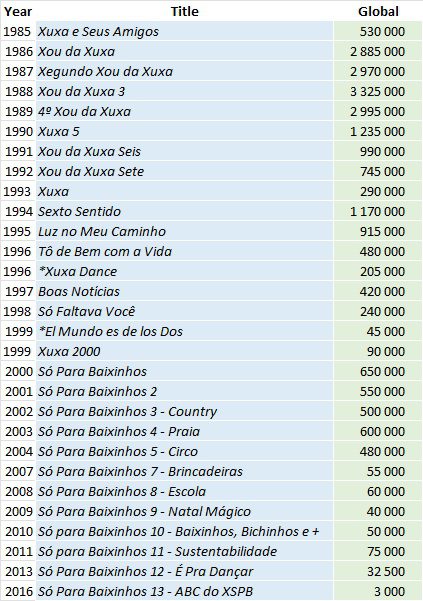 We are used to read about international pop stars selling many millions, so these numbers may not look that impressive.
Most of these albums have been released in Brazil only though. The two marked with * are Spanish-language efforts, while Xou da Xuxa (60,000 units) and Xou da Xuxa 3 (20,000) have minor sales elsewhere. So the bulk comes from her homeland.
Then, once we read again the numbers with this in mind, results are unreal. It's simple, by the end of 1989, Xuxa owned the #1, #2, #3 and #4 best selling album-ever in Brazil. Meaning she was completely overshadowing former market king Roberto Carlos, who owned most of the all-time top sellers up to 1986.
To put things into perspective, this would be like releasing 4 albums at 20+ million sales in the US over a span of 3 years. An absolute madness.
While her career was poised to collapse after the end of Xou da Xuxa, the icon put together another show, Xuxa Park, now with a weekly frequency to soften a bit her working pace.
Impressively, the soon to be released Sexto Sentido did wonders, cracking the million mark. The next one almost replicated the trick too.
As her audience was growing, she tried to mature her sound as well. However, sales went down album after album, until the lows of Xuxa 2000. She reversed the trend by going to the other side, dedicated her upcoming projects to toddlers and pre-school kids.
As her early fans were, just like her, becoming parents, the series So Para Baixinhos (meaning "only for the little ones") was a smash.
They started selling upwards of half a million each. These were CD sales, but as we will see later the video component released aside did just as well. These album sales combine for 22.89 million units.
One may wonder: how come these releases sold nothing outside of Brazil if she replicated her TV shows in Latin America?
It's down to the fact that she released them on dedicated Spanish-language recordings, that came out a few years later. These records are treated as compilations and as such will be listed lower down in this article.
Xuxa songs sales
Below, we list down results from the artist through physical sales, digital sales and streaming.
Please be aware that when the artist is regarded as the lead act, he is rewarded with 100% of these units, while featured acts share among them a 50% piece of the totals.

Physical Singles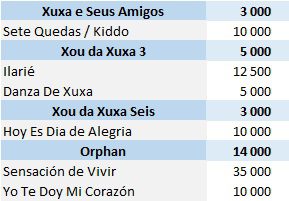 As a reminder, the weighting is done with a 10 to 3 ratio between one album and one physical single.
If Brazil, the rest of Latin America, and Spain have something in common, it's that they have got rid of physical singles very long ago.
In fact, even when Xuxa debuted way back in mid-80s, this format was already non-existent in these areas.
The artist still got a few songs out, mostly in Spain, although numbers can't be too high considering the background. For example, Sensación de Vivir has very low sales in the big picture in spite of being a 8-weeks #1 smash there.

Digital Songs
As a reminder, the weighting is done with a 10 to 1.5 ratio between one album and one digital single.
Just like with physical singles, the digital market has been terrible in Brazil / Latin America. It's worst for a legacy artist, let alone for one offering children's music.
A mere 8 tracks have downloads and ringtones estimated at 5,000 units or more.
Batatinha Bem Quentinha and Cinco Patinhos, both from the first volume of So Para Baixinhos, score 5,000 and 7,500 sales, respectively.
So Para Baixinhos 4 also owns a pair of 'top' performers, with Dirigindo o Meu Carro and Estátua at 5,000 and 22,500 units, respectively.
The latter is her best seller in this format, tied with her signature song Ilariê from Xou da Xuxa 3.
The remaining high points from the Xou de Xuxa era are the birthday classic Parabéns da Xuxa at 17,500, and Lua de Cristal at 10,000 units.
Soco, Bate, Vira, from So Para Baixinhos 5, also moved 10,000 units.

Streaming
Streaming is made up of audio and video streams. Our CSPC methodology includes both to better reflect the real popularity of each track. The main source of data for each avenue is respectively Spotify and YouTube. We have added more sources to factor in the growing impact of multiple Asian countries. Indeed, these platforms aren't always the go-to site for music streaming.
In order to account for their real popularity in each relevant country, we have used the sources below along with the mentioned ratios that reflect the market share of each area.
Audio streams
South Korea: Genie streams * 2.20 (consistent with Gaon streaming numbers)
Japan: AWA streams * 68 / 4 (AWA has 4% of the Japanese streaming market, and 32% are already considered through Spotify's extrapolation)
Arabic world: Anghami streams
Sub-Saharan Africa: Boomplay + Audiomack streams
Elsewhere: Spotify streams * 649 / 406 (649 million subscribers of global platforms like Spotify, Apple Music, Amazon Music, YouTube Music, Deezer, etc. against 406 million from Spotify itself) + Genie streams * 2.20 (uses Genie rather than Spotify to extrapolate markets like Taiwan, Thailand and Vietnam)
Video streams
China* : QQ video streams * 50 if the song is available for audio stream, QQ video streams * 5 elseway (scale built based on known figures for several major artists)
Elsewhere : Youtube views increased by 10% to account for various local platforms
*since Chinese streaming platforms are mostly video streaming platforms, their streams are weighted on par with YouTube streams.
Audio Stream value – 1,500 plays equal 1 album unit
Video Stream value – 6,750 views equal 1 album unit
Equivalent Albums Sales (EAS) = ( Spotify * 649/406 + Genie * 2.20 * 2 + AWA * 68 / 4 + Anghami + Boomplay + Audiomack ) / 1500 + ( QQ views* 50(or 5) + YouTube * 1.1 ) / 6750
Top Hits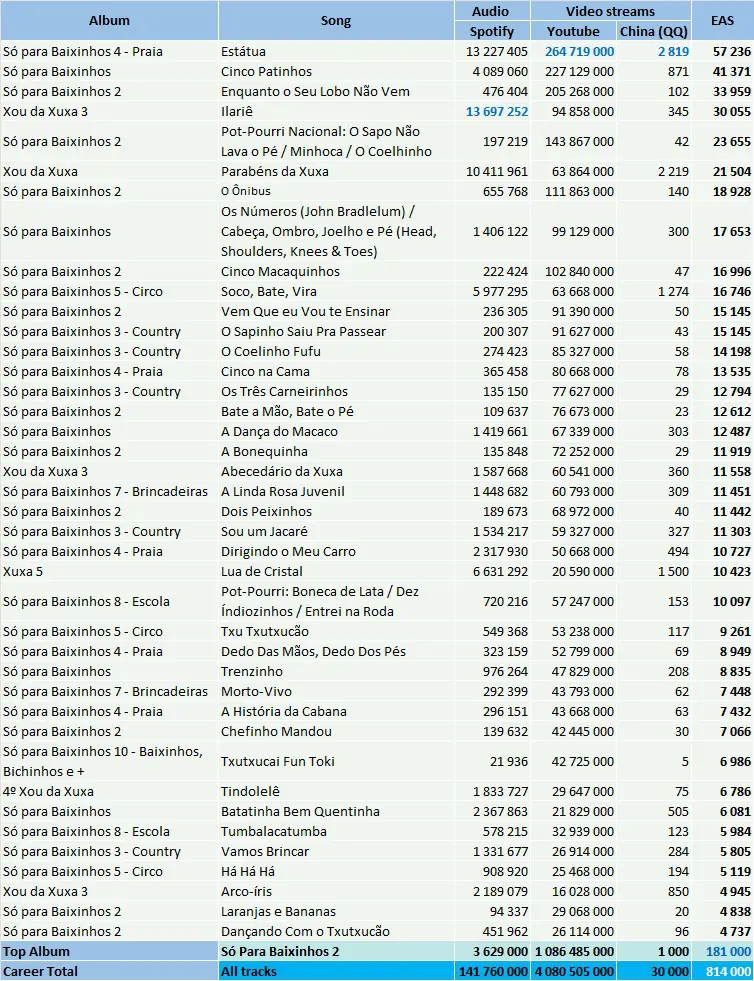 The children's music market is very special, especially with streams. They can play the same tracks on repeat many, many times, especially with the video.
That's why Baby Shark Dance is far and away the most viewed YouTube video ever, at 11.5 billion and counting. Johny Johny Yes Papa is 3rd, Bath Song 6th, Phonics Song with Two Words 7th, Colorful Eggs on a Farm 9th, etc., you got it.
Xuxa hits this market in full, although at Brazil's level. She has no less than 3 songs over 200 million views, more or less the population of the country.
In total, she claims no less than 26 songs with 50 million views or more, 24 of which come from the So Para Baixinhos series.
Overall, Estátua is the leader, with also the runner up spot on Spotify, although with a much weaker number.
Relatively speaking, pre-Baixinhos songs are stronger with audio streams. We can see that with Ilariê and Parabéns da Xuxa, her 1st and 3rd biggest songs on Spotify, against 8th and 18th on YouTube, respectively.
The children's music market is also much less single-driven. That's how the lowest song from the 20-tracks So Para Baixinhos 2 album still posts 7.8 million views on YouTube.
Thanks to this consistency, Baixinhos 2 is her biggest streaming album at 181,000 equivalent album sales.
Full catalog breakdown
You are familiar with the artist's catalog and want to check details of each and every song? You can access all of them right here.
Keep yourself up to date
Our website also provides a fantastic tool which fetchs updated Spotify streams as you request them. Use it to watch these results grow day after day!
Xuxa compilations sales
It sounds fairly logical to add together weighted sales of one era – studio album, physical singles, downloads, streams – to get the full picture of an album's popularity. For older releases though, they also generate sales of various live, music videos and compilation albums.
All those packaging-only records do not create value, they exploit the value originating from the parent studio album of each of its tracks instead. Inevitably, when such compilations are issued, this downgrades catalog sales of the original LP. Thus, to perfectly gauge the worth of these releases, we need to re-assign sales proportionally to its contribution of all the compilations which feature its songs. The following table explains this method.
The distribution process

How to understand this table? In the example of Xuxa I, these figures mean it sold 1,835,000 units worldwide. The second statistics column means all versions of all the songs included on this package add for 42,437 equivalent album sales from streams of all types.
The second part on the right of the table shows how many equivalent streams are coming from each original album, plus the share it represents on the overall package.
Thus, streaming figures tell us songs from the Xou da Xuxa 3 album are responsible for 71% of Xuxa Itrack list attractiveness. This means it generated 1,303,000 of its 1,835,000 album sales and so forth for the other records. We then apply this process to all compilations present on the table.
Compilations sales figures listing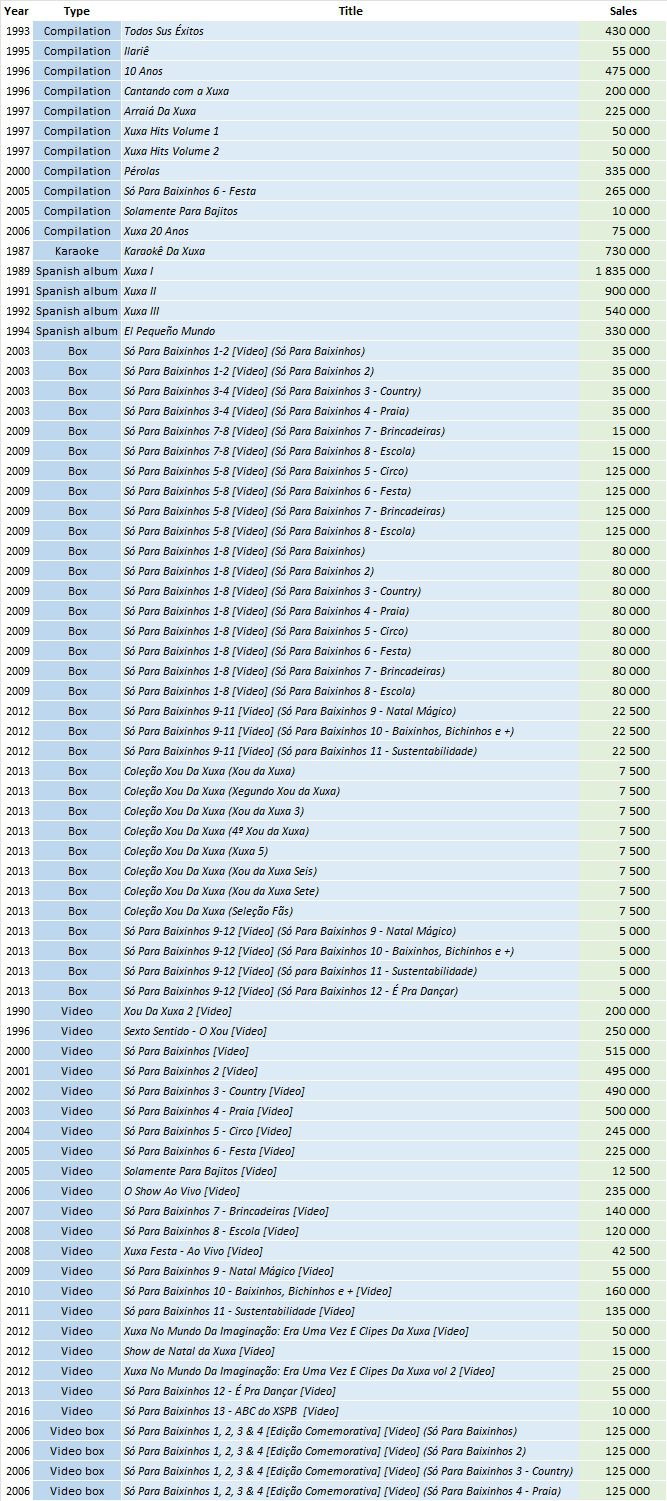 The compilation release history of Xuxa is very interesting.
She got a big selling karaoke album way back in 1987, then came the Spanish albums. The first one was a stunning seller, moving 475,000 units in Argentina, 325,000 in Mexico and 215,000 in Spain.
The second volume was also a monster in Argentina at 400,000 units, even if it hasn't done as well as its predecessor elsewhere.
More traditional compilations came out through the 90s and the 00s, and then we reach the So Para Baixinhos countless videos and box sets.
If we look at the first volume for example, which sold 650,000 units as a studio effort, its video moved over half a million. Then, it sold 240,000 more units thanks to various box sets!
Once we start adding all numbers, we understand why the Baixinhos was promoted as having sold 6 million, then 8 million units.
Career-wise, her top selling market is obviously Brazil with a massive 24.85 million albums sold, without the music videos.
She also moved 1.54 million albums in Argentina, 785,000 in Mexico and from 375,000 to 500,000 in each the US, Chile and Spain.
Full Length related records Sales – Summary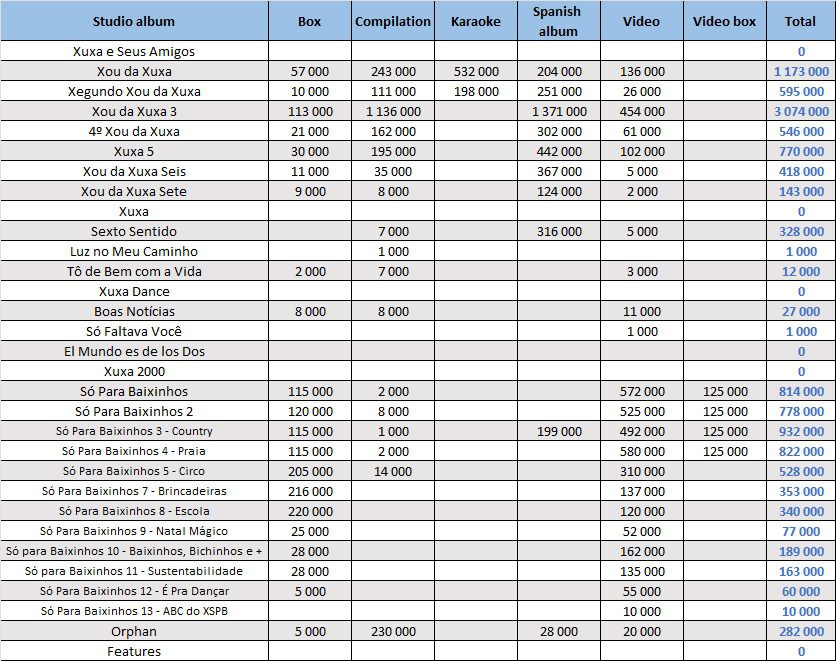 Here is the most underestimated indicator of an album's success: the amount of compilation sales of all kinds it generated.
Due to the dependency of sales of the original studio albums on these releases, they are a key piece of the jigsaw.
To obtain these numbers, we apply the method from the section The distribution process to all packages listed under Compilation sales figures listing category.
Xuxa Career CSPC Results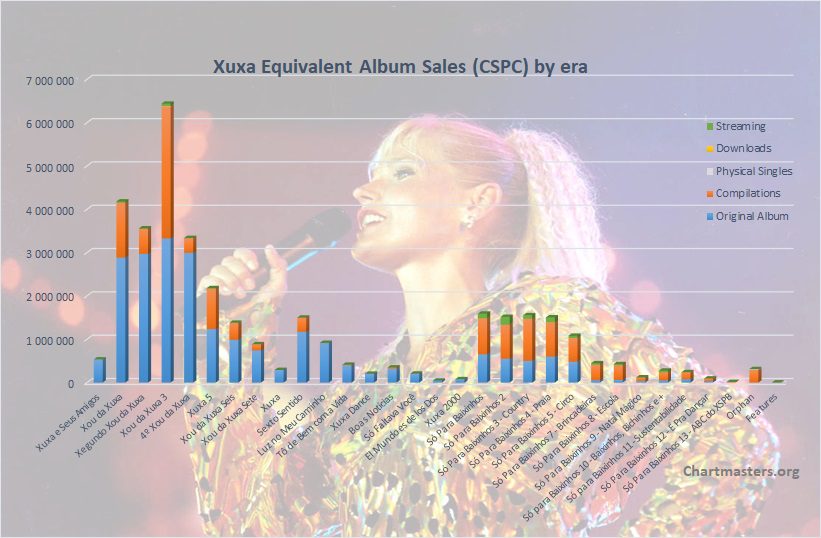 So, after checking all the figures, how many overall equivalent album sales has each album by Xuxa achieved? Well, at this point we hardly need to add up all of the figures defined in this article!
Albums CSPC results
As the Brazilian market hasn't been into singles' formats for long until streaming, as since YouTube views are so distorted for children's music, it doesn't feel clear that Ilariê is Xuxa's prime hit.
It is though, in both Brazil and Latin America, the song was a monster smash sang by everyone at every party.
We can see it emerge in these final results, with Xou da Xuxa 3 pulling ahead at 6.47 million. This is a monumental number for a Portuguese album.
Volumes 1, 2 and 4 from Xou da Xuxa are super huge as well, each with 3.5 to 4.1 million sales. In total, the 7 discs from the show powered 22 million units.
Sexto Sentido along with the first 4 volumes of So Para Baixinhos record 1.5 million each, with the 5th number topping a million as well.
That's no less than 12 million sellers, which is also amazing for a local artist.
Maybe the most incredible result is how Xuxa reignited her career with a second series 15 years after the first. The So Para Baixinhos are responsible for 8.8 million sales.
The career total of the Brazilian legend stands at 35.93 million so far.
Singles CSPC results
The list compiles album equivalent sales generated by each song. Therefore, these figures are not merged units of singles formats. Instead, they include weighted sales of the song's physical single, download, ringtone and streaming as well as its share among sales of all albums on which it is featured.
1. 1988 – Xuxa – Ilariê [Xou da Xuxa 3] – 4,050,000
2. 1986 – Xuxa – Parabéns da Xuxa [Xou da Xuxa] – 2,730,000
3. 1989 – Xuxa – Tindolelê [4º Xou da Xuxa] – 2,590,000
4. 1990 – Xuxa – Lua de Cristal [Xuxa 5] – 1,530,000
5. 1987 – Xuxa – Croc Croc [Xegundo Xou da Xuxa] – 1,280,000
If you feel inspired by this list, we just created this CSPC Xuxa playlist on Spotify!
Discography results
Thanks to our new ASR (Artist Success Rating) concept, we know that their sales represent 3.84 million times the purchase of their entire discography. Coupled with their total sales, it translates into an ASR score of 67.
The ranking of all artists studied so far is available too at this link.
Records & Achievements
At 35,925,000 EAS, Xuxa is the best selling female artist ever from Brazil.

At 3,305,000 pure sales,

Xou da Xuxa 3

is the likely the best selling album of all-time in Brazil.

At 2,995,000 pure sales,

4º Xou da Xuxa

is among the 10 best selling album of all-time in Brazil.

At 2,970,000 pure sales,

Xegundo Xou da Xuxa

is among the 10

best selling album of all-time in Brazil.

At 2,825,000 pure sales,

Xou da Xuxa

is among the 15

best selling album of all-time in Brazil.
NB: EAS means Equivalent Album Sales.

Dynamic Spotify Key Performance Indicators
Please note that numbers below are retrieved automatically. Therefore, they will evolve day by day, unlike previously listed data which is valid as of the article's publication date.
Xuxa
Current followers count: 123,080
100,000 followers have been reached on 07/28/21
>> Daily breakdown
Current streams count: 142,077,758
100,000,000 streams have been reached on 06/28/21
>> Daily breakdown
Xuxa is #6202 among the most streamed artists of all-time Popularity Rating: 54/100
>> Visit our Top 1,000 most streamed artists ranking
>> Visit our Top 20 highest rated artists ranking
Current monthly listeners: 728,212
(Trend:
-89,151
)
Global chart position: N/A
The artist top 50 cities come from
10 distinct countries
>> Global impact breakdown
As usual, feel free to comment and / or ask a question!
Sources: IFPI, Spotify, YouTube, Discogs.
You may be interested in…
… Xuxa's streaming masters analysis
… best-selling artists, albums, and singles
We have created amazing cross-artists tops. Click to see all CSPC and raw sales results compiled so far!
… similar artists
To put figures into perspective, click to reach career breakdowns of divas: