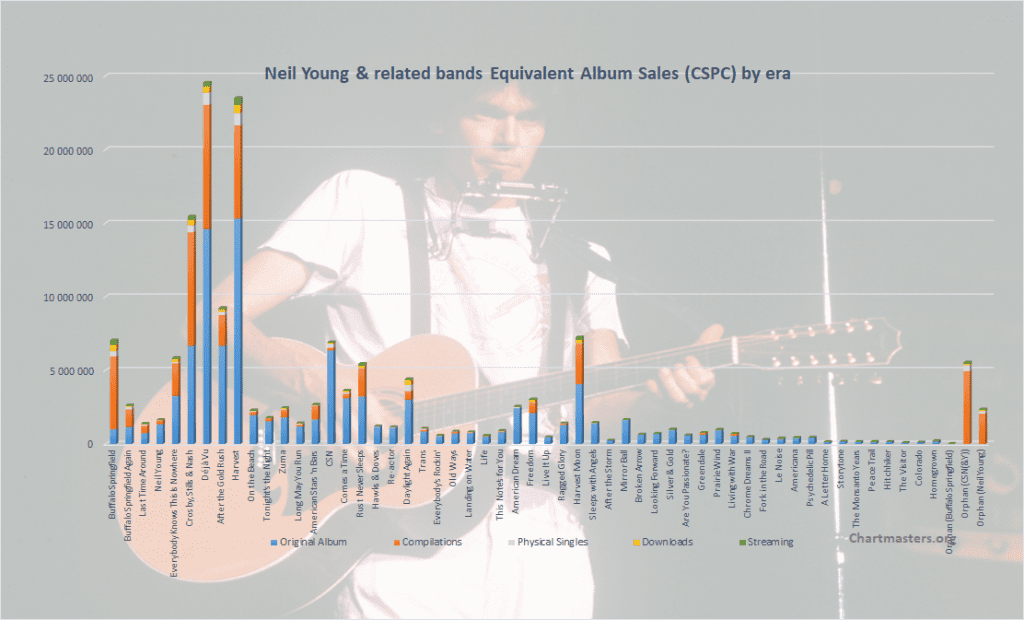 If the life of some singers is worth a movie, Neil Young's journey would better fit into a television series.
The Canadian singer-songwriter is up to 43 studio albums on top of key contributions to multiple bands.
Apart from his amazing musical career, he also directed various movies, founded the annual benefit concert Farm Aid, is a well-known environmental activist, supports many social actions, all of it while taking care of his 3 children who face strong health issues.
Now 75, we pay tribute to one of the most influential artists of all-time, the one who's the prime responsible of the Grunge movement, by reviewing his career as we do best, in numbers!
After extensively touring Canada with several bands, most notably The Squires, Neil Young formed his breakthrough band in California, 1966. Buffalo Springfield was born.
The group featured a friend of Young who was going to accompany him for long in spite of many disputes, Stephen Stills.
Together, they released 3 albums from 1966 to 1968, leaving a mark in rock history thanks to the protest song For What It's Worth that made the top 10 on US Hot 100.
In a busy rock scene where singers were joining and leaving groups from one day to another, both Neil Young and Stephen Stills opted out from the group to debut their solo career while former Buffalo Springfield members Richie Furay and Jim Messina launched Poco, a band active for 53 years and up to 19 studio albums.
That busy scene also saw a supergroup appear in 1969. It involved aforementioned Stephen Stills along with David Crosby, leader of The Byrds (2 US #1s), and Graham Nash, founder of The Hollies (18 UK top 10s).
Their 1969 debut album Crosby Stills & Nash logged 17 weeks inside the US Top 10.
In the meantime, Neil Young was still building his name, failing to chart with his eponymous debut LP and then peaking at #127 with sophomore effort Everybody Knows This Is Nowhere.
In touch with Crosby Stills & Nash, the trio accepted to share credits with him to become the legendary quartet Crosby, Stills, Nash & Young.
Their 1970 album Déjà Vu reportedly shipped 2 million units upon release, taking off Simon & Garfunkel's Bridge Over Troubled Water from the US #1 spot.
From that point, the band, its members and their respective bands where on a terrific roll. From 1970 to 1972, combined they were responsible for 15 top 10 albums in major markets.
Neil Young became the biggest of them all, first with his 3rd album After The Gold Rush that made the US top 10 too, then with iconic 1972 #1 set Harvest.
His songs Heart of Gold and Old Man became staples of classic rock radio.
If his high-pitched voice and lovely melodies did wonders, the artist has been evolving through the years, from paving the way for folk rock to inspire the massively popular 90s grunge sound.
Evolution isn't always a good friend of mass success yet, so it's time to review the numbers of Neil Young, as well as Buffalo Springfield and Crosby, Stills & Nash (& Young)!
This will tell us a comprehensive story of the singer's career, although we will distinguish the different acts on totals.
As usual, I'll be using the Commensurate Sales to Popularity Concept in order to relevantly gauge their results. This concept will not only bring you sales information for all their albums, physical and download singles, as well as audio and video streaming. In fact, it will also determine their true popularity.
If you are not yet familiar with the CSPC method, below is a nice and short video of explanations. I fully recommend watching it before getting into the sales figures. Of course, if you are a regular visitor feel free to skip the video and get into the numbers directly.
The Commensurate Sales to Popularity Concept (CSPC)
There are two ways to understand this revolutionary concept. The first is the Scribe video posted below. If you are unaware of the CSPC method, you will get the full idea within just a few minutes.
If you are a mathematical person, and want to know the full method as well as formulas, you can read the full introduction article.
Now let's get into the artist's sales figures in detail in order to apply this concept and define the act's true popularity!
Neil Young & related Album Sales
Buffalo Springfield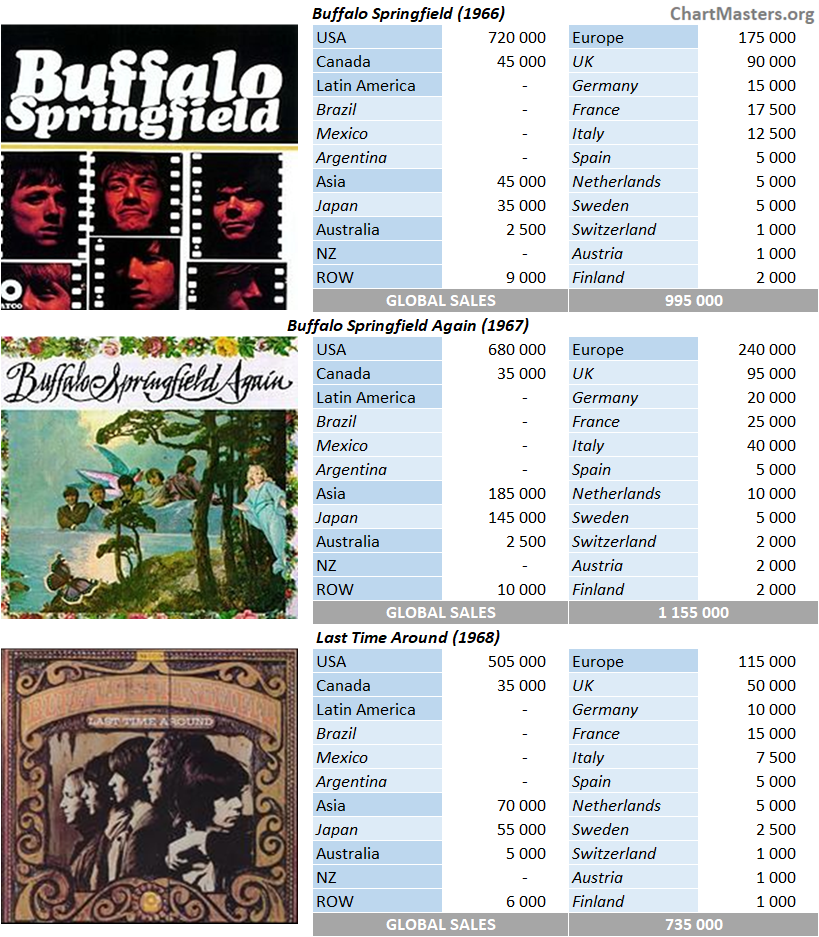 Crosby, Stills & Nash (& Young)

Neil Young

Original Album Sales – Comments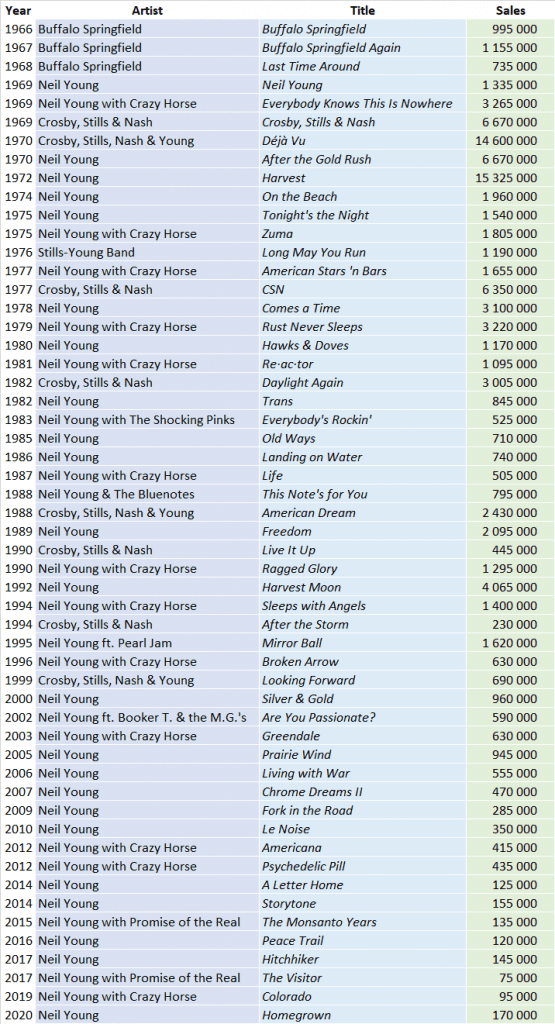 Buffalo Springfield albums sold less than 200,000 units apiece upon release with their moderate success in a time where album sales were still modest.
The cult status of the band, in good part thanks to their legendary members, enabled these LPs to keep selling for decades. They are now around a million sales each, on top of compilation sales we will treat later on.
The eponymous debut of Neil Young is in a very similar situation, now over 1.3 million sales.
Everybody Knows This Is Nowhere, home to several classic songs, did the same on a higher scale. It stands at 3.26 million to date.
The first two albums from the supergroup Crosby, Stills & Nash, plus Young in the second, smashed upon release.
They are also great catalog sellers. The debut moved nearly 6.7 million copies, while Déjà Vu impresses at 14.6 million.
After the Gold Rush and Harvest reproduced the same schema for Neil Young, selling respectively 6.7 million and 15.3 million.
From 1974 to 1977, the singer released a handful of albums with moderate success, each scoring roughly 1.5 million sales.
It must be said that several of them, most notably On the Beach, were deleted by the singer for decades. It has been a great catalog seller since returning to shelves in 2003.
The trio CSN managed to secure a larger general public impact with their 1977 album shifting over 6 million copies.
Neil Young too recovered part of his selling skills with Comes a Time and Rust Never Sleeps, both over 3 million.
The former is in the vain of Harvest with melodic folk rock songs. The latter is an hybrid record, live songs reworked on studio, with one half of acoustic songs and a second half with 4 distorted electric guitar playing.
These 4 songs are monuments of the rock history as they paved the way to the entire grunge movement. Kurt Cobain quoted a sentence from the hit My My Hey Hey in his suicide note, "It's better to burn out than fade away".
Hawks & Doves and Re-ac-tor are more of these albums deleted for long, which limited their sales. They weren't too succcessful upon release but still sold over 1 million copies each.
While Daylight Again sold 3 million copies for Crosby, Stills & Nash, Young signed with Geffen, moving away from Reprise for the first time since the start of his career.
These Geffen years have been terrible commercially speaking as the artist wanted to express his artistic liberty, while they wanted him to keep being successful.
The synthetizers and vocoders infused Trans shocked many, including Geffen. Up to date, the album is his earliest with sales lower than 1 million.
Neil Young then proposed them a country album instead, Old Ways, that they refused. It was ultimately released a pair of years later to little success.
When Geffen said they wanted a rock album, he fulfilled the demand in a caricatural way. Everybody's Rockin' was out, a 25-minute LP made of mostly original tunes recorded in a 50s rockabilly style.
The lackluster performance of these albums led Geffen to sue the singer for his "uncharacteristic" records. Young countersued them because his contract granted him they would be no interference in his artistic decisions. He won.
He completed his contract with them with the releases of Landing on Water and Life, concluding his Geffen years with no million seller. He then returned to Reprise.
His first record there was This Note's for You, an album blaming how commercial rock was becoming. It sold below a million as its predecessors.
His return on Crosby, Stills, Nash & Young was a hit, American Dream selling 2.4 million copies.
This was the kiff-off of more great years for the artist. His next 5 albums sold at least 1.3 million units each, with Freedom topping 2 million and Harvest Moon 4 million. Geffen likely hated to see it.
In the other side, the trio-quartet started to flop when entering the 90s. Live It Up, After the Storm and Looking Forward sold less than 1.7 million combined.
After the good seller Mirror Ball, an album backed by Pearl Jam as musicians, Neil Young never moved a million pure units anymore with a studio release. At 50 and with more than 3 decades in, it was fairly expected.
His sales remained consistant ever since though. Up to 2012, he sold 300,000-900,000 units per release, which are great numbers so deep into his career, showing his fanbase remains strong.
Obviously, with more and more people giving up the whole idea of buying records, sales from albums since 2014 are lower. They shift close or over 100,000 units each.
These recent releases include albums recorded way back in the 70s, these are Hitchhiker and Homegrown. More LPs remain in his drawers like the cult Chrome Dreams, recorded in 1977 but yet to be released in spite of Chrome Dreams II coming out in 2007.
The peculiar way of dealing with releases concludes with 65 million pure album sales for Neil Young, 17 million for each CSN and CSNY, and near 3 million for Buffalo Springfield.
Neil Young & related songs sales

Physical Singles

As a reminder, the weighting is done with a 10 to 3 ratio between albums and digital singles.
Way back in 1967, Neil Young got his first US top 10 hit thanks to For What It's Worth, a song written by Stephen Stills recorded as part of Buffalo Springfield.
With its reissues, the song topped a million physical sales, most of them from the US.
None of their subsequent singles made similar waves. They released half a dozen of moderate hits selling in 6 digits.
As a solo artist, Neil Young made the Hot 100 (#55) for the first time with the 230,000 units seller Cinnamon Girl.
This came over a year after the album release. In-between, Crosby, Stills & Nash had been invading charts.
Marrakesh Express and Suite: Judy Blue Eyes, both US top 30 hits, sold over 700,000 units globally.
Then came the album Déjà Vu with all its hits. Woodstock peaked at 11 in the US while selling over a million in the world.
Teach Your Children was another top 20, also coming close to a million with all versions combined.
This song was barely released and still climbing charts when Ohio was dropped. This song was written by Neil Young as an answer to the Kent State Shootings. It sold over a million, selling the best in the US where it peaked at 14.
Our House from the group and Only Love Can Break Your Heart from Young solo completed a busy 1970 year. They sold around half a million each.
After a small break, the Canadian icon returned with Heart of Gold.
The song shot to #1 in both the US and Canada while also selling well in Europe and Japan. It closed counts at over 2 million.
Also from Harvest, the other classic song Old Man sold nearly half a million on its original form.
Ironically, the strong success of these singles that led Harvest to great sales limited the impact of subsequent tracks as now Young's lovers favored the album format.
The largest solo hits for the rest of his decade never moved more than 200,000-ish units anymore.
Some still had a great impact on album sales like Like A Hurricane, Comes A Time, Four Strong Winds, Hey Hey, My My (Into The Black) and more.
Singles from Crosby, Stills & Nash continued to reach the masses.
Just A Song Before I Go sold over 800,000 copies in 1977. It was a #7 US hit.
They made the top 10 once again in 1982 with Wasted On The Way. It sold over 600,000 units. In spite of peaking lower, Southern Cross sold a bit more thanks to more lasting appeal.
Later songs from both the singer and the group had next to no impact in single format.
In total, Buffalo Springfield sold 2 million physical singles, Crosby, Stills & Nash over 5 million, Crosby, Stills, Nash & Young 3 million and Neil Young solo 7 million.

Digital Songs

As a reminder, the weighting is done with a 10 to 1.5 ratio between albums and digital singles.
Sales in this format start with a shocker. In fact, short-lived band Buffalo Springfield owns the biggest legacy hit of all these acts.
For What It's Worth has been growing through the years, until becoming absolutely massive.
While their initial impact was focused in North America, no matter where you live, you likely saw ads or TV shows using the song in background, with the very first notes being instantly recognizable.
The track released in 1966 accumulated nearly 2.7 million downloads and ringtones.
Just like with their physical singles sales, the remaining tracks are way behind this signature song.
Moving to Crosby, Stills & Nash, their self-titled debut is full of songs which faced the test of time, although none is a bluckbuster.
As many as 6 songs are in the 150,000-900,000 range, with Suite: Judy Blue Eyes hitting the upper end.
Songs from the 1977 album CSN are much weaker nowadays, as shown by former top 10 hit Just a Song Before I Go recording less than 200,000 sales.
Another shocker pops up with them as their top seller is 1982 Southern Cross.
The #18 hit remains very popular with 1.7 million digital units.
Expectedly, later songs sold next to nothing in this format.
In their Crosby, Stills, Nash & Young incarnation, the band enjoys many hits which keep moving units.
7 songs from Déjà Vu are in 6 digits. Teach Your Children and Our House are over half a million, with Carry On coming next.
Among the initial physical singles hits, Woodstock is the one losing the most ground at 250,000 sales.
What about Neil Young's songs?
Both Cinnamon Girl and Down by the River are part of his classics these days, they combine for over a million sales.
Many songs from After the Gold Rush still have some fans although they are not as big.
It's no surprise to see Harvest songs performing very well. Both Heart of Gold and Old Man are easy million sellers, an amazing feat for a 1972 album.
The Needle and the Damage Done almost pales in comparison but near half a million sales is nothing to be ashamed of.
Most of the next albums include one mid-range legacy hit like Cortez the Killer, Long May You Run and Like a Hurricane. They sold over 200,000 units each.
Four Strong Winds tops 400,000 units, while iconic acoustic-eletric versions of My My, Hey Hey add for over half a million.
After a decade of commercially forgettable songs, Neil Young dropped new classics in late 80s ans early 90s.
The first was Rockin' in the Free World at over 800,000 copies sold.
Then Harvest Moon improved even more the status of the Harvest franchise. It sold 1.2 million.
Tracks released later on failed to strike the general public consciousness.
Totals stand at 3.55 million for Buffalo Springfield, 8.31 million for Crosby, Stills, Nash & Young and 11.87 million for Neil Young.

Streaming
Streaming is made up of audio and video streams. Our CSPC methodology includes both to better reflect the real popularity of each track. The main source of data for each avenue is respectively Spotify and YouTube. To factor in the growing impact of multiple Asian countries where these platforms aren't always the go-to site for music streaming, more sources have been added.
In order to account for their real popularity in each relevant country, the below sources have been used along with the mentioned ratios that reflect the market share of each area.
Audio Streams
– South Korea : Genie streams * 3.05 (consistent with Gaon streaming numbers)
– Japan : AWA streams * 100/5.5 (AWA has 5.5% of the Japanese streaming market)
– Elsewhere : Spotify streams * (370 – 8.5 – 9.5 – 33 – 9) / 207 (370 million global subscribers minus 8.5 million from South Korea minus 9.5 million from Japan minus 33 million from China divided by the number of Spotify only users minus 9 million more Asian users) + Genie streams * 3.05 (uses Genie rather than Spotify to extrapolate markets like Taiwan, Thailand and Vietnam)
Video Streams
– China* : QQ video streams * 50 if the song is available for audio stream, QQ video streams * 5 elseway (scale built based on known figures for several major artists)
– Elsewhere : Youtube views
*since 96.4% of Chinese streaming platforms are free users, that paid-for users pay less than $2 a month and that they are also used as video streaming platforms, their streams are weighted in par with YouTube streams.
Audio Stream – 1500 plays equal 1 album unit
Video Stream – 11,750 views equal 1 album unit
Equivalent Albums Sales (EAS) = ( Spotify * 310/207 + Genie * 3.05*2 + AWA * 100/5.5 ) / 1500 + ( QQ views* 50(or 5) + YouTube ) / 11750
Top Hits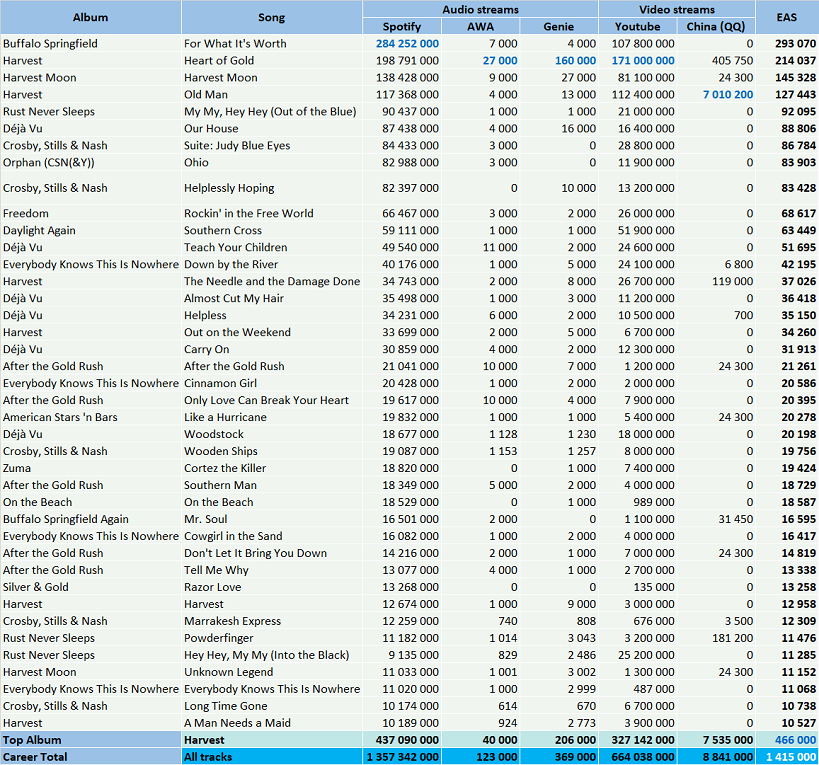 There are no super massive hit on discographies of Neil Young and his bands, yet the list is highly packed with great successes.
The leader here is as well is For What It's Worth from Buffalo Springfield.
The song is closing in 300 million Spotify streams and passed the 100 million mark on YouTube. It has next to no presence in Asian platforms, but that's still good enough for 293,000 EAS.
The silver medal goes to the biggest Neil Young solo hit, Heart of Gold. It's at almost 200 million on Spotify and just a bit less on YouTube, registering 214,000 sales overall.
Also over 100 million Spotify streams and 100,000 EAS are Harvest Moon and Old Man.
The acoustic version of My My, Hey Hey, more fitting to playlists, comes in at 5 with 92,000 EAS.
It's a very tight race to claim the biggest song of CSN(Y). As many as 4 songs stand in less than 5 million streams, Our House, Suite: Judy Blue Eyes, Ohio and Helplessly Hoping.
The top 3 were written by Graham Nash, Stephen Stills, and Neil Young, respectively, which explains how the group managed to be so creative over such a short period of time.
The entire top 40 is over 10,000 EAS, with some former great hits relegated to the bottom of the list like the breakthrough song Marrakesh Express.
In terms of albums, logically Harvest has the lead at 466,000 units, but as many as 6 more albums hit 100,000, with Everybody Knows This Is Nowhere coming close too.
Full catalog breakdown
If you are familiar with these artist's catalogs and want to check details of each and every song, you can access to the discographies of Buffalo Springfield, Crosby, Stills, Nash & Young and Neil Young through these links.
Keep yourself up to date
Our website provides you a fantastic tool which fetchs updated Spotify streams as you request them, use it to watch these results grow day after day!
Neil Young & related compilations sales
It sounds fairly logical to add together weighted sales of one era – studio album, physical singles, downloads, streams – to get the full picture of an album's popularity. For older releases though, they also generate sales of various live, music videos and compilation albums.
All those packaging-only records do not create value, they exploit the value originating from the parent studio album of each of its tracks instead. Inevitably, when such compilations are issued, this downgrades catalog sales of the original LP.
Thus, to perfectly gauge the worth of these releases, we need to re-assign sales proportionally to its contribution of all the compilations which feature its songs. The following table explains this method.
The distribution process

How to understand this table? If you check this example of the Greatest Hits (2004) line, these figures mean it sold 3,705,000 units worldwide. The second statistics column means all versions of all the songs included on this package add for 891,877 equivalent album sales from streams of all types.
The second part on the right of the table shows how many equivalent streams are coming from each original album, plus the share it represents on the overall package.
Thus, streaming figures tell us songs from Harvest are responsible for 42% of Greatest Hits (2004) tracklist attractiveness, which means it generated 1,572,000 of its 3,705,000 album sales and so on for the other records.
Compilations sales figures listing

Full Length related records Sales – Summary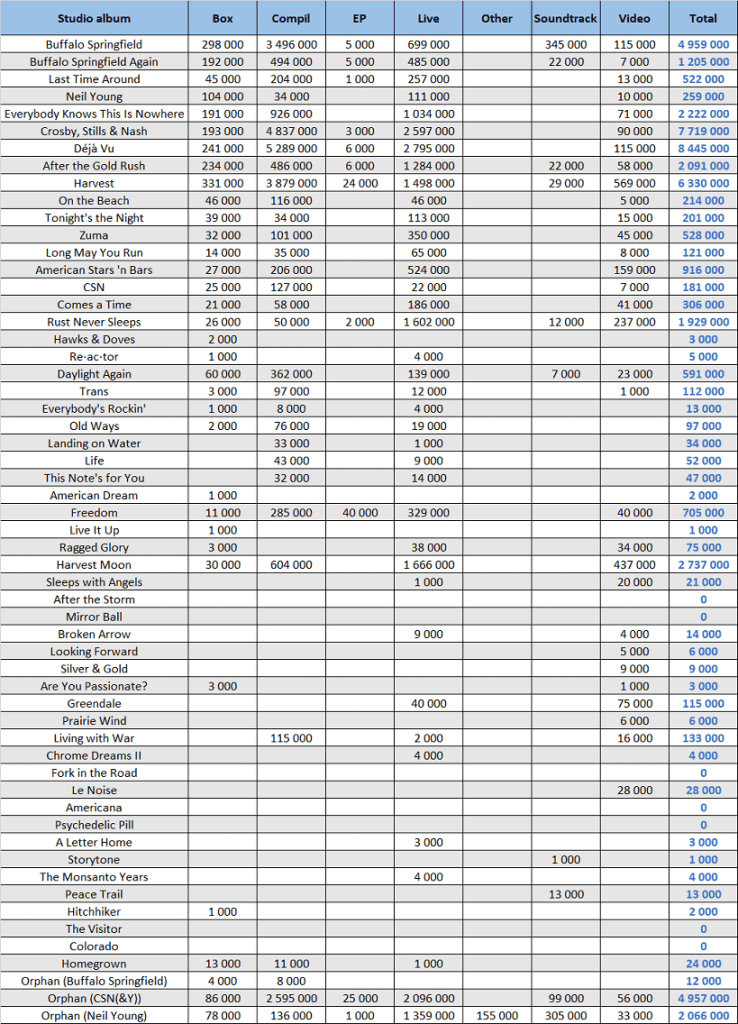 Here is the most underestimated indicator of an album's success – the amount of compilation sales of all kinds it generated. Due to the dependency of sales of the original studio albums on these releases, they are a key piece of the jigsaw.
These numbers are obtained by applying the method from the section The distribution process to all packages listed under Compilation sales figures listing category.
Unlike most discographies where one album dominates with a strong margin, several albums are responsible for healthy and similar numbers of compilations and the likes.
Around 8 million are both Crosby, Stills & Nash and Déjà Vu. They drove most sales of 1971 live set 4 Way Street and 1974 compilation So Far, respectively 7.8 million and 9.9 million sellers.
Harvest is the leader among Young solo albums at well over 6 million.
At more than 2 million or close are Everybody Knows This Is Nowhere, After the Gold Rush, American Stars 'n Bars, Rust Never Sleeps and Harvest Moon.
Buffalo Springfield's debut, home for For What It's Worth, stands close to 5 million units generated.
As a bonus, please find below sales of their main compilations.

Total Album (all types) Sales per Country
Buffalo Springfield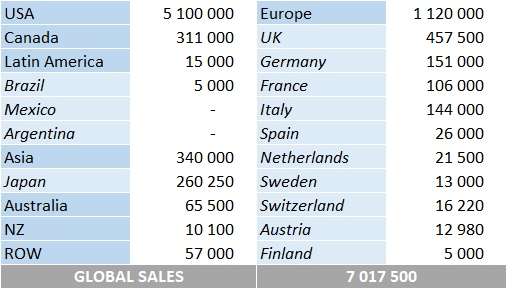 Crosby, Stills, Nash & Young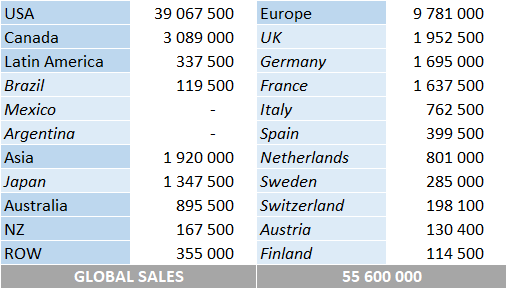 Neil Young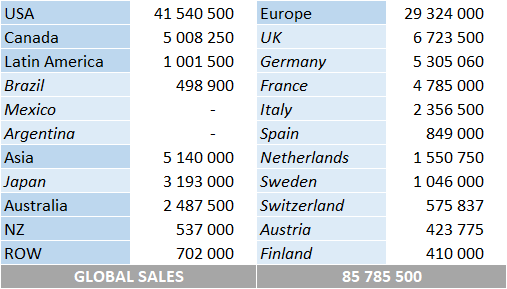 Please note country-specific numbers may miss sales of a few minor releases, although totals are complete.
Neil Young & related Career CSPC Results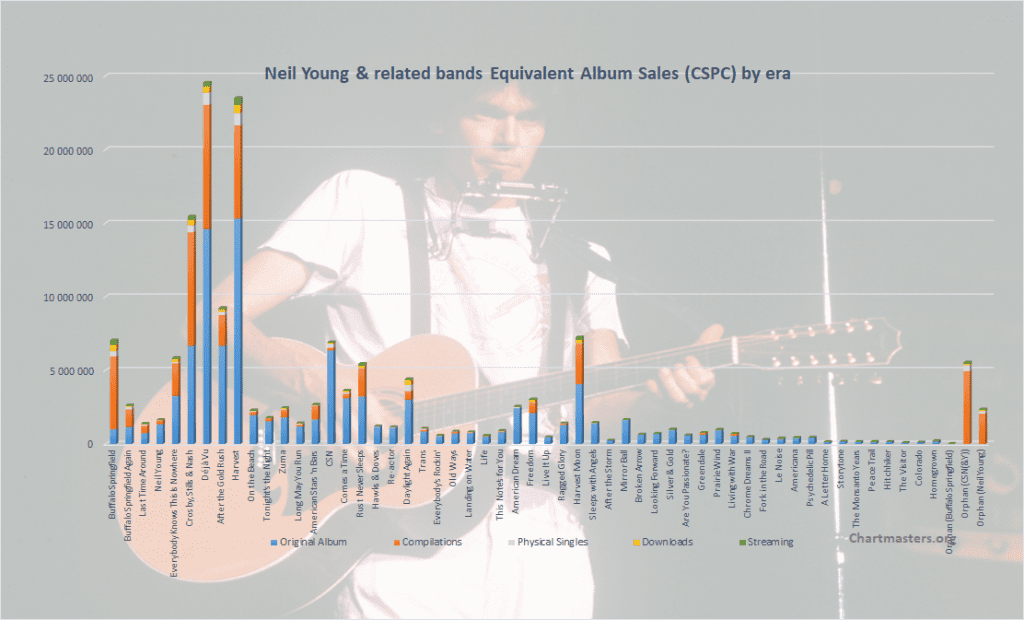 So, after checking all the figures, how many overall equivalent album sales has each Neil Young album achieved? Well, at this point we hardly need to add up all of the figures defined in this article!
Albums CSPC results
In the following table, all categories display figures that way, e.g. in equivalent album sales. For example, singles from Harvest released in digital format sold the equivalent of 560,000 albums – 3,730,000 downloads with a 10 to 1,5 weighting.
Buffalo Springfield

Crosby, Stills & Nash (& Young)

Neil Young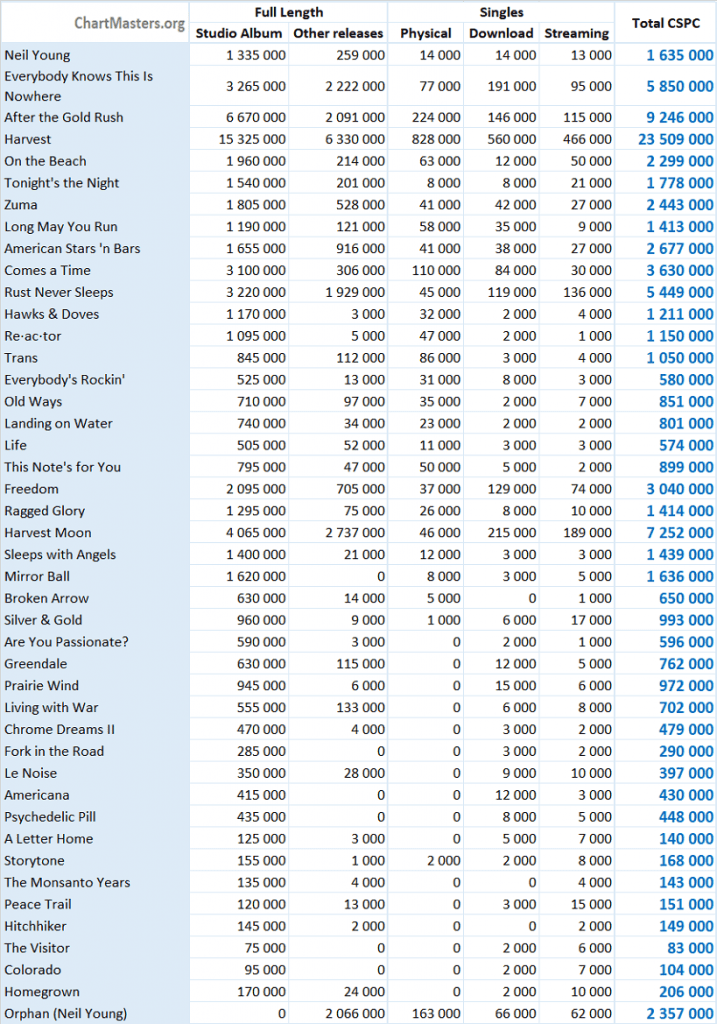 As a reminder:
Studio Album: sales of the original album
Other Releases: sales of compilations generated thanks to the album
Physical Singles: sales of physical singles from the album (ratio 3/10)
Download Singles: sales of digital singles from the album (ratio 1,5/10)
Streaming: equivalent album sales of all the album tracks (ratio 1/1500 for Audio stream and 1/11750 for Video stream)
Buffalo Springfield can be seen as some kind of one-hit-wonders, which isn't surprising considering they broke up a year after that hit peaked.
They still sold over 11 million equivalent album units to date, with their debut being responsible for 7 million sales out of them.
Crosby, Stills, Nash & Young have been tremendously successful in late 60s and early 70s, also managing to hit successful comebacks.
Without Young, they moved 15 million equivalent album sales with their debut, a figure which puts them among the biggest rock artists of this legendary era.
The next one with this line-up did 7 million, CSN in 1977, then 1982's Daylight Again moved 4.4 million units across all formats.
Their two 90s releases have been very poorly received both by critics and the public, selling a total of 700,000 units.
With Young, Déjà Vu cracked the 24 million mark. It is as successful as iconic albums like The Doors' L.A. Woman, Led Zeppelin's I and The Beatles' Revolver.
Next release in line was American Dream more than 15 years later. It sold a very respectable 2.5 million copies.
They tried it a last time in 1999 after the two bombs by the trio, Looking Forward was barely more successful with 700,000 sales.
The band sold 27.6 million units as a trio set and 33.2 million as a quartet.
Neil Young started modestly, even if his debut has now sold more than 1.6 million units in total.
Everybody Knows This Is Nowhere is one of his greatest sellers at 5.8 million.
His third album continued the climb, After the Gold Rush was his first A-League success and stands at 9.2 million sales so far.
His zenith came with Harvest. The singer's top solo performer in all 5 sales avenues, its total is now up to 23.5 million.
It is one of the 10 most successful solo albums of the 70s along with Meat Loaf's Bat Out of Hell, Elton John's Goodbye Yellow Brick Road and Michael Jackson's Off The Wall.
It was hard to follow up such a beast, especially with several experiments, delayed or deleted albums.
The next 4 albums averaged about 2 million units apiece, with Zuma performing the best.
Even if the fall after Harvest was harsh, the artist hasn't gone down with every album, instead he started a career that is still going to this day.
In the road, he got two revivals. The first happened in late 70s with Comes a Time and Rust Never Sleeps amassing 9 million sales combined.
The second was in late 80s / early 90s with Freedom and Harvest Moon totalling 10.3 million.
Outside of these releases, Neil Young recorded sales of about a million per release from 1980 to 2005.
With the market going down and his golden years getting older and older, his average decreased to 400,000 units from 2007 to 2012.
Since the start of the streaming era, his organic results stand around 150,000 sales per album.
His solo total is an impressive 92 million equivalent album sales. He is up to 136.4 million once we consider sales as part of his two main groups.
We haven't include sales of The Hollies, The Byrds, Stephen Stills, Graham Nash, David Crosby, Crosby & Nash, Manassas, etc. in this article.
What's safe to say is that the family tree of Crosby, Stills, Nash & Young is outstanding with combined sales comfortably topping 200 million equivalent albums.
Singles CSPC results
The list is compiled in album equivalent sales generated by each song. Therefore, these figures are not merged units of singles formats. Instead, it includes weighted sales of the song's physical single, download, ringtone and streaming as well as its share among sales of all albums on which it is featured.
1. 1972 – Neil Young – Heart of Gold [Harvest] – 10,950,000
2. 1970 – Crosby, Stills, Nash & Young – Our House [Déjà Vu] – 7,180,000
3. 1969 – Crosby, Stills & Nash – Suite: Judy Blue Eyes [Crosby, Stills & Nash] – 6,990,000
4. 1966 – Buffalo Springfield – For What It's Worth [Buffalo Springfield] – 6,720,000
5. 1972 – Neil Young – Old Man [Harvest] – 6,340,000
6. 1992 – Neil Young – Harvest Moon [Harvest Moon] – 6,000,000
7. 1970 – Crosby, Stills, Nash & Young – Teach Your Children [Déjà Vu] – 5,550,000
8. 1970 – Crosby, Stills, Nash & Young – Ohio [Orphan (CSN(&Y))] – 5,310,000
9. 1969 – Crosby, Stills & Nash – Helplessly Hoping [Crosby, Stills & Nash] – 4,740,000
10. 1970 – Crosby, Stills, Nash & Young – Helpless [Déjà Vu] – 3,570,000
11. 1979 – Neil Young with Crazy Horse – My My, Hey Hey (Out of the Blue) [Rust Never Sleeps] – 3,540,000
12. 1982 – Crosby, Stills & Nash – Southern Cross [Daylight Again] – 3,180,000
13. 1989 – Neil Young – Rockin' in the Free World [Freedom] – 2,820,000
14. 1972 – Neil Young – The Needle and the Damage Done [Harvest] – 2,730,000
15. 1970 – Crosby, Stills, Nash & Young – Carry On [Déjà Vu] – 2,670,000
16. 1969 – Neil Young with Crazy Horse – Down by the River [Everybody Knows This Is Nowhere] – 2,290,000
17. 1976 – Neil Young with Crazy Horse – Like a Hurricane [American Stars 'n Bars] – 2,220,000
18. 1970 – Crosby, Stills, Nash & Young – Almost Cut My Hair [Déjà Vu] – 2,100,000
19. 1977 – Crosby, Stills & Nash – Dark Star [CSN] – 1,920,000
20. 1970 – Neil Young – After the Gold Rush [After the Gold Rush] – 1,910,000
If you feel inspired by this list, we just created this CSPC Neil Young & related playlist on Spotify!
Discography results
Thanks to our new ASR (Artist Success Rating) concept, we know that Neil Young sales represent 13.98 million times the purchase of his discography. Coupled with his total sales, it translates into an ASR score of 203.
Values for Buffalo Springfield and Crosby, Stills, Nash & Young are respectively 14.23 and 23.65 million discography sales. Their ASR score are 71 and 214.
The ranking of all artists studied so far is available too at this link.
Records & Achievements
At 136.4 million EAS, Neil Young is the 2nd best selling Canadian citizen of all-time.
At 23,499,000 EAS, Harvest is among the 10 most successful solo albums from the 70s.
At 23,499,000 EAS, Harvest is the 2nd most successful album from 1972.
At 24,558,000 EAS, Déjà Vu is the 5th most successful album from 1970.
At 15,459,000 EAS, Crosby, Stills & Nash is among the 10 most successful albums from 1969.
NB: EAS means Equivalent Album Sales.
You may be interested in…
… best-selling artists, albums, and singles
To improve your navigation we created several amazing cross-artists lists posted inside the CSPC: Data Collector article. Click on it to see the full listing of all CSPC results compiled so far!
… similar artists
To put figures from this article into perspective, click on the images below to reach career breakdowns of similar artists: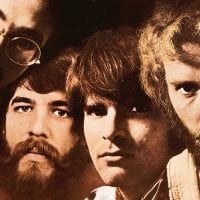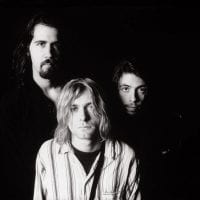 As usual, feel free to comment and / or ask a question!
Sources: IFPI, Spotify, YouTube, Discogs, Billboard.