France Album Sales: Radiohead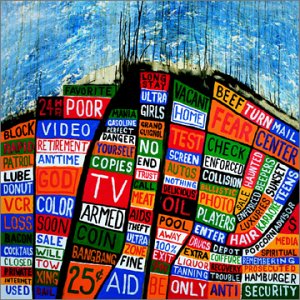 Hail To The Thief (2003) Era
One decade deep into their career, Radiohead released their sixth album in May 2003 with Hail To The Thief. As their reputation was never going to go down, the album debuted at #1 thanks to their fan base.
Lead single There There was hardly a hit in the teen-oriented physical Singles chart, peaking at #53. It was a notable rock stations hit yet and sustained the album five weeks inside the Top 10. Go To Sleep and 2+2=5 subsequent singles helped the album to secure a placing on charts were it cumulated ultimately 39 weeks. It sold 165,000 units for the year.
Interestingly, during Hail To The Thief debut week Amnesiac re-entered, which is quite usual as it was the new album immediate predecessor, but also Pablo Honey. Not only it was the very first time the album made it into the main album chart, at #108, but it was also ahead of OK Computer. As we will see later in the article, this album largely benefits from containing the band absolute classic Creep to register huge catalog sales.
In 2004, a new low profile EP was released, COM LAG (2plus2isfive), which peaked at #59.
Top 3 Most Streamed Tracks on Spotify
There There – 7,879,000
2+2=5 – 7,244,000
Go To Sleep – 4,034,000