France Album Sales: Madonna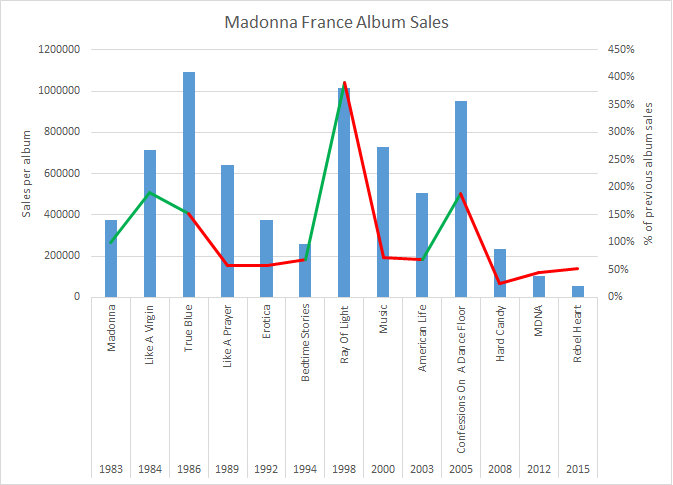 This Excel capture displays both the album sales of each Madonna studio set as well as the percentage of evolution from album to album.
As per the evolution curve, Ray Of Light is the artist most successful album while her worst is Hard Candy. Surprising? Well, not that much. In fact, both Like A Virgin and True Blue were immensely popular, each with respectively 191% and 153% of their immediate predecessor sales starting from a high point. If both end up nowhere near Ray Of Light, it is because Madonna was still a fresh new hyped act. Without downgrading results of her early albums, tons of artists have been big with their first albums. What appears to be a gigantic smash is reproducing hey-days sales after several lower profile albums, which is very precisely Ray Of Light.
At the end of the day, if Madonna had followed a natural path her sales would have continued to go down in late 90s and afterwards. Had this situation happened, Celine Dion would have been likely the biggest selling female album artist ever. Ray Of Light changed Madonna career from one of the biggest female artists of all-time to the biggest female artist of all-time.
In the same way, Confessions On A Dance Floor outstanding results have been as unexpected as impressive.
Among negative albums, each Like A Prayer, Erotica, Bedtime Stories, Music and American Life sold 58-72% of their predecessor. It is no surprise that both MDNA (45%) and Rebel Heart (52%) are two huge flops. I myself often argued how much of a flop Hard Candy was when it was first released in 2008, only to be contradicted by many. This album is the exact opposite of Ray Of Light, an album that lowered expectations so much – only 25% of its predecessor –  that it made the artist lose sales once all things considered as it destroyed the artist profile in the middle and long run, as shown on results of following records.
A last comment, pretty relevant in Madonna case. Among her 12 non-debut studio albums, 4 of them outsold their predecessor, each of them achieving from 153% to 390% of the previous set. In the other side, her 8 decreasing albums all did 25-72% of their predecessor. As incredible as it may seem over the curse of 12 albums, none of them sold 73-152% of their predecessors. In other words, all Madonna albums have been huge smashes or relative flops, an entire career made of up and down albums. Obviously, it must be said that this curve of sales have been entirely done on very high waters with Madonna weakest albums selling numbers dreamed by many.
As usual, feel free to comment and / or ask a question!
Sources: SNEP, IFOP, GFK, Spotify, kronemyer.com.