Drake's global heatmap
A dominant genre for over 20 years in the US, Hip Hop is now regarded as the number one music at a global scale. One man is in good part responsible for that, Drake. Far and away the most streamed artist ever in both Spotify and Apple Music, does this domination comes from a limited number of markets, or is the urban music icon truly big everywhere?
The method
In order to identify on which countries Drake performed well, the way to go is to look at data from various top sellers and compare his own results with theirs. Thus, we collected market by market YouTube statistics of 16 major artists including the Beatles, Elvis Presley, Madonna, and Queen. The sample also includes a various recent artists among which Adele, Beyoncé, Britney Spears, and Eminem.
As stated inside the article Learn how to exploit YouTube Insights, the absolute number of views is irrelevant. Depending on your target audience and its YouTube usage habits, you will have very different results. Relative results do matter though. That's why rather than comparing views numbers, we compare the share of views coming from each market for all these artists. For example, both the Beatles and Queen have over 1,6 million monthly views in Japan. Since Queen outperform the Beatles by 3 to 1 globally, that means Japan is a market 3 times more relevant for the Beatles. In conclusion, even if both have similar views there, the latter group is relatively speaking bigger there.
Once we defined the strength of each market for scale artists, we calculate their averages. To continue with our example, our scale artists register 5.57% of their global streams in the UK. Drake's count there stands at 5.83%, it means the relevance of this market is 105% (5.83%/5.57%) as high for her as for the others.
The results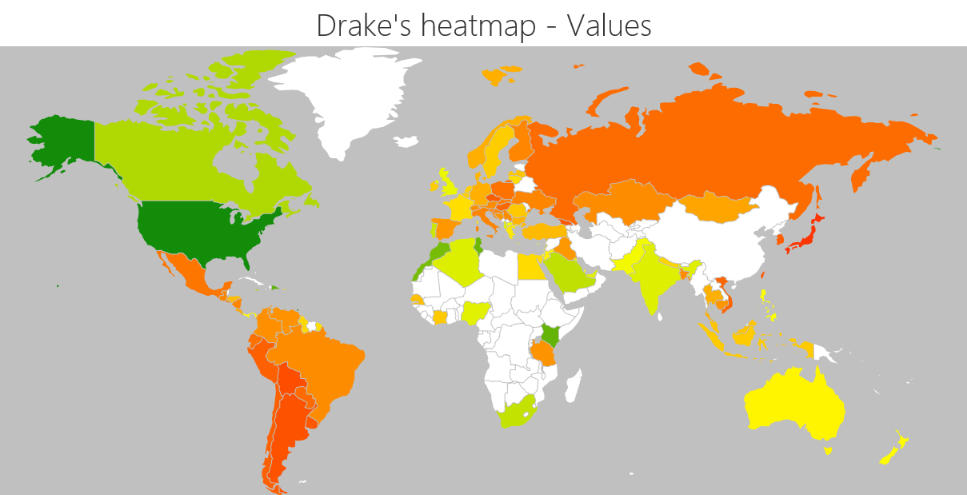 The greenest a country is, the best Drake performed in comparison to the scale artists. On yellow ones, he is on par with the average. Countries in orange represent weaker performances, the most red they get, the most he underperforms. Countries in white fail to appear among his personal Top 100 markets on YouTube.
We aren't done still. An artist can record a huge chunk of his views in a few countries only, say in the US. Their comparative shares in remaining countries would then underperform massively reference values. This issue is known for years in the world of statisticians. A very efficient way to avoid these outliers consists in comparing rankings instead of raw values. As a result, instead of saying that Drake outperforms the scale by 2.05 to 1 in Trinidad and Tobago, we will say that Trinidad and Tobago is the country of rank 1, the one where he performs the best relatively speaking.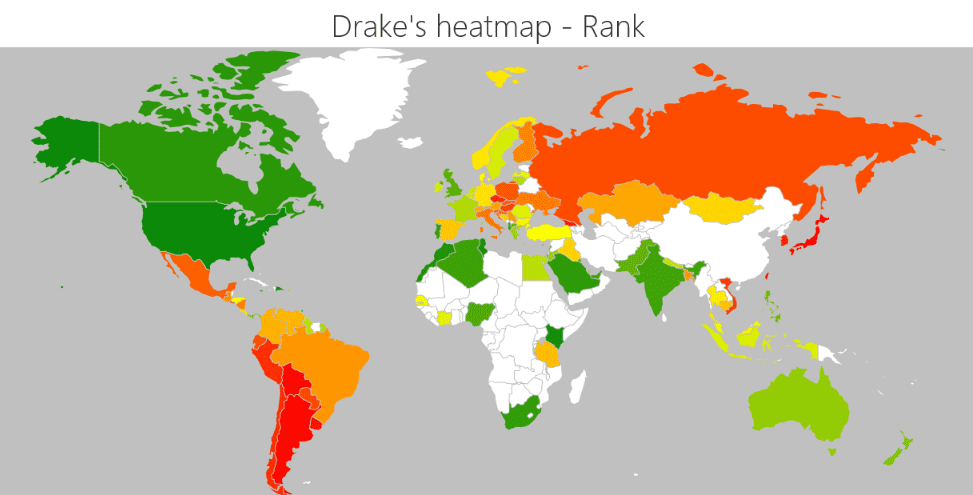 The greenest a country is, the highest it is among Drake's top markets and so on until red markets.
The analysis
In absolute terms, Drake undoubtedly has huge numbers. He registered nearly 4 billion YouTube views over the last 12 months. His market #100 posts nearly 2 million views for the year, a number that would make the Beatles' top 35. Still, to the question is hip hop now as big everywhere as it is in the US, the answer is a big no.
Drake has more views in Jamaica than in Japan. This says it all. This is in absolute terms, because relatively speaking the gap is wild, from a strength of 1.35 to a strength of 0.16. In fact, Japan is quite simply his worst market. They seem immune to hip hop, at least until now.
Let's first check the big ones yet. It is as clear as water that Drake is bigger where the black culture is bigger. Trinidad and Tobago leads his top markets, just ahead of the US. We can't blame him, recording some of his best numbers in the biggest market of all sounds like a very good idea.
All countries inside the Top 10 are from North America, Africa, and the Middle East. The first real surprise comes from Portugal, a market that isn't that much open to the US culture by European standards, which happens to be Drake's #11 country. People originally from Mozambique, Angola, Guinea-Bissau, and Cape Verde are certainly a part of the explanation.
South Asia is also very supportive with India (#13), Pakistan (#20), Nepal (#40) charting high. At a lower level, so is Southeast Asia / Oceania. Philippines (#23), New Zealand (#26), Australia (#30), Indonesia (#45), Malaysia (#49) all do well.
The overwhelming results from the US (nearly 2 billion YouTube views in 2018 there) let very little space to remaining countries, sending 78 out of 100 to a strength below par. Nevertheless, the UK still impressively out-performs the scale and charts at #19. His huge runs at #1 in this country are no fluke, he is truly big there.
The most developed pop markets from Asia appear to be very tough to break for Drake. Not only Japan is at #100, Hong Kong (#90), South Korea (#94), and Taiwan (#97) are also strongly resisting to his assaults. So do Latin America as a whole. Brazil (#72), Mexico (#82), Paraguay (#87), Chile (#92), Argentina (#98), and Bolivia (#99), to name a few, are all weak performers for the artist.
There is one more area he still has to really break over, that's Eastern Europe. No country from there belong to the Top 45 while the likes Russia (#86), Czech Republic (#93), and George (#95) pop up very low.
Things are better in Western and Northern Europe with countries generally appearing in positions from the 35-65 span. This includes most relevant markets, France, Germany, the Netherlands, Sweden, Belgium, and Spain. Only Italy is more modest at #78.
Hip Hop is definitely getting bigger and bigger, but there is still plenty of room for improvement in many regions of the world.
If you are more of a number guy, below is the list of countries with both values and ranks.

Don't miss similar studies on these superstars…