Collections madness #1: France
What if I tell you that there are 3 billion album sales lost in the nature? Sales that have been ignored by both charts and certifications.
These sales bring millions of units to many artists. How is this possible, and who benefits the most from them?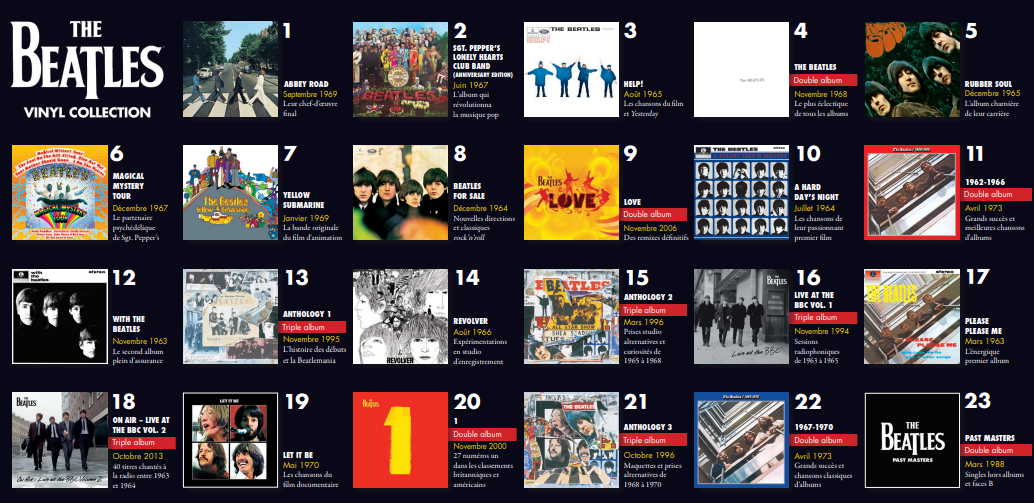 Introduction
Over the years, the music industry has been dealing with record sales. As surprising as it seems, artists haven't been selling their albums only through the music industry yet.
In fact, collectables brands, publishing companies as well as direct marketers have been busy issuing LPs and CDs collections.
These records have been mostly sold at newsagent's shops, or through home deliveries for subscribers of the collection.
From the mid-60s to date, we estimate that these third parties sold no less than 3 billion albums. An absolutely terrific number.
As these companies aren't part of the music industry, and thus are rarely affiliated to music organizations like the IFPI, the BPI or the RIAA, and as newsagent's aren't part of scanning systems' panels, these sales are ignored at both ends, charts and certifications.
Genres like classical music and Jazz material have been heavily popular with these collections, with some artists shifting a notable share of their total career sales through them only. Since these units aren't recorded on traditional music systems, it means that our beliefs related to sales of these artists can be very wrong.
The concept
Music collections are a series of albums, with one new volume usually released every one or two weeks. Each volume typically come with an extensive booklet, which describes the record while also explaining what it represents as part of the theme of the collection.
The theme may be a music genre, the discography of a specific artist, or simply hits split by periods. Small collections can feature a dozen albums or less, while extensive ones contained over 100 pieces.
These collections are dealt by dedicated companies, with very different marketing practices than the music industry.
Volumes are often available only until the next one is out. To engage the consumer, the first record is always fairly cheap, the second is too although a bit less, while from volume three or four the standard price is reached.
To make the introduction offer even more attractive, the first set often comes with a nice cardboard which houses the collection as it gets completed.
A key to move great numbers is the price, as they communicate that they offer top tier products, with detailed booklets and all, at lower prices than usual records.
To do this, companies putting together collections developed key skills since their beginning. They run a test phase before the release of a series, acting like a poll body, asking a representative panel of people if they are willing to purchase what is coming out soon.
This is how they define how many copies they need to press in order to reduce returns. Also, as countries have in general from 20 to 50 times more newsagent's shops than music retailers, they hit the general public much stronger, which enables to produce very large quantities of records, reducing per-record costs.
The original idea of these collections is that they will bring you an advanced level of knowledge about the theme even if you start it as an amateur. That's why classical music, operas, jazz, blues, soul, etc., are good themes to focus on, as many people don't know them but they are still keen to discover the genre.
As years passed, more diverse collections emerged, and even big names like The Beatles, Queen, Elvis Presley, or Bob Dylan moved great amounts of records off the radar thanks to these series.
The genesis and the results
Three Italian brothers, last name Fabbri, founded a publishing company in their homeland in 1947. In the 60s, they started to sell millions and millions of books thanks to their encyclopedia for children Conoscere, which was sold piece by piece.
They decided to apply the concept to music, releasing Storia Della Musica in 1964. It was made of 14 sub-collections, each one featuring 10 to 13 volumes. In a country where even the largest selling albums from The Beatles would typically move 20,000 units in the 60s, the first record of the collection sold 200,000 copies during its single week of availability.
The collection extensively browses the classical catalog, with, for example, no less than 10 numbers dedicated to Verdi.
It wasn't even over, that Fabbri went on to produce a second one, I Grandi Musicisti. This pharaonic project was made of nearly 200 albums, issued week by week for 4 years, with phenomenal sales adding to an estimated 10 million units. That's twice as much as the entire music industry was able to sell in a year there.
Results were so insane that the concept and this latter collection were quickly exported. In 1967, Chefs-D'Œuvre De L'Art Grands Musiciens arrived in France. Fabbri released it partnering locally with publishing giant Hachette. Each of the first 3 volumes moved 120,000 units, with most of the collection doing numbers on par with this.
In 1968 in Brazil, this time the partnership was done with Editora Abril. The first album, dedicated to Tchaikovsky, sold 300,000 copies, again about 10 times what The Beatles were able to do in this market at this point.
The following year, Fabbri brought the collection to the UK. This time, they started it with a Beethoven record, but results were just as stunning with 210,000 copies shipped instantly.
The madness kept going. Soon, countless collections popped up. By 1981, while the Italian music industry was officially reporting 21.5 million album sales for the year, 17 million more albums were sold at newsagent's shops. By 2003, the phenomenon wasn't going down, instead, these non-traditional sales were up to 27 million in the 12-months window.
While these releases weren't as deeply implanted in every country as in Italy, it isn't an isolated example. To point out another one, in 2004 in Spain, albums from collections were responsible for 30.5 million sales. These sensational sales were, again, completely overlooked by national and international music industry organizations statistics, including the IFPI.
The sales curve of these collections is interesting. Sales start strong thanks to the entry offers and the heavy marketing campaign which comes with them. They go down 15-40% per volume over the first 4, then the decrease gets less and less up to a dozen of volumes. Later on, sales barely go down anymore, as the collection reaches consumers who aim to complete it. Due to this collectable mind set, the Nth volume will never outsell its predecessor.
Basically, these collections were to pure sales the sales as playlists are for streaming, although people don't use the skip option quite as much.
These patterns enable us to exploit to perfection Discogs statistics in order to value sales of each volume, by using the known data (for specific volumes or totals per company from annual reports) and the relative strength of each record.
The actors
Inside this fantastic world of series, there are three distinct actors.
The original one are collectables companies. They sell a lot of stuff like books, music records, Star Wars figurines, miniature reproductions of iconic cars, videos to learn a language, etc., whatever is good to create an attractive collection with a targeted public.
Among them, we can mention Fabbri, De Agostini, Mondadori, Hobby & Work (Italy), Editorial Salvat, Del Prado, Altaya (Spain), Atlas, Hachette collections (France), Abril (Brazil), Orbis (UK), and many more.
Most of these started as news or books publishers, before extending their business units.
Slightly different are these publishing companies which use their magazine or newspaper to add a music record as a paid add-on to their core product.
There are many popular brands using this method to boost their revenue. We can mention Le Monde (France), Corriere Della Sera, La Repubblica, L'Espresso, Sorrisi E Canzoni (Italy), El Pais (Spain), Folha de São Paulo (Brazil), Der Spiegel (Germany), etc.
A third category, more present in English-speaking markets like the US, are direct marketers. There too we look at companies deeply linked to the publishing world.
The prime example is Time Life, which has been issuing music collections for more than half a century. Unlike the others, these companies do not use newsagent's shops, instead they market their product intensively on TV and magazines to get subscribers that they deliver directly at home.
A side actor are music labels themselves. Some of them decided to release their own collections when they saw how successful they were. They often create sub-divisions to deal with this business, like PolyGram Projets Spéciaux or Universal Music Kiosks.
While we point out the main country of these companies, many of them exported these collections into several markets.
Our contribution, the database
Our quest to provide an accurate and comprehensive overview of record sales through all formats lead us to very different territories.
On top of our streaming tools as well as data-heavy pages like the receipts database, we have now set up a Collections database.
This page enables you to search for both a list of collections as well as estimative data for the series' volumes. You may found out that your favorite artist sold sizable numbers with releases you never heard of.
We uploaded over 2,500 albums in our first batch, focusing on French collections. If you don't know how to explore this data, below we go through the most interesting findings.
It really is just a first batch, our working sheet already includes over 500 series made of over 21,000 volumes.
Our take on French series isn't aimed to be comprehensive either. There have been so many coming out through the years that it's nearly impossible to spot them all.
We did review the biggest companies which issued the largest selling collections, so it already provides a great view of this forgotten world that brings so many sales. The 53 series we present to you here add for 110 million album sales combined.
Use case #1: France
1967-1981 – Classical music bonanza
The French music industry was healthy in the 50s, boosted by several local talents that got big abroad like Edith Piaf, Georges Brassens, Mireille Mathieu and Jacques Brel – who happens to be Belgian, of course, even if the French public adopted him in full.
Market-wise, France stood with 10″ for many years, getting into LPs later than most of its neighbors. but numbers were good still with 11 million album sales by 1967, when in Spain for example only 1 million were sold that year.
That year, the first collection at newsagent's started with the aforementioned Chefs-D'Œuvre De L'Art Grands Musiciens. A total of 76 volumes came out. These records, available for only one week each, sold an unthinkable 6 million units, more than half of the annual LP market.
Pieces of this collection were issued again in 1975 and 1978, with 60 additional releases combined, which moved 4.5 million more records.
In 1981, it was again a classical music series which got released. Encyclopédie Alpha Des Grands Maîtres De La Musique, created by Salvat in Spain and released by Philips in France, did wonders too. Estimates for it stand at 5.2 million units out of 100 albums.
While these numbers are immense, they are even more incredible when we focus on artists.
From these 4 collections, no less than 26 volumes were dedicated to legendary German composer Beethoven. They moved a combined 2.44 million sales.
1989-1998 – The Atlas revolution
In late 80s, a new actor changed everything in no time. While next to nothing came out on newsagent's shops outside of the classical series we listed previously, the brand of collectables Editions Atlas decided to fiercely attack this market.
They did stick to the known recipe at first, issuing two 100+ volumes collections starting in 1989 of classical and opera music.
The first pair of releases from each (the entry offer 'gifted' a second CD), Beethoven's Symphonie n°3, bundled with a second CD from him Symphonies n°7 et n°8. , and La Traviata plus Nabucco, went Double Gold (over 200,000 sales per release) and Gold (over 100,000), respectively. Atlas are one of the rare companies which ever certified this kind of records.
By the end of the series, more than 7 million albums had been sold.
It wasn't over that they had started to sell Les Génies du Jazz. Another extensive series (98 albums), it gave Louis Armstrong his first – and only – Platinum album in France. The second release was also dedicated to him, along with a record by Ella Fitzgerald, and just like that Armstrong moved over 600,000 albums in France in a couple of weeks.
In 1992-4, Les Génies du Blues, Les Génies de la Musique (dedicated to classical music), Les Génies du Rock and Jazz & Blues Collection completed this batch of collections from Atlas.
With 7 series in 5 years, the company shifted a stunning 29 million albums. More and more units were exported as the brand got so successful, with TV ads showing as far away as in Canada.
More companies entered the sector as it had to be expected. Marshall Cavendish (3 million sales with Au Coeur du Classique in 1993), PolyGram (2.2 million sales with Dance Attitude in 1994), or even TV channel M6 (3.2 million sales with M6 Dance).
But Atlas stepped up once again. In 1995, the started to be even more aggressive, pricing their first volume at 7.5F (1.1€) instead of the old bargain of 39F (6€).
Another classical collection, Eblouissante Musique Sacrée, dedicated the first volume to Mozart. The album went through the roof, topping at 1.5 million sales.
Official retail data suggesting that the fastest selling albums ever in France were A La Vie, A La Mort by Johnny Hallyday (over 300,000 first week sales in 2002) and then Mon Pays C'Est L'Amour again by Hallyday (780,000 first week sales in 2018) are indeed wrong, as Mozart topped the million mark with ease way back in 1995.
Sales of the collection quickly vanished though, closing at a still superb 4.4 million after 100 releases.
To secure more engaged consumers, the next collection had it all: a bargain for the first volume, 2 for 1 CDs at reduced price still for 2nd and 3rd batches, a 4th volume that was still heavily marketed with TV ads, and even new recordings!
Les Plus Belles Chansons Françaises hired old glories, mainly out of fashion 60s and 70s singers, to record iconic French songs which were themselves quite old. Incredibly, it did wonders.
The first number, with songs from 1962, also smashed the million mark in its first week. By the end of the 3rd week, the collection had moved 3 million albums, prompting them to reprint the first 3 numbers along with the 4th.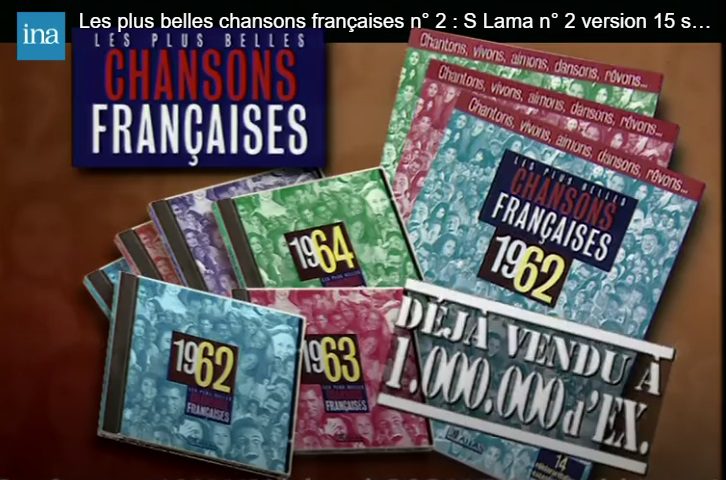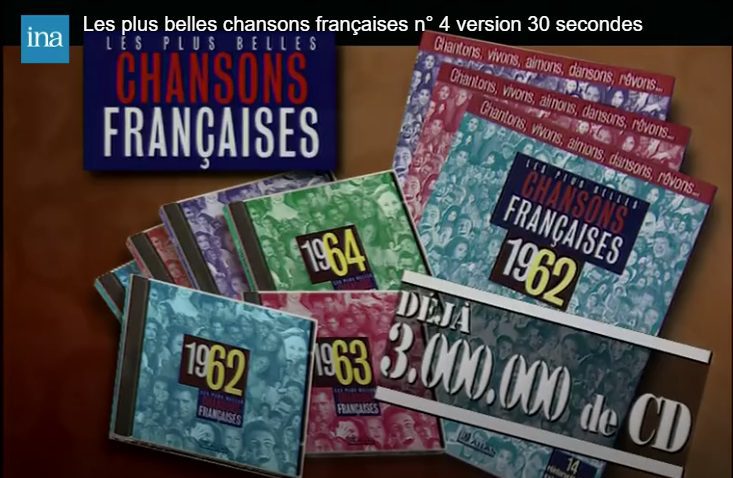 Total sales of the collection? More than 10 million albums out of 60 releases.
They did it again the following year, now with unknown singers covering international hits. Les Plus Grands Hits Des Années 60-70 sold 3.3 million over 40 releases. The next year, Hommage, using the same concept of covers but with volumes axed around a singer rather than a period, did again more than 3 million sales, this time with a mere 20 records.
The only collection with more discreet numbers was Elvis Presley, La Légende, a 30-volumes series of the King's albums. It sold over 130,000 units, but we need to consider that unlike the remaining series it wasn't available at newsagent's shops, but only to subscribers.
By that point, Atlas faced legal issues due to some volumes from their former Jazz collection. It appeared that they had purchased the license of these recordings to companies which actually never owned them. They had to pay large bills to valid right holders, leading them to step away from collections of music recordings after selling over 50 million albums in a decade.
Ironically, the last monster collection from the decade was another Jazz series, Jazz Masters – 100 Ans De Jazz. Issued by e.f.s.a. collection and with a large reach in Europe, the 100 volumes moved an estimated 7 million units, with the number ones Miles Davis in a side and Pat Metheny / B.B. King / Dave Brubeck in the other posting over 700,000 sales.
1998-2010 – The specialization of PolyGram
As a music label, PolyGram weren't as used to the collections model as their challengers. They got into this area on tip-toes, with their dance music collections (Dance Attitude and Maxi Dance) getting a new volume every 2 to 3 months rather than every week.
Gaining confidence, they started to release more products, although at a lower scale than Atlas used to.
La Légende des Tubes (1996), Mélodies en Or, Rhythm & Soul, Blues Story and Original Rock (1998), combined for over 8 million sales across 129 volumes.
They continued with shorter series that were more specialized. In late 90s, they released several artist-axed 5-volumes collections dedicated to artists like Georges Brassens or Claude François.
Sales per series were lower, about half a million to a million, but it was still a very profitable business with additional collections about the hits (Le Top 20 Ans de Tubes, L'Encyclopédie), live albums (Les Concerts Mythiques de l'Olympia) or artists (Daliva For Ever) doing well in mid-00s.
All these collections had at most 40-ish volumes, with famous newspaper Le Monde soon offering similar releases.
From 2007 to 2010, they issued multiple series titled "Le Monde de…" (The World of…) focusing on the usual safe bets, Opera, classical music, Jazz, and piano renditions.
These series followed their first successful step in this direction that was their 30 volumes in tribute to the 250th Anniversary of the birth of Mozart in 2006.
2011-2022 – Artists focus takes over
Although some artist collections popped up from 1997 to 2010, they were still rare, with series themed around a genre being the first choice.
From 2011, this situation evolved. That year, PolyGram dropped La Collection Officielle Johnny Hallyday. The career of the iconic rocker is so massive that it included 72 volumes.
The first one, 1985 studio set Rock'n'roll Attitude, shockingly topped 100,000 sales. The number two, 1986's Gang, passed 50,000. By the time the collection was completed, Hallyday had sold over 1.5 million albums without denting the French national chart, and without even counting his traditional catalog that was available at standard retailers.
More collections branded La Collection Officielle arrived, this time theming after the era Salut Les Copains (in terms of impact, the French equivalent of the classic rock period for Americans), Serge Gainsbourg, Michel Sardou, Claude François, Charles Aznavour and more.
Each of these artists sold upwards of 300,000 units from their collection. While numbers were obviously down from the madness of the 90s, here we are speaking about series which debuted in 2013-2015, lasting for close to 2 years. In this day and age, selling 300,000 pure units off a catalog available for decades is amazing.
The first international artist to enjoy their collection under this context were no other than The Beatles. In 2015, newspaper Le Monde and TV magazine Télérama both offered their series as an optional add-on, the fab four moved about 400,000 albums in the process.
A couple of years later, another collection dedicated to an international artist came out – Altaya issued the discography of… The Beatles! This time the CD series was replaced by LPs yet. Way more expensive, these still sold roughly 80,000 units.
Pink Floyd joined them with a 200,000+ selling CD collection in 2018.
Top selling collections
1 – 10,245,000 – Les Plus Belles Chansons Françaises (Atlas, 1996) – 55 volumes
2 – 7,065,000 – Jazz Masters – 100 Ans de Jazz (e.f.s.a. collection, 1997) – 100
3 – 6,735,000 – Jazz & Blues Collection (Atlas, 1996) – 94
4 – 5,940,000 – Chefs-D'Œuvre De L'Art Grands Musiciens (Hachette/Fabbri, 1967) – 76
5 – 5,280,000 – Les Génies du Jazz (Atlas, 1990) – 98
6 – 5,210,000 – Encyclopédie Alpha Des Grands Maîtres De La Musique (Hachette/Salvat, 1981) – 100
7 – 4,945,000 – Les Génies du Classique (Atlas, 1989) – 108
8 – 4,600,000 – Les Génies du Rock (Atlas, 1993) – 117
9 – 4,435,000 – Eblouissante Musique Sacrée (Atlas, 1995) – 100
10 – 3,945,000 – La Légende des Tubes (PolyGram, 1996) – 40

Top selling artists
Obviously, the top selling artists depend on their genre as many collections were linked to one of them.
Best-selling classical composers
As it had to be expected, the top artists come from the classical music field. Below is their top 10.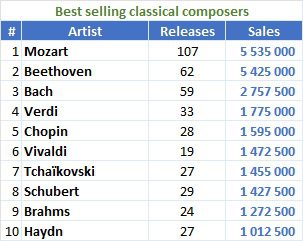 Both Mozart and Beethoven record mind-blogging sales of about 5.5 million albums each. To put things into perspective, without considering their records at retail, they outsold in this country names as big as Barbra Streisand, Whitney Houston, Bruce Springsteen, Metallica, and they almost top Elvis Presley.
Bach is a solid 3rd with 2.7 million sales. Italian Opera mastermind Verdi is a million behind, with Chopin rounding out the top 5. More big names complete the top 10, each with over a million sales.
Best-selling classical conductors
If pop releases have one prime lead artist, the classical recordings are different, with 3 distinct roles sharing the front view.
Depending on the album and the strength of its participants, the face name may be the composer (Mozart, Beethoven, etc.), the conductor (Herbert von Karajan, Colin Davis, etc.), or the orchestra/musicians (Royal Philharmonic Orchestra, Yo-Yo Ma, Itzhak Perlman, etc.).
The latter category wasn't really used among series, which often went by cheaper choices like orchestras from Eastern Europe as the LPs were targeting the general public rather than specialists. Later collections did use the power of big conductor names to push their sales yet. Below is the top 5 sellers in this category, with Haitink leading the way.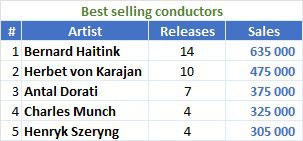 These conductors are likely to have sold even more copies through these series, as their name isn't always displayed among main credits.
Best-selling non-classical artists
Non-classical artists have also been moving significant numbers through these collections.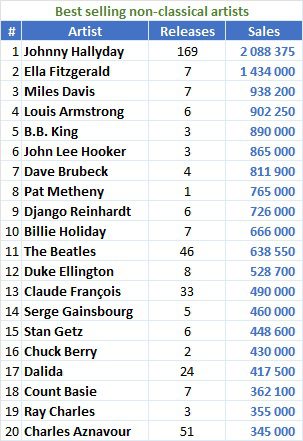 Johnny Hallyday reigns supreme among the all-time top selling artists at retail in France. Off the radar, he does just as well. His 3 collections on top of stand-alone volumes from other series total 2.1 million sales. If the average per volume feels lower than the others, it's because he got releases much more deep into his catalog, and with recent LP reissues which are more expensive, hence moving less units.
Ella Fitzgerald impresses at 2 with 1.4 million sales. She highlights extremely well how key it is to dig into these collections.
On surface, the only time she made French charts over the last 50 years was a #8 peak inside the compilation ranking in 1989. This best of, Pour L'Amour d'Ella, went gold with over 100,000 copies sold. Nobody would expect significant sales for her in France, yet here she is with over 1.4 million album sales from collections alone.
Close to a million are more Jazz legends, namely Miles Davis, Louis Armstrong, and B.B. King. These artists exchanged the first volumes among all large Jazz collections, amassing big numbers. A joint CD with the latter fuels both Dave Brubeck and Pat Metheny into the top 10.
The Blues master is John Lee Hooker, scoring an impressive 865,000 sales off 3 releases only.
The first non-Jazz/Blues artist are the Beatles. Mostly absent from earlier collections, although the Tony Sheridan sessions polemically made the Génies du Rock series as a bonus CD, their recent releases boosted them just outside of the top 10 with over 600,000 sales.
In a nutshell
We have now rounded out our take on album sales from collections in France, if you want to get breakdowns for these artists or search for anyone else, you only need to browse our new database.
Remember, these collections bringing up to 5 million sales to artists represent only 110 million sales out of an estimated 3 billion total for the sector. Tune in to the next episodes to see outstanding numbers building up!