ENRIQUE IGLESIAS CAREER CSPC RESULTS
So, after checking all figures, what's the most successful album by Enrique Iglesias and how many overall equivalent albums sales has he achieved? Well, at this point we barely need to do the addition of all figures defined all over this article!
In the following table, all categories display figures that way, e.g. in equivalent album sales.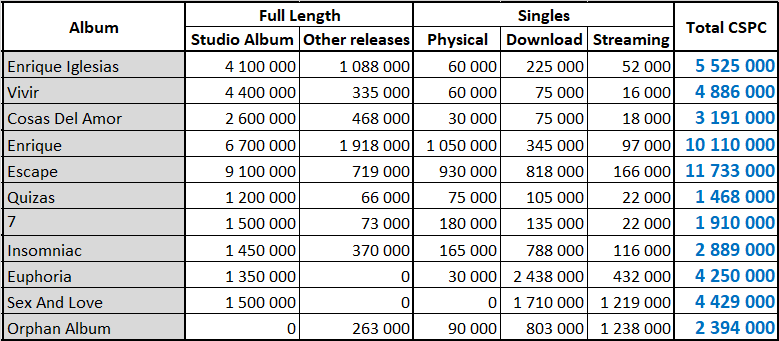 As a reminder:
Studio Album: sales of the original album
Other Releases: sales of compilations generated thanks to the album
Physical Singles: sales of physical singles from the album (ratio 3/10)
Download Singles: sales of digital singles from the album (ratio 1,5/10)
Streaming: equivalent album sales of all the album tracks (ratio 1/1500)
And there you have it!
What to note? Escape maintains its status as Enrique Iglesias' biggest album to date, albeit with 11,7 million copies sold based on our CSPC's approach. His album Enrique, in the same way, confirms its strong position amongst his records, notching up a tally just over 10 million CSPC's sales overall.
The first three albums all achieved incredible results for Spanish records, especially his debut title, Enrique Iglesias, with 5,5 million CSPC overall.
His most recent albums, Euphoria and Sex And Love, achieve the highest increases from pure album sales to CSPC overall total as they belong to the digital era more than any previous record. The former jumps from 1,35 million to 4,25 million, whilst the latter does so from 1,5 million to 4,4 million, both more than 100% rises. Those figures reflect the previous comment on Latin acts poised to turn bigger in the future as streams take over former album sales. We already knew Enrique's strength there since his first two albums  are two of the biggest selling Spanish albums ever. Plus, their streaming figures are still going very strong and  streaming overall is nowhere near from having achieved its peak.
Overall, Enrique Iglesias has cumulative CSPC's sales of 52,8 million, a nice round-up figure for one of the biggest Latin acts of all time.
Do not forget to check our amazing lists posted inside the CSPC: Data Collector which includes the full listing of all CSPC results compiled so far to better gauge his position in the history of the music industry.
As usual, feel free to comment and / or ask a question!
Sources: IFPI, Spotify, Billboard, Chartmasters.org.