Spotifys Most Streamed Tracks Of The 1950s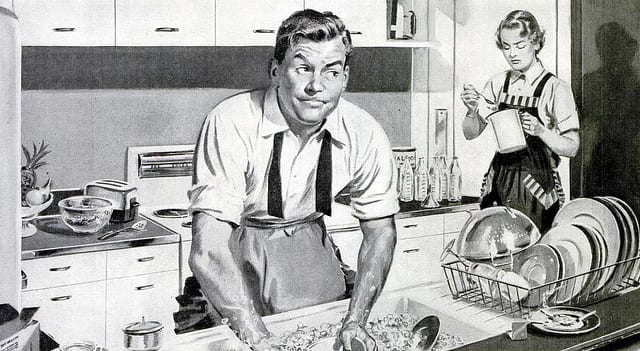 What is the 3rd most streamed track of 1955, the 8th most streamed track of 1973 or the 12th most streamed track of 1997. You probably won't know this of the top of your head, but fret not, we are now going to present to you, overall decade lists, broken down year by year, of the most streamed tracks on Spotify. Ultimately, when updating them, we will also be able to identify the pace of increase of songs, albums, and catalogs of some artists to know how much they will increase in terms of equivalent album sales in the future.
Obviously there was popular music prior to the 1950's, but it was in this decade that pop music as we know it, really began. As such, we will start detailing the most streamed tracks of each year in this decade. One may think it will be a little redundant with our article listing the most streamed pre-1960 LPs. While there is some overlap, most 50's big hits were released outside of studio albums so there is a lot more to discover below.
Before we begin, a slight note about 1950, 1951, 1952 (especially 1952) and 1953. The reason they are only Top 5s, is because there were so few well streamed songs from these years. The further back you go through the decades, even year by year, the amount of popular and very popular tracks becomes less and less. Even going through the 1950's, we see that in the early years it's difficult to find 10 tracks, even 5, some years, that have over 10m streams.
Top streaming tracks from 1950

We kick off the decade, with Louis Armstrong ruling the roost. Dream A Little Dream, a duet with Ella Fitzgerald, is the most popular song of 1950, with a very commendable 74.7m streams. This makes it the 10th most popular track of the decade. He also takes the runners up spot on his own, with La Vie En Rose 63.8m, which is the 17th most popular song of the decade.
The Andrews Sisters & Bing Crosby at #3 with Mele Kalikimaka 27.3m, Kay Starr at #4 with The Man With The Bag 18.8m and Nat King Cole at #5 with Orange Coloured Sky, all lend a very easy listening feel to the Top 5 from 1950.
Top streaming tracks from 1951

The easy listening vibe is still very prevalent in 1951s Top 5 tracks, with the genre having acts at #1, #2 & #4.
Perry Como grabs top spot with It's Beginning To Look A Lot Like Christmas. Which with 61.8m streams, finds its way to #18 on the overall decade list. Although not the first Christmas song to appear, it is the first to top a yearly list but will it be the last?
Easy listening performed a clean sweep of the 1950 chart but in 1951, we see blues and country muscle in on the act. Bluesman Elmore James Dust My Broom comes in at #3 with a respectable 16.5m and one of Countrys finest Hank Williams, makes his first appearance at #5 with Hey Good Lookin 12.1m.
Louis Armstrong carries on where he left off in 1950, with another Top 5 record. A Kiss To Build A Dream On, is the 4th most popular track and his 3rd Top 5 track so far.
Top streaming tracks from 1952

While there were certainly a few surprises, when compiling these lists, none came close to the one Stan Keaton provided. I've never heard of him or his track Lonesome Train which has 64.5m streams, but clearly many have. It tops the 1952 list by the greatest margin of any year, a whopping 51.5m. It also sees its way to #16 in the overall decade list.
Dinah Washington grabs 2nd place with Mad About The Boy on 13.1m streams. We see the continuing popularity of country, as Hank Williams comes in at #3 with Jambalaya on 8.5m. At #4 Billie Holiday makes her only appearance of the 1950s, with Blue Moon at 4.2m.
Louis Armstrong rounds out the Top 5 at #3 with Winter Wonderland 6.5m. He is easily the most popular and well streamed act of the early 50's, grabbing 4 Top 5 placings (1950 #1,#2/1951 #4/1953 #3) in 3 consecutive years.
Top streaming tracks from 1953
It's Christmas time again, as Eartha Kitts' Santa Baby 64.9m, finds its way to the top of tree, in 53.It's the 2nd Christmas track to come out on top, after Perry Como's It's beginning To Look A Lot Like Christmas topped 1951s list and it finishes up 3 places above Como's effort, at #15 overall.
At #2, #4 & #5 we find great friends and Rat Pack members Dean Martin and Frank Sinatra. Martin comes out on top this time, landing at #2 with That's Amore 41.5m but Sinatra can take consolation with two tracks in the Top 5. #4 I've Got The World On A String 17.8m and #5 Young At Heart 12.2m maybe his first two tracks to appear but they certainly won't be his last.
Sandwiched in between the Rat Pack is no other than Ray Charles at #3 with Mess Around 28.9m. Just like Sinatra, we'll also be seeing quite a bit more of Charles.
Top streaming tracks from 1954
As we move into 1954, we see our first glimpses of what could be classed as Rock n Roll. While Bill Haley's #3 Rock Around The Clock 26.8m is widely regarded as the record that stared Rock n Roll, few could argue that the artist and record at #12, took it to a whole different and new level and changed the face of popular music. It seems quite unfitting to me, that the record that began all that change, Elvis Presley's That's All Right Mama 15.5m is only the 12th most popular song of 1954 and #101 overall.
I told you we'd see Charles again and here he is smashing to the top, with I've Got A Woman 86.5m, a total that is the greatest so far in the decade, beating the previous best of Louis Armstrong & Ella Fitzgerald's Dream A Little Dream 74.7m. It also sees him to the 8th most popular track of the 1950's.
Admittedly the list has been extended to 15 but Chet Baker still deserves some applause for registering 4 tracks in that 15 and 3 in the Top 10. Coming away with #4 I Fall In Love Too Easily 26.6m, #6 My Funny Valentine 22.5m, It's Always You 18.1m & # 15 That Old Feeling 12.4m.
Top streaming tracks from 1955
We move on to 1955 and Folsom Prison Blues 100m by Johnny Cash becomes the 1st song to cross that barrier, in doing so, it also becomes the most played track of the decade so far, displacing Charles' I've Got A Woman 86.5m, as well as ending up one place above him on the overall 1950s list, at #7.
Blues makes a great showing with Mannish Boy 28.9m & I'm Your Hoochie Coochie Man 20.4m by Muddy Waters, at numbers #4 & #10 respectively. The fantastic Howlin Wolf strikes his only Top 10 track of the 50's, with Smokestack Lightinin' 25.8m at #6, while Little Walter finishes of this little Blues flourish, with his #13 track, My Babe 13.4m.
Julie London also makes a strong showing with two tracks on the list, coming in at #9 with the much covered Cry Me A River 20.7m and at #11 with I'm In The Mood For Love 17.4m.
Top streaming tracks from 1956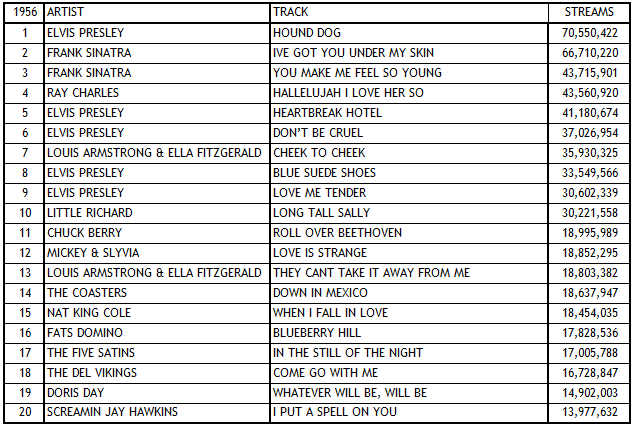 The two strongest and most popular acts of the 1950's Elvis Presley & Frank Sinatra, go head to head in 56. Presley edges it over Sinatra, with the #1 of the year Hound Dog 70.6m, as well as #5 Heartbreak Hotel 41.1m, #6 Don't Be Cruel, #8 Blue Suede Shoes 33.5m & #9 Love Me Tender 30.6m, to become the only act to place 5 songs in a yearly Top 10 between 1954 to 1959. Next best? Chet Baker 3 in 54, Sinatra and Presley 3 in 57 and Miles Davis 3 in 59. While Louis Armstrong managed 2 out of 5 in 50, as did Hank Williams in 52 and Sinatra in 53.
While Sinatra can't quite manage 4 Top 10s, he does manage 2 Top 3s. His I've Got You Under My Skin 66.7m comes in at #2, while You Make Me Feel So Young 43.6m comes just behind it at #3.
Top streaming tracks from 1957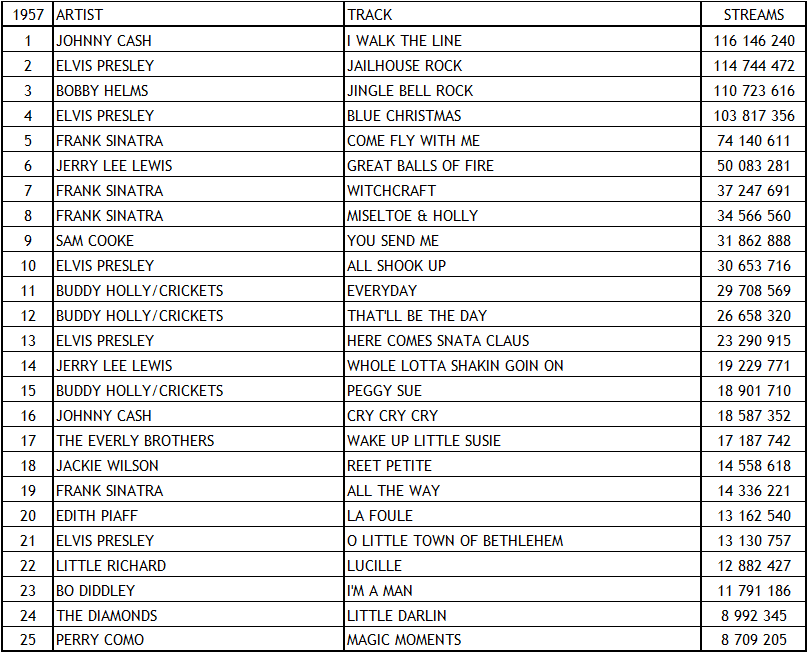 What a year. 4 tracks over 100m!
Johnny Cash becomes the first and only artist to record the top spot in two separate years. Having been #1 in 1955 with Folsom Prison Blues 100m, he now tops 1957 with I Walk The Line 116.1m. He also becomes one of only two artists, to have two tracks over 100m in the 1950's.
Presley & Sinatra are at it again in 57, with both managing 3 titles in the Top 10 and 4 overall. Sinatra comes in at #5 Come Play With Me 74.1m, #7 Witchracft 37.2m, #8 Miseltoe & Holly 34.6m & #19 All The Way 14.3m. Presley at #2 Jailhouse Rock 114.7m, #4 Blue Christmas 103.8m, #10 All Shook Up 30.7m & #20 O Little Town Of Bethlehem 13.1m. In doing so, he becomes the only other artist to have two 1950's tracks over 100m but the only one to have two 100m+ tracks in the same year.
Buddy Holly and the Crickets also deserve a special mention, managing to place 3 tracks in the list. Narrowly missing the Top 10 at #11 with Everyday 29.7m, with That'll be The Day 26.7m one place behind at #12 and Peggy Sue 18.9m at #15.
Top streaming tracks from 1958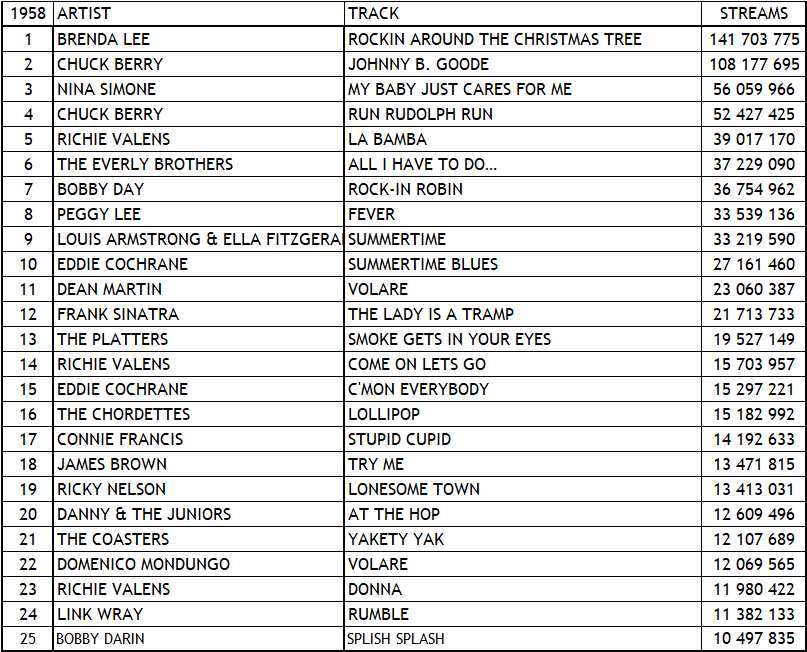 Who would have thought it! Surely an Elvis Presley, Sinatra, Charles or maybe even a Chuck Berry or Cash track, would be the most popular of the 1950's, but no, that prestige goes to Brenda Lee. Her 1958 track Rockin Around The Christmas Tree is easily the most streamed track of the 1950's, currently over 25m ahead of its nearest challenger, Cash's I Walk The Line 116.1m.
Richie Valens walks away with most entries in 58, with three. He snags a Top 10 with #5 La Bamba 39m, a #14 with Come On Lets Go 15.7m and a #22 with Donna 12m.
Three acts manage two tracks in the Top 25, Sinatra again, finishes at #12 The Lady Is A Tramp 21.7m and #25 One For My Baby 10.5m and Eddie Cochrane lands at #10 with Summertime Blues 27.2m and #15 with C'mon Everybody 15.3m. Chuck Berry though, out does them both, with two in the Top 5. #2 of 1958, Johnny B Goode 108.2m, also finishes the decade Top 5, coming in at #5, while Run Rudolph Run sees out 58 at #4.
Top streaming tracks from 1959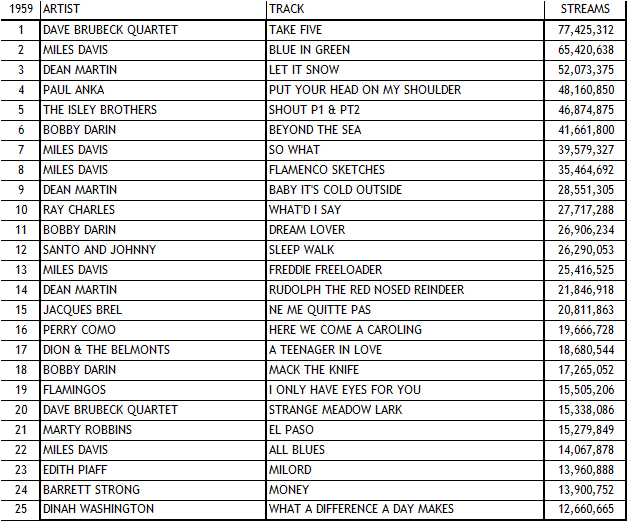 As we end the decade, we see it's not Rock n Roll that tops the list, but Jazz. Out of nowhere, Jazz has come to take 4 of the Top 10 places with tracks at #1, #2, #7 & #9.
Top of the pile is Take Five 77.4m by the Dave Brubeck Quartet, which sees it just inside the overall 1950's Top 10, coming in at #9. They also place another track Strange Meadow Lark #15.3m at #21 and their track Blue Rondo A La Turk 11.3m, sits just off the list at #27.
Miles Davis makes a very, very impressive showing on the 1959 list. Given he has the benefit of a Top 25, but he is the only artist to have five entries in one year. In doing so he grabs 3 Top 10s, with #2 Blue In Green 65.4m, #7 So What 39.6m and Flamenco Sketches 35.4m, as well as a #14 with Freddie Freeloader 25.4m and a #23 with All Blues 14m.
Bobby Darin, after first hitting the list in 1958, with #24 Splish Splash 10.9m, manages to bag three entries this time around. Getting his 1st Top 10 with #6 Beyond The Sea 41.2m, as well as a #12 with Dream Lover on 26.9m and a #19 with Mack Knife on 17.3m.
So there we have it, the most streamed songs of the 1950's. Perhaps not surprisingly the artist to log most entries on the list is Elvis Presley, who has 9. Frank Sinatra comes in 2nd with 8 and Dean Martin is 3rd with 6.
Presley along with Johnny Cash are the only two acts to have two songs place in the 1950s Top 10, they are also the only acts with two tracks over 100m streams.
Sinatra may never have managed to take away a #1 placing in any year but he has the most Top 5 entries with 5, Presley and Louis Armstrong are joint second with 4 each.
The Top 50 below summarizes the most streamed songs from the decade!
1. 1958 – BRENDA LEE – ROCKIN AROUND THE CHRISTMAS TREE – 141,703,775
2. 1957 – JOHNNY CASH – I WALK THE LINE – 116,146,240
3. 1957 – ELVIS PRESLEY – JAILHOUSE ROCK – 114,744,472
4. 1957 – BOBBY HELMS – JINGLE BELL ROCK – 110,723,616
5. 1958 – CHUCK BERRY – JOHNNY B. GOODE – 108,177,695
6. 1957 – ELVIS PRESLEY – BLUE CHRISTMAS – 103,817,356
7. 1955 – JOHNNY CASH – FOLSOM PRISON BLUES – 100,000,632
8. 1954 – RAY CHARLES – I'VE GOT A WOMAN – 86,503,558
9. 1959 – DAVE BRUBECK QUARTET – TAKE FIVE – 77,425,312
10. 1950 – LOUIS ARMSTRONG & ELLA FITZGERALD – DREAM A LITTLE DREAM – 74,673,416
11. 1957 – FRANK SINATRA – COME FLY WITH ME – 74,140,611
12. 1956 – ELVIS PRESLEY – HOUND DOG – 70,550,422
13. 1956 – FRANK SINATRA – IVE GOT YOU UNDER MY SKIN – 66,710,220
14. 1959 – MILES DAVIS – BLUE IN GREEN – 65,420,638
15. 1953 – EARTHA KITT – SANTA BABY – 64,865,466
16. 1952 – STAN KEATON – LONESOME TRAIN – 64,644,288
17. 1950 – LOUIS ARMSTRONG – LA VIE EN ROSE – 63,782,281
18. 1951 – PERRY COMO – IT'S BEGINNING TO LOOK A LOT LIKE CHRISTMAS – 61,780,355
19. 1958 – NINA SIMONE – MY BABY JUST CARES FOR ME – 56,059,966
20. 1958 – CHUCK BERRY – RUN RUDOLPH RUN – 52,427,425
21. 1959 – DEAN MARTIN – LET IT SNOW – 52,073,375
22. 1957 – JERRY LEE LEWIS – GREAT BALLS OF FIRE – 50,083,281
23. 1959 – PAUL ANKA – PUT YOUR HEAD ON MY SHOULDER – 48,160,850
24. 1959 – THE ISLEY BROTHERS – SHOUT P1 & PT2 – 46,874,875
25. 1951 – NAT KING COLE – UNFORGETTABLE – 46,202,458
26. 1956 – FRANK SINATRA – YOU MAKE ME FEEL SO YOUNG – 43,715,901
27. 1956 – RAY CHARLES – HALLELUJAH I LOVE HER SO – 43,560,920
28. 1959 – BOBBY DARIN – BEYOND THE SEA – 41,661,800
29. 1953 – DEAN MARTIN – THAT'S AMORE – 41,538,510
30. 1956 – ELVIS PRESLEY – HEARTBREAK HOTEL – 41,180,674
31. 1955 – LITTLE RICHARD – TUTTI FRUTTI – 40,492,910
32. 1959 – MILES DAVIS – SO WHAT – 39,579,327
33. 1958 – RICHIE VALENS – LA BAMBA – 39,017,170
34. 1957 – FRANK SINATRA – WITCHCRAFT – 37,247,691
35. 1958 – THE EVERLY BROTHERS – ALL I HAVE TO DO… – 37,229,090
36. 1956 – ELVIS PRESLEY – DON'T BE CRUEL – 37,026,954
37. 1958 – BOBBY DAY – ROCK-IN ROBIN – 36,754,962
38. 1956 – LOUIS ARMSTRONG & ELLA FITZGERALD – CHEEK TO CHEEK – 35,930,325
39. 1959 – MILES DAVIS – FLAMENCO SKETCHES – 35,464,692
40. 1957 – FRANK SINATRA – MISELTOE & HOLLY – 34,566,560
41. 1956 – ELVIS PRESLEY – BLUE SUEDE SHOES – 33,549,566
42. 1958 – PEGGY LEE – FEVER – 33,539,136
43. 1955 – THE PLATTERS – ONLY YOU.. – 33,320,932
44. 1958 – LOUIS ARMSTRONG & ELLA FITZGERALD – SUMMERTIME – 33,219,590
45. 1954 – THE CHORDETTES – MR SANDMAN – 32,662,906
46. 1957 – SAM COOKE – YOU SEND ME – 31,862,888
47. 1957 – ELVIS PRESLEY – ALL SHOOK UP – 30,653,716
48. 1956 – ELVIS PRESLEY – LOVE ME TENDER – 30,602,339
49. 1956 – LITTLE RICHARD – LONG TALL SALLY – 30,221,558
50. 1957 – BUDDY HOLLY/CRICKETS – EVERYDAY – 29,708,569