UK pure singles sales revealed
Way back in March 2012, Billboard made a huge step forward, introducing streams into the Hot 100.
Less than a decade later, streaming got so dominant in the music industry that it is now difficult to identify pure sales data. We're fixing it.
In the UK, the switch happened in July 2014. The DUS (Defined Universe Sales), first introduced in week 5 of 1994 to track scanned over-the-counter sales, saw its singles' totals impacted on 2014/07/14.
That date, Rather Be by Clean Bandit ft Jess Glyne was the highest gainer thanks to this change, with its release to date jumping from 977,262 to 1,235,676.
John Legend's All Of Me and Pharrell Williams' Happy also registered increases of more than 200,000 units. This still represented only 15-25% of the songs' totals.
Nowadays, most chart followers can tell streams are dominant, but more often than not they will be unable to tell how many times a track has been downloaded.
Lewis Capaldi's Someone You Loved is certified a gigantic 6xPlatinum for 3.6 million sales. If we speak about pure sales yet, they stand below 300,000 units.
And that's a tremendous figure for a recent single. At the start of the year, Rockstar by DaBaby ft Roddy Ricch went 2xPlatinum for 1.2 million units. The 6-weeks #1 smash sold less than 40,000 copies yet.
Applying a fixed ratio to value pure sales isn't efficient. Midnight Sky by Miley Cyrus has about half the total units of Rockstar, but sold twice more at nearly 80,000 units.
Other cases are even more extreme like One Too Many by Keith Urban & Pink which is closing in 30,000 pure sales despite a #40 peak in the overall ranking and a Silver certification.
Wait, where do these numbers come from? Thanks to pure sales and streaming rankings it's possible to tabulate the data week after week and get a very realistic calculation for every song.
For our own needs for CSPC articles, we often applied this method for estimations.
Instead of doing it again and again for each artist, each release, each week, we industrialized the process.
We are now making this tool available at this link. This link is added to the menu as well inside the section "Other Usefull Links". Here is how it looks like with the example of Olivia Rodrigo: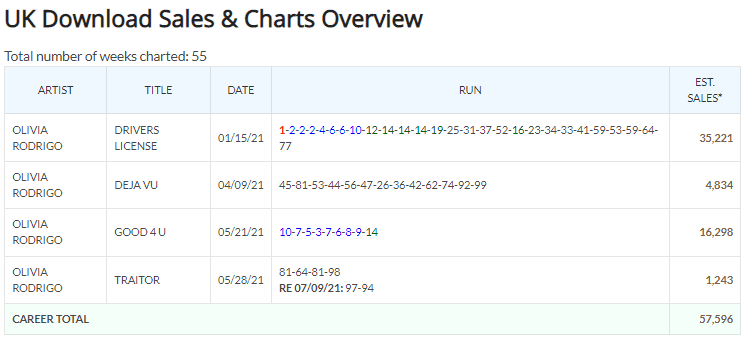 The page enables you to search for an artist and retrieves chart runs inside the download-only ranking, since its introduction in July 2014 to date. It includes sales too.
The script searches for the song last known pure sales inside our receipts database.
Weeks which aren't covered are calculated, either by weekly OCC values or direct estimates for the top positions, or by a scripts which uses weekly market sales minus known figures, to accurately estimate how many sales were achieved at each position.
Numbers for all big hits will then be very close to their exact value. Songs which lasted long on charts without ever making the highest positions have a larger but still low margin of error.
No estimate is done for weeks out of charts so estimates will typically be a bit lower than up to date figures. If you want to complete, be aware a #100 song used to sell 2,000 units a week in mid-10s, a figure down to less than 200 now.
If you want us to add an official value, like the ones shared on artists' top songs lists, just drop a comment with the value and the link to the article.
So, you would like to know download sales of Ed Sheeran, Little Mix, Adele, Rihanna, Sam Smith, Ariana Grande, or Taylor Swift? Just search for them, & enjoy!