France best selling albums ever: En Public by Jean-Jacques Goldman (1986)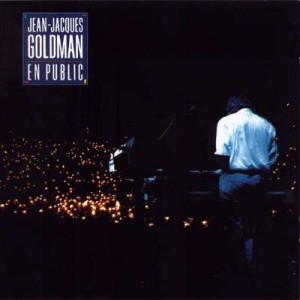 Jean-Jacques Goldman was all over the place while studying the all-time best selling albums in France with 9 million sellers on his own plus 14 others on which he was involved as composer and songwriter. Checking who's bubbling under the list, guess who's back? It is well-known that every studio album he released since 1982 sold over a million, but even his live double LPs like 1986 En Public moved monster amounts.
Released at the end of record-breaking Non Homologué era, En Public had everything to be huge. The single from former studio album La Vie Par Procuration was first issued to promote the live set. By that time the artist had dropped 10 singles, 10 hits which all made the Top 10. Doing it again with La Vie Par Procuration, a non-new song that was already part of a million selling studio album was harder. Never underestimate the unreal strength of Jean-Jacques Goldman yet.
Debuting at #16, the single climbed a bit every week until hitting #2 on its 8th week, just on time for Christmas, blocked only by classic rock hit The Final Countdown by Europe. Such a smash added to the immaculate track list – the live set contained all previous Top 10 hits – shot En Public double-LP to #4 in November monthly chart in spite of a truncated month. Once it got a full period tracked, the record climbed to #2 in December list. It remained there for two months behind Coluche, the most popular humorist ever in France who passed away in June that year. Ranking rules were changed later to exclude such non-musical albums, had it happened before Jean-Jacques Goldman live would have been one more chart topper for him.
Sales-wise, En Public shipped over 300,000 units within' the few weeks until the end of the year and reproduced the mark in 1987. In fact, while such products are usually pure Christmas cash-ins, this album remained the insane total of 38 weeks Top 20 in spite of no single getting released after the initial one.
Hitting 700,000 sales by the end of 1988, a year which saw the album be certified under newly created criteria 2xPlatinum, the album pace of sales was damaged by 1989 new live effort, Traces, which contained the same big hits as well as the new ones from 1987 studio album Entre Gris Clair et Gris Foncé. Traces was one more massive success peaking at #1 in the middle of a 24-weeks run inside the Top 10.
The album wasn't the first choice anymore among greatest hits-like packages, nevertheless it kept selling well as the CD format was replacing the LP, bringing sales over the 3xPlatinum criteria in 1995. In 1996, the first – and last – real compilation of the artist 80s hits came out, million selling set Singulier. This reduced even more the appeal of En Public, especially with numerous additional live albums getting released through the years. This prevented the original live LP from reaching the magical million milestone although it is closer and closer every year.
Net shipment as of the end of 2016 is estimated at 995,000 copies.
As usual, feel free to comment and / or ask a question!
Sources: SNEP, IFOP, Billboard.