Loopholes & recently licensed releases
Public domain music
During all our previous studies, we never went through loopholes. By that term, I refer to albums that got issued without the authorization from the copyright's owner because it felt into the public domain.
It all started in early 80s when the Danish law defined every recording that was at least 25 years old as part of the public domain. Several budget labels started to appear. One of them was All Round Trading which quickly flooded European markets with compilations of 40s/50s stars, including Presley. There have been tons of such releases. Most of them focused on Sun recordings because they were the only ones from Presley that were over 25 years old. Additional labels, often created by the same people, released literally hundreds of similar records. The concerned labels are the likes Astan, World Star Collection, Card, CéDé International, Duchesse, The Entertainers, Success, Platinum, Solid Gold, Flashback, Universe and many more. In each market, as soon as valuable catalogs arrived at the end of the copyright period, the law was updated to let proper labels continue to exploit them. They almost made it to Canada recently, but here too legal actions were taken to block these loopholes.
These obscure releases are often ignored because they aren't completed legal and also because we don't know them very well. Once again, Discogs solves the problem in full. We can first check this Billboard article which mentioned the case in 1987 after the extension of the copyright lifetime that made these loopholes strictly illegal in Denmark: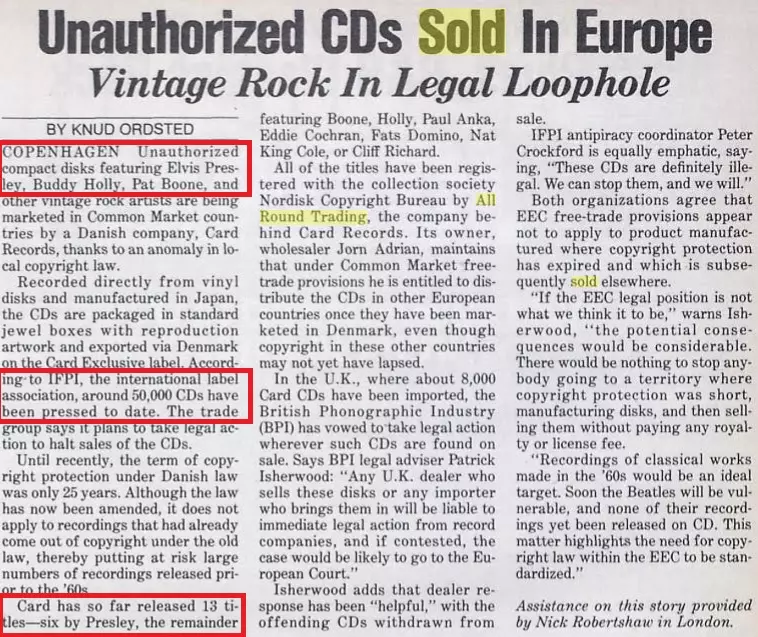 The six Presley records mentioned by the article include the 2 loopholes that are far and away the most collected at Discogs. They are Pictures of Elvis 1 and Pictures of Elvis 2, owned by a combined 975 users. As picture discs, they are highly favored by collectors. That's why in spite of so many owners, they sold relatively few units. The article points outs 50,000 sales spread over 13 releases, that would imply at best 10,000-ish for the top sellers. Both Presley's albums are the 2nd and 4th most collected items from the label.
Jorgensen himself spoke about 4,000 units sold by the top selling bootlegs, although it was more than a decade later. Applying the ratio suggested by Billboard's article for pictures discs (1 Discogs owner every 25 buyers), average ratio for LPs (1 every 100) and for CDs (1 every 500), we reach an estimate of over 275,000 such albums sold under the name of Presley. Aforementioned Pictures of Elvis albums, 1984's Astan record 20 Greatest Hits and both Flashback releases from 1987 titled 20 Love Songs and 20 Rock & Roll Hits are arguably the ones that broke the 5 digits mark.
Elvisone releases
Up to 67 releases, all dedicated to Presley, Elvisone is a true false label that issues frequently rare records about the king. Most of them, if not all, are limited to 500 copies and most aren't sold out as shown by the number of owners on Discogs that goes down to 0 for several of them. They are estimated on 15,000 units sold cumulatively.
Rockwell Records releases
Very similar to Elvisone, Rockwell Records dropped 39 runs of Presley's albums in very limited quantities. The number of units pressed is available, illustrating a total of 17,000 album sales.
Weton-Wesgram releases
With Weton-Wesgram, we reach cheap budget European releases that are still 100% legal since they are licensed to copyrights owners. The manufacturer Weton-Wesgram is responsible for 26 distinct Presley tagged compilation. Most of them were sold in the UK from 2007 to date with many charting inside the Budget list. The most owned and best charting album among them is the 2007 Orange Collection at 25,000 units. In total, albums from this label sold 7 times this number.
Go Entertain releases
One more budget label that flooded the UK market from 2007, Go Entertain is up to 9 Presley albums. They are fairly impressive sellers. The Original Recordings stands on 180,000 units scanned as per the OCC, while both the volume 2 and 30 Original Hits sold enough to be Silver. As usual, working with proportion of owners among the albums that charted and the ones we have no data about tells us CDs from this label stand on 380,000 units sold, an impressive rate of 35,000 per year, most of which in the UK.
Not Now Music releases
Unlike the previous labels, Not Now Music focuses on releasing quality packages. Up to date, 14 were Presley's records. They can be LP reissues or extensive compilations. Strongly praised by collectors, they are owned by a lot of Discogs users. The Platinum Collection from 2012 has 243 owners from the UK. It is no surprise as the set stands on 125,000 sales over the counter to date. All 14 releases add for 195,000 sales to date.
Memphis Recording Service releases
Speaking about quality releases, the label Memphis Recording Service has been packaging carefully rare recordings of Presley. Joseph Pirzada, who works for the label, was kind enough to provide us sales data for these records. Big thanks to him.
Single
– My Baby Left Me – 20,000
DVD
– Tupelo's Own Elvis Presley – 17,000
Top CDs
– Off Duty With Private Presley – 12,000
– Such A Night In Pearl Harbor – 10,000
– The Complete Louisiana Hayride Archives 1954-1956 – 6,000
– Blue Hawaii – The Expanded Alternate Album – 6,000
These numbers are fairly impressive. In fact, Tupelo's Own debuted at #13 inside the UK DVD Chart in 2007 on the back of 709 units sold, then dropped to 280 sales on week 2. It still amassed 17,000 units to date. As for albums, Off Duty debuted and peaked at #200 but still went on to sell 12,000 copies.
The label issued 14 more releases. They are more extensive and expensive, ultimately selling less than 5,000 units a piece. They still add for roughly 50,000 sales combined.
Additional recent budget releases
Although we already went through many records, there is still 140 releases from various budget labels like Delta, Delta Leisure, Disky, Hallmark, among others. Both chart activity on budget rankings and Discogs owners continue to provide us enough data to accurately gauge their sales. The biggest of all in Europe is The Incomparable from 2008, this Delta Leisure box set sold 50,000 units. These albums combine for 875,500 units sold. They will all be listed inside the upcoming CSPC article.